Executive Summary
We are the only research entity that provides computer software expert witness services.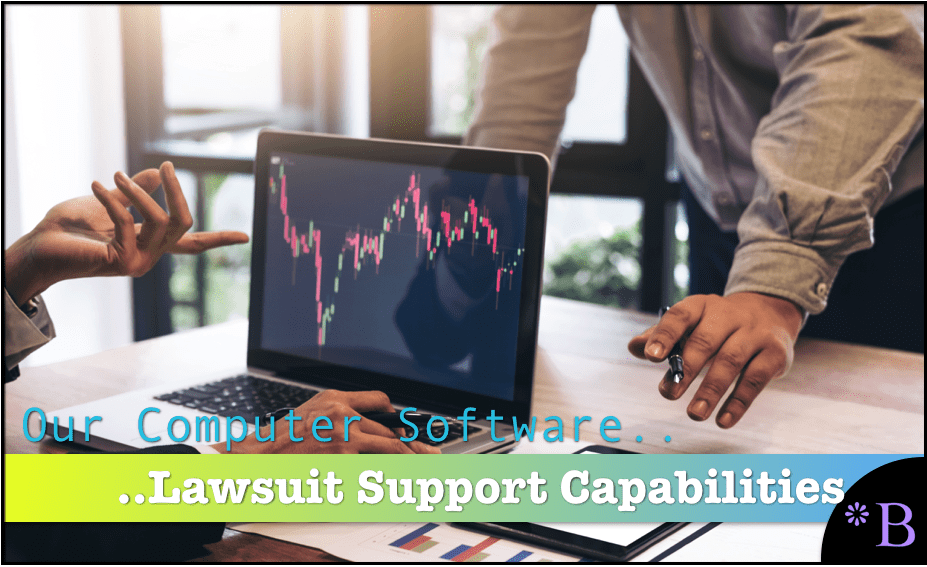 About Our Research Focus
We are both a research entity that focuses on software and computer software and is a provider of computer software expert witness services.
What is a Software License?
To begin, in understanding computer software, let us review what is the software license.
A software license is a legal instrument (usually by way of contract law, with or without printed material) governing the use or redistribution of software. Under United States copyright law, all software is copyright protected, in both source code and object code forms, unless that software was developed by the United States Government, in which case it cannot be copyrighted.

A typical software license grants the licensee, typically an end-user, permission to use one or more copies of software in ways where such a use would otherwise potentially constitute copyright infringement of the software owner's exclusive rights under copyright. – Wikipedia
The Categories of Computer Software Expert Witness Firms
It is crucial to consider the different categories of companies that offer computer software expert witness services.
Type 1:

Software and Negotiation Firms

These firms focus on negotiating software deals and sometimes do expert witness work.

These companies typically focus not on the technology but on getting the best price for what is agreed upon to be purchased. Their specialty is knowing the counts of the licenses needed by the client and then optimizing them and optimizing their price. In a dispute between a customer and a vendor, they can use software to determine how many licenses are actually being used and compare them to how many licenses were paid for.
Type 2:

Software Code Analysis Firms

These companies have resources with a software development background and use this background to perform code analysis, or code review, between a software product, claimed to have copied the code from another software product. These companies are focused on intellectual property and patent infringement cases.

Our objective in explaining these first two types of companies is to describe how we differ.
Our Niche in Computer Software Analysis
We are a research firm leveraging this research to support computer software disputes between software buyers and software vendors/partner consulting firms. These disputes are generally related to how the software ended up being used versus how it was expected and promised it would be used by the software vendor and the partner consulting firm.
We analyze the licenses that were sold, review the requirements and needs of the software buyer to determine if the software vendor supported by the partner consulting firm knowingly oversold licenses for used software products and sold software products that the software vendor/partner consulting firm would have known could not be implemented or otherwise would not be used.
About Computer Software Usage Lawsuits
One category of computer software lawsuits is usage lawsuits. These lawsuits stem from deliberate "stuffing" of software bill of materials by vendor sales teams.
Often the software vendors position themselves between being a salesperson (which is what they are) and being a "trusted advisor." They will correspond with their customers by saying they "recommend" a certain number of software products and licenses without ever acknowledging that they are incentivized to sell as many products and as many licenses as possible.
This stuffing of the software bill of material with what ends up being unused licenses is typical, particularly among the most prominent software vendors.
Providing excellent computer software expert witness support for usage lawsuits means understanding the implementability of the purchased systems and the objectives of the software buying company.
Our Independence
One of the most important questions that you should have is regarding our independence from the influence of software vendors. And here, we rate exceptionally well. We have no relationships with any vendors or any other third parties.
Unlike virtually all consulting firms like Deloitte, Accenture, or Infosys, or IT research entities like Gartner, Forrester, or IDC, Brightwork takes no money from any vendor.
As an unbiased entity (for instance, that is not both selling consulting projects while also offering Consulting services) we can offer entirely unbiased advice.
The problems with the lack of independence in the IT research space are covered in our article The Brightwork Research & Analysis Rating of IT Analysts Like Gartner, Forrester, and More.
Background on Our Primary Analyst
Our primary analyst is Shaun Snapp. However, we also bring in other experts that fit the needs of the support. However, Shaun Snapp writes the analysis, incorporating the specialists of this type if they are necessary.
Shaun Snapp performs research for Brightwork Research & Analysis. Brightwork Research & Analysis covers many IT topics ranging from databases to open-source software.
After many years as an implementation consultant, Shaun Snapp migrated to being a researcher. He usually works in project advisement and performing analysis for things like IT acquisitions and project planning.
Brightwork Research & Analysis is known for publishing information around the enterprise software space that is not covered elsewhere.