A List of SAP Lawsuits and Why SAP Lawsuits Receive So Little Coverage
Last Updated on April 16, 2022 by Shaun Snapp
Executive Summary
Lawsuits are typically listed on a one-by-one basis.
This article aggregates well-known lawsuits against SAP.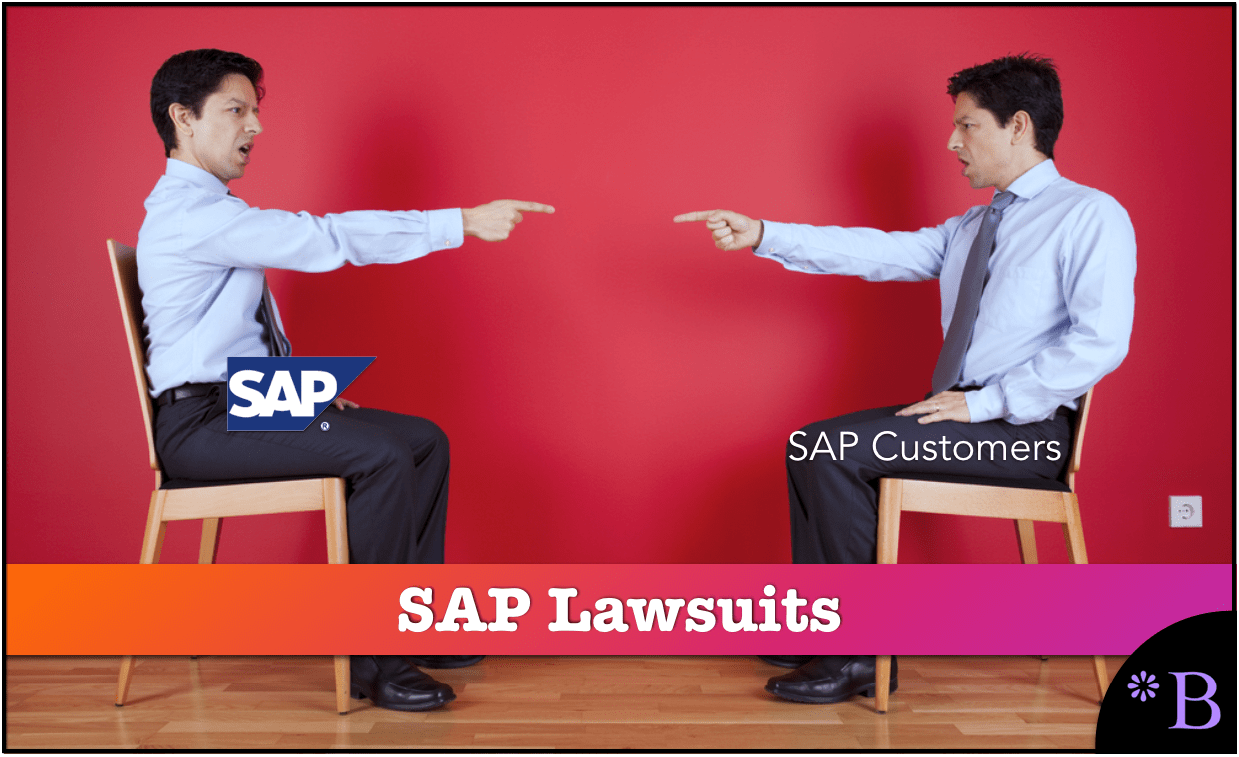 Text Introduction (Read or See Video Intro Below)
This article reviews what we found when we looked at the top Google results reported on SAP lawsuits. What is curious is that there were actually few lawsuits that could be found through Google. We created a second article, A Listing of Problematic SAP Implementations, which covers failed implementation. However, the lack of coverage by Google on SAP lawsuits should be of interest as SAP has so many lawsuits historically and so many ongoing lawsuits. You will learn about some of the most prominent lawsuits against SAP and how they have been censored by a media system that counts SAP as a major advertiser.
Video Introduction: A List of SAP Lawsuits and Why SAP Lawsuits Receive So Little Coverage
Our References for This Article
If you want to see our references for this article and related Brightwork articles, see this link.
Lack of Financial Bias Notice: We have no financial ties to SAP or any other entity mentioned in this article.
This is published by a research entity.
Second, no one paid for this article to be written, and it is not pretending to inform you while being rigged to sell you software or consulting services. Unlike nearly every other article you will find from Google on this topic, it has had no input from any company's marketing or sales department. 
Lawsuit #1:

Revlon

This is not a lawsuit against SAP by Revlon, but rather a lawsuit by Revlon shareholders against Revlon for lying about the SAP implementation state. We cover this case in detail in the article What Was the Real Story with the Revlon S/4HANA Failure?
Revlon attributed to the changeover a reduction of $20M in net earnings in one quarter alone, accompanied by $10M in unplanned expenses including non-recurring labor to improve customer support. At the time (2018), Revlon had implemented SAP in 22 countries on the Revlon heritage side of the company. Apparently, the Arden switch-out of JD Edwards had not even begun at that stage.

A year later, in March 2019, CFO Victoria Dolan said Revlon had spent $32M in 2018 on operating activities in comparison to 2017, taking the costs of the migration to $54M; understandably, profits and stock prices dipped. Revlon reported increased losses. The fiscal year 2018 (ended on December 31) closed with $294.2 million dollars in the red, compared to $183.2 million-dollar losses registered in 2017.

Ironically the results were due to a drop in sales of all its business categories, except Elizabeth Arden, partly caused by the breaks in service levels directly attributed to the SAP implementation. Revlon also qualified the losses by saying that the rise in losses was also related to the re-acquisition of some rights connected to the brand Elizabeth Arden.

In March 2019, the United States Securities and Exchange Commission (SEC) made public Revlon's first-quarter 10-K filing, thus illustrating to the wider world the dire SAP ERP issues in the Oxford plant and their wide-reaching effects on the business. Around the time of the SEC's release, the company's chief financial officer made clear to the public that the SAP ERP issues had been resolved and that the Oxford plant was up and running as normal.

After the March 2019 financial statement stock prices improved.

Yet, in May of 2019, Revlon faced a stream of painful class action lawsuits from firms Bragar, Eagel, & Squire; Rosen Law Firm; Wolf, Haldenstein, Adler, Freeman, & Herz; and Zhang Investor Law. Ouch.

In the class action suit, specific reference was made to the Oxford center in North Carolina where the business was supposedly unable to fulfil product imports of about $64M worth of revenue.

While the circumstances surrounding the newest ERP lawsuit are unique, as are the plaintiffs, the events that led to the failure of Revlon's SAP system are all too familiar.

It may be tempting to blame the SAP software or whoever the system integrator was, but Revlon and others should recognize that they ultimately have to own the results of these sorts of transformations.

For starters, it does not seem as if Revlon understood either the size of the projects nor any of the risks inherent in rolling out a new ERP software system. It doesn't appear as if the cosmetics giant developed any strategies to offset the possible risks.
What is curious is that while the statement above is that "it may be tempting to blame the SAP software" or the system integrator, they should not be blamed.
Something curious about this is that SAP has a long history of lying to its customers — the same history that the SAP consulting firms have. Secondly, we have documented the many problems with S/4HANA — which is the system that was implemented. SAP aggressively exaggerated the number of S/4HANA systems that were live at this time, as we cover in the article How SAP Controls Perceptions with Customer Numbers, as well as the application's maturity as we cover in the article Why Did SAP Fake S/4HANA Maturity So Aggressively?
It is curious that in each case, the author of coverage of the problems with SAP does not point out problems with SAP or the information provided to customers about the software by SAP consulting firms. If it is so "tempting" to point to SAP — then why is it not done? Many of these authors do not appear to know the SAP applications that are implemented and seem to assume that the application must be mature and must not be at fault. There is a further condition where the application may be mature — but it is not appropriate for the customer's processes. Still, SAP and the consulting firm tell the prospect that it is appropriate.
Lawsuit #2:

Waste Management
Did SAP deceive and defraud Waste Management (WM) during ERP selection and implementation? That's the question at stake in a $500 million lawsuit against SAP relating to a Waste Management ERP failure.

According to documents filed in court by WM, SAP pitched WM on a well-tested, sector-specific, ready-to-install ERP package. WM learned after the implementation had started that no such software existed.(emphasis added) Rather, the ERP system in question was still in development and had "never been tested in a productive environment."

The jury should have its hands full trying to untangle this mess. Assuming that all of the allegations are proven, SAP should end up on the losing side. WM, however, will probably share part of the blame.

WM's fraud allegations go much deeper than simple misrepresentation. Before contracts were signed, SAP purportedly demonstrated the fully functioning software to WM. WM claims it relied on SAP's demonstrations when it chose the SAP software. WM says that SAP demonstrated a "mock-up" version and that the demonstrations "were rigged and manipulated to depict false functionality."

SAP denies the allegations. However, if WM wins on its fraud and misrepresentation claims, this case could drive a stake through the heart of the world's leading ERP vendor. No customer will want to build its business operations on a foundation of lies and deception. In addition, SAP will likely face criminal investigations.

Members of SAP's C-Suite were directly involved in landing the WM account. Some of those executives are no longer with the company. There's plenty of speculation about whether their departures are related to the WM fiasco.

ERP selection guide template ; ERP selection checklist; ERP selection Scorecard

Just on the PR battle, SAP is getting pretty banged up. WM is also taking its share of hits. A close reading of its own court filings shows that it's partially responsible for its own losses.

Here are two of the most glaring examples taken from WM's court pleadings:

#1: "Waste Management relied on [SAP's] Business Case estimates in agreeing to license the SAP software."

As part of its sales pitch, SAP prepared a "business case." SAP stated that its software would enable WM to achieve between $106 million and $220 million of annual benefits.

WM showed questionable judgment in relying on SAP's projections.(emphasis added) Clearly, SAP was partial. It was trying to make a big sale. In my analysis, WM was imprudent and arguably negligent when it decided to rely on an obviously conflicted business case projection.

WM should have done its due diligence. If it needed help, it should have turned to an impartial third-party advisor. An independent analysis might have shown that the SAP software wasn't the best choice.

#2: "Waste Management believed that developing a new software posed unacceptable risk… and instead decided to look for an 'off-the-shelf' solution that was already fully developed and fully tested." – Pemco Consulting
The types of things laid out in this description are not something that SAP and SAP consulting firms occasionally do. They are typically how SAP presents their solution to customers – with the SAP consulting firms agreeing to everything stated by SAP. This brings up the question of why there are not more lawsuits against SAP.
Lawsuit #3:

FoxMeyer
FoxMeyer, once the fourth-largest pharmaceuticals distributor in the United States, sued both SAP and Andersen Consulting (now Accenture), claiming that a botched SAP R/3 implementation in the mid-1990s ruined the company.

Some suggest that a judgment for the plaintiff in the case—brought by the FoxMeyer bankruptcy trustee against Andersen Consulting and now pending in a Texas state court—could galvanize dissatisfied customers and bring on a flood of similar suits against ERP vendors and consultants.

Inexperienced consultants
FoxMeyer's lawyer, Mark Ressler, contends that Andersen lured FoxMeyer into a services contract by giving the false impression that it had extensive SAP implementation expertise.

While inexperienced implementation consultants aren't uncommon, the practice "became something of a joke," says ERP implementation consultant Mike Donovan. "The school bus pulls up in front of the building and out jump a bunch of Big Five consultants."

But highly experienced SAP technologists have always been hard to find.

"It's not like the old days, when you could ask for and get a COBOL programmer with ten or more years of experience," said Dan Steinberg, an Ottawa-based consultant. "No one has ten years of experience with SAP."

The real issue might boil down to how much you pay for the services. Many companies continue to overpay for ERP implementations, said Bruce Blitch, CIO of Tessenderlo Kerley Inc.

But Andersen Consulting did not match that company's upfront attitude, according to the FoxMeyer lawsuit. Even so, some say, the consultant should not necessarily shoulder the entire blame. "No one buys these systems without evaluating them, conducting demos and pilots, and visiting other users," said AMR Research analyst Jim Shepherd.

Who is really to blame?
"Every project suffers from overenthusiastic claims and expectations," Shepherd said, "and most companies don't achieve all the results they hope to."

Transforming a company's business processes, Shepherd claims, requires extensive testing and planning on the customer's part, not just a technology switch.

"Oftentimes, companies look to technology to provide a quick fix to flawed operational models," Donovan said. "Adopting new and better business processes involves changing how the entire organization thinks about how it does business."

The FoxMeyer lawsuit alleges that SAP and Andersen Consulting lied to the customer about the volume of transactions that R/3 could handle.(emphasis added)

"The highest total transaction volume it could handle was 10,000 invoice lines a day," Ressler said. "FoxMeyer's old Unisys system, the outmoded war-horse the company intended to replace, handled 425,000 invoice lines a day."

Shepherd, however, is skeptical of that claim, saying that McKesson Corp., the company that eventually acquired FoxMeyer's assets, uses SAP R/3 to process 1.5 million transactions per day. But Ressler contends FoxMeyer's pre-3.0 version of the software lacked that capacity.

What's next?
The insurance industry is already nervous about its potential level of exposure surrounding the lawsuit.

While insurers were never hit with the expected flurry of Y2K-related lawsuits, there's significant litigation related to the buildout of technology infrastructures, said Tim Ehrhart, assistant vice president for worldwide errors and omissions underwriting at The Chubb Group, the largest insurer in the IT sector.

The reasons? The size and scope of contracts for integration and consulting have mushroomed. Contracts that lasted for three to six months and cost $50,000 to $100,000 now take 24 to 36 months and run from $5 million to $10 million, Ehrhart said. As a result, insurance companies are lowering policy limits, charging higher premiums, and demanding heftier deductibles, if they take the business at all. – TechRepublic
Like ZDNet, TechRepublic is owned by CBS. Notice that the media entity is part of a larger media entity in nearly every case and is highly dependent on advertising and paid placement from vendors like SAP and SAP consulting firms. Notice this quote at the end of the article.
Are businesses unfairly blaming implementation consultants?
Are enterprises all too ready to lay blame for poor business practices at the feet of technology consultants when things go awry? – TechTarget
Why is this statement here? Isn't it curious how TechTarget is attempting to state that enterprises should not blame for project failures?
Lawsuit #4:
Marin County
We covered the Marin Country v SAP lawsuit in detail in the article Why Deloitte Has Problems Implementing SAP. Marin Country presented stunning claims against SAP. However, when covered by Michael Krigsman for ZDNet, which CBS owns — he stated the following:
Many IT customers complain their system integrators do not follow through on such commitments and use inexperienced labor in attempts to reduce their own costs and increase profits.

Disconnects between service provider promises and actual delivery plays a significant role in many failed projects. For example, EDS recently lost a £200 million ($300 million dollars) court case to UK-based company BSkyB.
Notice Krigsman does not use the term "fraud" but instead "disconnects." Michael Krigsman has a long history of explaining away SAP failures such that SAP is never blamed, as we cover in the article The Art of Blaming the Client When an SAP Project Goes South.
Lawsuit #5:

InBev
This is a case of an SAP customer being sued by SAP. This was over an indirect access claim.
SAP has quietly settled its US$600 million software licensing dispute with Anheuser-Busch, the U.S. subsidiary of beverage conglomerate AB InBev.

"The parties settled the dispute on 30 June 2017 and the matter is now closed," AB InBev said in its 2017 Annual Report, published Tuesday.

The company said SAP had accused it of breaching a September 2010 software license agreement by directly and indirectly accessing SAP systems and data without appropriate licenses, and of underpaying license fees due. SAP wanted damages potentially exceeding US$600 million, and had sought reformation of the contract." – PCWorld
Lawsuit #6:

Diageo
SAP sued Diageo for indirect access violations. We covered this case in the article The Problem with the Judge's Ruling on the SAP Diageo Case.
The coverage of the case by IT media again gave SAP the benefit of the doubt, with none of them observing what we covered, and which was reinforced by a Duke University law professor that SAP's version of indirect access is obviously in violation of US anti-trust law as we cover in the article SAP Indirect Access as a Tying Arrangement Violation. Yes, we know that the UK is not the US, but we wonder if IT media entities are aware of this. Because after Diageo lost its case to SAP, IT media entities proposed that the judgment would naturally apply to US companies — again, assuming that the US and the UK have identical legal systems.
Conclusion
The articles that covered SAP lawsuits appeared highly censored. Some of the most in-depth coverage was published in media outlets like ComputerWorld, PCWorld, and CIO — which are not, in fact, different or independent entities — but are all owned by IDG. IDG is now owned by a Chinese construction firm — which we cover in the article Can You Trust IDC and Their Now China Based Owners?
We went through ten pages of Google results but only returned with less than ten lawsuits related to SAP versus a client (that is not SAP versus Oracle or vs. Teradata). This is a minimal number for how many SAP customers SAP has had — and the problems that have come from purchasing SAP.
We added a lawsuit that we had previously covered, like Diageo, that was not shown in the top ten pages of the results. This is amazing considering SAP, along with SAP consulting firm's long history of misleading customers.
The Obvious Influence of Financially Biased Reporting on SAP Lawsuits
These IT media entities all take money from SAP. This is why they produce articles that help SAP understate the reality of SAP implementation problems. And they are written by a minimal number of authors — all of who produce unreliable information on SAP when they write other articles about SAP. These authors are clearly protecting SAP and are not reporting honestly.
The Teradata and the lawsuit with Oracle over TomorrowNow lawsuits have dominated the search results for SAP lawsuits. There are many lawsuits against SAP by customers — however, they are minimized by the Teradata and Oracle lawsuits. However, as we covered in the article SAP is Accused of Witness Tampering in Teradata Lawsuit, media entities do not completely cover these topics. Media entities choose not to cover topics — even after we cover them, even if they are part of the public record.