How to Understand If According to Gartner S/4HANA Good is for SMB?
Last Updated on February 23, 2021 by Shaun Snapp
Executive Summary
Gartner has made several bizarre statements about S/4HANA, but which makes sense when you figure out how much money Gartner gets from SAP.
S/4HANA Cloud has most of its live customers as SAP consulting companies.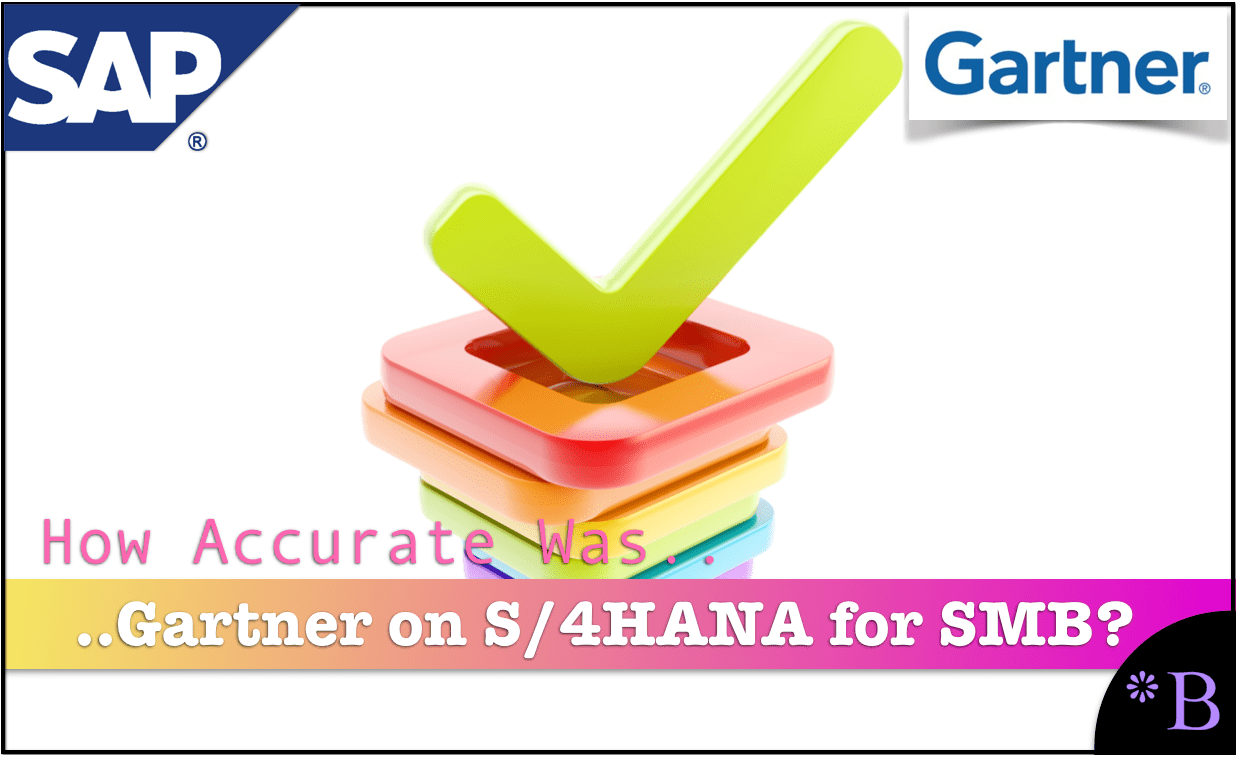 Introduction to the Magic Quadrant
When they scored SAP quite low in Gartner's Magic Quadrant Cloud Financial, they made some curious statements about S/4HANA. You will learn about Gartner's statements on S/4HANA.
Our References for This Article
If you want to see our references for this article and other related Brightwork articles, see this link.
Lack of Financial Bias Notice: The vast majority of content available on the Internet about Gartner is marketing fiddle-faddle published by vendors who republish reports they paid Gartner to publish, or Magic Quadrants they paid Gartner to score well. The IT industry is petrified of Gartner and only publishes complementary information about them. The article below is very different.
First, it is published by a research entity.
Second, no one paid for this article to be written, and it is not pretending to inform you while being rigged to sell you software or consulting services as a vendor or consulting firm that shares their ranking in some Gartner report. Unlike nearly every other article you will find from Google on this topic, it has had no input from any company's marketing or sales department. 
Gartner's Strange Statement About S/4HANA
"SAP Business ByDesign is a broad cloud-based suite that covers all core business processes and includes CRM and SCM capabilities. Although most users deploy other capabilities outside finance, it is often used as a stand-alone financials system. It is targeted at midsize organizations with fewer than 1,500 employees; SAP positions SAP S/4HANA Cloud as the preferred cloud solution for organizations with more than 1,500 employees. However, SAP Business ByDesign can scale to support upper-midsize and large organizations, and Gartner is aware of organizations using SAP Business ByDesign that have revenue in excess of $1 billion."
Yes, but the number of ByDesign customers that are larger than 1,500 employees is quite low. This is the error of using the word "can" to substitute for the words "often is."
"The suite has good global coverage, with comprehensive localization for 19 countries and support for nine languages, and it has been deployed in 120 countries. SAP Business ByDesign has customers in a wide range of industries, with professional services being the largest segment. It is sold direct and through reseller partners."
ERP Systems for Professional Services?
Professional services don't need ERP systems so that a financial system will do. But is ByDesign implemented by professional services companies that are not also SAP implementors? This is doubtful and is covered in the article The Problem with Consulting Company S/4HANA Implementations.
Gartner's critical information is leaving out of this quotation because these professional services firms select ByDesign because they are part of the SAP network. Gartner must know this but chooses to leave out this information for some reason. Why?
"SAP is a Niche Player in this Magic Quadrant due to its focus on organizations with fewer than 1,500 employees, which limits its overall opportunity in this market. There is also limited awareness of the SAP Business ByDesign brand, especially among finance users evaluating stand-alone finance systems."
Yes, ByDesign is the best fit for the SMB market.
"Cautions

SAP Business ByDesign risks being overshadowed by SAP S/4HANA Cloud, to which SAP is devoting significant strategic effort and investment. The vendor will need to ensure that it maintains enough separation in go-to-market strategies to allow both products to grow."
This is unlikely. S/4HANA Cloud is very lightly used. Gartner has to know this.
Conclusion
Is Gartner doing what SAP wants and directing companies to move from ByDesign to S/4HANA? Given the maturity of S/4HANA and the completely different scale of functionality between ByDesign and S/4HANA, is that a good idea?