How Accurate was ComputerWorldUK on SAP Cofounder Hasso Plattner Defending S/4HANA?
louExecutive Summary
ComputerWorld UK covered Hasso Plattner defending the disappointing uptake of S/4HANA.
How accurate was this article?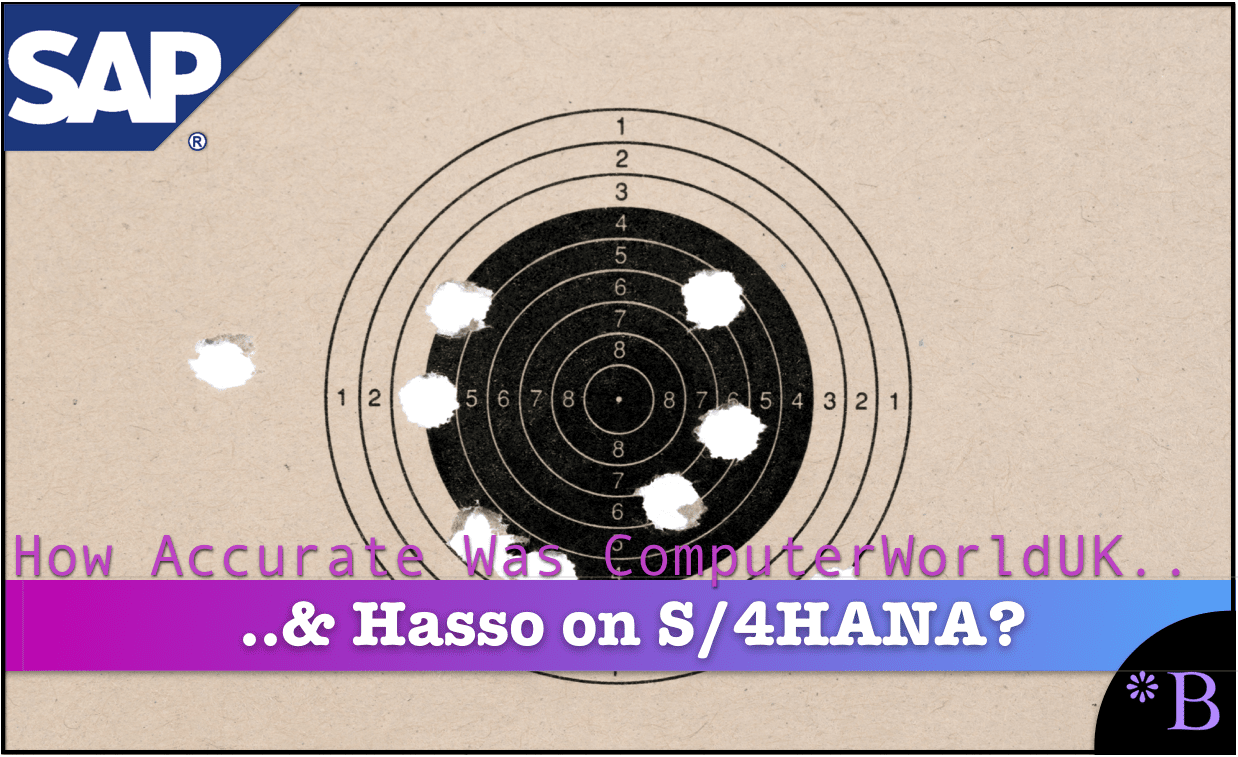 Introduction
On July 28, 2017, ComputerWorldUK wrote the article SAP co-founder Hasso Plattner defends S/4HANA cloud strategy, explains Leonardo, and says Mark Hurd isn't a "software guy." In this article, we evaluate the accuracy of the article.
Our References for This Article
If you want to see our references for this article and other related Brightwork articles, see this link.
Lack of Financial Bias Notice: We have no financial ties to SAP or any other entity mentioned in this article.
This is published by a research entity.
Second, no one paid for this article to be written, and it is not pretending to inform you while being rigged to sell you software or consulting services. Unlike nearly every other article you will find from Google on this topic, it has had no input from any company's marketing or sales department. 
Article Quotations
On SAP Not Being a SaaS Competitor
"The cofounder of the German software giant SAP, Dr Hasso Plattner, took to the stage at the Sapphire conference this week to talk about the company's latest Leonardo product and why he sees it's next generation ERP S/4HANA's future as residing in the cloud

Mark Hurd, the CEO of arch rival Oracle criticised SAP's cloud strategy back in December. As reported by Diginomica he said: "Their cloud strategy, which is most often referred to by the term S4/HANA, is fundamentally a hosting strategy. It's really taking their core ERP on-prem app and hosting it in a data centre. It's really the physical movement of a computer from here to there..

"That's not cloud. That's not SaaS. So I'm not sure that we really think of them as a core SaaS competitor."
Yes, that is actually true. This lack of multi-tenant capability and the fact that S/4HANA, as with ECC, will require customization for the vast majority of companies that use it means that it will not meet the technical definition of being a cloud. It will be hosted. SAP uses the terminology "private cloud" to obscure this fact, but a private cloud is hosted, and offering hosted ERP is not what Wall Street wants SAP to be moving to. This is covered in the article, Why S/4HANA is a Poor Fit for the Cloud.
Hasso Answers with a Personal Attack
"Plattner had earlier stated that "in the cloud is our version to aim for" when it comes to getting customers onto its next generation ERP solution S/4HANA, which works on top of the in-memory HANA database.

Later on, during a Q&A session, he responded to the criticism from Hurd by saying that Oracle is a competitor and that Hurd is "not a software guy", before going into detail for how he sees SAP's S/4HANA cloud strategy playing out now that the ERP system can be run on the three most popular public cloud providers (Google, AWS and Azure), as well as SAP's own private Enterprise Cloud offering."
So that is a personal attack rather than a counter-argument. What Mark Hurd said happens to be true.
Selling the Future
S/4HANA can be run on three popular cloud providers (although this contradicts SAP's earlier strategy of competing and beating AWS and others), but that does not address what happens when the system requires customization. Will Google, AWS, and Azure offer a hosted/private cloud for S/4HANA? If so, won't the price have to increase?
This is a common strategy by SAP to describe what "can be done" rather than what is likely to be done or what makes sense.
Hasso Making Excuses for Poor Cloud Uptake
"Plattner, who can only make strategic recommendations as chairman of the supervisory board at SAP, admits that the company is still in the process of adapting to the software-as-a-service (SaaS) model. "For forty five years the customer has operated the system, large systems. We do it now together with the customers and SAP is learning how to operate and we are getting better and better and we are getting profitable now," he said.

SAP's total cloud subscriptions and support revenue grew 34 percent year-over-year to €905 million (£769 million) in its Q1 2017 results."
Why is support revenue included in this number? SAP's support revenue is far more than €905 per quarter. What is SAP's subscription revenue? That is the relevant question here? Support revenues apply to both on-premises and cloud sales, so quoting the support revenue is deliberately misleading.
Why Companies Will Use Hosted for S/4HANA
"Although Plattner says that SAP now gives customers the "full spectrum" of cloud ERP options, he naturally believes that running S/4 with SAP is the better option for customers. "HANA Enterprise Cloud has more traditional flexibility for the customer, in the HANA public cloud there are more restrictions," he said."
Right, most customers will need to customize S/4, so they will need to move to the HANA Enterprise Cloud. The HANA Public Cloud is only usable for companies that have no customizations. Isn't this basically what Mark Hurd said at the beginning of this article?
SAP Leonardo
"Ever the engineer, Dr Plattner calls Leonardo a "bounding box". He explained: "It is a box around a set of objects, so this is a box around a set of tools to build a system which then, with machine learning algorithms, finds insights which we can attach to transactions."

Plattner reiterated that what makes SAP's approach to AI and machine learning unique is that customisers have all of the important business data right there underneath them, in the SAP transactional systems, and they don't have to ferry data outside of core systems to run algorithms out at the edge.

He said: "It is the age of AI but we do it inside, we do not run around with our valuable data and go from system to system." Plattner added that keeping the data in one place is the best way to safeguard it."
There is no evidence that Leonardo is anywhere right now.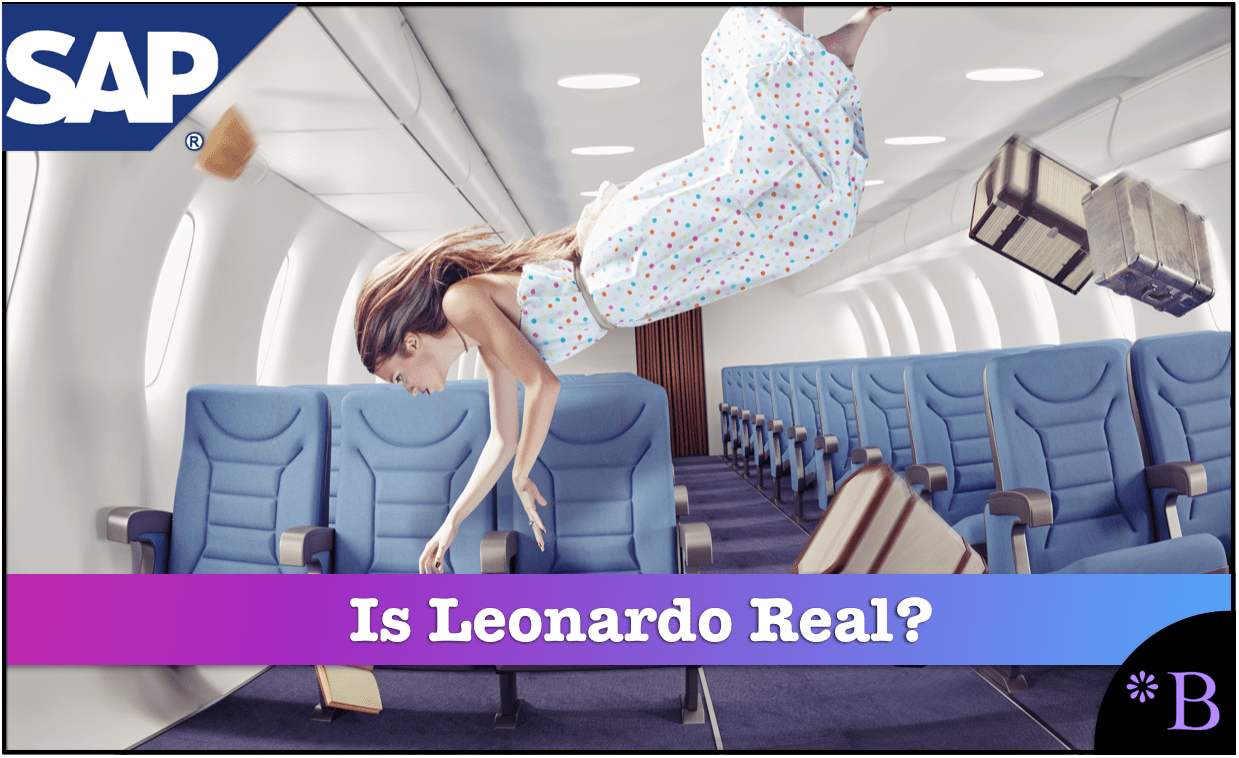 This is covered in the article Why SAP's Leonardo Seems so Fake. SAP has shown no evidence it is even in the game for AI or machine learning. And SAP may have a different approach to these things, but where is the proof of any payoff?
Conclusion
This is a standard article by ComputerWorld and its parent company IDG. It allows SAP to say anything they like, and they offer no filter. ComputerWorld serves as a repeating mechanism for SAP. They may be paid by SAP, but they also are compensated by online ads. This would not necessarily be a problem, but they don't seem to put any effort into writing articles.