Analysis of Mark Chalfen's Article on S/4HANA Maturity
Last Updated on May 11, 2022 by Shaun Snapp
Executive Summary
Bluefin Solutions has been a constant provider of false information on HANA and S/4HANA and many other SAP topics.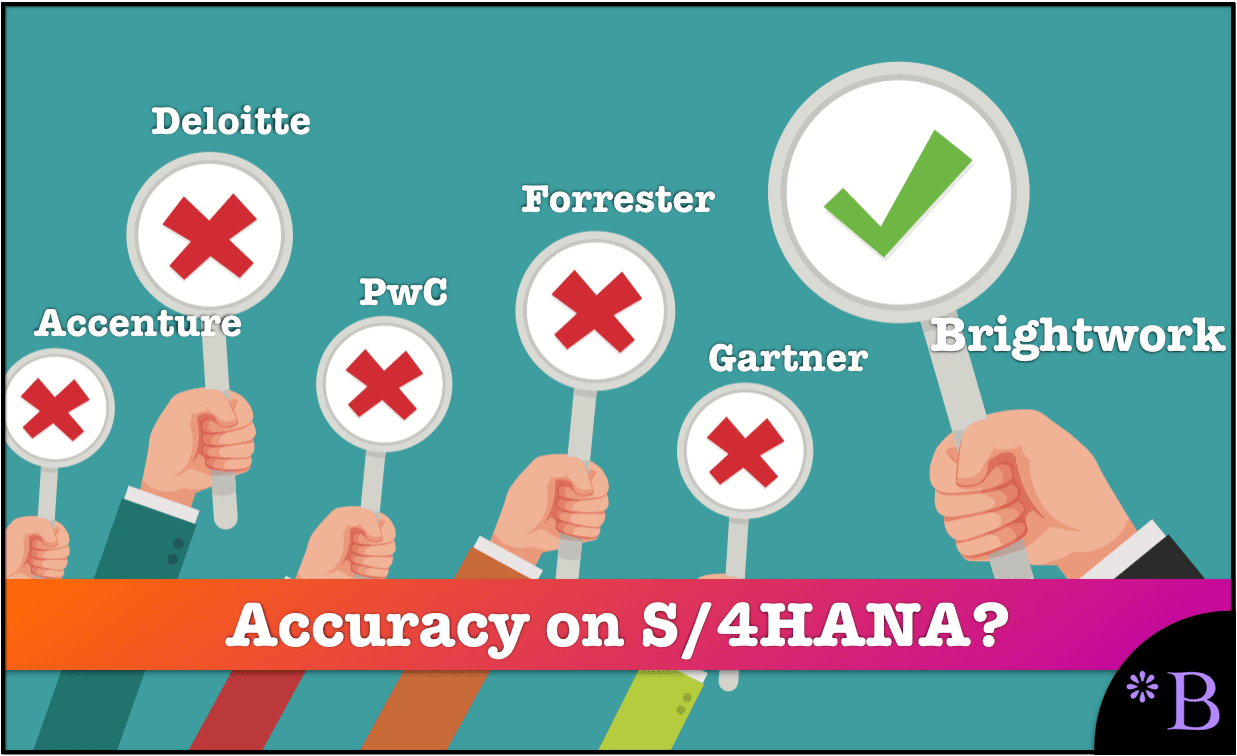 Introduction
This article will review quotes from Mark Chalfen of Bluefin Solutions, one of S/4HANA's and HANA's greatest promoters.
Our References for This Article
If you want to see our references for this article and other related Brightwork articles, see this link.
Lack of Financial Bias Notice: We have no financial ties to SAP or any other entity mentioned in this article.
This is published by a research entity.
Second, no one paid for this article to be written, and it is not pretending to inform you while being rigged to sell you software or consulting services. Unlike nearly every other article you will find from Google on this topic, it has had no input from any company's marketing or sales department. 
The Quotations
The Number of Live Customers on S/4HANA
"There is no one-size-fits-all answer here I am afraid. SAP S/4HANA has been around for just under two years. Over 150 customers are using the tool in a productive manner and there are a number of other productive projects in flight in addition to Proof of Concepts. I would expect this to increase to over 500 live customers by the end of 2016. However, when talking about SAP S/4HANA, you need to be precise around the version and the solution scope that is being deployed."
It is 1/3 of the way through 2017, and even according to ASUS, only 350 customers live on S/4HANA. But that is far too generous as ASUG counts customers that are barely using the application.
S/4HANA Simplification?
"SAP S/4HANA Enterprise Management is approximately six months old. This has a similar functional scope to SAP S/4HANA Finance, however the solution has been significantly simplified and further functionality has been added. Furthermore, a number of modules that were available in core SAP ECC are no longer available due to the 'principle of one'."
Incorrect. S/4HANA has had some functionality removed, but it has not been simplified.
First, S/4HANA is a much more complicated implementation than ECC because S/4HANA is still so immature and all the changes. The entire proposal of S/4HANA being simpler is deconstructed in the article Does S/4HANA Have a Simpler Data Model?
S/4HANA Finance is a Mature Product?
"The SAP S/4HANA Finance version is a mature product, based upon the number of productive customers utilising it and the duration it has been around. SAP S/4HANA Enterprise Management is approaching maturity. Since its release in November 2015, there has been one Feature Pack Support released in February 2016 with another due in May 2016. These packs contain fixes to the solution that was delivered and add small chunks of new functionality."
This is some wordsmithing in the extreme. "Approaching maturity" means it is immature. Why won't Mark say it is immature? (that is easy, Mark makes his money in part by promoting S/4HANA, so may as well work for SAP sales)
Why dance around a fundamental question of the state of S/4HANA? Secondly, those who had worked with S/4HANA finance debate its maturity when Mark wrote this article.
In April of 2016, Dennis Howlett of Diginomica has the following to say about the state of S/4HANA.
"The free S/4 HANA trials are available, I've tried some of the cloud modules but if I'm candid, they're a tad anemic and barely qualify as modern. I poked around in the financials and the marketing module the last day or so and found that while holding promise, SAP hasn't taken advantage of modern idioms to present a truly compelling offering. Asking me to select a company by its number and not its name for instance seems arcane. Asking me to name product segments with underscores between names is geeky and requires extra thinking.

Taken together, S/4 HANA must be viewed as a work in progress. On the upcoming earnings call, I am hoping that SAP will provide some clarity around S/4 HANA beyond the customer counts."
According to Dennis Howlett, this was interesting because even in April 2016, S/4HANA "does not appear to be a complete product." However, SAP initially communicated a release in 2014 (the month unspecified), but the proposal here by Dennis Howlett is that over two years later, S/4HANA Finance is still not complete.
Did Mark Chalfen Really Take a Client Live in 2016 on S/4HANA EM?
"I am lucky to be working on a system conversion project to SAP S/4HANA Enterprise Management with a go-live of December 2016. The project utilises the latest functionality and scope for their conversion, with the assumption that the release in May will have further maturity."
As time passes, one would assume that an application that is being developed will have "further maturity," but Mark is vigorously dancing around the topic of whether S/4HANA EM is complete. It isn't. Furthermore, it is very likely that given the maturity of S/4HANA EM in 2016 that Mark Chalfen did not take this client live.
S/4HANA Moving Toward a More Mature Product?
"Given the number of releases scheduled, any organization looking at an SAP S/4HANA Enterprise Management implementation with a go-live date of 2017 can feel comfortable in the knowledge that it will be moving to a more mature and well-supported product. SAP supports the first tranche of customers via the Customer Care program and RIG Program – Regional Implementation Group. It provides a free service for a small group of customers to ensure they have the latest product information."
This is a strange statement. One does not "feel comfortable" knowing that an application will become "more mature." One feels comfortable when one is implementing an application that is complete. I should not have to explain this, but it usually is not implemented if an application is not completed. When I worked for i2 Technologies, we brought out many new products that were mostly all bombed. The only way that i2 Technologies was able to push so many incomplete products into the market was through salespeople lying about how complete these applications were. This is happening now with S/4HANA. But it is not only SAP that is lying about the state of S/4HANA, but their vast number of consulting partners that are in on misleading customers to get the possible money for themselves.
Typically Large ECC Expenses Necessarily Further Increase with S/4HANA
ECC implementations have been costly even when that product was quite mature.
"There are currently less than 300 SAP S/4HANA Fiori apps. I would expect this figure to double within a year, so if you are expecting or looking for a pure SAP Fiori ERP system, S/4HANA is not ready just yet."
True. Fiori apps have grown to over 8,000 (but SAP got caught classifying Fiori colored SAPGUI screens as Fiori). There are still very few people anywhere using Fiori. There would be more, but SAP decided to restrict Fiori to HANA mostly.
"There is no simple answer around the maturity of SAP S/4HANA. It is clear that it is "maturing". For a high proportion of customers, significant benefits can be achieved with the current version of SAP S/4HANA (Finance and Enterprise Management)."
Repeating What SAP Wants Customers to Think About S/4HANA?
If you are not a pawn of SAP and part of their partner network and therefore have your speech controlled and have projects dangled in front of you in exchange for how much you kowtow to SAP, there is a straightforward answer maturity of S/4HANA. It is not a completed product. But you can only point out that undeniable fact if you are independent of SAP.
If you aren't, the topic becomes very "complex."
"Those customers I am talking to now who are considering SAP S/4HANA or working on a business case will find it to be a pretty mature solution come implementation. For those favouring a system conversion, looking at the solution as it is today, the jump is achievable. However, the further the product grows and matures, the bigger that jump will become and new installations will become even more popular."
This entire paragraph can be translated into
"I am actively covering up the maturing of S/4HANA so that I can trick you into going ahead with a S/4HANA implementation."
Consulting
This article is a testament to the corruption in the IT industry. Bluefin Solutions wants to make money implementing S/4HANA. So they will say anything to sell more S/4HANA. Mark Chalfen replaced the highly inaccurate John Appleby (who, as we have tracked, was wrong in just about every one of his statements about HANA) as the primary hype man for HANA and S/4HANA. And Mark has continued in his footsteps, providing a constant stream of false information about HANA and S/4HANA. This article is undifferentiated from Soviet-era propaganda or propaganda that comes out of Madison Avenue for selling toothpaste. But all of the articles on the Bluefin Solutions website are similar. They have no directive to inform but are mindless sales pieces.
See our The S/4HANA Implementation Study. For the real story and details on actual S/4HANA implementations.