Analysis of Rimini Street's Presentation on ERP Support
Executive Summary
Rimini Street created a presentation on ERP support.
We evaluated this presentation for accuracy.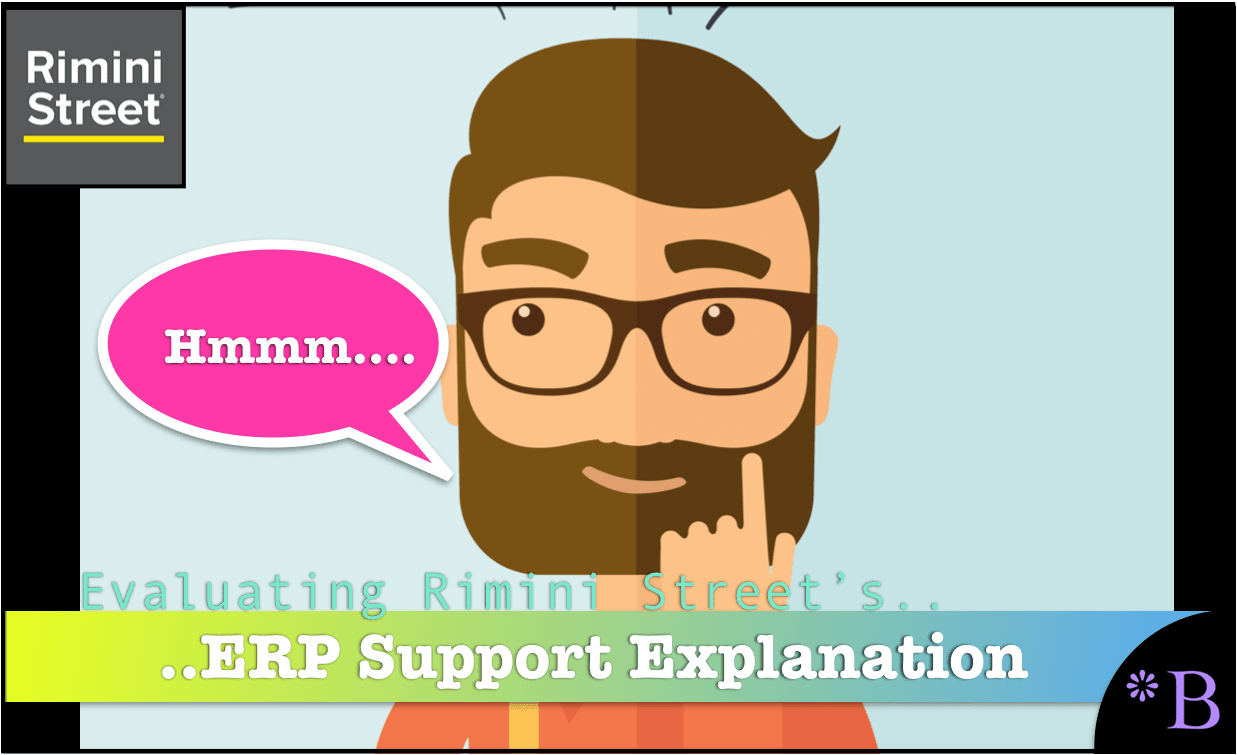 Introduction
Rimini Street wrote the article 10 Telltale Signs of that it is Time to Change in Your ERP Strategy. This is a document that focuses on the history of ERP and ERP support. It seemed worthy of analysis.
See our references for this article and related articles at this link.
Rimini Street Quotes
"In the beginning, your vendor delivered great software and valuable support that helped you troubleshoot issues and optimize your systems. But over time, that model changed. The support partnership between you and your vendor has eroded and software improvements have all but disappeared."
Brightwork Research & Analysis covered this in a previous article titled What To Do About SAP's Declining Support.
"89% of the average IT budget is dedicated to keeping the lights on, leaving only 11% for innovative projects*"
This has been known for some time. What SAP and their consulting partners, in particular, have excelled at doing is maximizing their take of the IT budget or the larger companies. This is covered in the article How Vendors and Consulting Firms Parasitized enterprise Software's ROI.
"In ERP's early days, annual support was typically 15% of the original license cost. Today, support costs have risen to a standard 22% — a whopping 47% increase over the years. And it's not because Oracle and SAP have been investing in making support more responsive to customers' needs. It's because vendors net up to a 90% profit margin on support revenue, accounting for roughly half their revenue streams, making investors very happy."
This is consistent with what amounts to changing the terms of the software sale. If the software was initially sold under the concept of a 15% yearly support fee, then that percentage should continue. No doubt one of the logic used by Oracle and SAP is that on software purchased many years back, its support, as it is based upon the list license cost. However, this argument is undercut by the fact that most SAP customers have been purchasing other SAP applications as time has passed. Furthermore, Oracle and SAP have both followed a consistent approach to harvesting their existing customers. Oracle does this with highly punitive audits. SAP has opted instead for indirect access to force companies into purchasing more of their software.
"Before you know it, one small problem has morphed into a big project with regression testing and downtime that costs a lot of money, time and resources. When you get back in touch with support, you're unlikely to get access to experienced engineers unless you navigate a maze of escalations."
I have faced this issue myself. Poor quality support undermines the system. Curiously, so much money in IT is spent on system implementations hiring highly expensive and wasteful firms like Deloitte, Accenture or IBM. Still, when it comes to supporting, there is often a desire to reduce the support as much as possible.
"Most ERP implementations are robust and stable. Without compelling new functionality in the pipeline, many enterprises prefer to continue running the current system."
In the case of SAP, they have tried to alter this truth by proposing that their new ERP system, S/4HANA has a great deal of innovation. Roughly 93% of S/4HANA is simply ECC (the previous version of S/4HANA).
And SAP customers have lost functionality with S/4HANA that came from ECC. SAP has also invalidated the agreement with customers that all new versions of purchased software would be included in the support price. SAP has decided to charge for S/4HANA even for customers that already are running ECC. This is covered in the following article Why SAP S/4HANA Should be Free.
"72% of SAP licensees believe their current release meets business needs*"
This figure is quite interesting. But it may even underestimate the actual benefit of upgrading for customers. This is because many of the business needs of the customer are not in the next release of their ERP system. There are always areas of functionality that the customer would like that is not contained in the ERP system.
"The cost of an upgrade can easily exceed $1 million. And more than 56% of Oracle ERP upgrades take nine months or more.* Upgrades also pose significant risks. Licensees are concerned about testing, staff limitations, maintaining customizations and the possibility of downtime."
This was one of the most important areas of ERP that Rimini Street along with Nucleus Research highlighted. It was surprising to me when I read their coverage of the topic because:
a) it was never an area in which I specialized, and
b) it seems not to be mentioned on projects. Instead, upgrades are treated as necessary and responsible.
90% of ERP systems are customized*

* 85% of Priority 1 issues are custom-code related* 65% of all issues are custom-code related*

* 65% of all issues are custom-code related*
This was surprising. In my consulting experience, I don't recall seeing the customizations cause that high a percentage of the issues. However, following up issues was not mainly what I have done.
"Gradual rollouts of cloud versions of Oracle Fusion and new SAP S/4HANA updates have triggered lukewarm interest from customers. Acquisitions of cloud vendors, such as Oracle's buy of NetSuite and SAP's purchase of Concur, have introduced more questions about ERP roadmaps."
That is certainly true. Extremely few customers are live on S/4HANA. Oracle Fusion's lack of adoption is renown even for those that do not specialize in following Oracle.

Conclusion
This is a quite interesting presentation from Rimini Street. Quite educational actually. This is the type of information that would never come from an SAP or Oracle rep or consulting firm.