How Accurate was SAP and Sven Denecken on S/4HANA 1610?
Last Updated on May 24, 2021 by
Executive Summary
How accurate is the information communicated on S/4, ranging from real-time consolidation to Fiori to EWN and S/4, to PLM and EWM, data governance?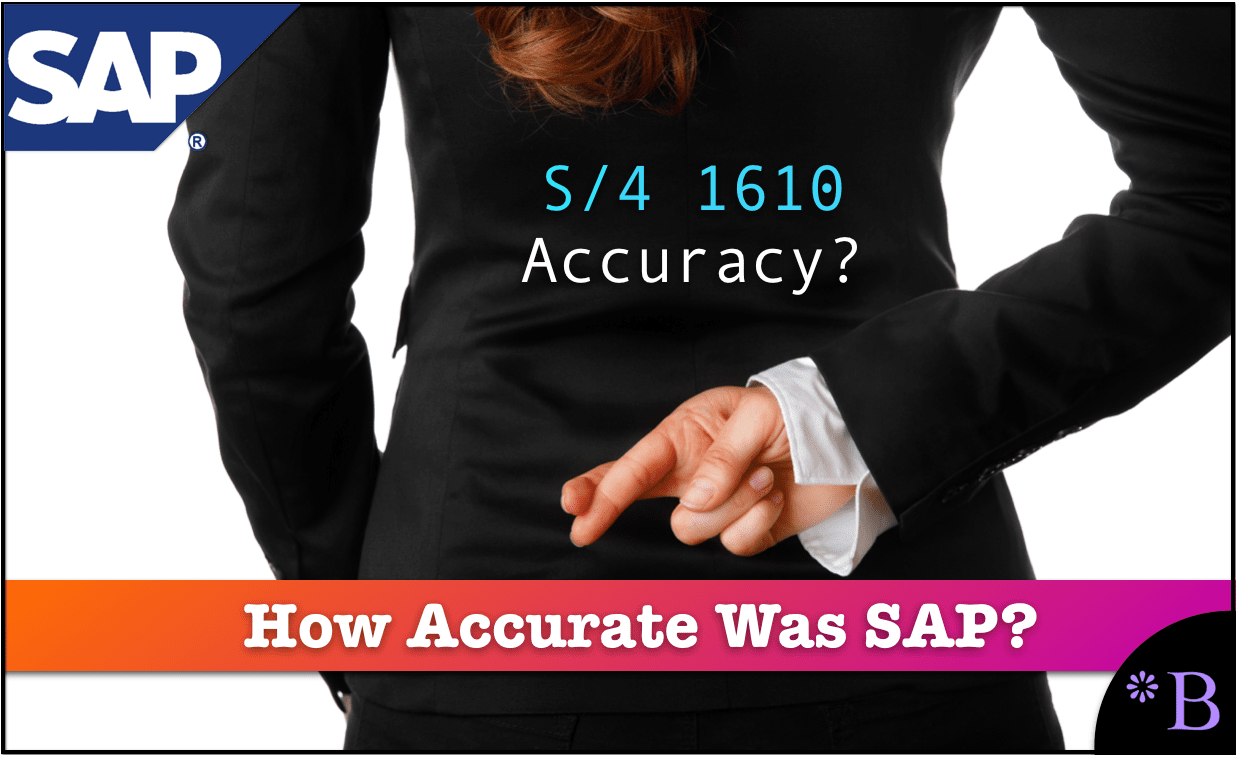 Video Introduction: How Accurate was SAP and Sven Denecken on S/4HANA 1610?
Text Introduction (Skip if You Watched the Video)
We spent time analyzing the SAP document SAP S/4HANA 1610 Release Highlights. 1610 is the most recent release of S/4HANA as of this publication. SAP makes claims about the time saved in financial reconciliation, simplification of human resources, how amazingly
productive Fiori's apps are, how PP/DS can be natively deployed, the integration to EWM, the supposed feature function parity of S/4HANA with ECC, and much more. You will learn about an analysis of S/4HANA from an independent source.
Our References for This Article
If you want to see our references for this article and other related Brightwork articles, see this link.
Lack of Financial Bias Notice: We have no financial ties to SAP or any other entity mentioned in this article.
This is published by a research entity.
Second, no one paid for this article to be written, and it is not pretending to inform you while being rigged to sell you software or consulting services. Unlike nearly every other article you will find from Google on this topic, it has had no input from any company's marketing or sales department. 
On Real Time Consolidation
"Take advantage of instant access to transactional and master data in SAP S/4HANA for real-time consolidation. You can easily trace back to source data in SAP S/4HANA and other legacy source systems for the finest granularity and confidence." – SAP
I have performed research on this topic of consolidation. This has been a primary marketing point for SAP. They have repeatedly stated that companies that use S/4 will save hundreds of hours in their end of period closing. SAP ties this to HANA's superior speed as allowing this real-time consolidation to occur.
The inaccuracy in SAP's statement is that consolidation is not entirely a systematic processing issue. Many judgments must be made, and they are human, and therefore real-time consolidation does not make a lot of sense.
SAP Applications to Connect to S/4
"Connect to business networks like never before. Finance can now take advantage of additional integrations with the SAP SuccessFactors Employee Central Payroll solution and learning map, buyer-side Ariba® Invoice Management and Ariba Discount Management solutions, Concur® solutions, and SAP Fieldglass solutions."

The SAP S/4HANA 1610 release simplifies human resources for both IT and business users. You can now simplify your IT environment with streamlined integration between SAP S/4HANA and SAP SuccessFactors solutions to support end-to-end business processes. Business users can now utilize object pages to present worker-related data for both employees and contingent labor forces.

Reduce procurement hassle with catalog buying for self-service requisitioning processes and increased integration with business networks, such as the creation of sourcing requests in SAP Ariba solutions directly from SAP S/4HANA. Sourcing managers can enjoy increased visibility into supplier performance, purchasing spend, and business events with the new procurement overview page." – SAP
This is marketing to get companies to buy other SAP solutions, namely Concur, Fieldglass, SuccessFactors, and Ariba. All of these are acquisitions. None of them have anything to do with S/4, except they have integration (with adapters in various development stages). On the other hand, you can use other applications that are competitors to these SAP applications. In most cases, companies may want to because the SAP product may be a poor fit or may not be cost effective.
S/4HANA Fiori
"New SAP Fiori apps enable increased productivity for all users across collaborative sourcing, contract management, and supplier management functions. Daily activities such as managing purchasing info cards, contracts, sources of supply, and requests for quotes take full advantage of the award-winning SAP Fiori user experience (UX) – SAP

Increase sales productivity with new SAP Fiori apps that make it easier than ever to create, modify, and display sales orders on any device. Contextual information helps ensure your sales and sales-support teams have a comprehensive view of the customer to maximize satisfaction, including resolution of issues, at every step of the buying process."
SAP continues the charade of presenting S/4HANA Fiori as if it is a complete user interface for S/4 when, in fact, it is just there to provide an assist. S/4HANA Fiori will have to be used alongside the SAPGUI to work correctly. S/4HANA Fiori has 7671 "apps" (which aren't apps but is another topic). This is a significant change for S/4HANA Fiori. Until recently, S/4HANA Fiori had less than 1200 apps and was growing at around 15 apps per month. I need to analyze how these new apps were added and will write about them in a future article. There is something bizarre going on with the counting of the S/4HANA Fiori app number.
Any S/4 implementation will primarily use SAPGUI. I explain why in the following post.
The characterization of Fiori presented by SAP in its marketing literature is once again wholly inaccurate.
Production Planning and Detailed Scheduling
"Production planning and detailed scheduling have been integrated with SAP S/4HANA, allowing you to create production plans without relying on a separate planning instance. You can now optimize and plan resource schedules directly in the digital core, taking into account bottlenecks and other production challenges."

"Material requirement planning (MRP) includes embedded production planning and detailed scheduling (PPDS) natively deployed without the need for complex integration and data maintenance to help drive accelerated MRP processing times from hours to potentially minutes and enable intelligent constraint-based planning and scheduling." – SAP Press Release
I have implemented PP/DS myself and can vouch that PP/DS is a lagging application in the space that is sold exclusively to SAP customers. It has an abysmal implementation history. So the fact that PP/DS is now part of S/4HANA is not a good thing, and PP/DS will not meet the needs of the vast majority of customers. For this, a bold on will be required.
EWM
"Experience the power of the SAP Extended Warehouse Management application built into SAP S/4HANA, and unlock greater productivity throughout your warehouse. This means your warehouse clerks and operations personnel can enjoy increased access to real-time data, while IT can embrace a simplified technical landscape. Your entire organization benefits from reduced data duplication and replication to increase accuracy and decrease cost."
As with PP/DS, SAP is leveraging APO to jazz up S/4. EWM is a warehouse management module in APO, was built at CAT logistics, and is unsuitable for most shippers. But SAP tries to sell it into shippers anyway. EWM is a weak application with enormous complexity that is entirely uncompetitive with warehouse management applications. Again, EWM can be made to connect to S/4 is not much of an advantage as EWM is such a poor application.
PLM
"Manage embedded software versions with the SAP Product Lifecycle Management application in SAP S/4HANA. Maintain compatibility information and check product compatibility for easy deployment of embedded software across projects and products.

Take an integrated approach to accelerated product design with a tool that integrates SAP software for product lifecycle management with multiple CAD authoring tools. Provide a 360-degree product view, with total transparency across engineering disciplines, through a harmonized and intuitive user experience. Synchronize product metadata, structures, access, and file handling to bridge design data with business data for a comprehensive product description." – SAP
This is a recycled marketing puff from SAP's many other attempts to penetrate the PLM market. I have read very close to the same thing at least eight times over the past nine years from SAP as SAP continually tried to gain a foothold in the PLM market.
Data Governance
"Help ensure a single source of truth with enterprise-wide governance using the SAP Master Data Governance application embedded within SAP S/4HANA. A new approach unifies industry materials and retail articles while using simplified master data to provide an easily managed corporate taxonomy. You can deploy user-friendly master-data-quality worklists for consistent, accurate data across the enterprise."
There is no single source of truth. A single source of truth is fool's gold. There are systems of record, but no single system of record. This is merely meaningless marketing speak.
For instance, S/4 cannot be the source of truth for all the other systems that a company uses unless S/4 is the only software that a company uses. I have read through several far more detailed documents on 1610, and I can't find any evidence of this capability. I am quite suspicious of this proposal because SAP claimed something very similar for MDM and then MDG, and those applications never had many implementations.
There is no single source of truth. A single source of truth is fool's gold. There are systems of record, but no single system of record. This is merely meaningless marketing speak. "Single source of truth" is the kind of information that the listener knows less than before they listened to it once it is started.
For instance, S/4 cannot be the source of truth for all the other systems that a company uses unless S/4 is the only software that a company uses. I have read through several far more detailed documents on 1610, and I can't find any evidence of this capability. I am quite suspicious of this proposal because SAP claimed something very similar for MDM and then MDG, and those applications never had many implementations.
Is S/4HANA Fully Fiori-zed?
"ASUG members can now think of S/4HANA as being fully "Fiori-ized" to prove a consistent user experience across the business suite." – Sven Denecken
No, that is untrue, and Sven Denecken knew this the moment he said it. Fiori only **covers** parts of S/4HANA, not all of S/4HANA. This is relatively easily verified.
This is covered in the article.
What is Actually in the Fiori Box? – Brightwork | SAP HANA
"We have covered the entire 1610 suite with Fiori now," says Sven Denecken, SAP SVP for product management. While previously if users were savvy enough they could find some Web GUI in S/4HANA 1511, that's nearly impossible in 1610." – Sven Denecken
This is an easily verifiable inaccuracy. It is quite easy to find areas of S/4HANA with no Fiori coverage.
Are S/4HANA Live Customers?
"Of the more than 4,100 SAP customers who to date have licensed S/4HANA, 8.5 percent or 350 customers are live on the suite. These live customers are either running S/4HANA on-premise or via managed cloud. A handful of organizations have signed up for or are using S/4HANA public cloud edition, but SAP plans a formal launch of the product early next year." – Sven Denecken
One might ask why so few customers are live on S/4HANA and if SAP has exaggerated the S/4HANA customer number through discounts. We know that the vast majority of S/4HANA implementations are on premises. SAP only has small companies that do not require customization on their S/4HANA public cloud.
Full Scope S/4HANA?
"Speaking on the vendor's third-quarter fiscal 2016 conference call, Rob Enslin, SAP's customer chief, said that over 50 percent of the S/4HANA live customers are implementing "full ERP scope"—which essentially means S/4HANA 1511 or 1610." – Sven Denecken
Rob Enslin is a highly unreliable source of information about SAP. In nearly every case we have analyzed Rob Enslin's previous comments, they have turned out to be false.
Also, this could be in any stage of implementation. But if they are implementing full scope S/4HANA, this could also mean a very select portion of the overall ECC functionality (which is far higher than the S/4 functionality.
Is S/4HANA at Feature Function Parity?
"1511 was already at feature function parity with ECC," says Denecken. "We think this release, 1610, will definitely prove that and get that question out of the way." Can customers do all the same things with S/4HANA that they did with ECC? "No, that was never our intention," he adds. "We've carefully built a new product." – Sven Denecken
If release 1511 was already at feature function parity with ECC, then was can't customers do all the same things with S/4HANA that they do with ECC? Isn't that what the word parity means?
Not only was 1511 not at parity with ECC, but 1610 also was not either. The overall suite is not yet released, as is covered in the article How the Overall SAP S/4 HANA Suite is Not Yet Released – Brightwork | SAP
And the second part of this quotation is confusing. It seems to contradict the first part of the quotation. If feature function parity was reached, then why can't you do the same things with S/4HANA? SAP's response may be that there is simplification involved, but it may also merely be an excuse to contradict the first statement, which is incorrect.
Broadening S/4HANA?
"S/4HANA 1610 also adds in all the features of S/4HANA Finance and all future innovation on finance will concentrate on the suite, not a stand-alone finance offering. "We believe the rationale for starting with finance stand-alone will go down," Denecken says. "We're not saying it will go away." – Sven Denecken
Well, when S/4HANA was first released, there was nothing but finance functionality. So now, there is functionality outside of finance available. But it is not as mature or anywhere near as complete as the functionality in finance. So, of course, there may be more opportunity to implement more of the suite, but the suite is still highly incomplete.
SAP's List of Fiori Coverage
* "Fiori 1.0 for Customer Activity & Retail
* SAP Fiori EHS Management
* SAP Fiori ERP
* SAP Fiori ERP HCM
* SAP Fiori Fashion Management
* SAP Fiori Hybris Marketing
* SAP Fiori Information Lifecycle Management
* SAP Fiori Master Data Governance
* SAP Fiori Portfolio and Project Management
* SAP Fiori Solutions for GRC
* SAP Fiori SRM
* SAP Fiori Request for Approvals
* SAP Fiori S/4HANA Finance 1605
* SAP Fiori for SAP Simple Finance add-on
* SAP Fiori front -end server
* SAP Fiori principle apps 1.0 for SAP ERP
* SAP Fiori principle apps 1.0 for SAP SRM
This list seems like stuffing the bill of materials to make Fiori look larger than it is.
Let us take one category, Fiori, for Master Data Governance. If we look at the Fiori Apps Library and filter by Master Data Specialists and Master Data Stewarts – we find the following "apps."
Master Supplier Master Data: Manages suppliers' master data for all-consuming departments.
Master Data Governance Consolidation: (Very little documentation exists on this)
Master Data Governance Consolidation:
Master Data Governance: Mass Processing:
Customer:
Customer Master FactSheets:
Manage Customer Master Data:
Site:
Article:
Manage Product Master
Material
Material Master
Approve Master Data
Approve Master Data – Extended
MDG Address Library to Approve Customer/Suppliers:
Master Data Quality Wordlist: This is a list view.
* Another example is Fiori for Hybris. By selecting for Marketing Manager and Marketing Expert, which would use Hybris, no apps were found.
* The same issue was found looking for Fiori for Fashion Management
Of these total 74 Fiori innovations, 17 Fiori innovations are identified for HANA Release 1511
Ten additional Fiori Innovations are associated with 1605 and 1610.
SAP point to delivery Fiori apps were numbering above 1000 as of August 2016. Yet, this is not an accurate number. SAP has numbered any "workflow" as an app. In a count made of non-HANA or AnyDB apps, for the 188 apps, these were categorized into 49 "actual apps."
Conclusion
SAP's literature in 1610 is littered with inaccuracies. Many of these claims on S/4 are not new for SAP. Most of these same arguments have been used in the past by SAP to describe either ECC or the other products mentioned above. However, they never came true previously.
SAP does the following:
Issue #1:

Lying Through Omission

Leaves out essential details (such as the fact that SAPGUI is critical to S/4HANA Fiori will only be incidental in use)
Issue #2:

Non-Stop "SAP Universe" Selling

SAP talks up other SAP applications that don't have anything to do with S/4 but can be connected to S/4. If the paper's topic is S/4, then why does SAP spend so much coverage on items that are not part of S/4? Some of the audience that does not know may think that Concur's products, such as Concur, and SuccessFactors are part of S/4. It also does not follow that SAP has an offering that the offering is right for the SAP customer. Of each product mentioned, there are many competitors. If we look at SuccessFactors, sort of SAP's showcase acquired product, it is known that there are some things it does well and others it doesn't. SAP does not have the overall space of HR covered simply because they acquired SuccessFactors.
Issue #3:

Understating Integration Efforts

SAP will have an advantage over other firms for integration because the data model from S/4 has changed. This will break the adapters that have been written for ECC. On the other hand, many of SAP's new acquisitions face the same problem as third-party applications are not entirely integrated into S/4. Therefore, just because SAP mentions that "S/4 can be connected to XYZ SAP product" does not mean that the product's integration is ready or is not in some half-finished state. I hear of lots of integration problems on projects where the acquired products have been implemented. More than any previous SAP ERP version (and since so many of the products mentioned in the SAP information are acquisitions), SAP customers must thoroughly check how much integration they are obtaining from a purchase of these non-S/4 products. SAP and consulting partners will do everything in their power to provide the inaccuracy that every SAP application has a completed integration adapter to S/4.
Issue #4:

Wishful Thinking

SAP proposes, and would like the user to assume, a lot of competence in application areas like production planning and scheduling and PLM. However, SAP has never had useful products in these areas. Production scheduling and PLM are a problem on every single SAP account currently. And it's unlikely much will have changed merely because SAP is now introducing it under S/4. I could do the same thing. Say that I will win a Nobel Prize, compete in the Olympics, or become a fashion model. But if I don't have any history of being useful in any of these things, why would anyone believe me?
Issue #6:

Hiding The Readiness of S/4

SAP does not let on for a second that the S/4 suite is not a finished product. SAP has continued to present this falsehood for several years. S/4 1610, as with the S/4 versions before it comes with a "simplification list." This is the list of the changes made to S/4. The list is 408 pages long and takes a serious commitment of time to read. And in the next few months, there will be a new simplification list of similar lengths that will also have to be digested. Since it is an expensive resource that could make sense of this document, this means researching the simplifications list is expensive (relatively speaking) to fund. Companies will fund a database administrator position or trace some concrete output, but they dislike financing background research like this. I can see many companies skipping this detailed analysis initially and finding out the details during the implementation.
What SAP Could Have Done Instead
SAP could publish a much easier understand document that shows the percentage of functionality in each area that is complete. The percentage that has changed, the portion that has been disappeared. However, they do not do that. There is no documentation for the marketing information I quoted above and the detailed simplification list, which is only readable by far smaller audiences and requires detailed analysis.
Overall this SAP literature is unreliable and is not useful for much more than criticism or humor. We give it a 3 out of 10 for accuracy. Some of the things stated in the document are true, but there are so many falsehoods. It is incredible to me that this SAP document's information will be read or used by anyone to decide on S/4.