How Accurate Was ASUG on S/4HANA's Integration as R&D Priority?
Last Updated on March 24, 2021 by Shaun Snapp
Executive Summary
ASUG proposed that S/4HANA integration was an R&D priority.
We review the accuracy of ASUG's statements.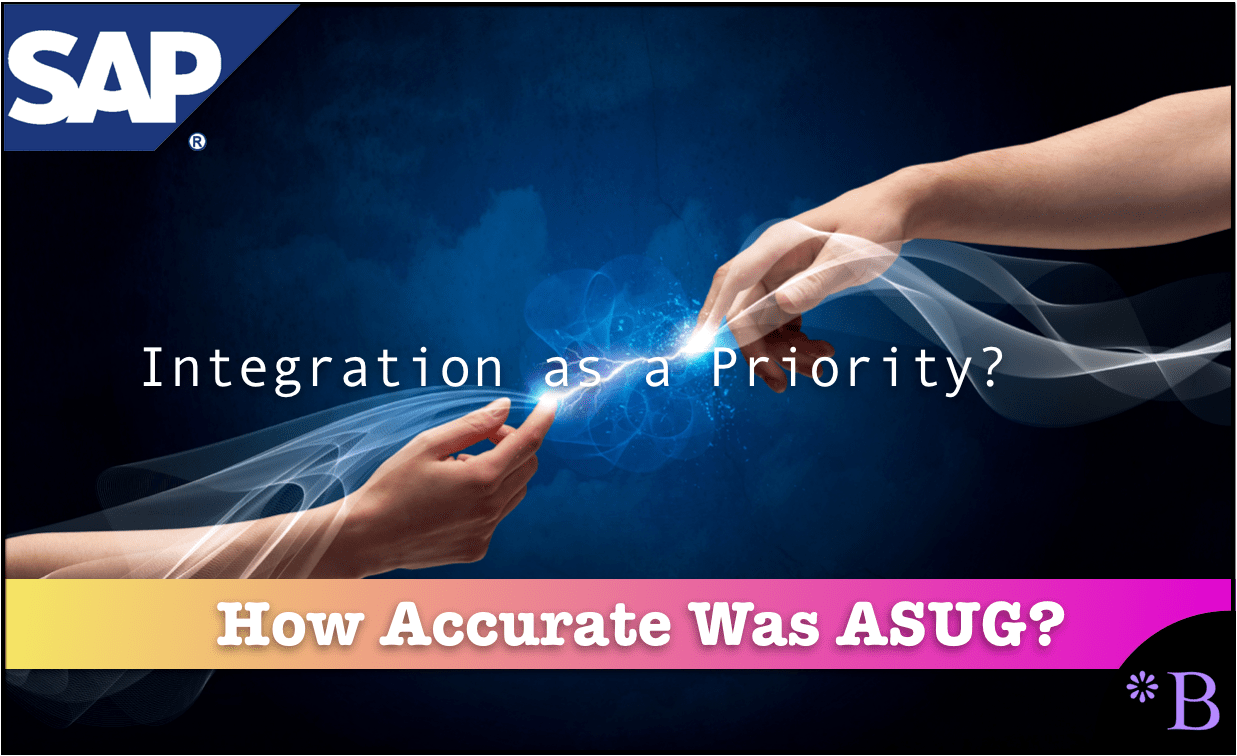 Introduction
In this article, we will review ASUG's article on the S/4HANA and SAP cloud integration.
Our References for This Article
If you want to see our references for this article and other related Brightwork articles, see this link.
Lack of Financial Bias Notice: We have no financial ties to SAP or any other entity mentioned in this article.
This is published by a research entity.
Second, no one paid for this article to be written, and it is not pretending to inform you while being rigged to sell you software or consulting services. Unlike nearly every other article you will find from Google on this topic, it has had no input from any company's marketing or sales department. 
Quotes from the ASUG Article
Does Innovation Equal Acquisition?
"Bill McDermott started as Co-CEO of SAP, along with Jim Hagemann Snabe, in 2010, and has held the CEO position solely since 2014. During the past seven years under McDermott, SAP has been busy trying to meet the standard of the "Cloud Company Powered by HANA" vision. This has meant new product developments as well as large acquisitions.

"Since 2010, we've invested $50 billion in innovation," says McDermott, who spoke on the main stage at SAP Ariba Live in Las Vegas last week."
This seems misleading. Investing in innovation is typically reserved for R&D. Innovation is not considered an acquisition. A high number of acquisitions is evidence of a lowered ability to innovate. For instance, in accounting, SAP cannot take acquisitions and place them into the R&D expense for tax purposes. So this linguistic inaccuracy is noteworthy on the part of Bill McDermott. Bill McDermott is a lifelong salesperson in character, and it is interesting to ponder how much he believes what he is saying.
Unsurprisingly, ASUG does not comment on McDermott's inaccuracy.
"During a separate Q&A session with press and analysts at SAP Ariba Live, McDermott did confirm to me that the $50 billion number includes cloud mergers and acquisitions, such as Ariba, Concur, Fieldglass, SuccessFactors and Hybris — keep in the mind the Concur acquisition alone was more than $8 billion. That innovation also includes the development of S/4HANA, SAP's next generation ERP suite and products such as the HANA Cloud Platform, which McDermott calls "the fastest growing software we have at the company."
HANA Cloud Platform, or SAP Cloud Platform, has been the fastest-growing software that SAP has because it is free. I logged into the SAP Cloud Platform to test it as well, and I assume my credentials count as a user, even though I never really did anything with it.
How Innovative is S/4HANA?
As for the commingling of S/4HANA development with software acquisitions, that isn't very clear. Also, while S/4HANA development expenditures do meet the definition of R&D, they don't meet the definition of innovation. S/4HANA development can be roughly categorized into the following changes:
Creating new tables that leverage HANA's column-oriented design.
Code reduction and simplification.
Development of Fiori apps
Removal of ECC functionality
Most of these things can be considered a sort of background housecleaning. But roughly 93% of S/4HANA is using code from ECC. I have logged in rooted around S/4HANA, and it looks like ECC to me. Also, most companies that use S/4HANA don't use the Fiori apps, so the effect of SAP's improvements here has yet to be used. As for the column-oriented table redesign, reports from the field are that transaction processing has suffered as a result. Therefore, not all "innovation" is a necessarily good innovation. It is simply challenging to see S/4HANA as an innovative application.
"With all those new products both homegrown and acquired, building native integration has been a challenge for SAP in the past seven years. If they want customers to sign on to the whole vision, with core ERP alongside SAP-owned cloud providers, integration is a key selling point. McDermott admits to the SAP Ariba main stage crowd that it hasn't been easy."
SAP's Continual Problems with S/4HANA and SAP Cloud Integration
Integration has always been a challenge for SAP. For example, APO, which is now roughly 18 years old and thus is older than "the past seven years," has had the CIF, a highly problematic integration component, as is covered in this article.
It also brings up why SAP has been so difficult to integrate ERP to SAP's cloud purchases, and therefore before SAP cloud integration became an issue. SAP has enormous resources but continually has such problems developing adapters promptly to its acquired applications. That should not be the case. It brings up whether customers should wait at least five years or longer before buying any product acquired by SAP, so SAP can finally complete the adapter.
"When we bought other cloud assets, we had to integrate back to the core and I know that wasn't always smooth," he says.

I asked McDermott about what integrations customers can expect from SAP going forward, including integrations with S/4HANA's predecessors, ECC and Business Suite. He says that S/4HANA is the focus.

"The No. 1 key R&D [research and development] initiative is whatever you do on innovation has to integrate seamless into S/4HANA," says McDermott. "It's an essential element in everything we do."
Right, so companies that stay on ECC will not be integrated into SAP's new applications or SAP cloud integration. This will be used to motivate customers to migrate to S/4HANA. However, it would be wrong to move to S/4HANA before it is ready to be implemented. Secondly, SAP's acquired products are not differentiated in the market from other competitive applications. Therefore current ECC users may want to connect non-SAP applications to ECC. SAP is very much against this, of course, as is covered in the article SAP's Position on Non-SAP Application Integration.
S/4HANA Customers Should be Happy?
Finally, If S/4HANA is the focus on integration for SAP, customers that have bought into the whole SAP S/4HANA vision along with complementary cloud offerings will be happy.
I am not sure how happy those customers should be. Most of them are probably still pretty unhappy about how little they got from their S/4HANA implementations. But secondly, even when SAP makes integration a priority, they have a problem pulling it out. SuccessFactors and Ariba were purchased five years ago. Why have they not been fully integrated yet?
"Those looking to stick with ECC or Business Suite longer, but still take advantage of cloud products that haven't yet been natively integrated, such as Concur, will likely have to look to third parties to complete those integrations. They can also expect those native integrations to be an S/4HANA selling point when talking with their favorite friendly SAP account executive."
Hmmm…..ASUG could do a little better job of hiding their complete subordination to SAP a bit better. ASUG is supposed to be a user group. It seems that ASUG needs to be continuously reminded of this fact and that they are not supposed to be a court jester for the mighty SAP.
Conclusion
ASUG did an excellent job of publishing uncritical information about SAP cloud integration that put SAP in the best light possible. This is why I can never tell if a person writes an ASUG article at ASUG or a person at SAP. It's almost like they are the same! SAP will use its SAP cloud integration to S/4HANA, but there is no evidence that SAP customers should jump at this. It will, in most cases, be far better to stay with ECC and use better non-SAP cloud applications and skip the SAP cloud integration altogether. Or wait a while until SAP gets its SAP cloud integration issues worked out.
This ASUG article receives a 2 out of 10 for accuracy.
See our The S/4HANA Implementation Study. for real story and details on actual S/4HANA implementations.