How to Best Understand SAP Licensing Costs and Contract Complexity
Executive Summary
The pricing of SAP or the price of SAP applications is kept secret, and this makes pricing estimates challenging to obtain.
SAP also has complex discounts, which make it impossible to know the price of SAP software accurately.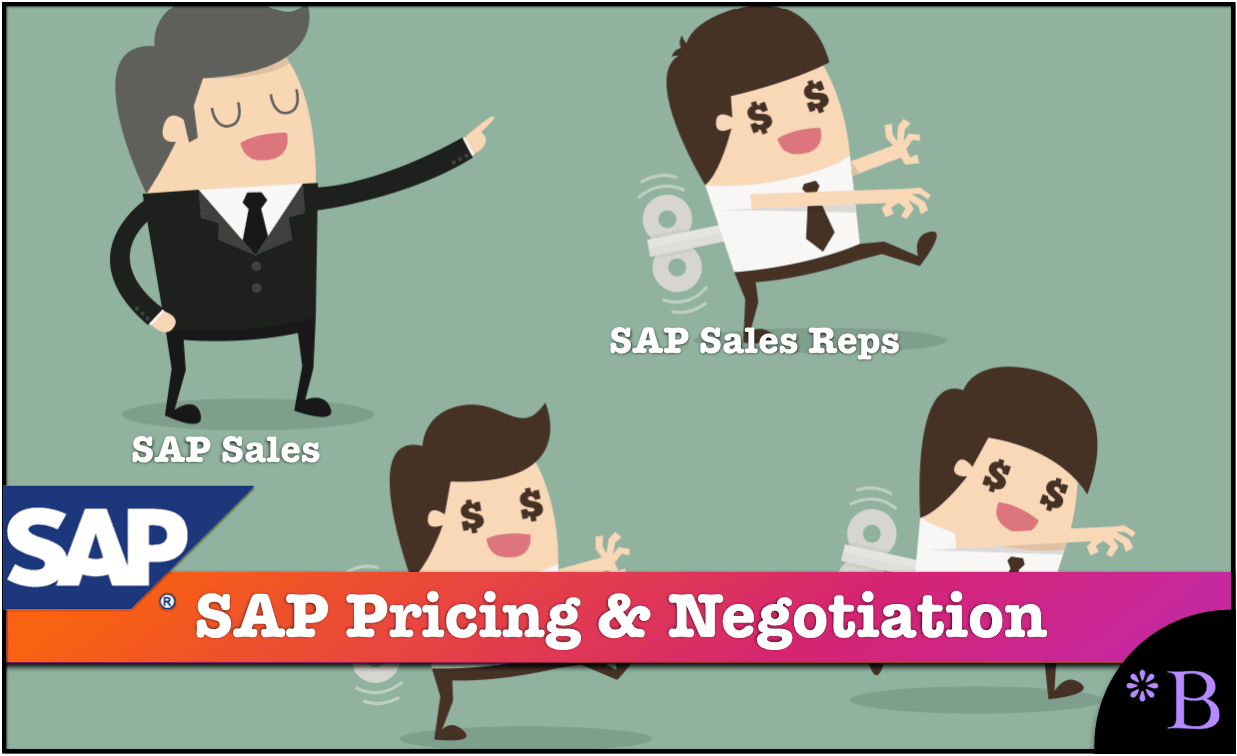 Introduction
SAP pricing is a mysterious topic that is hidden from public view, making purchasing from SAP a convoluted process. You will learn essential details of how SAP manages pricing that you can use in negotiations with SAP.
Facts About the SAP Price List
SAP follows the on-premises model of keeping its pricing secret. When reviewing SAP's price list, it states that the price list is public and cannot be published.
Right on the first tab of the SAP price list, it states the following:
"All rights reserved. The contents of this work are confidential and proprietary information of SAP AG. Improper and/or unauthorized reproduction in whole or in part of the information contained in this work is a violation of SAP's proprietary rights and could cause irreparable damage. No part of this work may be reproduced or copied in whole or in part in any form or by any means (including without limitation graphic, electronic, or mechanical, including photocopying, recording, taping or information storage and retrieval systems) without the prior written permission of the publisher."
That is false. SAP is selling a public product. Therefore the price and the pricing list cannot be protected in that manner.
The SAP Software Cost
The cost of SAP should never be confused with the price of SAP software.
The cost of SAP gets into the topic of TCO or total cost of ownership. When people say the cost of SAP, they don't necessarily mean the TCO, but they may. TCO means making a model that accounts for the different cost categories. I have written the only book on enterprise software TCO, which can be seen here A Book on How to Best Perform Enterprise Software TCO.
In this book, I break the costs of enterprise software into:
Acquisition Costs
Implementation Costs
Hardware Costs
Maintenance Costs
So in this article, we will only be discussing SAP pricing.
The Price of SAP and Pricing SAP
SAP is priced in some different ways, and the price, of course, changes depending upon the specific application, and the number of different ways that SAP can be priced is surprising to most customers.
The different ways the price of SAP or pricing SAP can be arrived at include the following:
By User
By Revenue and Expenses
By Revenues
By Flat Fee
By Weights: (For things like commodity and agricultural products)
By Orders: (For things like sales orders)
By Contracts: (For things like CRM Marketing)
By Cores: (For things like SAP Hybris)
By Transactions: (Also SAP Hybris)
By Employees: (For SAP HR solutions)
By Cost of Goods Sold: (For SAP Collaboration SNC)
By Freight Spend: (For SAP TM)
By Plant: (For SAP Manufacturing Integration)
By Resources: (For SAP Manufacturing Scheduling)
By Rental Unit: (For SAP Real Estate Management)
By Spend Value: (For SAP Supplier Management & Ariba)
By Product: (SAP Vehicle Management for Auto)
By Outpatient Days: (SAP Patient Management for HC)
By Business Partners: (SAP Tax, Benefits and Payment Processing for Public Sector)
By Points of Delivery: (SAP Energy Data Management for Energy Utilities)
By Learners (SAP Enterprise Learning Environment)
By Concurrent Sessions (SAP BusObjects Knowl Acc Bundle f BI Suite (CS))
By Virtual Users: (SAP LoadRunner by HP, 100 VU bundle)
By Connected Systems: (ProductivityPak adapter for SAP Solution Manager)
By GB of Memory (SAP IT Operations Analytics or SAP Predictive Analytics Suite for Full Use HANA)
By HSVA: (SAP HANA, Runtime edition for Applications & SAP BW – Install Base)
By Recipients: (SAP NetWeaver BeXBroadcaster)
By LVM Instances (SAP NetWeaver Landscape Virtualization Mgmt enterprise)
By Annual Subscriptions (United States National Directory (1 server))  And that is not the comprehensive list. However, it should also be recognized that many of SAP's applications are not widely sold. Therefore the pricing SAP, the way that is shown above, is often rarely applied.
Pricing SAP can be determined (before discount) by estimating the number of "things" that the pricing is based upon. And that by itself can be challenging.
SAP Licensing Cost
SAP licensing cost and refer to the price of the SAP license, which is the right to use SAP software. The SAP licensing cost is simply the more technical terms for the price of SAP. The SAP licensing cost is stated in the software contract, and it is defined by the end-user licensing agreement.
The SAP Price List and the SAP Software Cost
The SAP price list is not so much a list — as in an SAP price list printed out as a Word document as it is a spreadsheet that provides the SAP software cost under different conditions. The actual SAP price list (spreadsheet) is quite limited, and the people at SAP did a rather poor job of automating it. SAP also offers an interactive price to determine the SAP software cost, but it also has limitations.
The SAP price list is restricted to SAP account executives and salespeople at SAP partners. However, it is a good idea to verify the SAP software cost provided by SAP or an SAP partner with a third party. We repeatedly catch SAP sales providing false information about pricing by serving in this exact capacity for companies.
Negotiation on SAP Software Cost
The final piece of the sap price puzzle is the discount. The discount applies to all SAP products, except for a few. The discount applied to a price is its subject area, and also differs by region and many other factors.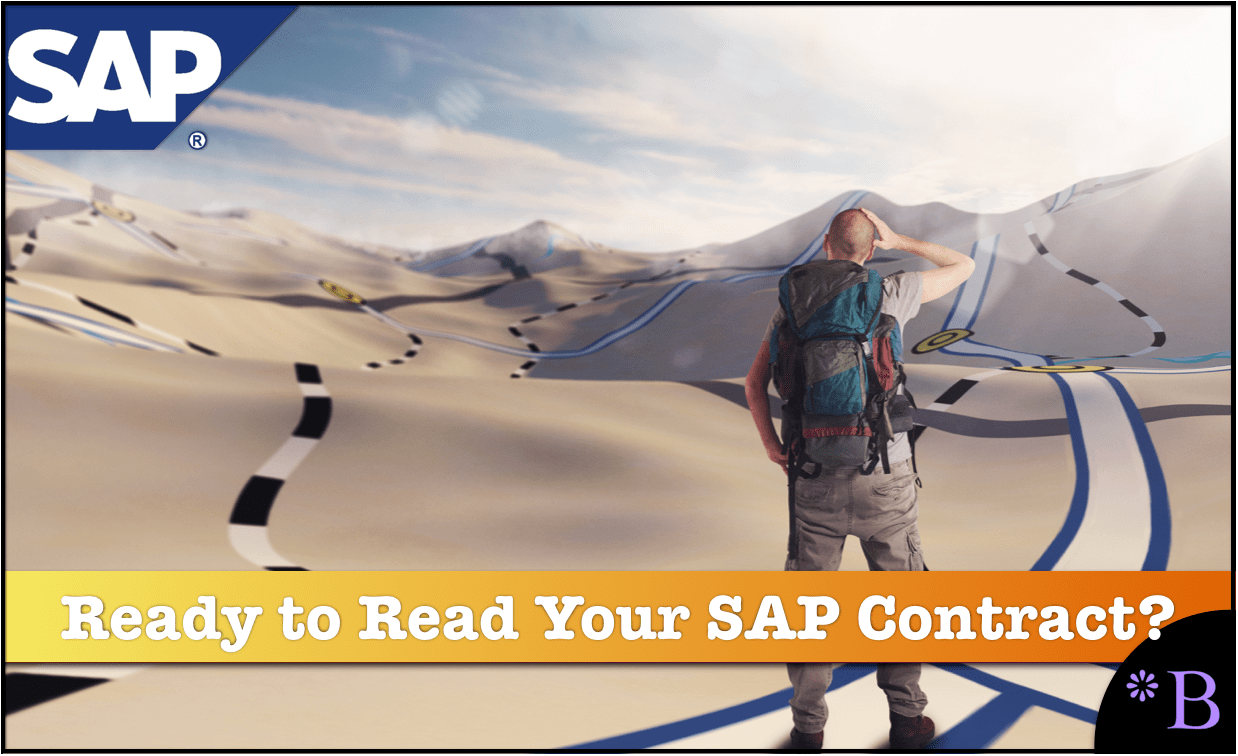 How to Understand The Rising Complexity of SAP Contracts
SAP talks a lot about simplification, but SAP's contracts are becoming more sophisticated and more limiting regarding what customers can do with SAP's software. In this article, we will get into this little topic for which there is so little published information.
Example of the Cloud Connector
SAP has the following to say about its Cloud Connector.

An analysis by a commenter stated the following:
It is supported to run S/4 HANA on AWS as IaaS provider, the same for SCP (fka HCP). But it really seems not wanted to use more from AWS than the virtual OS. You even have to solve basics like connectivity yourself when you leave the SAP world. "Must not" – a license restriction?
Publicly Supporting Open Connections, While In Reality Offering Control?
Once again, SAP restricts the usage of its products to other SAP products. This is done even after SAP proposing that it is in favor of open standards. It should be remembered that middleware companies never limit the usage of their adapters. However, SAP does.
This type of language is littered all through SAP's contract documentation. It is an orientation to control things, so they maximally benefit SAP. So that SAP controls how the software is used. This is a growing problem and liability with using SAP. Actually, by upgrading to newer versions of SAP, the customer ends up with more restrictions than in older versions, so the restrictions are being ratcheted up.
The Licenses Trading
Trap
One thing that SAP does, which seems to be magnanimous, but is actually a trap is to allow customers to trade licenses that they don't use for licenses of products that they do intend to use. The reason this is a trap is that the primary reason for offering the trading of licenses is to allow sales reps to tell customers:
"Don't worry about if the product is the best fit because you can always trade the license in the future."
That is, license trading is a sales technique designed to close a sale when the customer has not performed sufficient research to be able to justify the sale. The issue is that once the license is requested to be traded, SAP controls the terms of the trade. In the case where the license is not yet purchased, the leverage is with the customer, but when the trade-in is requested, the leverage resides with SAP. The second problem is that SAP tries to get customers to trade licenses for things that SAP just happens to want to sell. This means that the license trade often ends up benefiting SAP more than it benefits the customer. We covered this topic in detail in the article How to Trade Unused Licenses S/4HANA and HANA.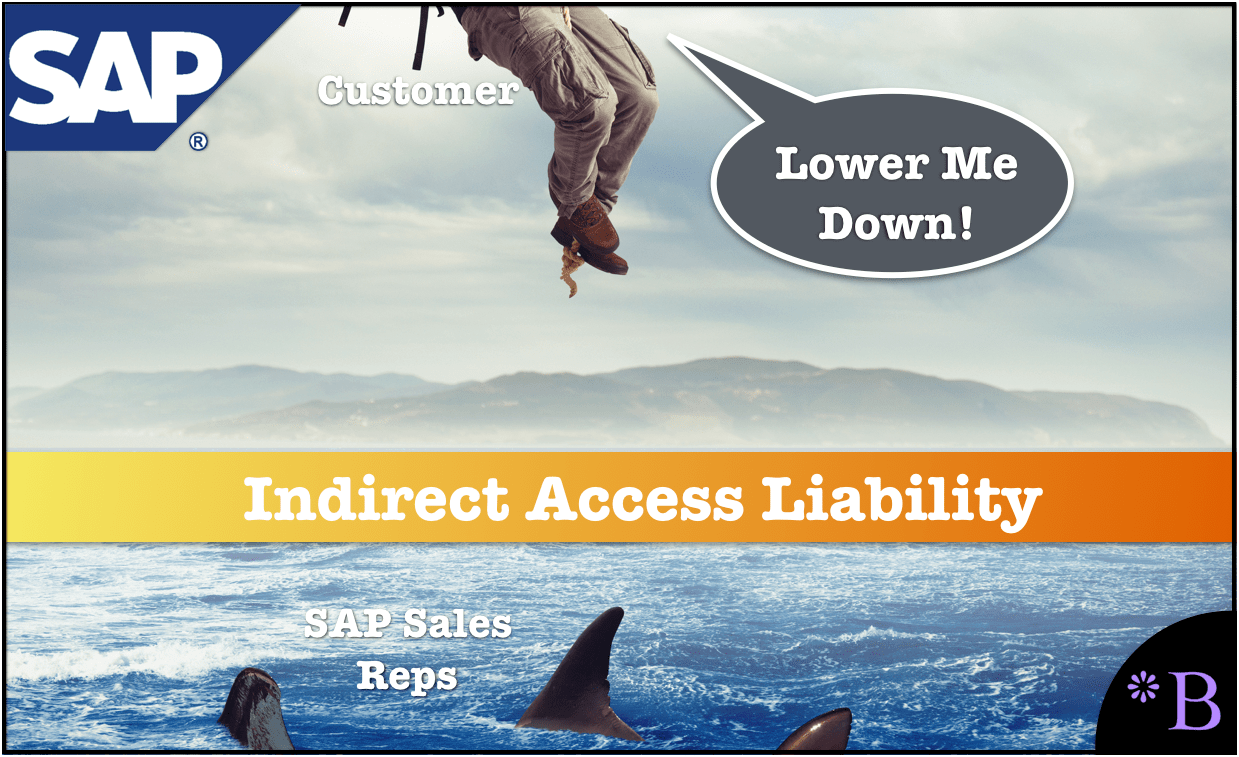 Indirect Access License Charges
Two vendors stand out from the rest in terms of how, after license purchases, increase liabilities for customers. The first is Oracle, which constantly audits its accounts. The second is SAP that uses indirect access to coerce extra income from licenses. In terms of understanding indirect access, SAP has created its definition of the term indirect access, which we call Type 2, and which is covered in the article SAP and Type One Versus Type Two Indirect Access. SAP claims the right to charge all customers for any non-SAP system that is connected to an SAP system. Media entities like Diginomica and ASUG have normalized indirect access as they are controlled by SAP through financial relationships, but SAP's indirect access is not based on logic. As a way to set the stage, SAP has created a term called being "underlicensed," which they use to set the stage and legitimize indirect access claims as we critiqued in the article Are SAP Customers Actually Under Licensed?
A major problem with SAP's indirect access is it creates a long term liability for SAP customers that SAP can choose to activate at any time, as we covered in the article Dealing with Surprise SAP Indirect Access License Charges.
Getting Help And The Limitations of Scope of SAP License Management Companies
While SAP license management companies show much more independence from SAP than other entities that provide advice around SAP. It should be noted that licensing management entities are not active in that many dimensions of SAP. They focus on the contract side. While licensing is one dimension where there is more independence, there are far more dimensions that are uncovered by any entity providing independent advice.
And of course, it's not as if Deloitte. etc. are dying to provide factual information to its clients, but even if they wanted to, they are restricted by the partnership agreement they signed with SAP.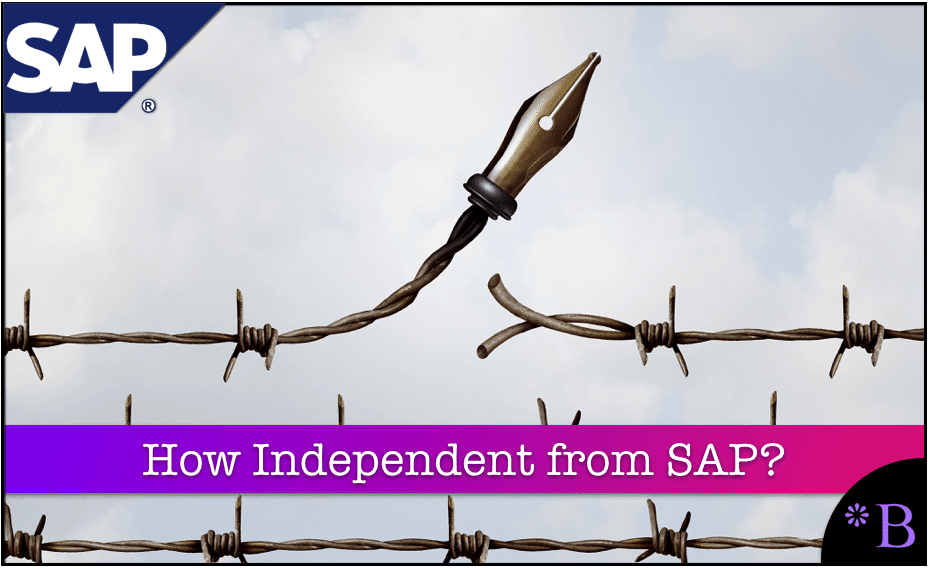 The Independence of SAM/License Management Software Vendors
There is one issue within the SAP license management space. So the license management/SAM vendors are partners with SAP. They have to be to get their software work with SAP. That means they have to watch how they step around SAP. If you look at the publishing around indirect access by the SAM vendors, they did not take the position that SAP's position was untenable and it was cheating the customer, and even illegal. Which we have written is the undeniable conclusion, but that indirect access could be managed with their software.
The licensing consulting companies rely on SAM software, so one could see some "tendrils" of SAP reaching out to the license management companies through the software that the license management companies rely upon. When SAP has a point of leverage, they use it. And their "partnership managers" are I think the best in the business. For those looking for training as "muscle" in enterprise software, the SAP partnership division provides the best training in intimidation tactics.

Conclusion
SAP pricing is quite complex. SAP keeps this pricing complex and opaque, even as they talk about moving to simplified pricing and transparent pricing because it allows them to extract the most money from their customers.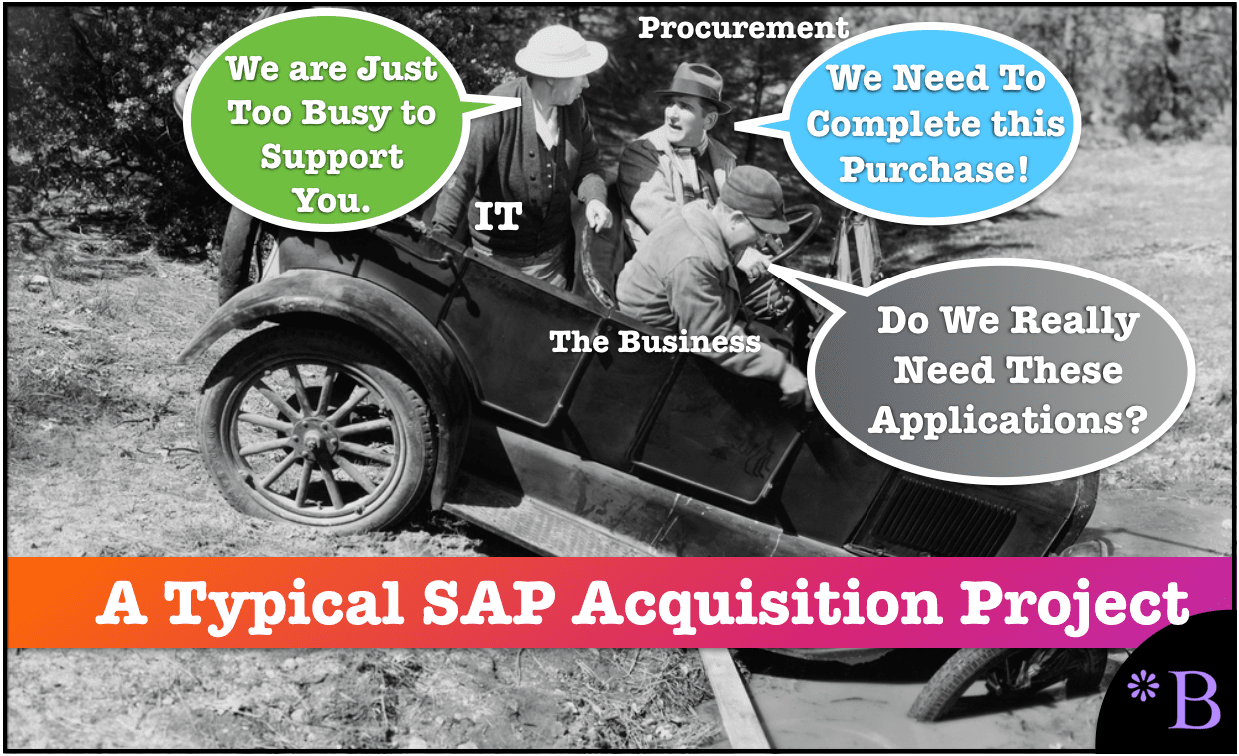 Problem #1:

Rampant Confusion on SAP Sales Engagements

Having supported several SAP pricing negotiations, several items jump out as important to get right.
Pricing is immaterial if the item in question is not needed. We have advised companies not to purchase SAP products that they eventually failed at implementing, which were not as advertised. The fact that they got a good price did not account for the fact that the product was too immature to implement.
Pricing negotiation does not exist on its own. Procurement needs support, and normally, IT does not have the time or the research capacity to provide it. Companies make easily avoidable mistakes by not having independent entities advising them.
Gartner is of very little assistance on SAP negotiations and has a conflict as they are paid by SAP. No SAP consulting firm can support negotiation with SAP as they a.) both have a conflict, and b.) want the customer to buy as much as possible from SAP, so they (the consulting firm) can implement it.
Procurement normally feels overwhelmed by an SAP negotiation. There are too many technical topics they don't understand, and too many changes and manipulation that comes from SAP to handle. Most procurement departments run out of patience and move into decision fatigue, leading them right into SAP's hands. SAP's entire sales engagement process is designed to fatigue procurement.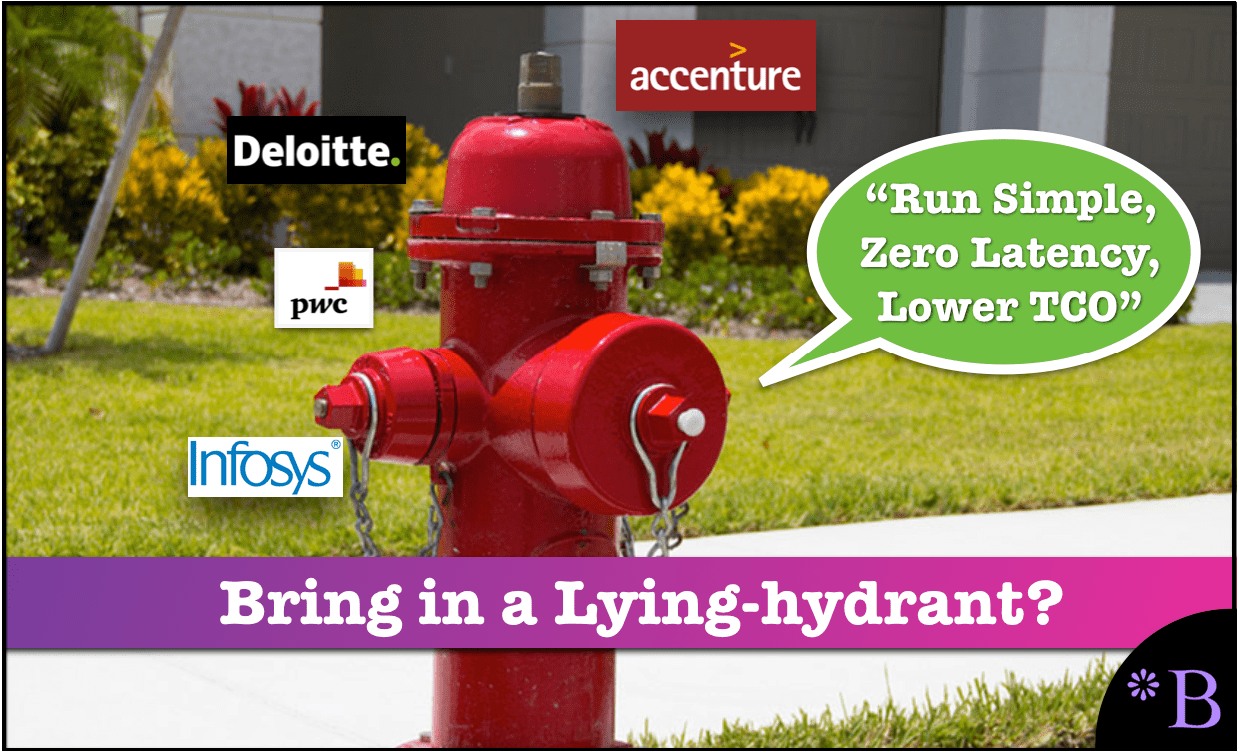 Problem #2:

Terrible Information from Large Consulting Companies

SAP customers sometimes turn to consulting firms to help them with negotiation with SAP. In our experience, the large SAP consulting firms are a hindrance to the procurement process. Each of the consulting firms has far more loyalty to SAP than they do to any customer, as we covered in the article Can Consulting Companies Represent Customer SAP License Optimization. The effect of having an SAP consulting firm into your company is like bringing in a fire hydrant that distributes lies instead of water. As soon as the consulting firm begins advising, it is like a jet stream of falsehoods.

SAP customers that listen to large SAP consulting companies either don't get how the game is played or have IT departments that entirely in the back pocket of vendors as we covered in the article Where Does The IT Department Owe Allegiance?
References
https://help.sap.com/viewer/cca91383641e40ffbe03bdc78f00f681/Cloud/en-US/e6c7616abb5710148cfcf3e75d96d596.html