How Accurate is Oracle's "Cut Your AWS Bill in Half"​ Guarantee?
Last Updated on March 21, 2021 by Shaun Snapp
Executive Summary
Oracle has made many claims about cutting the bill of AWS customers dramatically.
We investigate this claim by Oracle.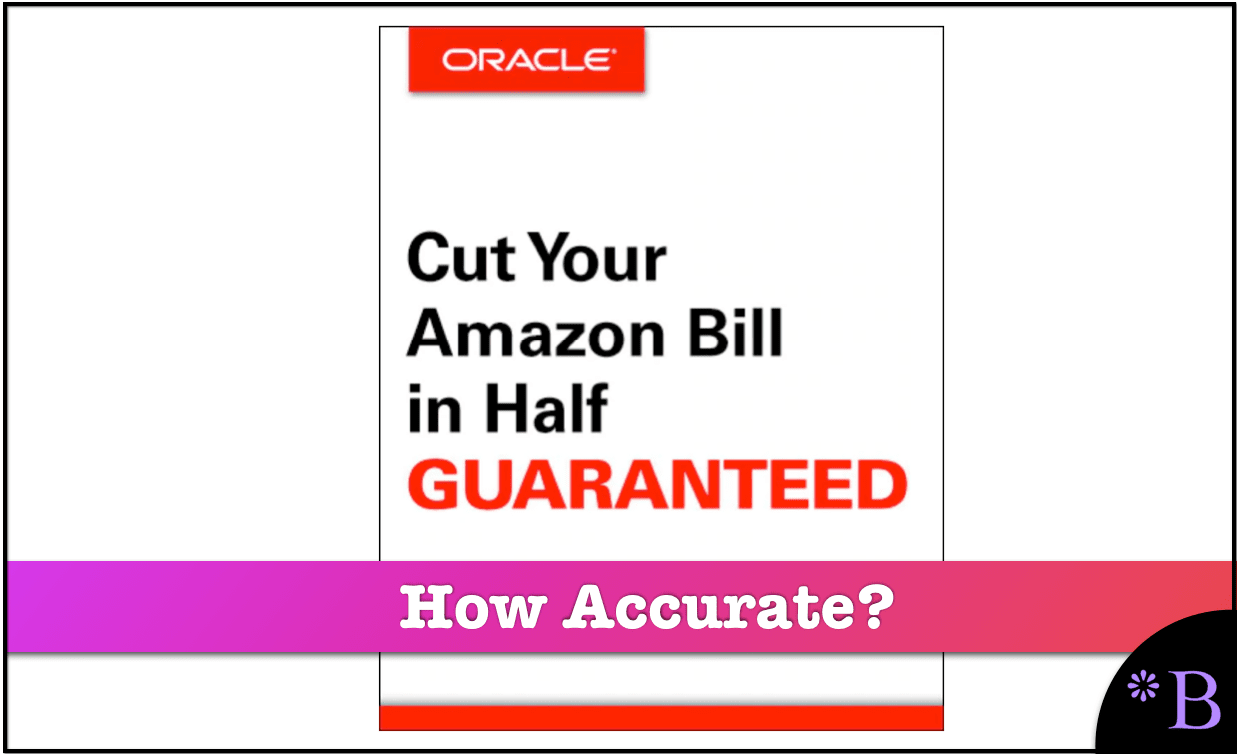 Introduction
We caught SAP lying about its promise to reduce the costs of customers using AWS. After reviewing how Oracle constructed this premeditated lie, This is the kind of BS that makes you so angry you want to drown puppies.
Our References for This Article
If you want to see our references for this article and other related Brightwork articles, see this link.
Lack of Financial Bias Notice: The vast majority of content available on the Internet about Oracle is marketing fiddle-faddle published by Oracle, Oracle partners, or media entities paid by Oracle to run their marketing on the media website. Each one of these entities tries to hide its financial bias from readers. The article below is very different.
First, it is published by a research entity.
Second, no one paid for this article to be written, and it is not pretending to inform you while being rigged to sell you software or consulting services. Unlike nearly every other article you will find from Google on this topic, it has had no input from any company's marketing or sales department. 
Oracle cannot compete with AWS on price.
Anyone can verify this by using the pricing calculators to compare specific service pricing. However, when Oracle claimed they would cut your AWS bill in half, we actually thought Oracle finally had become serious about cloud and decided to subsidize their cloud services with their vast monopolistic support revenue instead of spending tens of billions every year on stock buybacks.
But we knew that Oracle services are priced much higher than AWS, so lowering their prices by at least 50% across the board sounded too good to be true. We decided to do what we do best at Brightwork Research.
Here's the offer. You can verify it for yourself on Oracle's website at this link.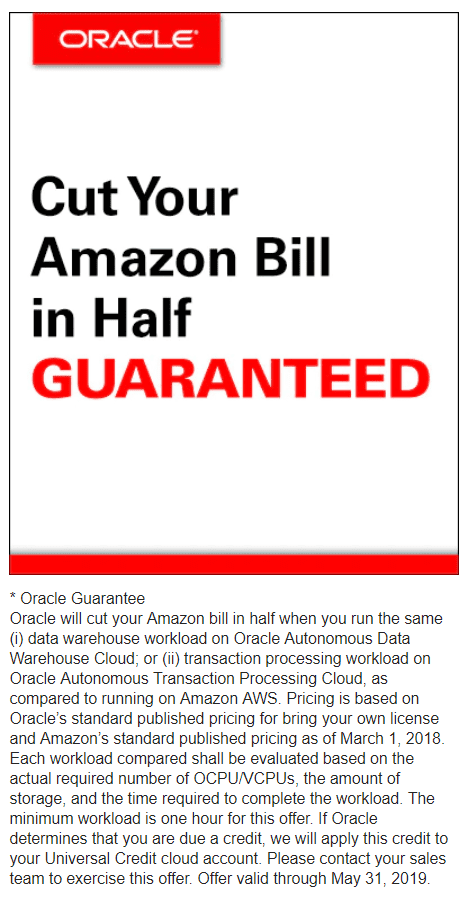 Reading the Fine Print from Oracle
All you have to do is read the fine print at the bottom.
The guarantee is valid until the 31st of May 2019.
Workloads must run in Oracle's Automated Data Warehouse Cloud or Oracle Autonomous Transaction Processing Cloud.
The offer only applies to the Bring Your Own License of the above services.
Why is This "Guarantee" Only Valid Until 31st of May 2019?
Oracle Automated Data Warehouse Cloud and Oracle Autonomous Transaction Processing Cloud (the only services to which this offer applies) require the Oracle Multi-Tenant database option as a pre-requisite.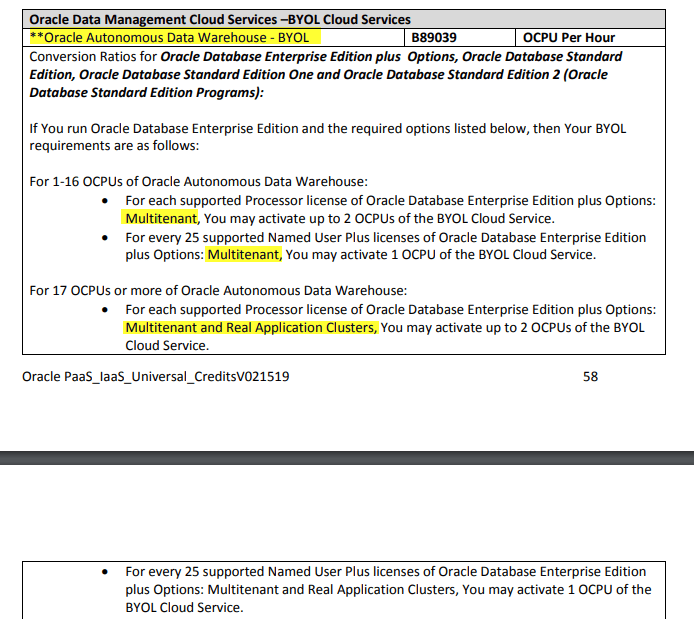 Until the 31st of May 2019, Oracle is waiving the cost of this option. After 31st of May 2019, it will be mandatory for customers to have licenses in place for Multi-Tenant ($17,500 list price per Processor + 22% annual support) and in the case of over 16 OCPUs (cores), Real Application Clusters ($23,000 + 22% annual support).