Comments on Brightwork Article on End of Solution Manager
Last Updated on February 6, 2021 by Shaun Snapp
Executive Summary
This article contains comments from the article on the end of Solution Manager.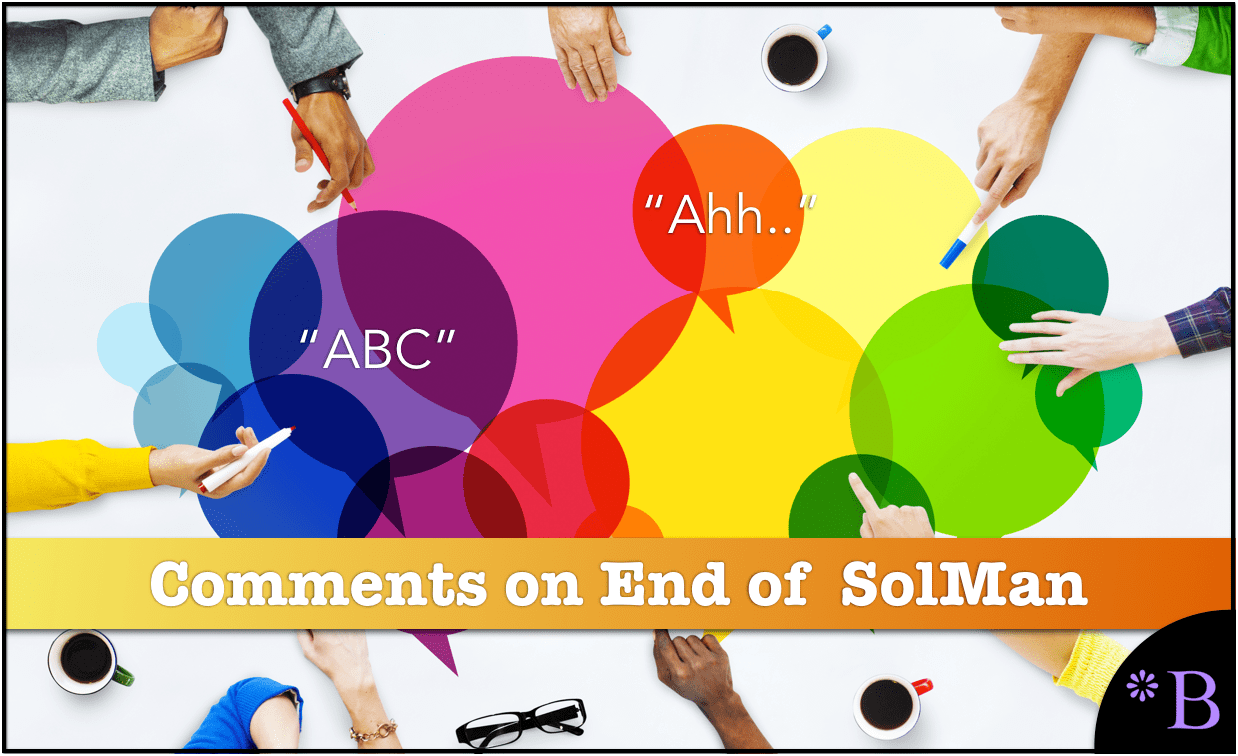 Introduction
These comments are in response to the articles on the end of Solution Manager.
Comment #1:

Fenton Miller
I would actually pose the opposite point of view on Solution Manager.The newest version 7.1 has a considerable number of improvements and additions which make it more usable than ever and more useful than ever.
I grant you that the CMS functions are an abomination in the face of all that is good and holy, but you do not touch upon any of the ALM functions which is where Solution Manager's true heart lies – for example:

1. Custom Code analysis
2. Delta functionality capture for support packages
3. Better performance data capture and visualisation
4. Improved access to web services consumption and exposure to allow integration with 3rd party applications like Heat or Remedy
5. Better/greater metrics for system administration and alerting functionsThanks

Chris
Absolutely.
Think about it, remember all the discussion about Solution Manager several years ago, and how so many companies were porting their content to it and how it was "the future." Do those conversations happen anymore?
They don't.
People are now tending to use it for ancillary activities like moving Transports.
I did discuss the aspect of Solution Manager that allows SAP to come in and review project documentation, and how SAP never really did this. If you think Solution Manager has a bright future and is not on its way out, respond why you think so. Your comment may help other people reading this post get the opposite perspective.
Comment #2:

From Vyck
Yes the new product is now here. It's called Solution Manager 7.1

The amount of development that has gone in to this release is staggering.
From Transport control/Change Management,
reverse engineering of business processes
new monitoring frame work
LMDB
RFC monitoring (finally)Admittedly SAP could shout about it a bit more. If it were a separately licensed product it would probably get better adoption rather than being "free". But try implementing SAP without it. Even if you are just using the Maintenance Optimizer.
This is interesting as I am now working on a project where all configuration actually goes through Solution Manager. In fact, I am not supposed to go through and configure SAP APO directly. I will describe my experiences of how it is to configure this way.
Comment #3:

From Aks Sarhma
Could you please update that how you configured the APO system through Sol man? IT would be really helpful for others Shaun. Thanks.
Yes, well Solution Manager has the ability to point out to any SAP system. The way that we used it at one client was to add all of the configuration objects that we intended to configure into SolMan. One first goes into the configuration transaction by double-clicking the configuration object (which takes you to that module, without even having to log in to that system — that is SolMan provides single sign-on capability.) After we performed our configuration, we saved it. Next, we wrote the configuration documentation, and then uploaded it to the same place in SolMan. Then when we would review our configuration, we could tell exactly what had been configured. We could in fact see for the entire project exactly what has been configured. This capability, along with the ability to set up workflows (for unit testing and prototyping — enabling consistent activities to be performed) are two of the strongest things that SolMan does.
I was recently working with an APO resource who knew quite a bit about SolMan and introduced me to a number of interesting things. I was quite surprised at how much SolMan could do. I would have to say that the gap between SolMan's capabilities and what it is actually used for on projects is quite large. Also, SAP product management's approach to SolMan has been entirely wrong. By attempting to defend SolMan as a content management system, they degraded its credibility for the things that it can do. It also seems that there is a shortage in the marketplace of good Solution Manager consultants that really know how to get the best out of the system.
Comment #4:

From Photos Antoniadas
I am a basis administrator and I am forced to use SOLMAN. The last two weeks I am reading notes, manuals and I am setting up the tool for monitoring, licencing and downloading patches…. I believe that for basis with extensive experience there are better ways to make things according to administrtion, upgrating etc…
Thanks for your realistic comment. So many of the comments that have been left have nothing to do with the actual efficiency of the tool but seem to have been left by people that work in SolMan that are intent on defending it for monetary reasons. Interestingly, the story on SolMan keeps changing. The argument seems to be
"sure its not good for what it was originally designed for, but its good for this other thing."
But is it actually good at that?
Your comments indicate that it really isn't. However, the genius of SAP is that regardless of their previous historical record in any software area — they continually future sell that it will be good in the future. See some of the future selling in some of the comments — "Now in 7.1 it's really great!"
SolMan simply is not a very relevant component of any project I have been on. It can do some things in a pedestrian manner, but the problem is that there are competing products that it replaces. So it's not a question of SolMan versus nothing (the standard way the pharmaceutical companies test their drugs), but SolMan versus another better product.
Comment #5:

From Tina Shaughessy
Hello Shaun, we have read with interest all yours and other's comments on this blog. We are currently investigating the pros and cons of SAP SolMan vs HP Quality Center for test management (SAP and Non-SAP).

We would appreciate any comments/advice/experience you have on either product so that we can compare them fairly. We have more experience with HP QC than we do of SolMan for test management.

Would really appreciate your thoughts, thank you!
Tina, Sorry it took me so long to get to this — I missed it for some reason. I am not a fan of HP Quality Center either. HP is pretty much a non-entity in software — although they did have great database years back called Image — which unfortunately got knocked out of the marketplace. I used Quality Center and another HP product on an account and thought they were both quite amateurish. When you get addicted to making most of your profits off of Chinese sweatshops, it's hard to stay innovative! I think it's probably time to stop showing pictures of that garage in Santa Clara in advertisements because those days are long gone. Seriously, since Carly Fiorini gutted HP I barely hear about HP innovating. However, I have not done an analysis of all the applications — however, I would look to see if there are some SaaS solutions. This would be a good area for a SaaS vendor to address.
Comment #6:

From Chris Kernaghan
Hi Shaun, from your comment on 12. October 2012 I get the impression that you actually enjoyed working with Solution Manager once you figured out how Solution Manager was intended to be used. Later however you continue to slam it for other areas. I work with Solution Manager quite a bit at a number of clients. From my experience, the main issue is to get an understanding and alignment of the overall concept and then start implementing the toolset bottom up with a focus on the areas where your company struggles most. Without a proper customized roadmap most Solution Manager implementations will fail. Also, think of the Business Process Structure as the backbone for the Solution Manager. This structure enables you to reuse all of the information you add in the beginning of your project as you go along in the life cycle. Add to it the config objects, documents, test cases in the beginning of the project and all of this is readily available to you once you get this change request 2 years down the line. Combine it with the Business Process Change Analyzer and the system tells you which processes you have to test for this upcoming Support Package. By attaching Change Requests to Business Processes, keeping documentation up to date becomes part of your change process and is not an all so often forgotten afterthought. Attach Incident Management and Business Process Monitoring to the business process structure and you see which processes are stable and which aren't.

The process stopped working on Monday morning and everyone says nothing changed on the system? Use the Change Analyzer and find out about ALL changes within a certain time frame. Check the related Change Request and see who tested and what was the documented test result on this process step.
You don't have your business processes documented? Use Solution Manager Documentation Assistant (SoDocA) to re-engineer your business processes based on actual executed transactions on your connected systems.

Not sure whether your documentation is complete? SoDocA can tell you which transactions are not or only partially documented.

I hope that gives an impression that Solution Manager is so much more than a simple CMS and hence it is also more complex to get it right. Then there are a number of tools for which you don't really need the Business Process Structure. One of the biggest value adds are the Business Process Analytics which help you to identify and drill down on document backlogs (e.g. goods delivered in the value of $500k but no invoice has been sent out, or you paid $400k too early and lost interest). This tool can be setup within 1-2 days and comes with over 800 pre-delivered key figures. The bigger part is learning the tool which takes you around 5-10 days.

Another example is the Custom Development Management Cockpit (CDMC). This tool provides you analysis capabilities to clean out code. The tool identifies clones, unused or broken objects (syntax errors) and gives you a quick win on things you can get rid off so you don't have to bother adjusting them anymore for the next SP or upgrade. It also provides a cockpit to manage the actual work of removing the content (some basic project management capabilities and the assigned resources can work off a task list, jump into target systems directly into the code and maintain progress status).

Again, the tool is set up within a day (SAP Notes, RFC connections, and authorizations need to be setup) but it takes two or three days to learn and understand the tool. That brings me to my last point: In my experience, one of the biggest challenges is that companies do spend the money on external implementation partners but not on training. SAP offers their customers free remote Expert Guided Implementation sessions which teach you how to implement certain building blocks. At the end of the session, you will have a pilot running in your system. But as the admin, you still need to invest time and effort to really understand and troubleshoot all aspects of the various tools and you need training for the users.

Getting an implementation partner in who sets up the tool and leaves without you and your users fully understanding the tool is not viable. Of course, there are 3rd party products out there which do a lot of these topics better or simpler because they focus on specific aspects. But Solution Manager stands out for the integration of all the aspects it offers and the resulting re-usability of content. In terms of TCO SolMan probably loses against 3rd party products if compared against only one or two functionality areas (e.g. ChaRM / Incident management) even though SolMan does not need a separate license. You won't implement SolMan just to do Incident Management just as you won't buy SAP if all you need and want is a payroll solution. But if you use Solution Manager to replace three or more 3rd party products you are most probably on the winning side if you do it right.
Chris,
In discussions with Basis resources, it increasingly appears that SAP is essentially forcing clients to use Solution Manager in order to do things. The only area where Solution Manager seems to be well rated is in a central location that stores transactions for the configuration. But SAP is not providing a compelling product, it is instead is using Solution Manager in a cynical move at account control. Really, who is any vendor to dictate what all the components that should be used by a company should be. SAP's arrogance and poor client treatment are really off the charts — or should I say comparable to Oracle. As a configurator, I could mostly care less about Solution Manager, but the infrastructure people I know contradict the comments on this blog — (all from people who make $$$ from implementing Solution Manager), Solution Manager is not considered a competitive product with other offerings. Obviously, SAP can only sell Solution Manager into SAP controlled accounts. Solution Manager should not be simply accepted by SAP clients, but actually chosen through a clear software selection process. My upcoming book will use Solution Manager as an example as to how ERP companies get their foot in the door and then begin dictating the IT spend of companies with various fear and false promises for improvement. (how many years have I been hearing that the next release will solve Solution Manager's problems? — see this article for more details – Similarities Between SAP Releases and IBM Old Prerelease of Fake Hardware Specifications.) No matter what SAP's singular answer to the entire solution architecture is they have some mediocre to poor product that you "absolutely" must be using. Solution Manager is a perfect example of one of these.
Comment #7:

From Ask B
Hi Shaun

These are quite interesting observations and comments on those. I think this discussion has been on since last year and I only got to it now. I agree with some users/implementers here that SolMan may not be a standalone solution for ALM anymore.I am currently working advising on integration with an external S/Desk with cloud interface, with SolMan for Service Request – Incident Management, Change Management, Problem Management and release planning. SolMan still is the strongest tool for managing SAP Transports and Changes through ChaRM.We are recommending test management through HPALM. So I figure that SolMan is a necessary evil but when combined with other third-party applications can render powerful support for any organization's ITSM and SAP frameworks. Please let me know your thoughts over it.

Aks
I wish I had a comment on this question, but I am not familiar with HPALM. However, you are right, because SAP has added so many things to SolMan, such as license keys — they have made SolMan necessary, but it is only through forcing people to do something which is quite inefficient — something of a specialty for SAP, they can drive the necessity of using SolMan.
Comment #8:

From John Appleby
I have to say, this is the complete opposite of what I am observing in the market. Solution Manager has been a pretty poor product for a number of years and SAP has not got it right. However, with Solution Manager 7.1, it more or less does what it says on the tin. True, it's not the slickest of interfaces still but it does include an extensive ALM suite, including process monitoring and mapping, test management, and integration with 3rd party tools and incident management with the same. As a result, almost every customer I work with is implementing Solution Manager in some way beyond the basics that they have to (System Landscape and Maintenance Optimiser). All of those perceived to be getting value, especially in the reduced cost and friction of updating SAP systems – which is a key factor for almost every SAP customer, and one that Solution Manager now resolves rather well. So declaring it dead now is a very strange observation indeed. I would suggest instead that 2012 will be seen as the year in which Solution Manager got legs. Happy to review this in a year's time and see who turns out to be right.
This is curious — I am leaving this message 8 years after the message above.
At the time I did not know who John Appleby was. In the intervening years, I learned that John Appleby was simply a shill for SAP, but working at Bluefin Solutions. We eventually created a fact-checking web page to track John Appleby's statements, versus what happened. You can see that John Appleby was wrong about virtually everything he said, The Appleby Accuracy Checker.
Basically, if John Appleby said something it turned out not to be true. He was very clearly lying about what Bluefin Solutions was doing with HANA, and helped drive the HANA claims to dizzying heights. Before reviewing this comment, I did not even remember John Appleby commenting on this article.
Comment #9:

From Kiran Patel
Being more than just an observer on the changing world of SAP Solution Manager over the years I think people are missing the point right now which is helping to create confusion on what the actual offering is. Historically Solution Manager was pitched by SAP and partners alike as a technology offering, and a poor one at that since there was a thinly scattered understanding of the true capabilities of the product coupled with a maturity curve on the product itself. Solution Manager, for the first time, is now clearly positioned as a toolset which underpins the Application Lifecycle Management approach for managing SAP and non-SAP solutions throughout the complete life cycle from project delivery through to operations. Nice words, but whats changed?

1. recognition that you cant manage full lifecycle solutions with just a tool, it requires an appropriate framework, hence ALM
2. best of breed 3rd party tools, such as HP Quality Centre for test management, must be considered as true value add and hence the ALM framework is not limited to just pushing Solution Manager technology
3. the ALM position is now more around Business focused processes (11 in total at the moment) such as test management, upgrade management, change control management. Basically allowing a phased implementation based on business priorities, just like any other implementation understand the business case first
4, product maturity. Solution Manager has been around for a while and is now a far more mature product to support ALM processes. Is it everything you could hope for? Well, how often is any product everything you could hope for? The key point is that it is a pretty comprehensive toolset, in most cases license-free, which implemented in the right way will provide value, reduce risk, and help reduce cost. Maybe the fact that it is license-free has led to the poor and inconsistent way SAP has positioned Solution Manager in the past. In response to your observation Shaun there is some truth that the positioning of Solution Manager as a stand-alone product may be dead, but it certainly is alive and kicking toolset sitting under the ALM framework. We have had good success in delivering the processes that are right for a Business rather than taking a technology approach.Let's watch this space as see how things develop.
Very interesting… I want to thank you for writing such a detailed comment. I learned a lot from it. This seems consistent with other comments that the ALM area is where Solution Manager is being utilized. As for HP Quality Center, I cannot figure out why this application is popular. We used to call it "HP Defect Center" at one of my last accounts. It made the very basic tasks of entering and checking issues a lot of work.
Kiran, one thing you noted was that Solution Manager was free. The license may have been free, however, companies put a lot of money into implementing solution manager, and did not get at all what they were promised. Secondly, the major consulting companies and many smaller consulting companies went along with SAP in misleading their clients into using something that was obviously incompetent at its original task. They applied zero judgment in recommending Solution Manager to clients that they had to have known was a dog of a product, so this again what I have seen that the major consulting companies cannot be relied upon for software selection.
It needs to be recognized that Solution Manager was and is a worst in class CMS, and consulting companies recommended it anyway, as it maximized their billable hours pulled from clients (versus a non-SAP CMS). There are plenty of great CMS applications, and the consulting companies saw fit to recommend Solution Manager? Now let's all guess why that would be.
There is more to it than that was well. There is also all the wasted effort of those who worked on Solution Manager projects. Myself along with many other people were forced to use Solution Manager on projects and it undermined the ability of those projects to properly manage their content and was a major pain for years, and until it finally lost all credibility as a CMS. This consumed many resources and most companies ended up with a goose egg for their efforts, having to migrate the documentation out of Solution Manager. SAP also failed to use Solution Manager as a portal to provide feedback on documentation. This was just another marketing angle to get Solution Manager accepted by clients, that SAP never put the resources behind to make happen. John Appleby points out that 7.1 is really improved, but that does not make up for the terrible inefficiency that Solution Manager placed upon projects for years. I should say that I have often heard the next version will be great, in fact, the first time I heard this was from a Microsoft person who told me that I should wait for WindowsXP as it will solve many of Window's weaknesses.
So when analyzing something historically, it's important to recognize that SAP's original intent of Solution Manager failed. They may have migrated to be more of an ALM tool, but what was Solution Manager's original design intent, and how did it fare against this intent? Whether Solution Manager success in its second incarnation, I think needs some time to be proved out.
Years after this comment, Solution Manager has been decommissioned and SAP recommends against using it. Looks like I was better off not listening to any of the commenters here.
Comment #10:

From Jim Cage
Shaun, you comment on industry-wide tooling knowledge, but then reference only the minute subsection of actual technologies you have actually worked with. SolMan is alive and extremely powerful in context of IT Service Management tools6 years on from your prediction and it is an extensively used, super powerful tool across the SAP / IT industry. should this blog be called End of Line for Shaun Snapp's predictions?
Jim, Nice try, but unfortunately I work on projects and SolMan's influence had done nothing but decline since my article was published. First, your proposal that I only work in some SAP technologies but comment on others is incorrect. I am on SAP projects with Solution Manager. I have used the Solution Manager for configuration (which it does pretty well). I am not a Solution Manager consultant, but I have to work with it and have charted its decline. So your proposal is inaccurate. As a configuration consultant, I am a "customer" of Solution Manager. And my analysis is that Solution Manager is a waste of time. It also gives too much information to SAP (which they can exploit with indirect access claims). So as a person who has to work with it, and has seen how little value it adds on projects, I am fully qualified to not only analyze it but to tell others what a waste it is. I think it's a waste, but companies agree with me as its usage has declined.SolMan is widely disliked by everyone except those that make money on SolMan. It is also not a respected tool and it is decreasingly used. This is obvious to people on SAP projects.
SolMan has now been decommissioned. The commenters mostly denied that SolMan was in decline up until the bitter end. Once again, I receive the most accurate outcomes by ignoring other SAP consultants and making my own predictions. To SAP consultants, every SAP application must be promoted and people must be misinformed that it is good.
Would You Like to Comment and Have it Added to This Thread?
Just provide your comment in the chatbox in the lower left of this screen.