The Economist Misleads Again on Tanzania Versus Acacia Mining
Executive Summary
The Economist produced a rigged article for a financial contributor, Acacia Mining.
We cover the accuracy of this Economist article.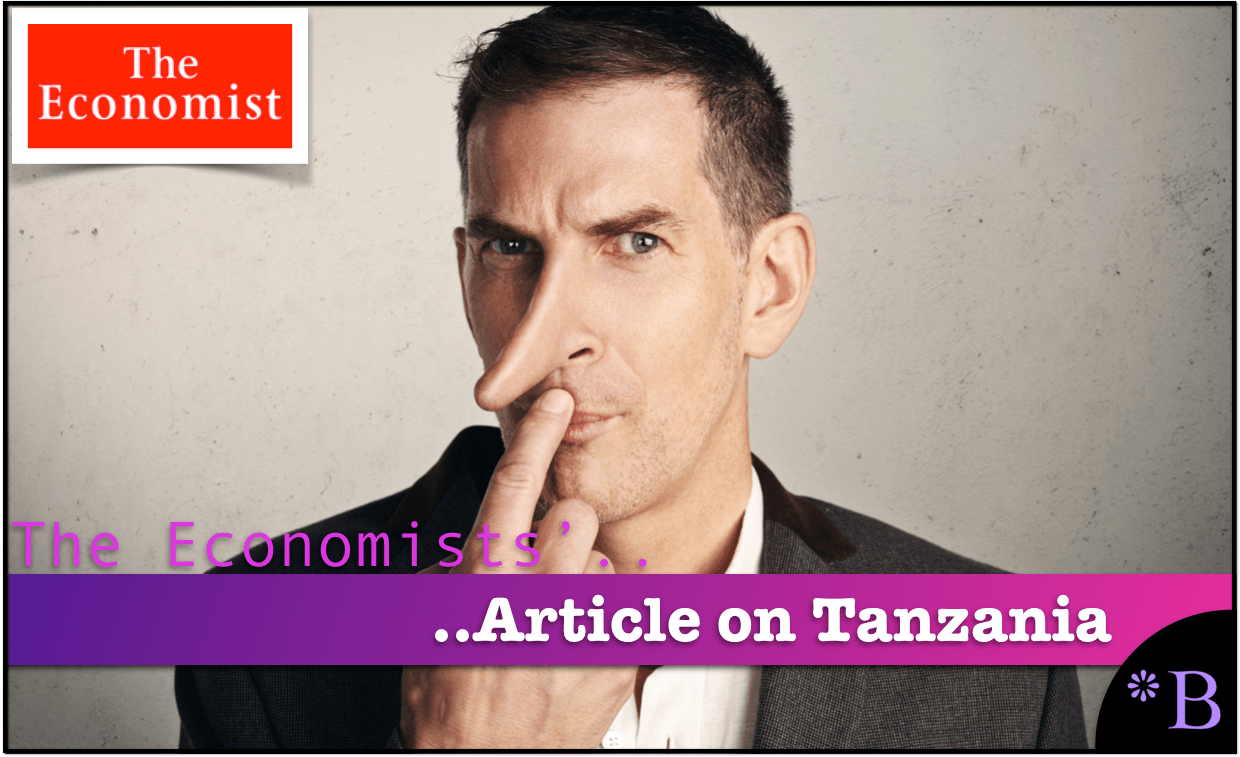 Introduction
On June 15, 2017, The Economist wrote an article on John Magufuli entitled Tanzania's Firebrand Leader Takes on Its Largest Gold Miner.
In this article, we will check the accuracy of The Economist.
See our references for this article and related articles at this link.
The Economist's Article
The article begins as follows.
The row raises concerns for mining firms across Africa
"IF THEY accept that they stole from us and seek forgiveness in front of God and the angels and all Tanzanians and enter into negotiations, we are ready to do business." As conciliatory gestures go, that one by John Magufuli, Tanzania's president, to Acacia Mining, the country's largest foreign investor, could hardly have been more fork-tongued.

Nonetheless, two days later John Thornton, head of Barrick Gold, Acacia's largest shareholder, met Mr Magufuli to start talks on ending a dispute that has halved Acacia's market value since the government in March imposed a ban on the export of gold- and copper-concentrates. It is a mark of the seriousness of the stand-off that he is ready to negotiate on all points of contention between the two sides.

The context of the row is increasingly typical of Africa's mining industry. The Tanzanian government is seeking more tax revenue from a foreign mining firm that was initially wooed into the country by generous tax concessions.
Right. In a previous article about Magufuli, the Economist very much took the side of Acacia Mining. This is apparent in the quotation from the article Governing by Gesture.
By contrast, the government is painfully slow to pay its own bills: it still owes the same company $30m. Acacia Mining, a gold producer, is owed $98m in VAT rebates—effectively an interest-free loan to the government.
Uninterested in Tax Evasion?
The Economist seems to bypass the question of these companies engaging in tax evasion. This is something that is very well known that multinationals do in Africa. But The Economist preferred to frame this in terms of the Tanzanian government being slow to pay what is owed to Acacia Mining, without explaining that the dispute with Acacia Mining is a primary reason for the lack of payment.
And when the topic of Tanzania "wooing" multinationals, The Economist seems to imply that Tanzania baited and switched Acacia Mining. However, for the tax evasion that Acacia Mining is accused of, they could lose their right to operate in Tanzania entirely.
The state also wants to generate more value and jobs by smelting Acacia's concentrates domestically, rather than abroad.

That may seem reasonable, but Mr Magufuli's firebrand populism, as well as his unpredictability, have made it a particularly worrying test case for mining firms across the region. In April Tanzania announced a new presidential committee to look into its gold exports. In late May the committee accused Acacia of underreporting its gold exports by a factor of ten, an accusation Mr Magufuli repeated.
It is well known that Acacia Mining extracts the metals from Tanzania and does little value add in Tanzania. Now Magufuli will be asking for both taxes to be paid in full and for more value add and jobs to be performed in Tanzania. Under what framework can that be considered "unreasonable?"
Under what framework can that be considered "unreasonable?"
When Asking for Taxes to be Paid and to Add Value in Africa is Unreasonable
Well, according to The Economist, demanding that companies not engage in tax evasion and asking for more value add to be performed in Tanzania is unreasonable if the leader asking for this has a form of firebrand populism.
Apparently, firebrand populism, which, if I may translate, is when an African leader looks out for his people rather than for taking payoffs to let multinationals steal from his country. The Economist is firmly on the side of elitist African regimes that accept bribes and sell out their constituents. Leaders that don't do this are engaging in "firebrand populism."
A second reason why this request is unreasonable is if the leader asking is unpredictable. But what evidence has The Economist presented that Magufuli is unpredictable?
None.
But according to The Economist, this is worrying. But who should worry?
Then in the next sentence, The Economist states that it is a "particularly worrying test case for mining firms across the region."
"particularly worrying test cases for mining firms across the region." 
Well, is it, though? For example, is it worrying for a mining firm that is paying its taxes and is performing value add in the African country?
No.
It is, however, worrying for mining multinationals that are engaging in tax evasion and do not add value to the product in Africa.
How many mining companies like this are there in Africa?
How Many Mining Companies Evade Taxes and Add No Value in Africa?
According to The Economist's concerns, it appears to be quite a lot.
Acacia says the charges of tax evasion are absurd. They note that if production were as understated as the committee alleged, Bulyanhulu and Buzwagi, the two mines where it produces concentrate, would be the biggest gold producers in the world. The firm says that it "wishes this were true, but sadly it is not the case." Its gold production is audited in its accounts.
Why are the charges of tax evasion absurd?
Acacia Mining has a terrible reputation, and this is a multinational dealing with a country that has large scale corruption in its transportation and mining areas. The head of the Department of Mining, Sospeter Muhongo, has been fired by Magufuli on May 24, 2017.
The committee convened to look into this issue found the following:
"The committee (investigating the exports) found that there were many other minerals in those shipping containers that were not declared, such as sulfur, iron, iridium, titanium and zinc," Magufuli said. "They were also under-invoicing the actual gold, copper and silver content in those shipping containers.

The report said that Acacia declared about 1.1 tonnes of gold in the containers but an analysis established that the shipment contained up to 15 tonnes.

Magufuli banned mineral exports in March and ordered an audit of the mining industry to identify loopholes that he said result in income losses as he tries to boost revenue from the industry for the state. He's also invited investors to build a smelter in the East African country to process its natural resources."
Those sound like serious issues.
According to The Guardian, Africa loses more than $50 billion every year in illicit financial outflows. Secondly, mining as an industry has one of the worst reputations for the abuse of power in any industry.
Even in developed countries, mining concerns have massively violated environmental regulations and are very quick to declare bankruptcy as soon as the mine no longer becomes productive. They then leave the mine for the state to clean up, which then falls upon taxpayers.
If a charge of some type of abuse is made against a mining concern, in most cases going to be correct, and the mining company's protests are most likely false.
How far Mr Magufuli wishes to go is unclear. The big fear is that he may favour full nationalisation. But he may accept a more pragmatic settlement. Analysts at UBS, a bank, reckon the Tanzanian government wants to bully Acacia into giving up a share of its "tax assets", which it values at $532m. For example, the company is owed some $150m in VAT refunds.
Why is nationalization less pragmatic than other options.
Trusting Acacia Mining to Change?
Acacia Mining has shown that it cannot be trusted. Acacia Mining has already pulled enormous profits out of Tanzania while doing as little as it possibly could for Tanzania, treating like nothing more than an extraction point. Tanzania has the legal right to remove Acacia Mining from Tanzania at the time of their choosing. If Acacia Mining employees (primarily in the UK) are charged with tax evasion, Tanzania has the right to bring charges and to request the extradition of Acacia Mining employees to Tanzania to face trial for the charges.
I have reviewed the Acacia Mining case, and I disagree with Magufuli on even sitting down with Acacia Mining. I read this list of misdeeds on the part of Acacia Mining, and they violate labor standards, taxation rules, environmental standards at its mines globally. Their list of misdeeds ranges from gang rape occurring on their premises in Papua New Guinea in 2009 to gold mines collapsing in Tanzania to the murder of scavengers in Tanzania.
That is right.
Acacia Mining security forces killed people attempting to steal gold from their mine. Acacia Mining did not want this as they planned to take the gold out of the country without paying taxes. That is, Acacia Mining decided to shoot Tanzanians who were going to steal Tanzanian gold because Acacia Mining had plans to steal it themselves.
Interestingly, unlike Tanzanians, when Acacia Mining employees steal something from the Tanzanian government, they don't get shot.
Acacia Mining has shown its hand. They are a deeply unethical company that you can never trust to run a mine. For this reason, Tanzania should simply take over the mines and remove Acacia Mining from Tanzania while bringing whatever legal means necessary to recover monies from Acacia Mining.
Magufuli has worked with investigators and has to know at this point that he can't trust a single word that Acacia Mining says and that any promises that Acacia Mining makes are worthless.
Statements by Barrick, illustrate quite clearly that nothing will change if Magufuli sits downs to negotiate with them.
Barrick, which owns almost 64% of Acacia, will discuss all of this. "A negotiated solution is better than escalation, such as going to international arbitration," a spokesman says. That means it is prepared to talk about the tax problem as well as the possible construction of Tanzania's first smelter of gold- and copper-concentrates, even though the latter has long been considered uneconomic because the country's output of concentrates is too low.
The Total Removal of Acacia Mining from Tanzania
Barrick is deeply deluded. The total removal of Acacia Mining would not go to international arbitration. Barrick does not seem to know what the definition of international arbitration is. International arbitration is according to Wikipedia
..between companies or individuals in different states, usually by including a provision for future disputes in a contract. It allows the parties to avoid local court procedures.
Why does Barrick believe Acacia Mining can avoid the local court procedures? This is an interesting and illustrative statement by the head of Acacia Mining. And it is backed up by this action.
Three bills were tabled in parliament last week, amending the Mining Act 2010, and later passed on Monday. These included the Natural Wealth and Resources (Permanent Sovereignty) Act, 2017; the Natural Wealth and Resources Contracts Act; and the Written Laws (Miscellaneous Amendments) Act. (emphasis added) 

The Natural Wealth and Resources Contract Act was proposed to provide a way for the people of Tanzania, through the National Assembly, to review agreements made by the government. – Australia Mining

Tanzania also passed a bill to prohibit disputes relating to natural resources being heard in foreign courts. To forestall this, Acacia announced today it had served 'notices of arbitration' on two of its three gold mines in the country. These notices mean it can seek intervention at the London Court of International Arbitration, should Tanzania honour its original contracts.
In this statement, he implies that Acacia Mining should not be subject to Tanzanian law, which is interesting, because it is how Acacia Mining has been behaving as if it does not have to follow Tanzanian law. However, Acacia Mining is proposing that it has never violated any of Tanzania's laws.
What jurisdiction does the London Court of International Arbitration have over Tanzania?
None.
Tanzania has passed the following:
The move towards formal talks follows a meeting between John Thornton, executive chairman of Barrick, and President Magufuli last month, and comes after Tanzania's parliament voted through a trio of bills that could dissolve the underlying contracts held by natural resources producers in the country.
Under the terms of the new laws, parliament will be able to rip up a contract with a mining company if it is deemed to have "unconscionable terms".

Tanzania also passed a bill to prohibit disputes relating to natural resources being heard in foreign courts.
A good question at this point is, who is the London Court of International Arbitration?
The London Court of International Arbitration
Well, this is found on their website.
The Arbitration Court of the LCIA is a body of eminent arbitrators which is the final arbiter for the proper application of the LCIA Rules. Its key functions include appointing Tribunals, determining challenges to arbitrators and controlling costs. There is no connection between the LCIA and any State Court.
Right.
It is a private arbitration entity. Nothing more.
And here is how a dispute is brought to the court.
Arbitration and ADR are consensual processes. If one party wishes to refer a dispute to the LCIA, but the other does not, the LCIA has no jurisdiction to determine the dispute. The best course is always to write a clear and unequivocal LCIA clause into your contract (click here for recommended clauses). However, if there is no such clause, or if you wish to vary a clause to provide for the LCIA's services, it may be possible to obtain the other side's agreement to do so. In that case, the LCIA will be pleased to provide a separate arbitration agreement.
Correct.
Both parties have to consent to the arbitration.
The LCIA has no jurisdiction to determine the dispute. It depends upon companies to write clauses into their contracts. I do not know if this is in the Acacia Minings contract. However, if the charges against Acacia Mining are true, they could be criminal. Criminal charges would not fall under any civil contract, even if an LCIA does exist. These criminal charges extend to Tanzanian political figures who took the payoffs.
In any case, Tanzania can and should enforce its laws. The LCIA is simply a way for a multinational to operate outside of the legal system of the countries they operate within. It is highly offensive to Tanzanians to propose that you operate within its boundaries but are not subject to its laws. And it should not be tolerated.
Barrick and Acacia Mining have zero ability to take the disagreement to international arbitration.
What Tanzania Can do As a Sovereign Government
Tanzania is a sovereign government, and they can remove any non-Tanzanian citizens from the country, and they can take over the mines at the time of their choosing. The only thing that is at risk is sanctions by foreign powers. However, Acacia Mining has a record of behavior that would be very difficult to make the argument that they should be defended.
Acacia Mining already most likely owed the Tanzanian government enormous amounts of back taxes. Therefore taking possession of the mines without compensation seems quite reasonable. Now the US and perhaps the UK would attempt to change Magufuli's mind. They can offer to open up loans (aid now is increasingly apparent as a payoff to leaders of countries to do the bidding of multinationals). And the US is not going to press the matter as Acacia Mining is not even a US company. And the UK is a tiny power compared to the pressure the US can apply to a country. Most likely, it would be the UK appealing to the US to intervene.
The one part that Tanzania is missing is influence over the international media. The international media will be against them, as they get their information from the multinationals like Acacia Mining. Africa overall (so not just Tanzania) has a difficult time in getting their story out in the international press. African nations, on the other hand, do not have media entities that are read outside of Africa by anything but those with a specific interest in Africa. Magufuli needs the ability to do this. Magufuli can get the word out through anything from YouTube to websites.
The Massive Attempts to Corrupt Magufuli
Magufuli would be wise to resist this, as it will mean giving up far more revenue to Acacia Mining and other multinationals who have becomes acculturated to stealing from Africa. Acacia Mining or the US or UK government can offer money sent to Magufuli's offshore bank account. But if Magufuli resists this, then there is not a lot Acacia Mining can do about it. One can imagine the fixers who work in some shape or form for the US government, UK government or Acacia Mining that are planning to fly to Tanzania to have a "mediation meeting" with Magufuli, to offer him quite a lot of money.
The Economist would prefer if Magufuli were corrupt.
Since the ban was imposed, Acacia has continued to mine, stockpiling its output instead of exporting it. But it cannot continue without generating cash for ever. If it stops production, the damage will extend to the country at large. Last year Tanzania's economy was among Africa's best performers, growing by about 6%. It needs more foreign investment to maintain that pace. Mr Magufuli's tactics—whether he has God and the angels on his side or not—will make that harder to achieve.
That is a nice amount of gold sitting waiting for the Tanzanian authorities to seize.
Tanzania does not need a foreign investment of the type offered by Acacia Mining. Tanzania already can take Acacia Mining's mines. Most of the workers in the mines are Tanzanian. Some technical mining skills can be obtained on the open market and brought to Tanzania. The Tanzanian government can pay them.
Longer-term, some Tanzanians who score well in engineering can be enrolled in schools like the Colorado School of Mines or numerous quality mining schools in Australia. Within a few years, they can come back to Tanzania with a good foundation to work in these mines in management roles.
Acacia Mining Makes America and the UK Look Bad
Africans often place the responsibility of companies like Acacia mining on the people that live in those countries. However, in the same way that the executives of a company like Acacia Mining exploit Africa, they also exploit normal citizens in developed countries.
Of all the money looted from Africa, the benefits flow to a tiny minority of individuals that do not live in mansions, do not attend Harvard.
I am an American, and I am entirely opposed to everything Acacia Mining is doing and US foreign policy towards Tanzania. It is an inaccurate depiction to correlate me with US foreign policy or some US or UK multinational who is ripping off Tanzania.
This is also not a black/white issue. I am as white as they come, and I know many other white people living in the US or UK or other places that are appalled by this behavior on the part of Acacia Mining.
This is a green issue. That is, it pits those with money, who obtain their money through exploitation, against those who don't. Principally it is a conflict between companies versus people.
So Africans should know that if this issue were explained to the average person in a developed country, there would not be very much support for Acacia's behavior. Acacia Mining would like Africans to think that most people in the developed world support them to normalize the behavior. But this is incorrect. Companies like Acacia Mining rely upon people in developed countries, not knowing what is happening to form the basis of passive acquiescence.
Who is in favor of these policies, and who controls them? Not me, and not the typical American or person in the UK. Only the elite of those countries. The same type of people who have the power to get this type of article written in The Economist.
An Africa Wide Issue
Resource extraction multinational firms steal from Africa regularly. This issue is occurring in the Congo as well and many other places.
Despite this, Tullow and the British Embassy in Kinshasa have been lobbying hard for these contract terms. This represents a significant transfer of wealth from some of Africa's poorest to British and Irish investors.

Platform Campaigner Mika Minio argues, "The reality is that extracting Congolese crude will escalate resource wars, transfer wealth from Congo's poorest to London's richest, create new health problems for local communities, increase corruption and pollute the land, water and air.."
This is not only a question of resources being stolen but of environmental damage. Without proper environmental regulations in Africa, resource extraction multinationals will leave an enormous debt of pollution.
Who Can Make Change Happen? (Hint: Africans)
Africans should remember that only African courts have any legitimate jurisdiction in African countries. The judicial systems in developed countries are designed to manage internal affairs within those countries.
Outside of the UN and the World Court, which is relatively speaking, weak controls, there is no international law except for things like the maritime law. Therefore, Africans need to, as Tanzania has done, elect leaders that will take a stand against corruption and will bring multinationals that have run amuck in Africa to heel.
Conclusion
This is yet another idiotic article on Magufuli and Tanzania written by The Economist.
One wonders if Acacia Mining actually wrote this article and if it was a paid placement. The article is literally that bad that you question if Acacia Mining simply dropped off a bag of money at The Economists' headquarters to write it. Acacia Mining has a lot of experience in dropping off bags of money. If Acacia needed to drop off a bag of money, they would not have had far to travel to do so. The distance between Acacia Mining's address and The Economist's address in London is 1.3 miles.
This brings up a lot of questions as to how individual articles for the Economist are funded. 
Comments
I have some comments copied from The Economist article.
Obviously, not everyone is buying what The Economist is selling.
It doesn't make sense for TZ to receive aid from UK while a UK-based company (e.g.., Acacia, Barrick) doesn't pay an even larger tax obligations than the aid we receive and they pay their UK obligations (taxes, dividends, etc). The narrative by international media on Tanzania and Africa needs to change and stop treating us with condensation! Please… full disclosure is required lest these articles are written by Public Affairs staff of these companies that don't want to pay taxes.
This is the continent where so called successful business people or companies are synonymous to successful thieves. Here comes Magufuli with this realisation. The Economist takes up an agenda to support the thieves. The article is a hotchpotch of all stupid allegations trending among seasoned thieves who have claimed to be investors/business people, etc. Can anyone escape paying tax in America or any developed world then claim to pay with humility, or any funny request?