Brightwork Research Study: The Estimate of Total S/4HANA Implementations
Executive Summary
SAP has proposed exaggerated go-lives numbers for both Suite (ECC) on HANA and S/4HANA.
How accurate are these reported numbers?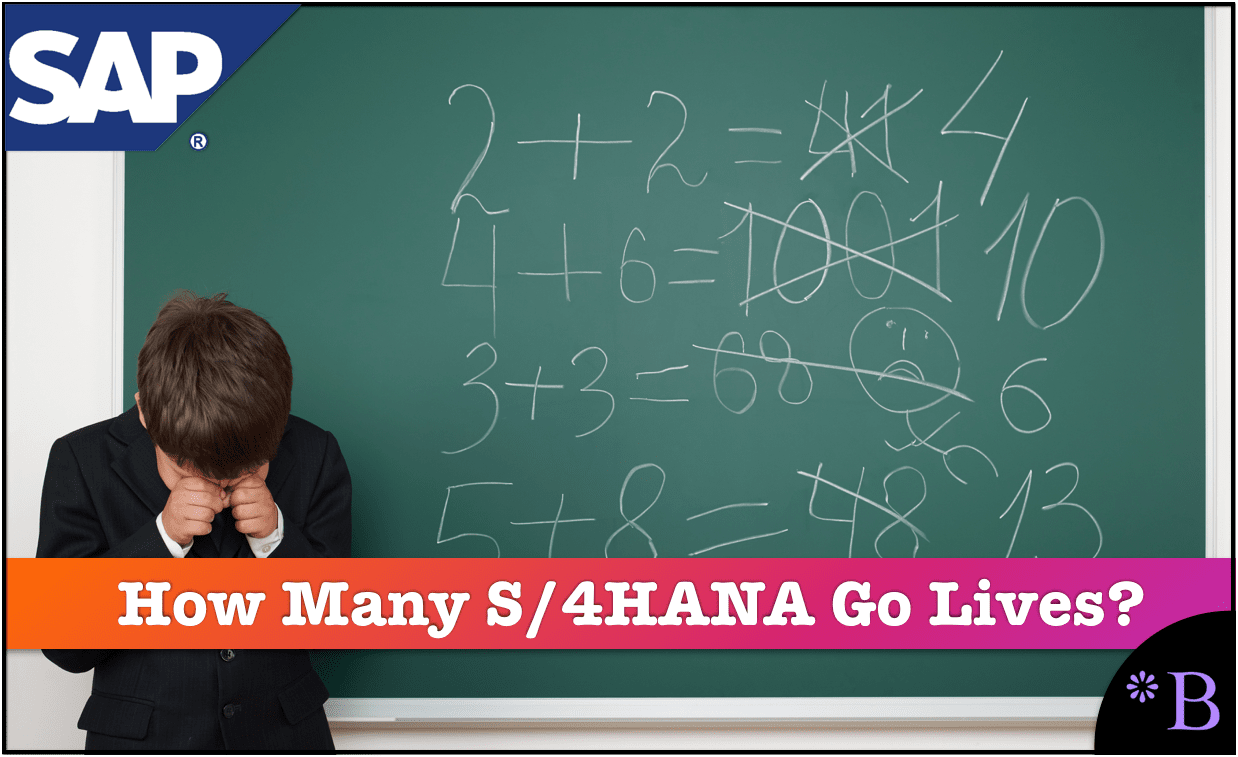 The Estimates
This is the research into SOH and S/4HANA.
Estimating Live HANA (SOH) Instances
We think there are more than a thousand customers using R/3/ECC on HANA, with our estimate being between one and two thousand, probably somewhere above 1,500. If we take the middle value, that is 1,750.
We have used the total number of live ERP customers (that is ECC, R/3 and R/2, non-Business One and ByDesign customers, Business One, and ByDesign being for the SMB market) from HG Insights at 39,853. This means that we estimate 4.3% of SAP ERP customers are on Suite on HANA or SOH.
SAP's Customer Claims Regarding S/4HANA
This research document uses expansion sections extensively in order to control the size of the document and make navigation easier. When the eye is closed the section is compressed, when selected the eye will open. Just select again to close the section.
[select-faq faq_id='21350′] [select-faq faq_id='21348′] [select-faq faq_id='21349′] [select-faq faq_id='21350′]
Estimating Live S/4HANA Instances
Estimating the number of S/4HANA live customers is a far more complicated affair than counting the number on SOH. First, the SOH implementation is far more straightforward. This is because the ERP systems stay the same, but just the database, Oracle/DB2/SQL Server, is switched out.
For S/4HANA, this becomes a classification and counting issue, because the vast majority of S/4HANA systems that are installed in the world, are not live. These S/4HANA instances fall into the categories a single module up (always the finance module, which is still the most mature), test systems, abandoned implementations, and other types of non-functioning systems.
Due to this complication, we will just lay out what we think the reality is, and let the reader interpret.
There are probably close to one hundred customers on S/4HANA Cloud. Most of them are consulting companies that received access to the system inexpensively, and are using it to market S/4HANA consulting, build skills, etc.. S/4HANA Cloud is so limited in scope that it can't support a business with physical products. This allows SAP consulting partners to mislead customers to get them to choose them as an implementation partner. It should also be noted that S/4HANA Cloud and S/4HANA are two separate products How SAP Confuses People on S/4HANA On-Premises Versus S/4HANA Cloud.
Hasso just recently claimed 3,500 live S/4HANA customers. Still, Hasso Plattner and others at SAP routinely provide inaccurate information on SAP topics, so Hasso's claim means little in terms of what is real.
Let us review some case studies not covered in our study into S/4HANA implementations.
Case Study Classifications
The case studies are broken into the following classifications.
Public Case Studies
Missing Public Case Studies
Private Case Studies
Case Studies
To see details for each case study classification, expand the item below.
[select-faq faq_id='2407′] [select-faq faq_id='2408′] [select-faq faq_id='2409′]
S/4HANA Implementation Background
It does not make sense to try to understand the S/4HANA case studies without having some familiarity with the technical underpinnings of S/4HANA and its history as an SAP product.
[select-faq faq_id='2399′] [select-faq faq_id='2405′] [select-faq faq_id='2403′]
Details Around the Research Method
[select-faq faq_id='21358′] [select-faq faq_id='2443′] [select-faq faq_id='21360′] [select-faq faq_id='21361′]
Individual Case Study Listing and Analysis
This is the case study listing portion of the research. Each case study can be evaluated individually by selecting the box or tile. Below this listing, we provide our cross-case study observations. This is generally absent from the coverage of the S/4HANA case studies, as they tend to be reported on a case by case basis.
This listing contains roughly 240 S/4HANA case studies.
They can be scrolled through or searched through by selecting the small magnifying glass in the upper right corner. Readers can search by company name or other search terms, and that case study will light up.
The descriptions are longer than fit in each description section. To read the longer descriptions, select the tile, and a larger view will open.
Interpreting the Public Case Studies
[select-faq faq_id='21352′] [select-faq faq_id='21353′]
Public Case Studies Versus the Private Case Studies
[select-faq faq_id='21351′] [select-faq faq_id='21354′]
Detailed Analysis
[select-faq faq_id='21355′] [select-faq faq_id='21362′] [select-faq faq_id='21357′] [select-faq faq_id='21362′] [select-faq faq_id='21363′]
Problems with the S/4HANA Go Lives Numbers
The problems with S/4HANA go-lives are apparent from the individual case studies. However, there are other data points as well outside of the individual case studies.
[select-faq faq_id='21342′] [select-faq faq_id='21343′] [select-faq faq_id='21344′] [select-faq faq_id='21364′]
S/4HANA Case Study Analysis Implications
This analysis is entirely contrary to the coverage of S/4HANA. Nearly every entity that covers S/4HANA has an incentive to make the story appear better than it is.
[select-faq faq_id='21340′] [select-faq faq_id='21341′]
Conclusion
For the vast majority of customers that purchased and implemented S/4HANA, SAP and their consulting partners took advantage of their customers by misleading them about S/4HANA's maturity as we covered in the article Why Did SAP Fake S/4HANA Maturity So Aggressively?
The following applies to this research conclusion.
[select-faq faq_id='21345′] [select-faq faq_id='21346′]