How to Get Clear on SAP's Claims on S/4HANA
Last Updated on May 10, 2021 by
Executive Summary
SAP makes a large number of false proposals around S/4HANA.
In this article, we review these claims for accuracy.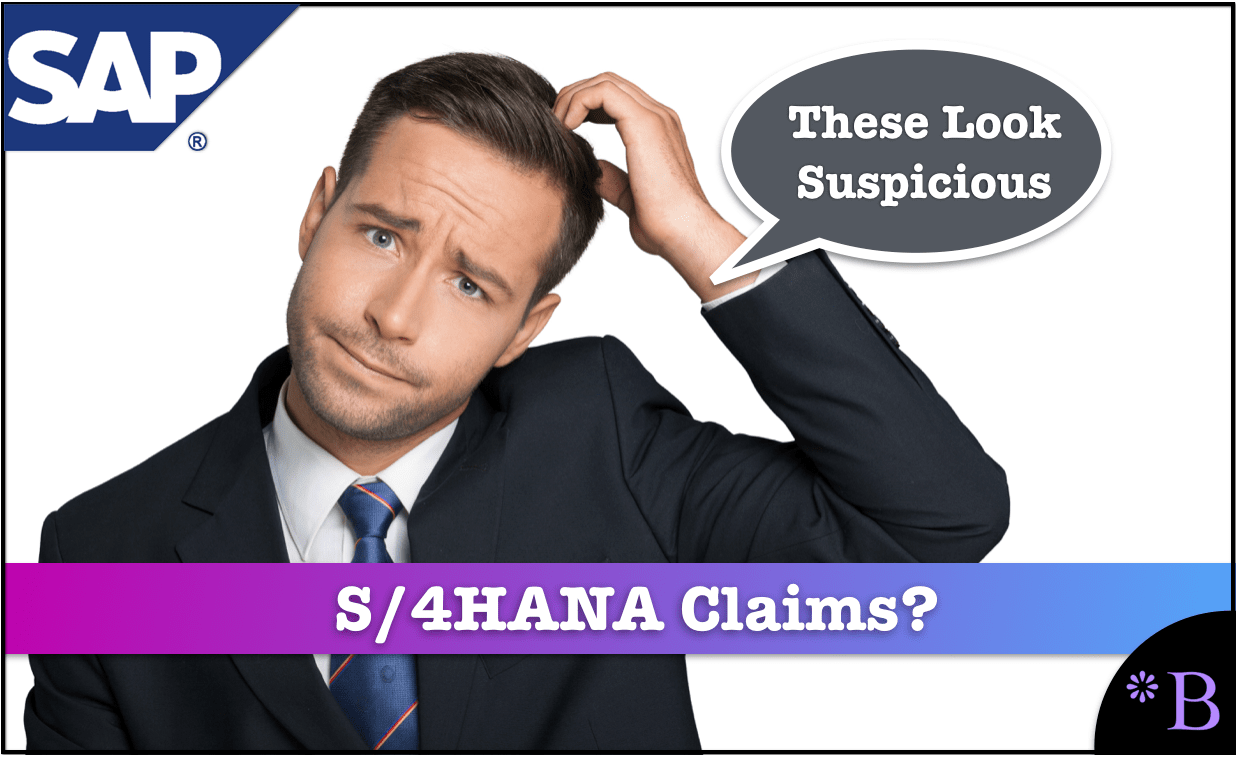 Video Introduction: SAP HANA
Text Introduction (Skip if You Watched the Video)
SAP HANA is SAP's database, which combines a columnar database with very fast hardware. There has been quite a bit of marketing information written on S/4HANA or HANA ERP. S/4 is the ERP system then runs on the HANA infrastructure in the most recent release. The "S" is supposed to stand for simple, and the "4" is what would follow "3" as in R/3. The overall naming convention is strange and confusing all by itself. When the finance area is referred to, it is "S/4HANA Simple Finance," and the supply chain area is called its "S/4 Simple Logistics." There is no way I can see the world "simple" being continually used on projects, so these names will have to change at some point. We will concentrate on making sense of the statements made about S/4HANA or HANA ERP by SAP. You will learn about common claims made by SAP about S/4HANA.
Our References for This Article
If you want to see our references for this article and other related Brightwork articles, see this link.
Lack of Financial Bias Notice: We have no financial ties to SAP or any other entity mentioned in this article.
This is published by a research entity.
Second, no one paid for this article to be written, and it is not pretending to inform you while being rigged to sell you software or consulting services. Unlike nearly every other article you will find from Google on this topic, it has had no input from any company's marketing or sales department. 
The Language of Selling
What should be understood is that S/4HANA marketing documents are not necessarily designed to be true but to sell S/4HANA. That is why much of the S/4HANA material often seems strange to an experienced implementer. There was never anything that was ERP in 2004. R/2 was a green screen system. R/3 was a client-server system, which had a Windows user interface. R/3 has been renamed over the years to ECC and then to SAP ERP (which never took) and then to Business All in One. But none of these names meant anything regarding referring to something new in the application, and they were just marketing terminological changes.  R/3 has stabilized some years ago, which means that it has seen little functionality enhancement since that time.
SAP proposes that S/4HANA has the following benefits:
Simplified Data Model
Completely Fiori
Guided Configuration
Reimagined Business Models
Reimagined Business Processes
No More Batch — All Processes in Real Time
Reimagined Business Decisions
Claim 1:

Simplified Data Model?

I moved this response over to a separate article titled Does S/4HANA have a Simplified Data Model?
Claim 2:

Completely, Fiori?

Fiori is the new SAP user interface. However, SAP S/4HANA has a tremendous number of screens, and there is no way SAP is finished with all of these screens at this time. Therefore, a large number of screens cannot yet be Fiori.
Claim 3:

Guided Configuration?

I can't tell you how many times I have heard about guided configuration. It should be remembered the IMG, which ships with the previous ERP version of SAP ERP, was supposed to be a guided setup as well, but it never was. S/4HANA may have a few helpful screens, but it won't be a guided configuration.
Claim 4:

Reimagined Business Models?

S/4HANA brings ECC to HANA. It is a monumental task to do that simply. Business models will likely be "reimagined," instead, what companies should look for is if S/4HANA can be made to work.
Claim 5:

Reimagined Business Processes?

The same thing, SAP is not offering new application functionality in S/4HANA. ERP on HANA is about an infrastructure and user interface upgrade while the business functionality is roughly the same as in ECC.
Claim 6:

No More Batch — All Processes in Real Time?

S/4HANA is an ERP system, and that means it's a transaction processing system. Some processing is performed in batch, such as MRP and closing the quarter for financial reconciliation, but this is a simple processing type. Most transactions in ERP are already processed immediately or in real-time.
Claim 7:

Reimagined Business Decisions?

Hmmm…this one seems to propose massive differences in reporting for ERP on HANA. S/4HANA will be much faster; however, the idea reporting would be so much better also depends upon the reporting application. HANA has several tools, such as HANA Live Browser, but this is not S/4HANA, and all of these tools are too new and unproven to make big statements about.

SAP shows slides with reducing in the time for processing. However, it overestimates the time that the transaction processing system takes. Yes, ERP on HANA will be better, but companies currently don't have a real problem with closing. It's nice to have, but SAP is overemphasizing the benefits here.

Again, this focuses on the two most processing-intensive processing within ERP: financial closing, reporting, and MRP.

I had to say that having written books on MRP and tested MRP in many systems, if in-memory computing is being justified to run MRP faster, there is something wrong with that story. It may be that many people do not know that MRP is straightforward and was designed to run on hardware from the 1970s. I quote from my book Repairing Your MRP System:
"Even though MRP is mathematically simple, it performs a number of repetitive calculations that prior to MRP had to be calculated manually, which was a very tedious task. Converting large volumes of sales orders into production orders and purchase orders was quite a feat when this capability was first developed independently in the early 1960's at J. I. CASE and Stanley Tools. Yet quite a few companies continued using their old systems before industry converted over to MRP in the late 1970's."
Claim 8:

TM and Ariba Run on HANA?

SAP implies in slides that TM and Ariba run on HANA. Yet, neither SAP TM nor Ariba runs on HANA. I can't tell if that slide is trying to say that S/4 can just integrate into other SAP applications. However, that is not a feature of S/4 as the same was true of ECC/Business All In One.

I assume that SAP would agree that it offered an integration solution before S/4 showed up on the scene. I will have a future article on what this means from the integration perspective. However, all new tables say all-new mapping for the interfaces that do exist.

The slide also includes all the trendy terms, like the Internet of Things and Big Data — and one I had never heard of before, called Omni-Channel. Omni-Channel simply means to offer a sales experience across multiple retail channels — such as online, offline, etc. This has nothing to do with SAP as SAP has no product that does this — and these three things just tell the executive that "we do the new sexy." It's a subliminal messaging that "we get it."

A big message about S/4HANA or ERP on HANA has been getting lean. So SAP has a few suitable slides on this that explain how this works. The first slide shows database aggregates and indices in the database.
Claim 9:

Reducing the DB Footprint?

SAP has proposed that one of the benefits of columnar databases is that they require less aggregation and indices. The blue is the aggregates and indices that are still necessary with ERP on HANA.

This shows how SAP could shrink the size of the data that S/4HANA or ERP on HANA takes up. However, it also needs to be stressed that you will pay a lot more per GB when using anything on HANA, so these changes won't translate to cost savings.
Claim 10:

Data to Flow Through HANA Outside of ERP?

SAP proposes that data will now be pulled through HANA ERP and to areas outside of HANA ERP.

Why is this true? This is one of the most bizarre claims that I have seen from SAP. Is information currently pushed in R/3/ECC? But not in HANA ERP. This is the first time I have heard of this. If anyone has a perspective on this that may support some validity, please comment on this article.
Claim 11:

S/4HANA in the Cloud Little Used?

There is a lot of talk about all the options available for S/4HANA or HANA ERP. However, S/4HANA in the cloud is quite expensive. And being able to put an ERP system in the cloud, or any other application for that matter, should not be considered a big deal.

I happen to find most of the SAP's material on the cloud more confusing than anything, and I have spent so much time on sales proposals where the topic of either on-premise or cloud is discussed, and it always seems to break toward on-premise. Also, except for purchased applications like SuccessFactors or Ariba, most of the SAP investments are still being sold on-premise.
How Accurate is SAP's Page on S/4HANA?
In this article, we will review SAP's S/4HANA page and check it for accuracy.
Quotes from the SAP's S/4HANA Page
The Next Generation ERP Suite with Big Data and IoT?
The next-generation ERP business suite

Run a truly live business with SAP S/4HANA, an intelligent ERP suite designed specifically for in-memory computing. SAP S/4HANA is the digital core that connects your enterprise with people, business networks, the internet of things, big data, and more. Take control and run a live business with SAP S/4HANA and experience the power of a digital core.
SAP has been using the term "digital core" to describe its ERP system for some time. However, it is not clear why. SAP then states that S/4HANA connects your enterprise with people (true), business networks (true), the internet of things (false), big data (false), and more (whatever that might be.
I cover SAP's IoT solution in the article Why SAP's Leonardo Seems So Fake. SAP has no Big Data business, and Big Data has nothing to do with ERP systems, SAP or non-SAP. So this part of SAP's web article is merely false.
What is S/4HANA?
SAP S/4HANA is a real-time enterprise resource management suite for digital business. It is built on our advanced in-memory platform, SAP HANA, and offers a personalized, consumer-grade user experience with SAP Fiori. Deployable in the cloud or on premise, SAP S/4HANA can drive instant value across all lines of business – no matter your industry or business size.
It is unclear what SAP even means at the beginning of this paragraph. It is merely a sales talk.
S/4HANA is built on an advanced in-memory platform. No other vendor offers in memory for ERP systems, but not because they can't but because it does not make much sense. And it is costly to do so.
SAP offers Fiori, but Fiori is still being developed, and almost no customer uses Fiori, which is covered in the article The Math of Probable S/4HANA and Fiori Usage. No matter what, if a company implements S/4HANA, they will need to use the SAPGUI. This is covered in the article What is Actually in the Fiori Box?
Hmmm….there is no evidence that S/4HANA can drive instant value across all lines of business. S/4HANA has very few live clients. SAP would have no way of even knowing if this sentence regarding value is true.
Immediate, Intelligent, and Integrated ERP?
SAP S/4HANA is the digital core – the nerve center – of your entire business. It consolidates internal and external elements into a single, living structure that goes beyond traditional ERP software. In other words, it connects all of your processes, provides you with live information and insights, and seamlessly integrates your enterprise with the digital world at large.
S/4HANA does not go beyond traditional ERP software. S/4HANA is roughly 93% identical to ECC's code (based upon a code analysis).
S/4HANA does what ECC does. It does not provide more live information than ECC. S/4HANA's reports are faster (because it sits on an analytical database). But it is unclear how much customers will use this capability versus reporting off of the business warehouse.
It is difficult to tell if SAP wrote the last sentence as comedy or is merely trying to see how much they can pull on people, but S/4HANA does not "seamlessly integrate your enterprise with the digital world at large." Who would even write such a thing? If true, it would mean that S/4HANA is already perfectly integrated with all digital applications that exist. Which rather, obviously, it doesn't.
Core Finance: Achieve operational excellence and innovation–company-wide
Provide world-class support for local market requirements, languages, and currencies with solutions from SAP. Our scalable and open architecture optimized for in-memory databases can help you simplify and accelerate your financial operations – enabling you to improve performance and focus on growth and innovation.
Yes, S/4HANA has strong support for multiple languages and currencies…as did ECC.
The statement regarding an in-memory database simplifying and accelerating financial operations has been extensively studied by Brightwork and was found to be false. This was covered in An Analysis of the SAP S/4HANA 1610 Information.
Digital World Requirements?
In today's digital world, organizations need greater flexibility and the ability to execute without limitations. Learn how SAP S/4HANA can help your organization address every opportunity in the digital world.
The world has been digital for some time. Why is SAP focusing on items being digital as of 2016 and 2017? This fixation with the term digital to sell software and consulting services is covered in the article The Problem with Digitial Transformation and Modern IT Projects.
Accelerate your SAP S/4HANA Deployment?
Utilize our industry-leading SAP HANA Enterprise Cloud to shorten your time-to-value and deploy a digital core. Enjoy the full power of SAP HANA in a private, managed cloud environment that is supported by the most knowledgeable resources in the industry – from infrastructure to applications.
No, that is entirely untrue. First, SAP HANA Enterprise Cloud is not industry leading. AWS is the widely acknowledged industry leader in cloud hosting. It does not make very much sense to host with SAP. And SAP itself has mostly given up competing directly with AWS as they demonstrated with their multicloud announcement at SAPPHIRE 2017, which is covered in the article How to Best Understand SAP's Multicloud Announcement.
Furthermore, the most knowledgeable resources on the cloud, PaaS, IaaS, etc., would tend to work at AWS as they have a much more significant business in the cloud than SAP, and they are the clear industry leaders.
Transition to SAP S/4HANA?
Our Digital Business Services organization and partner ecosystem is committed to your success. They will provide guidance at every stage of your digital transformation, based on your unique business needs and goals, so you can take full advantage of S/4HANA innovations.
That is curious. Almost no SAP consulting partners have any experience with S/4HANA because it is so lightly installed. SAP will guide at every stage of the project, but not of the digital transformation. Unless the company moves from a system that is not based on computers, no S/4HANA implementations are a digital transformation.
SAP pulled out all the stops to falsify information for this article.
This SAP article has a Brightwork Accuracy Score of 1 out of 10. There is no score lower than this.
Conclusion
Statements about HANA ERP have to be analyzed because much of the information in these sales slides is fanciful. It is easy to view a slide and let it pass you by, and I think I tended to do this for a while on S/4HANA and HANA. It's another thing to evaluate if what is written makes sense. I have worked on HANA ERP sales pursuits, and I don't particularly appreciate using these types of slides because they create too high expectations.
Curious about the reality of S/4HANA implementations? See our The S/4HANA Implementation Study for real story and details on actual S/4HANA implementations.