How Bill Gates and Dr Fauci Conspired to Exaggerate the Covid Pandemic for Financial Gain
Executive Summary
Bill Gates and Dr. Fauci have had a multi-decade partnership that is based upon exaggerating pandemics to the general population.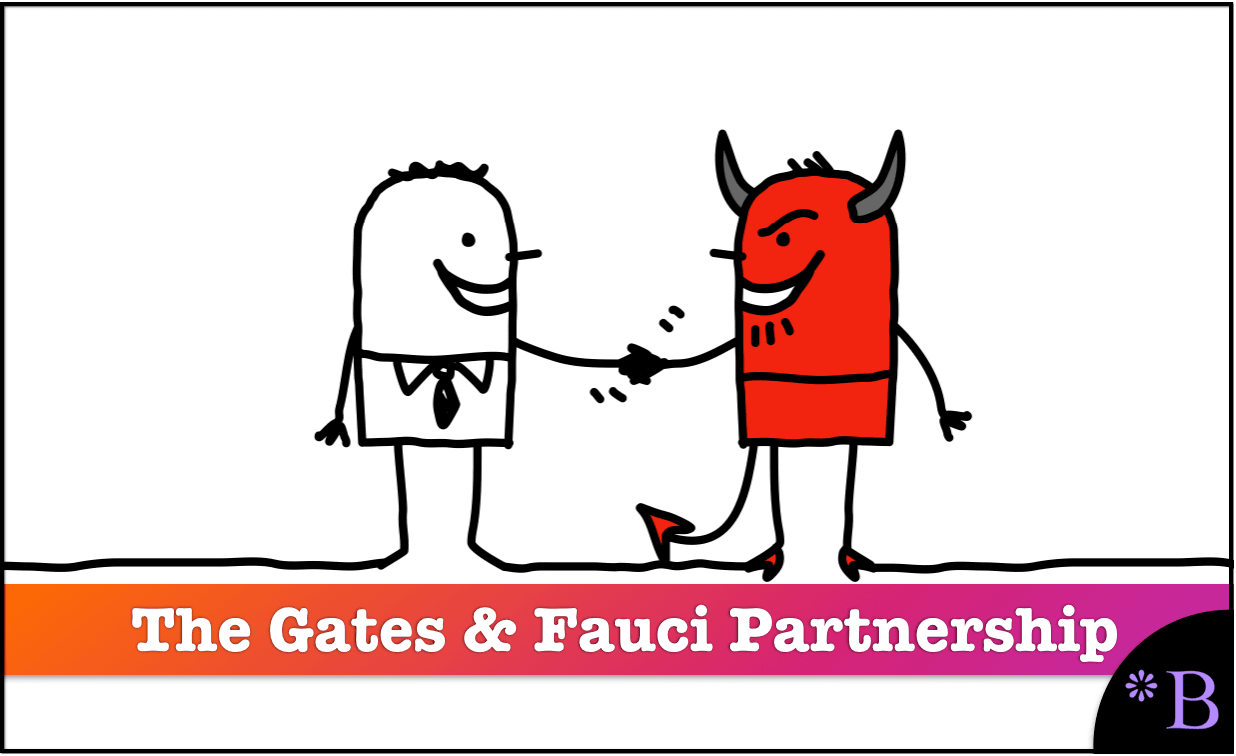 Introduction
Bill Gates and Dr. Fauci have had a multi-decade partnership that ended up leading to the exaggerated covid pandemic. This partnership had no public health function and was designed to increase the financial resources and public influence of both men.
The Bill and Melinda Gates Foundation Steering Committee
Here are the steering committee members.
"Dr. Nicole Bates, Senior Program Officer, Global Health Policy and Advocacy, Bill & Melinda Gates Foundation
Dr. Seth Berkley, President & CEO, International AIDS Vaccine Initiative (IAVI)
Dr. Zulfiqar Bhutta, Founding Chair, Division of Women and Child Health, Aga Khan University
Dr. Lola Dare, CEO, Center for Health Sciences Training, Research and Development International
Ms. Helen Evans, Acting CEO, GAVI Alliance
Dr. Lee Hall, Chief, Parasitology and International Programs Branch, Division of Microbiology and Infectious Diseases, NIAID
Dr. T. Jacob John, Professor, and Head, Departments of Clinical Microbiology and Virology, Christian Medical College, Vellore, India (Retired)
Dr. Orin Levine, Executive Director, International Vaccine Access Center (IVAC)
Dr. Jean-Marie Okwo-Bele, Director, WHO Department of Immunization, Vaccines, and Biologicals
Dr. Ciro de Quadros, Executive Vice President, Sabin Vaccine Institute
Dr. David Salisbury, Director of Immunization, UK Department of Health
Dr. Anne Schuchat, Director, National Center for Immunization and Respiratory Diseases, CDC
Dr. Peter A. Singer, Director, McLaughlin-Rotman Centre for Global Health, University of Toronto
Dr. Lucky Slamet, Deputy for Therapeutic Products, Narcotic, Psychotropic and Addictive Substance Control, National Agency of Drug and Food Control, Indonesia
Dr. Gina Tambini, Area Manager, Family, and Community Health, PAHO
Dr. Jos Vandelaer, Chief, Immunization, Programme Division, UNICEF
Ms. Sandy Wrobel, CEO and Managing Director, Applied Strategies"
Observe how extensive the net is. This means that Gates is engaging in influence peddling with all of these individuals.
How many relatives of these people are working for the Bill and Melinda Gates Foundation or have no work and high-paid resume-building positions at his affiliate companies?
Conclusion
Bill Gates and Dr. Fauci created a partnership back in 2000 that was about making money for both men. Both have made exaggerated claims about pandemics throughout their lives and personally profit from them. And both men control enormous amounts of scientific funding, which is directed towards extremely poor ends. For both men, their actions have nothing to do with public health and everything to do with profits.