How Bill Gates and Dr Fauci Conspired to Exaggerate the Covid Pandemic for Financial Gain
Last Updated on February 5, 2022 by Shaun Snapp
Executive Summary
Bill Gates and Dr. Fauci have had a multi-decade partnership that is based upon exaggerating pandemics to the general population.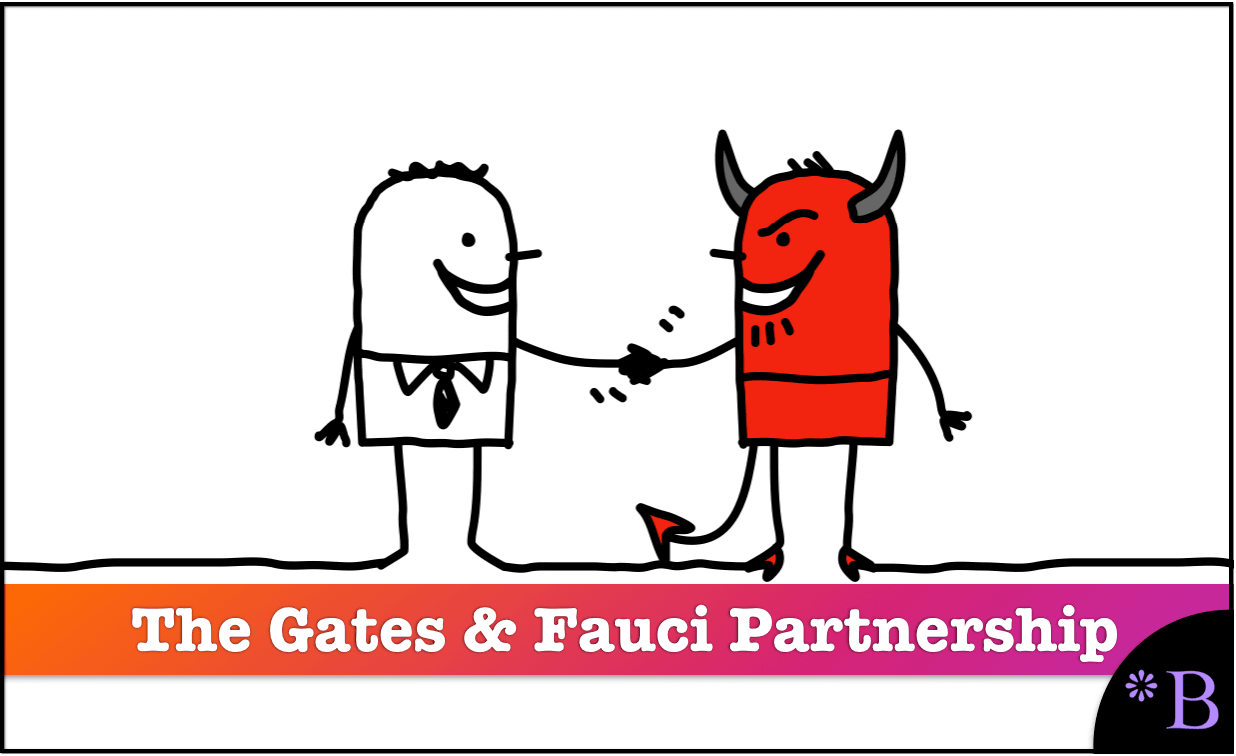 Introduction
Bill Gates and Dr. Fauci have had a multi-decade partnership that ended up leading to the exaggerated covid pandemic. This partnership had no public health function and was designed to increase the financial resources and public influence of both men.
Our References for This Article
If you want to see our references for this article and related Brightwork articles, visit this link.
Gates and Big Pharma — Conspiracy Theory or Conspiracy Fact?
Bill Gates like to shoot down objective observations of collusion with pharmaceutical companies as crazed conspiracy theories. However, the linkages between the Bill and Melinda Gates Foundation are child's play to trace. For years the Bill and Hillary Clinton Foundation maintained a positive reputation (among the left-leaning and ill-informed) until it was exposed as a faux charity that served as a money-laundering operation for the Clintons. The covid pandemic may finally be the point where the Bill and Melinda Gates Foundation is exposed for what it is, just a way to influence policy in a way that Bill Gates can maximize the returns on his investment portfolio.
Gates' Self Incrimination
Observe how Gates essentially incriminates himself in the following quotation while actually meaning to brag about how much he collaborates with pharmaceutical companies.
"Our foundation has a lot of vaccine expertise and deep relationships with the manufacturers, and so, we've taken our staff and now are looking at each of these [potential vaccine] constructs and the data and making sure that for the ones that are the most promising, there is a plan to have multiple factories in Asia, multiple factories in the Americas, multiple factories in Europe…. We understand which of these vaccines we can scale up the production, and I'm hopeful that it will be at that large number, because the cooperation from the pharma companies, of saying, 'yes, you can use my factory to make someone else's vaccine,' we're getting a very good response to that, and that's really unprecedented."

During Gates's remarks, he made no mention of his foundation's investment in any pharmaceutical companies working on Covid. Similarly, in an August interview with Wired, the former head of Microsoft said that if he were infected with Covid, he would want to be prescribed the therapeutic drug Remdesivir—failing to mention his foundation's stock position in the drug's owner, Gilead, according to the charity's most recent tax return, from 2018. (The foundation refused to provide details about its current investment portfolio.) – The Nation
Standard Nondisclosure of a Corrupt Entity
In the following quote, you will see something that is never discussed in the mainstream media coverage of Bill Gates, or presented prior to him being interviewed as an expert on infectious diseases, which is his financial connections. Observe this segment on PBS.
PBS is funded in part by the Bill and Melinda Gates Foundation, which is why Bill Gates can appear anytime he wants on PBS and most likely gets the questions sent to him in advance as PBS is now public relations for Bill Gates and his corrupt foundation. PBS never explains why they are interviewing Bill Gates on the topic of epidemiology instead of an epidemiologist, but it should be obvious that most epidemiologists cannot afford to compete with Bill Gates in his campaign donations — hence the US's chief epidemiologist is now Bill Gates — at least according to our establishment and paid off media. Furthermore, neither PBS nor any other media entity that allows him on their programs discloses Gates financial connections. These connections are in fact not that simple to find, as the magazine The Nation found out when they looked. 
Journalistic norms require disclosure of conflicts of interest. So do the prevailing rules in science, but even when Gates enters the scientific discourse—for example in the commentary he penned in the New England Journal of Medicine, prescribing what he thought government leaders should be doing to tackle Covid—he does not disclose the details of his financial ties. Gates filled out the journal's required conflict-of-interest form, but simply listed his conflicts as "numerous"—giving readers no sense of the size, scope, or type of his financial stake in the pandemic.

If Gates followed disclosure rules, we would have transparency not just around the Gates Foundation's $47 billion endowment but also about where Bill and Melinda Gates's personal fortune is held.

In the same way that policy-makers and journalists have called on Trump to release his tax forms, in part to understand if he may be financially benefiting from his presidency, Bill Gates's tax records and investment portfolio bear scrutiny because of his leadership role in the pandemic—whose total cost to the global economy is in the trillions of dollars.

The Nation made multiple requests for up-to-date financial disclosures and tax forms from the foundation and the Gates's family but got no response.

While the Gates Foundation is a nonprofit organization, its endowment still generates billions of dollars in income—more money over the last five years than the foundation has given away in charitable grants. – The Nation
Gates and Fauci Are in Constant Communication
Furthermore, Gates and Fauci do collaborate and have at least one call a week and sometimes multiple calls per week. These are considered two of the most powerful men in scientific research in the world, even though neither is scientist. Fauci is a career administrator who has never worked in research, but rather curiously owns a large number of patents that he has pilfered from researchers below him at the NIH.
Here are some of the ways.
Fauci unquestioningly presented Bill Gates faux Imperial College and UW covid forecast models to Trump to justify the lockdown. These estimates were joke, it is curious that Fauci went ahead and presented them anyway without any critical analysis.
Fauci sits on the Global Health Leaders Launch Decade of Vaccines Collaboration of Bill Gates' Foundation board.
Here is the listing of those on this board.
Dr. Margaret Chan, Director General of WHO;
Dr. Anthony S. Fauci, director of NIAID, part of the National Institutes of Health;
Mr. Anthony Lake, Executive Director for UNICEF;
Ms. Joy Phumaphi, Chair of the International Advisory Committee and
Executive Secretary, African Leaders Malaria Alliance
Dr. Tachi Yamada, President of Global Health at the Bill & Melinda Gates Foundation;" – Bill and Melinda Gates Foundation Website
Why is Fauci sitting on a board of a corrupt faux charity if he is also the head of NIHID? This seems to be a conflict of interest. Bill Gates is very powerful, there are numerous ways for Bill Gates to influence Fauci with financial cash and prizes.
Here are the steering committee members.
"Dr. Nicole Bates, Senior Program Officer, Global Health Policy and Advocacy, Bill & Melinda Gates Foundation
Dr. Seth Berkley, President & CEO, International AIDS Vaccine Initiative (IAVI)
Dr. Zulfiqar Bhutta, Founding Chair, Division of Women and Child Health, Aga Khan University
Dr. Lola Dare, CEO, Center for Health Sciences Training, Research and Development International
Ms. Helen Evans, Acting CEO, GAVI Alliance
Dr. Lee Hall, Chief, Parasitology and International Programs Branch, Division of Microbiology and Infectious Diseases, NIAID
Dr. T. Jacob John, Professor, and Head, Departments of Clinical Microbiology and Virology, Christian Medical College, Vellore, India (Retired)
Dr. Orin Levine, Executive Director, International Vaccine Access Center (IVAC)
Dr. Jean-Marie Okwo-Bele, Director, WHO Department of Immunization, Vaccines, and Biologicals
Dr. Ciro de Quadros, Executive Vice President, Sabin Vaccine Institute
Dr. David Salisbury, Director of Immunization, UK Department of Health
Dr. Anne Schuchat, Director, National Center for Immunization and Respiratory Diseases, CDC
Dr. Peter A. Singer, Director, McLaughlin-Rotman Centre for Global Health, University of Toronto
Dr. Lucky Slamet, Deputy for Therapeutic Products, Narcotic, Psychotropic and Addictive Substance Control, National Agency of Drug and Food Control, Indonesia
Dr. Gina Tambini, Area Manager, Family, and Community Health, PAHO
Dr. Jos Vandelaer, Chief, Immunization, Programme Division, UNICEF
Ms. Sandy Wrobel, CEO and Managing Director, Applied Strategies"
Observe how extensive the net is. This means that Gates is engaging in influence peddling with all of these individuals.
How many relatives of these people are working for the Bill and Melinda Gates Foundation or have no work and high paid resume-building positions at his affiliate companies?
Conclusion
Bill Gates and Dr. Fauci created a partnership back in 2000 that was about making money for both men. Both have made exaggerated claims about pandemics throughout their lifetimes and personally profit from pandemics. And both men control enormous amounts of scientific funding, which is directed towards extremely poor ends. For both men, their actions have nothing to do with public health and everything to do with profits.