How Common Are Oracle Cloud Outages and Who Cares?
Executive Summary
Oracle Cloud appears to have outage issues.
In this article, we answer how common these outage issues and what they mean for customers.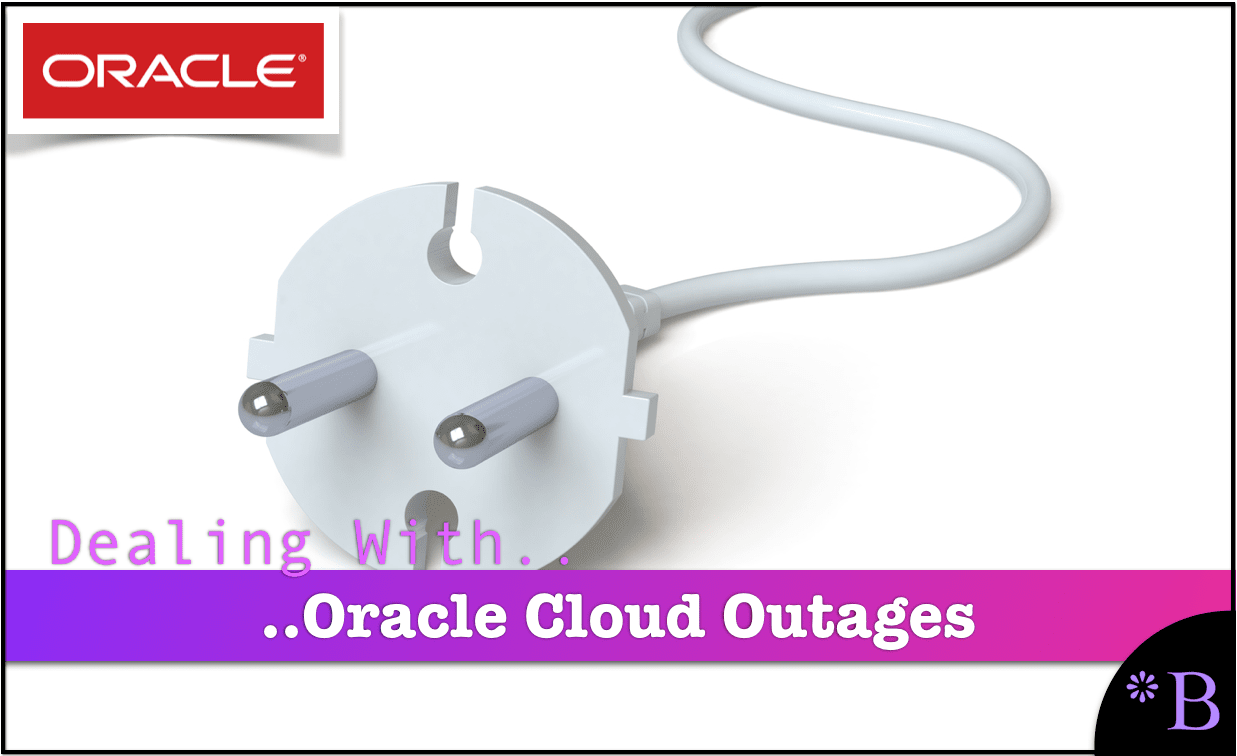 Introduction
Oracle Cloud uses a lower quality 100% colocated strategy for its data centers. This has been leading to downtime, as explained by Ahmed Azmi of Brightwork Research & Analysis.
Our References for This Article
If you want to see our references for this article and other related Brightwork articles, see this link.
Lack of Financial Bias Notice: The vast majority of content available on the Internet about Oracle is marketing fiddle-faddle published by Oracle, Oracle partners, or media entities paid by Oracle to run their marketing on the media website. Each one of these entities tries to hide its financial bias from readers. The article below is very different.
First, it is published by a research entity.
Second, no one paid for this article to be written, and it is not pretending to inform you while being rigged to sell you software or consulting services. Unlike nearly every other article you will find from Google on this topic, it has had no input from any company's marketing or sales department. 
See the following quotation.
"Oracle cloud is entirely made up of leased colocation facilities operated by third-party providers. These third party providers have their own maintenance schedules for systems maintenance, updates, and upgrades. They also experience their own frequent unplanned downtime. Third party downtime adds additional downtime to Oracle's own planned and unplanned downtimes."
Why Are Oracle Cloud Outages Not More of an Issue?
Getting information on Oracle Cloud outages broadly is quite tricky. According to Dan Woods, they would be more of an issue…..if very many people were using Oracle Cloud.
"The first mistake is the idea that Oracle's IaaS and PaaS cloud efforts should be in the same category with the other large players: AWS, Google Cloud Platform (GCP), and Microsoft Azure. My view is that it will never get there.

First of all, it is important to understand how far behind Oracle is. There are lots of ways to compare clouds but to me the most important is this: Has a cloud outage been a big deal? Failures in AWS, GCP, and Microsoft Azure make news and disrupt many services. Either Oracle's cloud runs perfectly or it isn't being used that much.

Meanwhile, CIOs are increasingly unlikely to think of Oracle as a strategic technology partner, with only 2 percent surveyed seeing Oracle as "their most integral vendor for cloud computing." CIOs often follow each other's lead, making this is a troubling trend for Oracle."
Oracle's Overstatement of Cloud Usage
Oracle resources continuously talk about the cloud; however, in our Oracle Cloud testing, it seemed impossible that much of anyone could be using Oracle Cloud. It does so little and has not had much user feedback. Its services and overall usability are in a different dimension than AWS or GCP.
We rank Oracle Cloud as very similar to SAP Cloud. That is, it is a cloud primary for marketing purposes. This is highlighted again by Dan Woods in the following quotation.
""an Oracle salesperson who's been with the company for several years told Business Insider that the change could reflect something else: that not all of the cloud revenue was from customers who were really using Oracle's cloud." The story discusses tactics Oracle salespeople have used in the past (although the company has since clamped down on them) like selling "cloud credits" for products the customer didn't actually plan to use in exchange for other discounts or incentives."
System Outage of 10 Hours Per Month
Back in 2016, this clause was found in Oracle's cloud contracts.
"Oracle reserves specific maintenance periods for changes that may require the Cloud Service to be unavailable during the maintenance period. Oracle works to ensure that change management procedures are conducted during scheduled maintenance windows, while taking into consideration low traffic periods and geographical requirements. The typical scheduled maintenance period is once a month on Friday, initiating at approximately 20:00 data center local time, lasting around 10 hours."
Conclusion
Oracle Cloud has reports of outages from various customers. However, there is no broadscale coverage of Oracle Cloud outages because of Oracle Cloud.
In our analysis, enough companies do not use Oracle Cloud to make a difference or news if Oracle Cloud not only has an outage but also has a very lengthy outage.