How Gartner Distributes Press Releases On SAP HANA
Last Updated on May 4, 2021 by HostingandOther
Executive Summary
Gartner's article on HANA looks like an SAP press release.
Why is the description of HANA offered by the article (and mostly taken directly from SAP product management) ridiculous?
Why SAP should instead be focusing on just improving its lagging and infuriating business intelligence and infrastructure products rather than engaging in "visoneering."

Video Introduction: How Gartner Distributes Press Releases On SAP HANA
Text Introduction (Skip if You Watched the Video)
We have been saying that Gartner is a passive marketing front end for the mega vendors. It is very common for Gartner to be paid to repeat claims made by mega vendors, without questioning information fed to them from the vendor. I was recently pretty well floored when I read a piece by Gartner titled "SAP Throws Down the Next-Generation Architecture Gauntlet With HANA." SAP clearly paid Gartner to publish this article. You will see our analysis of this article by Gartner which reads like a press release from SAP.
Our References for This Article
If you want to see our references for this article and other related Brightwork articles, see this link.
Lack of Financial Bias Notice: The vast majority of content available on the Internet about Gartner is marketing fiddle-faddle published by vendors who republish reports they paid Gartner to publish, or Magic Quadrants they paid Gartner to score well. The IT industry is petrified of Gartner and only publishes complementary information about them. The article below is very different.
First, it is published by a research entity.
Second, no one paid for this article to be written, and it is not pretending to inform you while being rigged to sell you software or consulting services as a vendor or consulting firm that shares their ranking in some Gartner report. Unlike nearly every other article you will find from Google on this topic, it has had no input from any company's marketing or sales department. 
Article Analysis
The article begins with some very flowery language. One sentence quickly caught my eye.
Ambitious Vision?
The vision is very ambitious, and, at the same time, consistent with users' aspirations.
It seems a bit overdone. I am always concerned when I read the word "ambitious." But also, is this vision consistent with users' aspirations? Gartner should offer more detail here. Some background information or examples would be helpful.
HANA Architecture
SAP application infrastructure and architecture strategy, dubbed HANA Architecture, combines cloud and in-memory technologies in a progressive, and potentially disruptive, vision.
I have no idea what this sentence means.
SAP & Cloud?
The HANA Architecture will underpin SAP's software as a service (SaaS) and packaged business application strategy.
Whenever one reads SaaS in the same sentence as SAP, one should be quite skeptical. I have been telling people, without much success, that SAP's entire marketing approach is anti-SaaS. The reason for this is relatively apparent. SAP competes based upon the monopoly position of its ERP system. Its ERP system is complicated to integrate into. SAP has the most difficulty to integrate applications or sets of applications in the enterprise market. In effect, the existence of SAP in a company dramatically increases that company's costs of integration. Therefore, supporting SAP's argument that integration is difficult and, therefore, only SAP products that are already integrated (which also take work to configure and troubleshoot) should be purchased. This strategy is based upon erecting unnecessary walls, allowing SAP to sell solutions for things like CRM, BW, and APO that have limited business appeal.
Erecting Walls Between Applications
Gartner should have asked themselves why a company that has based most of its marketing and overall corporate strategy on erecting walls between applications and disallowing the use of standard integration tools in favor of Byzantine proprietary tools, all of a sudden would be interested in opening the floodgates and allowing groups of unassociated applications call on SAP's functionality? They have no interest in doing this, but it is crucial to keep up with the buzzwords. Therefore, SAP unveils its grand strategy that Gartner either can't seem to figure out this is inconsistent with SAP's entire approach, or due to the money SAP has paid Gartner, Gartner has chosen not to point this out.
Interestingly, SAP's supposed love of SaaS is not new. I recall having this discussion with a consultant from Deloitte in 2006, and when I brought up this point, he said, "Look, that is what SAP's position is." SAP seemingly has an unlimited timeframe under which to continue to discuss SaaS without anyone pointing out that they are nowhere closer to enabling their applications for SaaS than they were five years ago. I fully expect to hear about SAP's SaaS vision in 2020 and for Deloitte and Gartner to get behind it again at that time as well. It becomes tedious hearing about faux SaaS when some best of breed vendors (albeit very few) have already been doing SaaS for years. My favorite example of a vendor that gets SaaS is Arena Solutions. I interviewed Eric Larkin and Nathan Martin on SaaS a while ago, and they provided some great insights. Arena Solutions does not dabble in SaaS. They are 100% SaaS.
The HANA Architecture is a work in progress, and will undergo several significant changes before it is completed. This potentially exposes SAP users to challenges for migrating to, and integrating with, different technology generations.
I will be more specific than Gartner here. HANA does not exist and has a low likelihood of ever existing. (Let me clarify here. I have little doubt that there is a product called HANA. However, as described by SAP, HANA does not exist, and will likely not exist)
This wording above is directly from SAP and, in addition to understanding that SAP is very weak in this area and has minimal incentive to bring out a SaaS solution. Secondly, this is precisely how a company writes when they do not have anything.
Responding to a "Vision?"
SAP's vision will force megavendor competitors to respond by clearly and openly articulating their cloud and in-memory computing strategies.
Does one have to respond to a vision? Does one answer to a vision…..with another vision? Is peyote involved in developing a responding vision?
SAP users should plan for a migration of their NetWeaver-based applications to SAP's HANA Architecture within the next three to five years. At the same time, users must determine if there are opportunities to improve their Advanced Business Application Programming (ABAP) applications with the new infrastructure.
As for the ABAP comment, it is also bizarre. Almost all SAP applications are written in ABAP. There is some Java here and there. It's mostly ABAP. This sentence means that SAP's applications need to be migrated to HANA. Fair enough, but that would be a natural expectation.
HANA Will Have a Significant Industry Impact?
SAP clients and partners should consider that the HANA Architecture likely will have a significant industry impact, because it will be SAP's focus for its next-generation application strategy.
I would tend to disagree. NetWeaver was announced to similar fanfare. However, its actual impact on projects is nil. It seems to be designed to create the illusion that unrelated products existed before NetWeaver are not somehow strategically and technologically related.
HANA to Have High ROI?
Presently, users should adopt HANA technology, when available, primarily for high-return/fast ROI projects or for nonbusiness-critical applications, especially where complex analytics are crucial requirements.
I would have to ask why because it is still not clear what HANA is, and again is in the conceptual stage. If and when it does exist, another natural question would be, "Is it any good." Gartner should wait until they can review the product before telling customers to adopt it. What if HANA is terrible? Should customers still adopt it because it is SAP? Gartner is endorsing a vision proposed by SAP, which is ridiculous but has not even analyzed whether the vision is logical.
For more than a year, SAP has been in the process of rolling out a new vision for its application infrastructure.
I am not sure I understand "rolling out a vision." SAP should be discussing rolling out software. Are they testing the waters to see if they should develop software for HANA? If so, I would recommend working with clients first in private rather than pre-announcing it. How conceptual HANA is described in this sentence.
Although still a work in progress and not yet sustained by an officially communicated road map.
Gartner is writing up a product that lacks a roadmap? Again I would have to ask why.
Although, recently, SAP has not been considered an application infrastructure innovator, the company has a long tradition in application platform technology (e.g., ABAP/Basis) and innovation in application architecture (e.g., SAP pioneered three-tier client/server computing in the SAP R/3 packaged application in the early 1990s).
That is a bit of an understatement. SAP's infrastructure is a significant source of maintenance issues for clients. The root of SAP's problem in this area is they continue to rely upon propriety applications that are worse than standard tools. SAP has had an application platform, but I am not sure it should be called a tradition. Tradition is a neutral word in any case and is simply something that is repetitively done. It exists for SAP, as an application platform exists for any vendor. However, the critical question is, is it a good or competitive advantage for them. Since no one could say that it is good, Gartner has announced that it has been there for a long time, which is true since SAP has been around for a while now.
However, they seem to be confused by ABAP. ABAP is the code the SAP applications are developed in, so it is misidentified here as Gartner's platform technology. This would be like saying C++ is a platform technology for another application. It isn't. It's the application's code. The basis is correctly identified as the infrastructure component of SAP. However, it has no advantage over standard tools, so there is no net benefit over any other vendor. The one programming language that could be called a platform is Java. However, it's not Java the code, but the Java Virtual Machine, which creates a portable execution environment.
The technology is named SAP HANA Database, but sometimes is referred to as NewDB, the original project name. It combines a variety of DBMS techniques into a single integrated package, which, according to SAP, can result in tremendous improvements in query performance, especially for complex analytics.
This is impossible. SAP is not a leader in DBMS technology and has consistently underperformed actual database innovators. In terms of analytics, it has done very little with the Business Objects acquisition, and the BW is the highest maintenance offerings with the weakest configuration workbench on the market. Furthermore, Business Objects has been weakened as a product by the SAP acquisition, as its support has declined and its product stagnated.
The Problems with Big Ideas From Category Laggards
Analytics is a very strategic weakness for SAP, and reports promised from the BW don't seem to arrive, and this at client after client. I wrote an article a while ago on "The Amazing Disappearing BW Reports." It's time for someone to point out that the SAP BW is an enormous money pit that provides very little value to the business. Repeatedly late and sometimes never to arrive, my SCM projects are asked to make up for BW's lack of efficiency by developing our reports in APO.
Furthermore, SAP APO has excellent reporting functionality. This is false. I don't need to be sold a future vision "information appliances" with data floating on clouds synchronized in perfect harmony. What I need and what my clients need is for BW to show up and pull its weight on projects.
Also, merely listening to SAP and reprinting what they say is not journalism; it serves as a marketing arm for PR. Did Gartner expect SAP to say that their HANA database has no advantages over any other database and lags the best of breed vendors?
I picked up this interesting quote from a different article on HANA from PC World.
There is "a lot of friction and latency" in businesses today, and by the time executives get hold of data, it has gotten stale, SAP CTO Vishal Sikka said in an interview.
However, what Vishal may not know and certainly not admit is that SAP is a primary contributor to even getting a report, regardless of its latency. SAP has effectively gotten into the data warehousing market and is entirely out of its element. Promised reports from the BW don't even seem to show up, which is much worse than the latency described by Vishal. The idea that any official from SAP would be allowed to express problems in reporting would be the very definition of irony.  Clients that select SAP for analytics are entering a world of pain. And there is absolutely no reason to use SAP for analytics because the adapters promised by SAP to connect their analytical products to SAP applications are extraordinarily minor and will not save anywhere near the effort that is stuck with SAP's inefficient analytical products will cost. Here SAP is claiming thought leadership in an area where it has none. Secondly, it is fumbling on analytics is becoming an increasing point of conflict between the business and IT at many companies because the business is losing reporting capability, and IT is slavishly dedicated to protecting SAP, regardless of the effect on the business. Vishal Sikka seems entirely out of touch with the widespread analytic problems with SAP's products.
However, we can learn something from the fact that HANA was once the NewDB has been floated by SAP for a while and has not been very well received. NewDB had fewer buzzwords than HANA, and like HANA made little sense technologically. NewDB was also a fuzzy concept that proposed reporting within the SAP business applications rather than within the BW or Business Objects. What SAP seems to have done with the HANA "vision" is to back off the details, increase the scope and discuss it in terms of the platform with analytic implications, rather than discuss it exclusively from the analytic angle.
NetWeaver is Dead, Long Live HANA?
The rest of the article makes a variety of projections that are hyperbole and techno-babble. None of the statements about various technologies have anything to do with real SAP implementations, and most are made-up words like "information appliance." Gartner is being force-fed by SAP, and it shows because it is merely one technology term after another with no coherence. I am unsure what executives (the apparent target market for the article) are supposed to get from the article, except to be overwhelmed. There is simply no attempt to slow down the transition from one illusory technology term to another to make sense of what is being said. Indeed, no effort was made to analyze whether the vision is feasible or likely critically. In this way, it is a bit like name-dropping. To an implementor like me,
"Many successful SaaS vendors have developed proprietary natively cloud application platforms, often based on in-memory computing architectures,"
..has no meaning. I did, however, hear something like this at a recent Star Trek convention I attended, except the term "pan-dimensional hologram" was added to the end of the sentence. I am taking cues in technical writing from Gartner, however, and will be including similarly indecipherable terminology in my future articles. People like it.
Conclusion
This article was very uncomfortable to read because most of the information is repeated from a press release sent by SAP to Gartner. Praise and coverage should not go to a vendor with an idea but to those with a product. The article is quite long, and the number of buzzwords is nearly uncountable. Most of them made up an insulting to the reader's intelligence. However, it should not distract the reader from the point that SAP's HANA is simply a concept, and there are not enough details to know if HANA will ever exist in a way that will match the idea or what it will do. HANA strikes me as something developed by non-technologists, and its basis in NewDB, which never made any sense, is a strike against it. Unlike Gartner, who has drunk the cool-aid (and cashed SAP's checks), there is no compelling reason to waste one's time thinking about HANA at this point. Rather than worrying about HANA, SAP needs to get its collective act together on the analytic products that it does have because elementary reports that supply chain planning relies upon are not forthcoming.
Many clients are circumventing the BW and write reports using manual downloads from table transactions (because they cannot get approval for automated tools like WinShuttle) into a SQL database and reporting from there. This is pirate analytics reporting from a generic SQL database, but it's the path forced on the business within companies due to necessity. SAP also has done close to nothing with its Business Objects acquisition. I have used a front-end Business Objects Explorer, which connects to the BW, has continual problems crashing, and is not usable. Those are things that need immediate attention in the SAP analytic space and that are relevant for customers.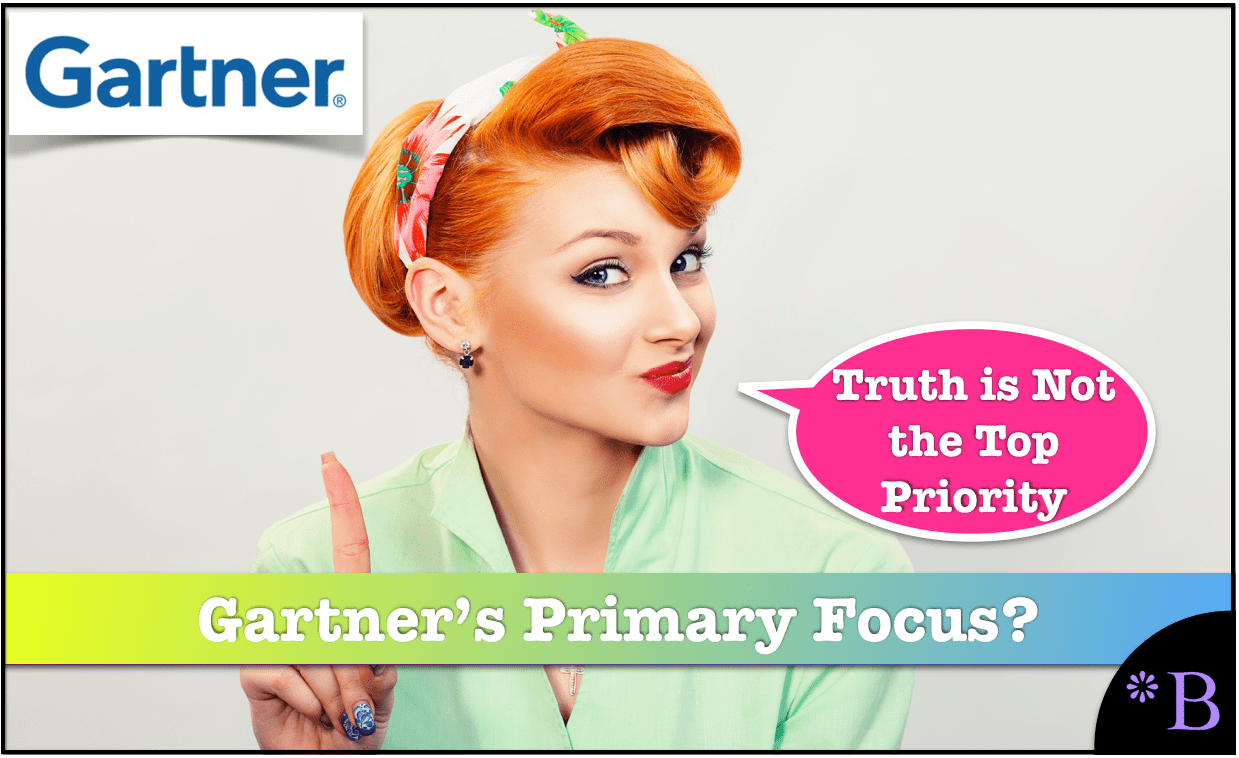 The Problem:

Thinking that Gartner is Focused on What is True

Gartner is hired by companies who fundamentally don't understand how Gartner functions. Gartner has virtually no first-hand experience in the technologies they evaluate and get most of their information from executives at buyers or executives at vendors and consulting firms. Gartner is also not a research entity. They compare very poorly to real research entities once you dig into the details, as we did in the article How Gartner's Research Compares to Real Research Entities. Gartner serves to direct IT spending to the most expensive solutions as these are the companies that can afford to pay Gartner the most money. Gartner has enormously aggressive internal sales goals that place accuracy far below revenue growth in importance.