How Gilead Brought Off the NIH's Support of Remdesivir
Last Updated on June 5, 2022 by Shaun Snapp
Executive Summary
Gilead Science received a monopoly and approval on a useless drug called Remdesivir.
How the NIH turned its back on the public interest.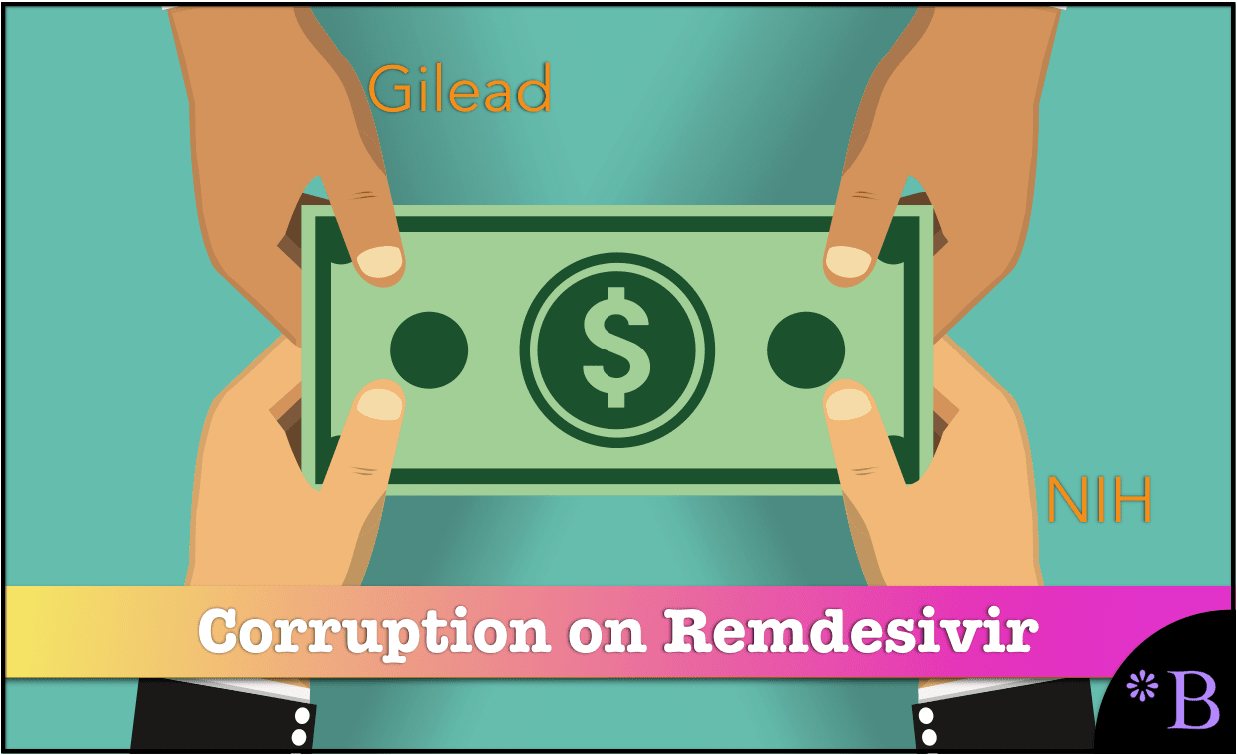 Introduction
Remdesivir is a drug that is $3120 per dose (for a 5-day treatment) that is ineffective against covid and never approved by the FDA. This article covers how the only reason it was approved was because of corrupt financial connections between its producer, Gilead Science, the FDA, and the NIH.
Our References for This Article
If you want to see our references for this article and related Brightwork articles, visit this link.
The Corrupt Relations Between Gilead Science and the NIH

Tracing the Financial Ties Between the NIH and Gilead Science
The video very astutely points out that seven members of the NIH panel have financial ties to Remdesivir. The page where this can be verified is at the NIH's disclosure page here. However, here is a screenshot of the beginning of the page.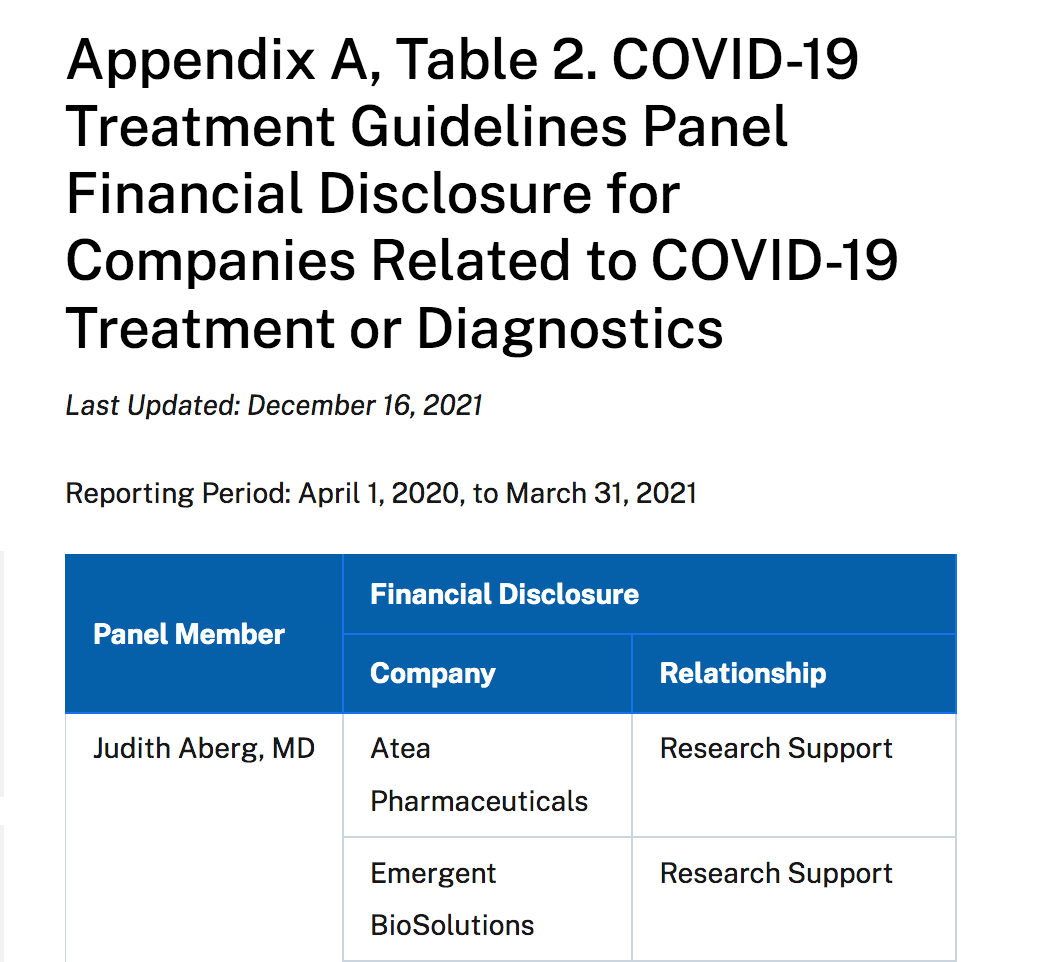 Now observe the following panel member's financial conflicts.
This panel member is a consultant or receives research support from six different pharmaceutical companies. How can this person be allowed to sit on a panel supporting different pharmaceutical funding for covid if they are essentially on the payroll of six pharmaceutical companies? 
The quid pro quo here is apparent. Gilead Science pays off members of the NIH panel on covid to promote Remdesivir (which is ineffective and has high adverse reactions) and then suppress Ivermectin. The public is entirely unaware of this.

The lack of articles shown in Google is bizarre. There is essentially the NIH disclosure page in Google's search results, and that is about it. So I decided to check some other search engines.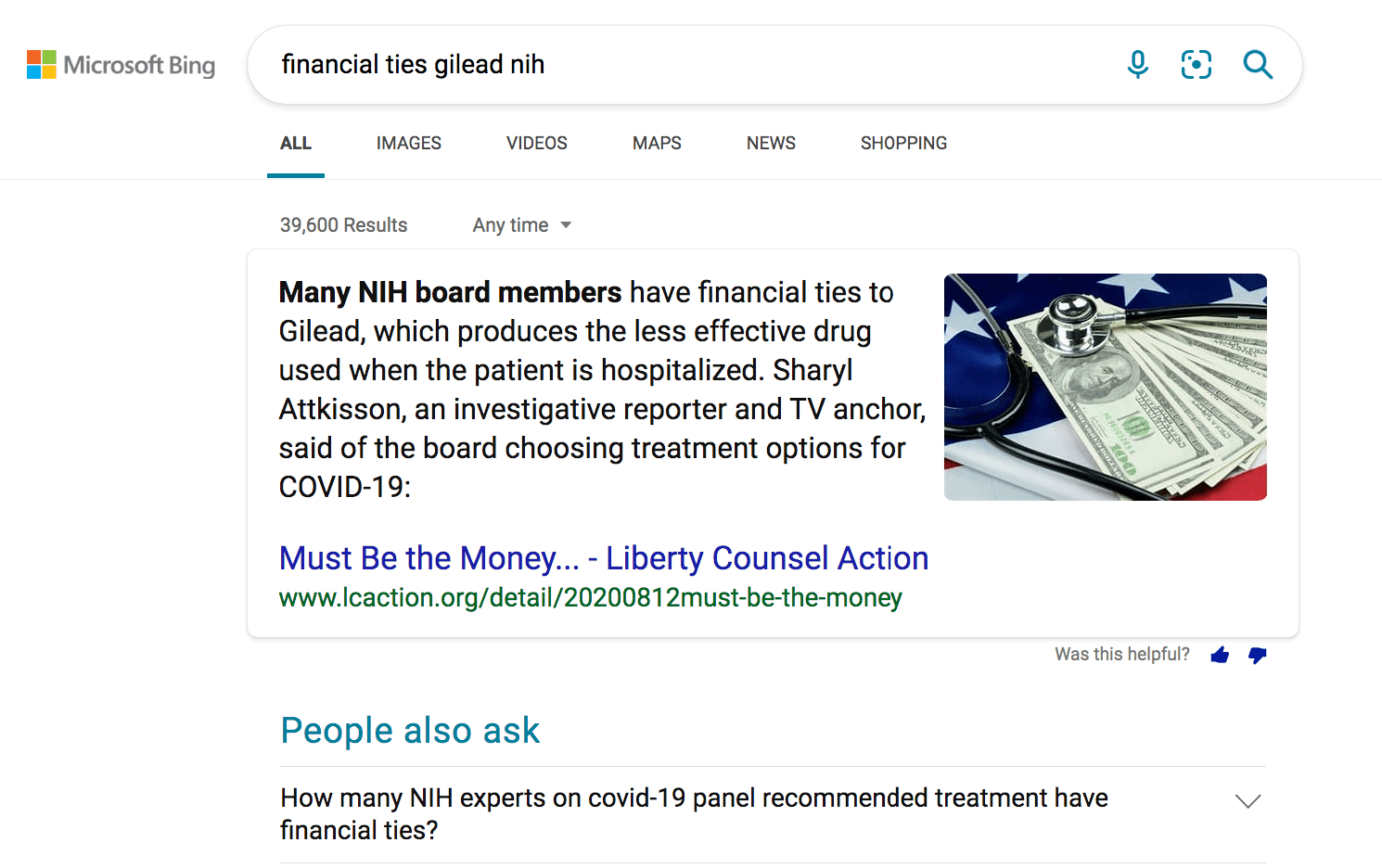 Bing (even though it is owned by Microsoft, which is connected to Bill Gates) had plenty of search results on this topic.
As did and does the search engine Duck Duck Go.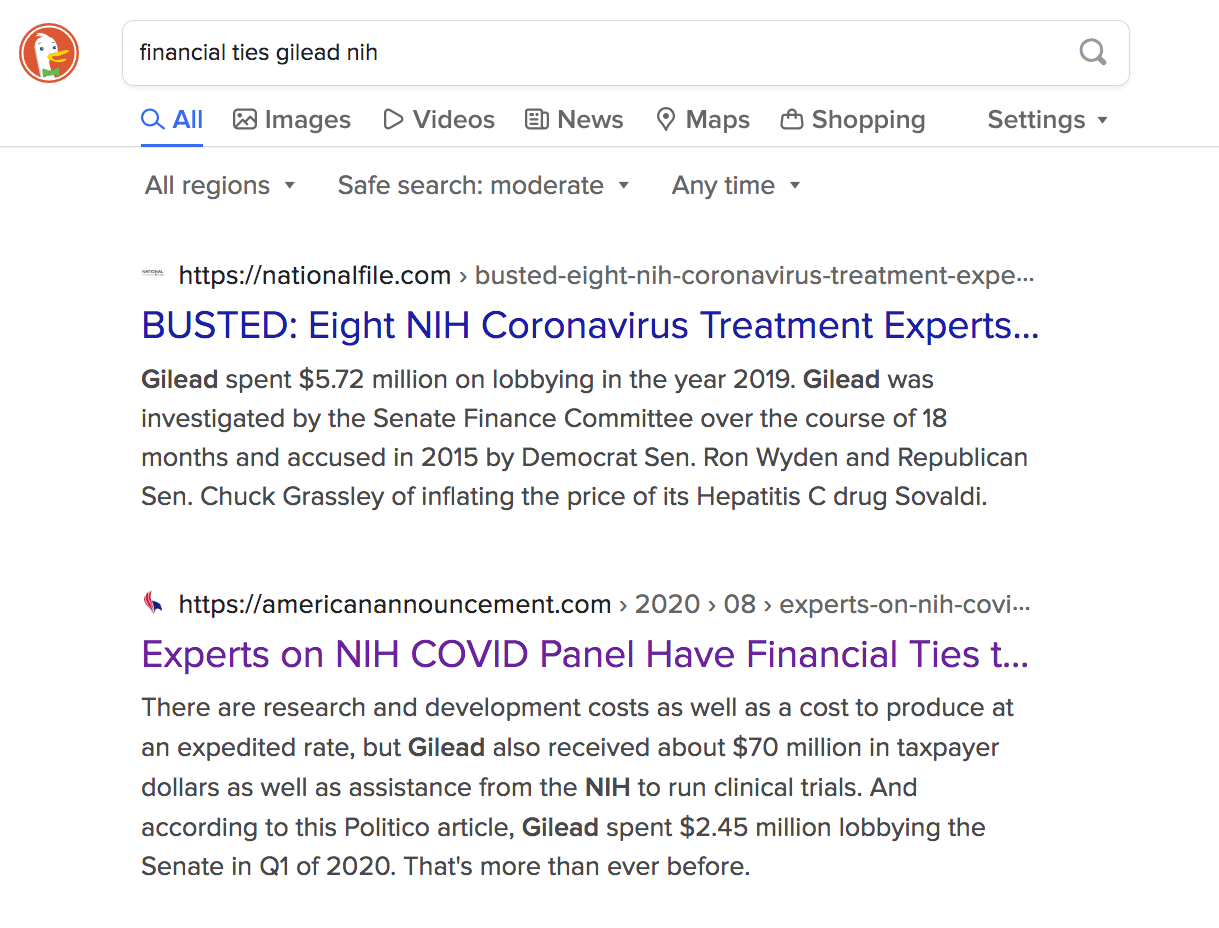 This illustrates enormous censorship on the part of Google. Google has been censoring YouTube for several years, but their censorship has also extended to their search engine results, where they effectively create a parallel reality. And it is not just a few results. There are pages of results for my query returned from the other search engines. Google had to methodically scrub a huge number of search results and eliminate any article on the topic. 
Here is the list of all the people on the NIH covid advisory board (that is, which determines who receives US government funding)
Rajesh Gandhi is on the advisory board of Gilead Sciences.

David Glidden is a consultant for Gilead Sciences.

Adaora Adimora is a consultant for Gilead Sciences and received research support from Gilead Sciences.

Eric Daar is a consultant for Gilead Sciences and recieves research support from Gilead Sciences.

Judith Aberg received research support from Gilead Sciences.

Jason Baker received research support from Gilead Sciences.

Susanna Naggie received research support from Gilead Sciences.

Pablo Tebas received research support from Gilead Sciences.

Roger Bedimo received an honoraria from Gilead Sciences. – Eclassfile
The History of Not Disclosing Financial Conflicts at the NIH and FDA
This example of Gilead Science is part of a pattern on the part of both the FDA and NIH to sell out the public interest and for the senior officers to use their positions at the FDA and NIH to become wealthy. For many years the NIH board members did not even bother with any disclosure of any kind. This is explained in the following quotation.
The NIH has been criticized before for not disclosing conflicts of interest (BMJ 2004;329: 10 [Google Scholar]). Five years ago, just before leaving office, Donna Shalala, then secretary of the federal Department of Health and Human Services, issued a requirement that scientists disclose their financial interests. But nothing happened until the Associated Press's investigations. – NCBI
Be Notified When Our Upcoming Subscription Website on Ivermectin and Other Medical Treatments is Ready
Ivermectin has many treatment applications outside of its approved use (as an antiparasitical. These treatments include cancer, covid, immunity, and more. And due to perverse financial incentives, many of these applications are hidden from the public.
Due to the many questions we receive on Ivermectin, we are now working on a subscription website that covers everything related to Ivermectin ranging from its many health improvement applications to dosages, and contrasting this with the false information presented on Ivermectin by medical authorities. The site will be ready soon as we are making good progress. We will also be adding questions from subscribers answered as customized articles. 
If you are potentially interested in subscribing, contact us using the text chat widget in the lower right-hand corner of this page and just tell us you are interested in being informed when the website is live.