How Media Entities Use the Pico Paywall
Executive Summary
This article describes how media entities are monetizing their content with Pico.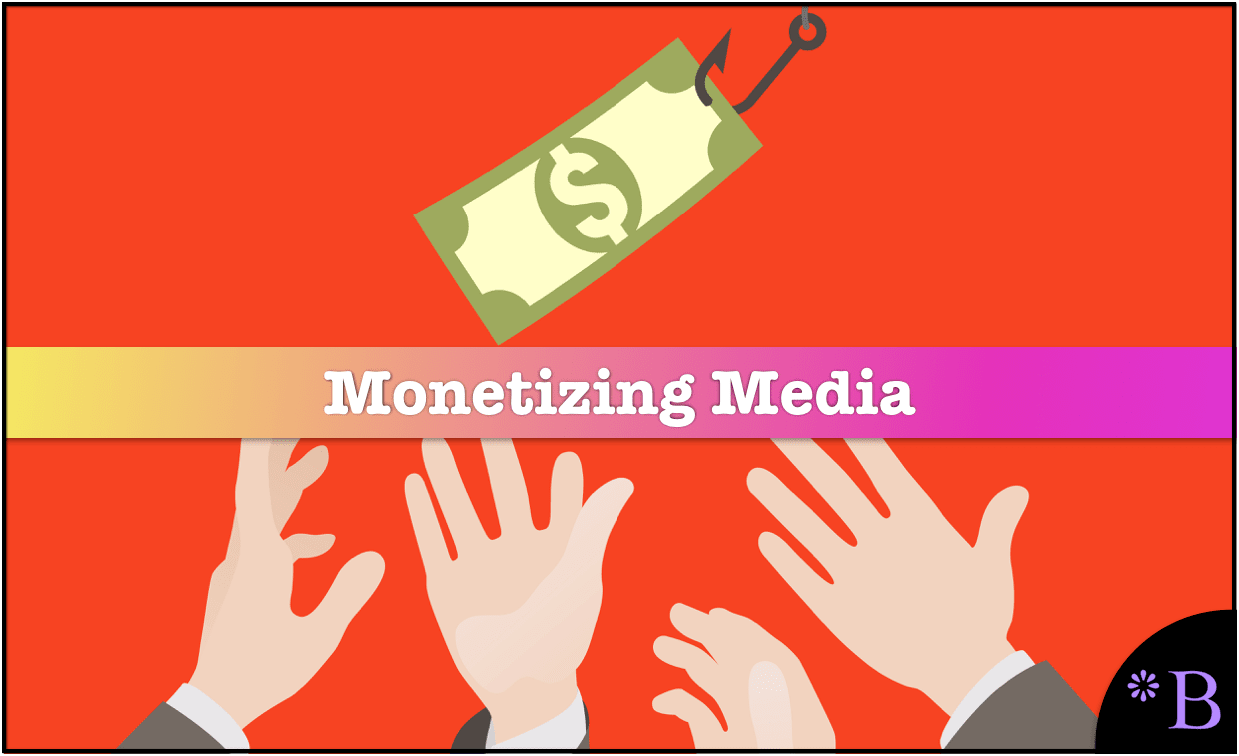 Introduction
The problem in the loss of newsstand and at home paper subscribers has caused IT media to increasingly move to advertisements and paid placements.
What is Pico?
Pico is a paywall software.  
Experiences from the Atlantic Magazine Using Pico
Readers are given five free articles per month before being asked to choose an annual subscription option: $49.99 for digital access, $59.99 for digital and a print subscription, or $100 for a "premium" option that includes print and digital, ad-free browsing, and other member perks. (The premium option absorbed "The Masthead," a membership option designed for "die hards.")

About a third of the new 36,000 include both digital and print, the rest just digital. Goldberg said they were undiscounted and individually sold, not the result of any bulk or institutional deal: "One by one by one by one," he confirmed.

The Atlantic decided to drop the paywall for a collection of coronavirus coverage — including blockbuster pieces like Yong's "How the Pandemic Will End" — but the site still features prompts to "support this vital reporting" with a subscription on each page. Some other coronavirus stories — from an advice column on preparing children for coronavirus changes to an op-ed on the pandemic's effect on American diplomacy — still count toward paywall limits, though. – Neiman Lab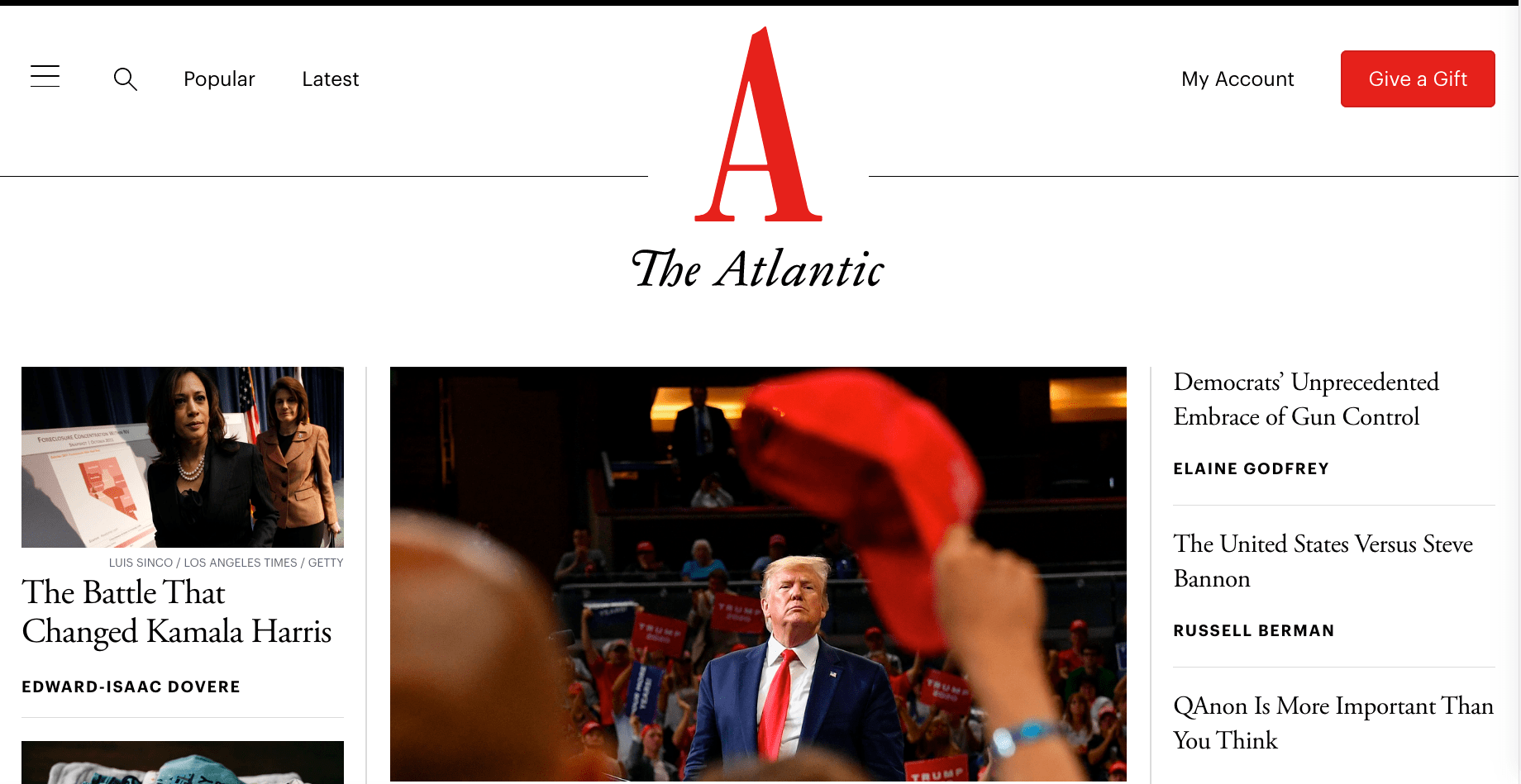 I subscribe to the Atlantic, and the access is very smooth. A cookie must pick up my identity as I don't have to continually re-log in.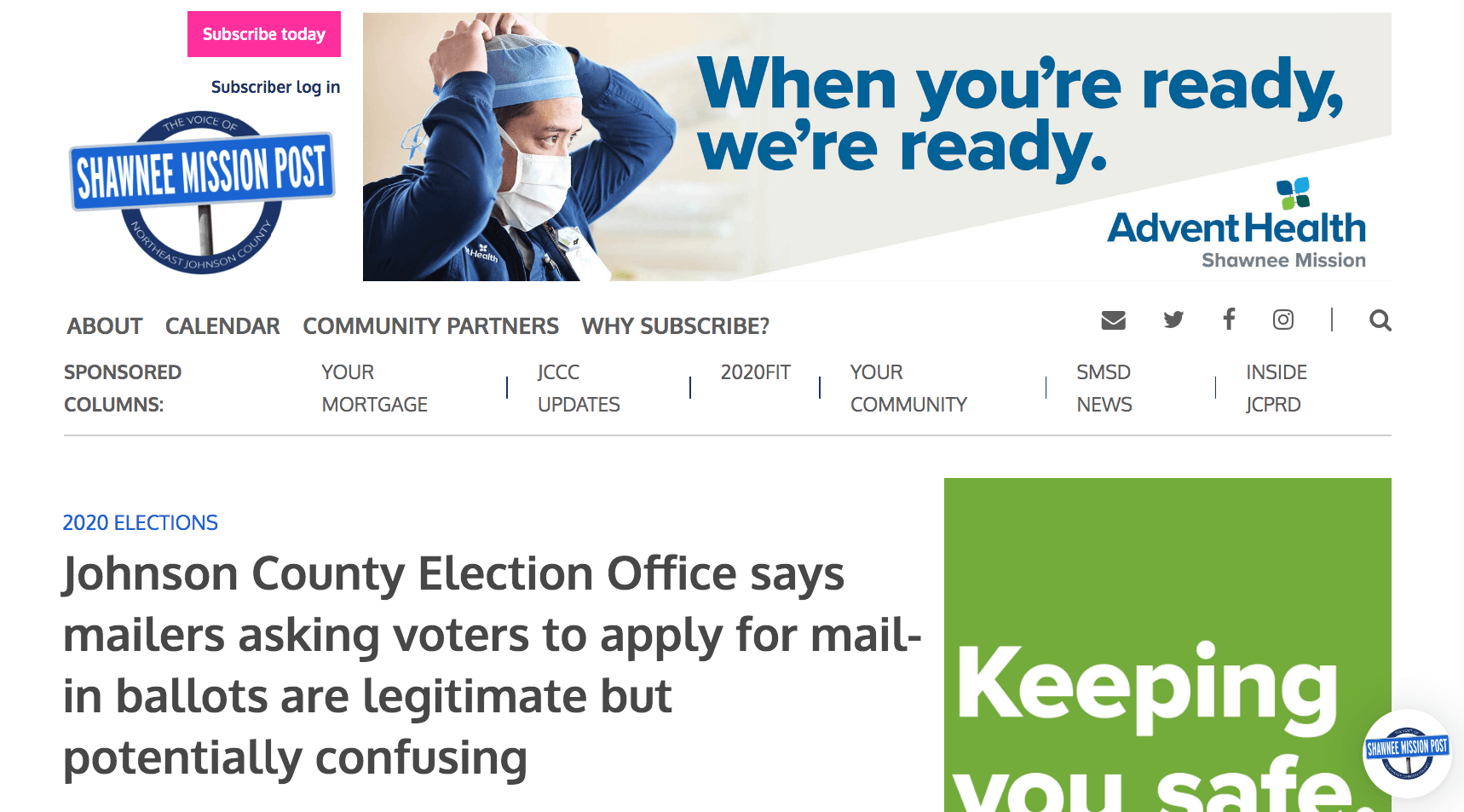 2nd Case Study: The Shawnee Mission Post
Senter and Westhoff, who first met working at their college newspaper and are now married, decided to launch a publication of their own; the Prairie Village Post (the Shawnee Mission Post's original name) launched in 2010.

And despite initial success, within five years, the couple found themselves "wringing every ad dollar we could out of the site."

So in 2017, the couple decided to move away from ads and donations and erect a subscription paywall. Now, just 3 years later, the Post has over 3,000 paying readers (for context: Shawnee Mission school district, the site's namesake, has a population of just over 200,000 people) and is a model for hyperlocal newsrooms across the country.

"Nobody goes into journalism because they want to cater to advertisers and deliver them as many eyeballs as possible. …We were going to have to get some revenue streams from readers at some point." – ByLine
Something noteworthy is that by being less focused on advertisers, the Shawnee Mission Post can represent the interests of the readers rather than censoring itself for advertisers.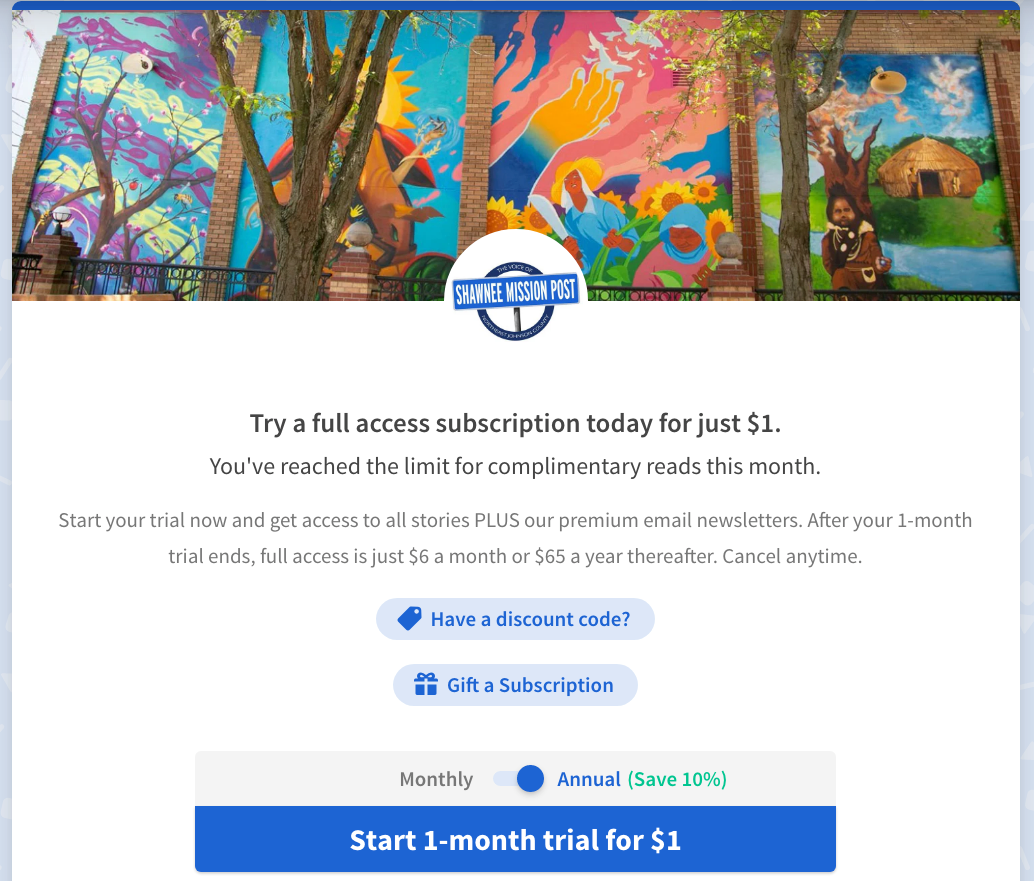 This is the Pico login screen. Notice the nice resonant image at the top. Then there is a logo in the middle that can be added.
This is added in the Pico configuration. 
Multiplying 3,000 subscribers * $6, means that the Shawnee Mission Post receives roughly $18,000 per month or $216,000 per year — which they further augment with advertising.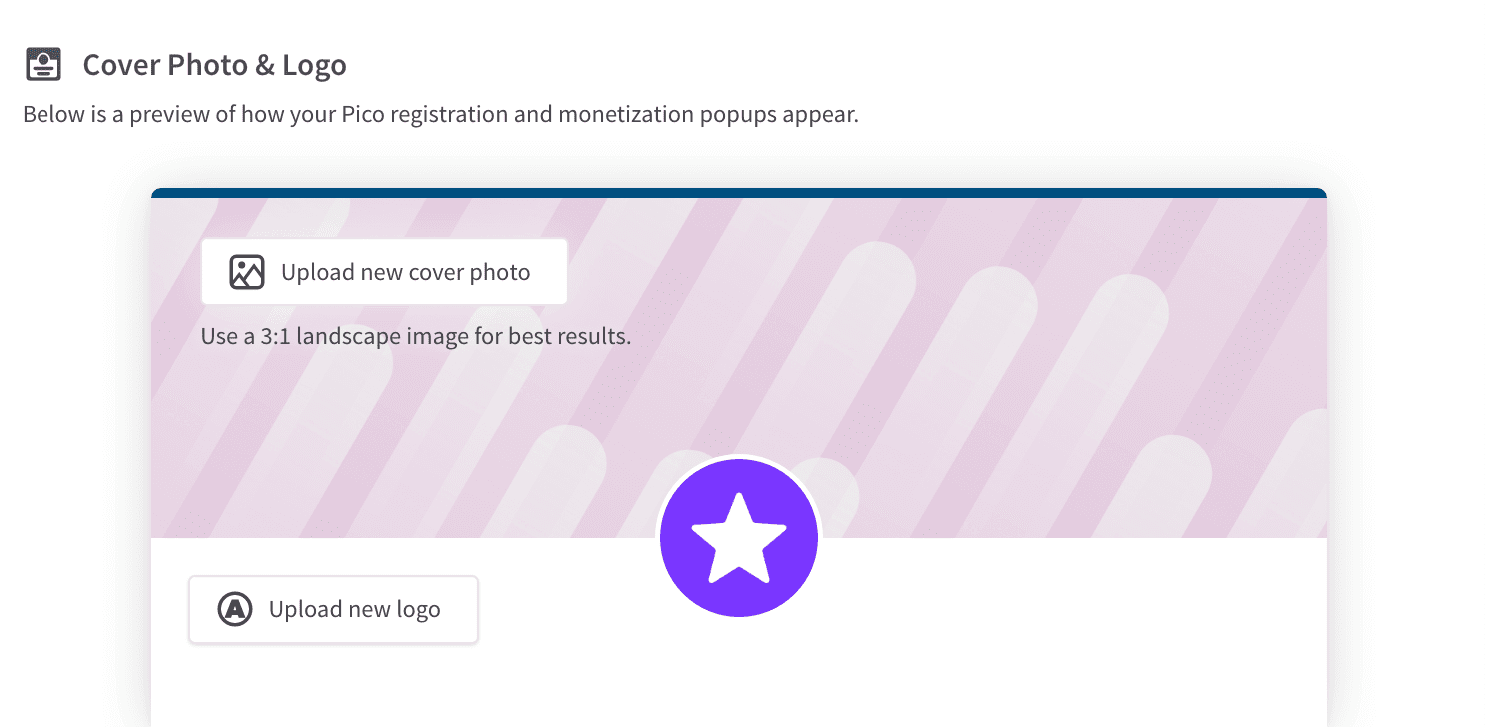 The configuration screen for the login/registration is just designed to be replaced. It should be an aspect ratio of 3:1 to avoid being "stretched" in the horizontal or vertical axis. 
This is an example of login/registration screen we created for Brightwork.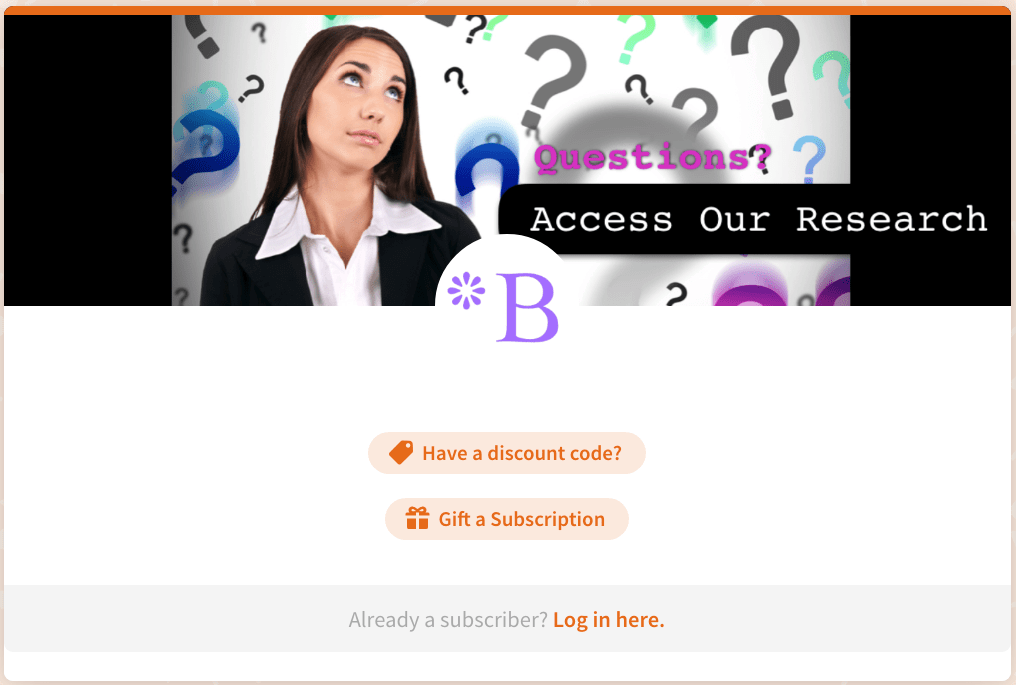 What the Shawnee Mission Post Had to Go Through Before Pico
But the digital tools needed to collect emails, maintain a subscriber list, manage content access and login, and run a metered paywall needed to be top-notch, as well as integrated. And they just weren't.

"[We used] at least three or four different platforms in sort of this patch-worked, jerry-rigged- 'okay this system is collecting emails, and then we can migrate over here' kind of thing," Senter said. – Byline
This is absolutely true. 
There has been a large lag of monetization tools for media. We cover in the article Using WordPress Membership Plug Ins with High WP Security, the holes and limitations we found in some of the most popular content protection/paywall/membership software.
This led us down the research pathway of potentially developing our own custom paywall software.
The Impact on Revenues
Since switching to Pico six months ago, the Shawnee Mission Post has nearly tripled the rate of new trial acquisitions, and has seen its overall subscriber base increase by more than 15%. – Byline
A major factor for paywall software is how much it entices readers to join and subscribe or become a member.
Using Major Email/Social Media Accounts to Subscribe
But the improvements weren't just limited to the publishers; the number of complaints about login and password issues has dropped almost completely.

"The one-click signups with Facebook or Google or via email magic links – that was a huge reduction of friction for our users. Before, we had a system that was email and password which was often frustrating for them." – Byline
Being able to login with a major email increases the likelihood that a customer will become a subscriber, as it does not create yet another account and password they have to remember.
Case Study #3: The Colorado Sun
In the spring of 2018 many journalists at The Denver Post had had enough. Since the Post had been acquired by a hedge fund five years earlier, it had seen cut after successive cut. The newsroom no longer felt supported, and many of its venerated journalists were ready to move on.

And so The Colorado Sun was born. The community-supported, journalist-owned news outlet would attempt to "inform, engage and entertain readers… by shining light on the news that matters." National press coverage followed, leading to grant money and a successful Kickstarter campaign. But this was all to get off the ground. The Sun would still need to convert their supporters into members, whose recurring payments would ensure sustainability for the months and years to come. – Byline
It is well known that big media bought The Denver Post and began gutting it. This shows how a paywall helped some of the journalists get out and get to something sustainable.
Here is the Colorado Sun Pico newsletter page.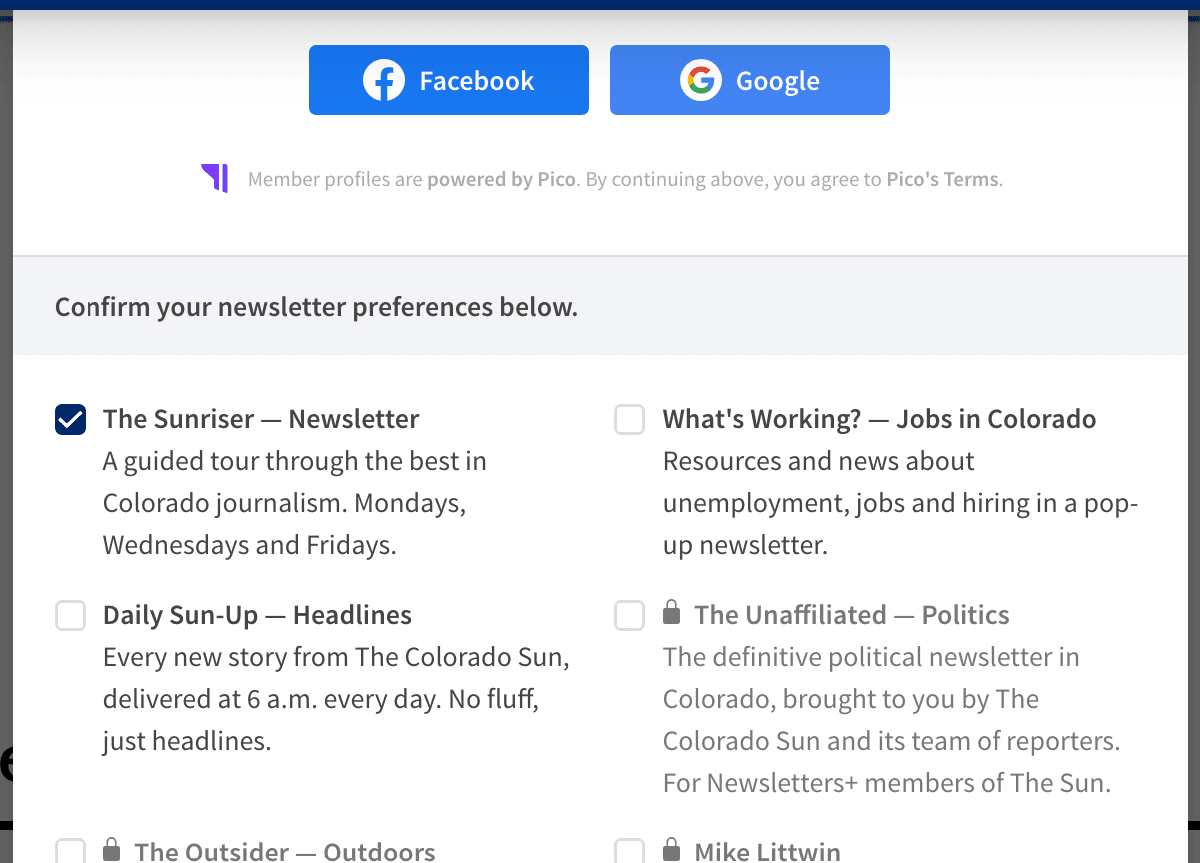 The login is very smooth, seemingly instantaneous to login using Facebook or Gmail. 
This top section is the same. 
But the lower section shows the subscription options. 
The Most Common Revenue Source
Ad revenue is still the primary revenue source for most, and it will no doubt continue to be. But most publishers tell us that their future will also depend on revenue directly from their readers in some shape or form.
How Large Publishers Have Managed Paywalls
There are already a handful of publishers, like The Wall Street Journal and Harvard Business Review, who have led the way in developing their own in-house tools and techniques to register, funnel, and convert readers into paying supporters of some type. With Pico, we aim to empower every publisher of any size to have the same capabilities. – Medium
How Pico Works
Pico brings together three main technologies — identity access and management (IAM), customer relationship management (CRM), and marketing automation. Each is designed from the ground up to work seamlessly together and with a publisher's content management system (CMS) and existing services, such as email marketing. With Pico, it's never been easier (or even possible, for many publishers!) to let content qualify leads and drive users down the appropriate funnel. – Medium
What Does Pico Cost
to Use?
Pico charges per contact — a very small fee. But the real charge is the percentage charge.
Pico appears to charge 5% of the amount charged to the customer.
This has to be added to the roughly 3% charged by Stripe.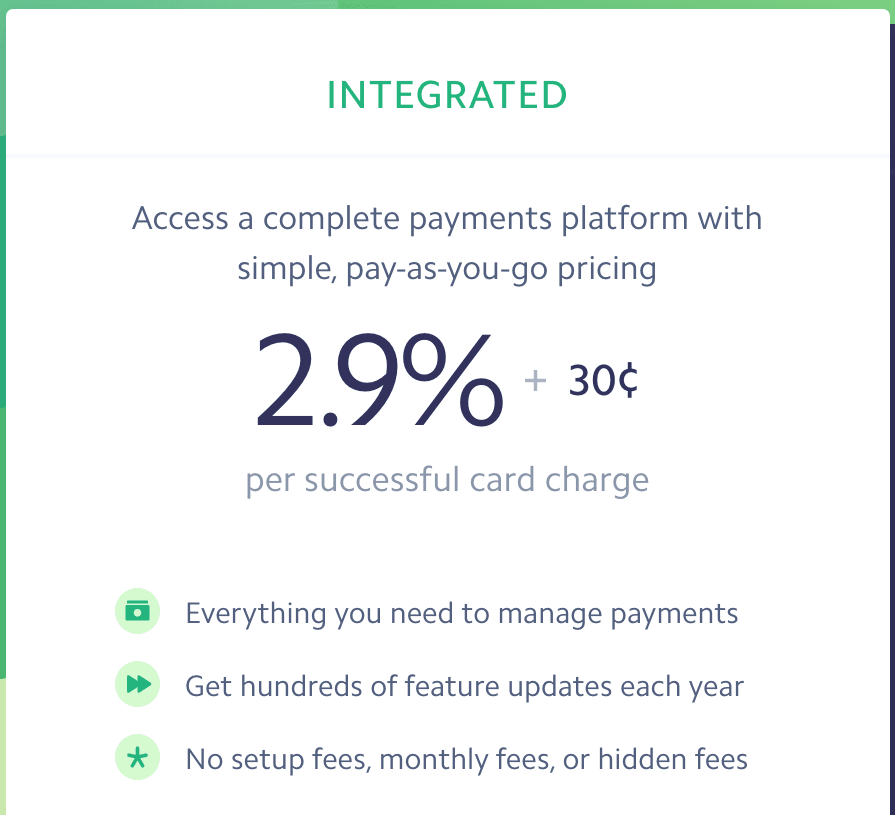 This combines to roughly 8% of the amount charged. 
The way Pico charges is explained in the following quotation.
Pico is free and requires no credit card until you collect 501 records. You don't need a credit card on file with Pico to process payments either, since the fee is deducted directly. – Pico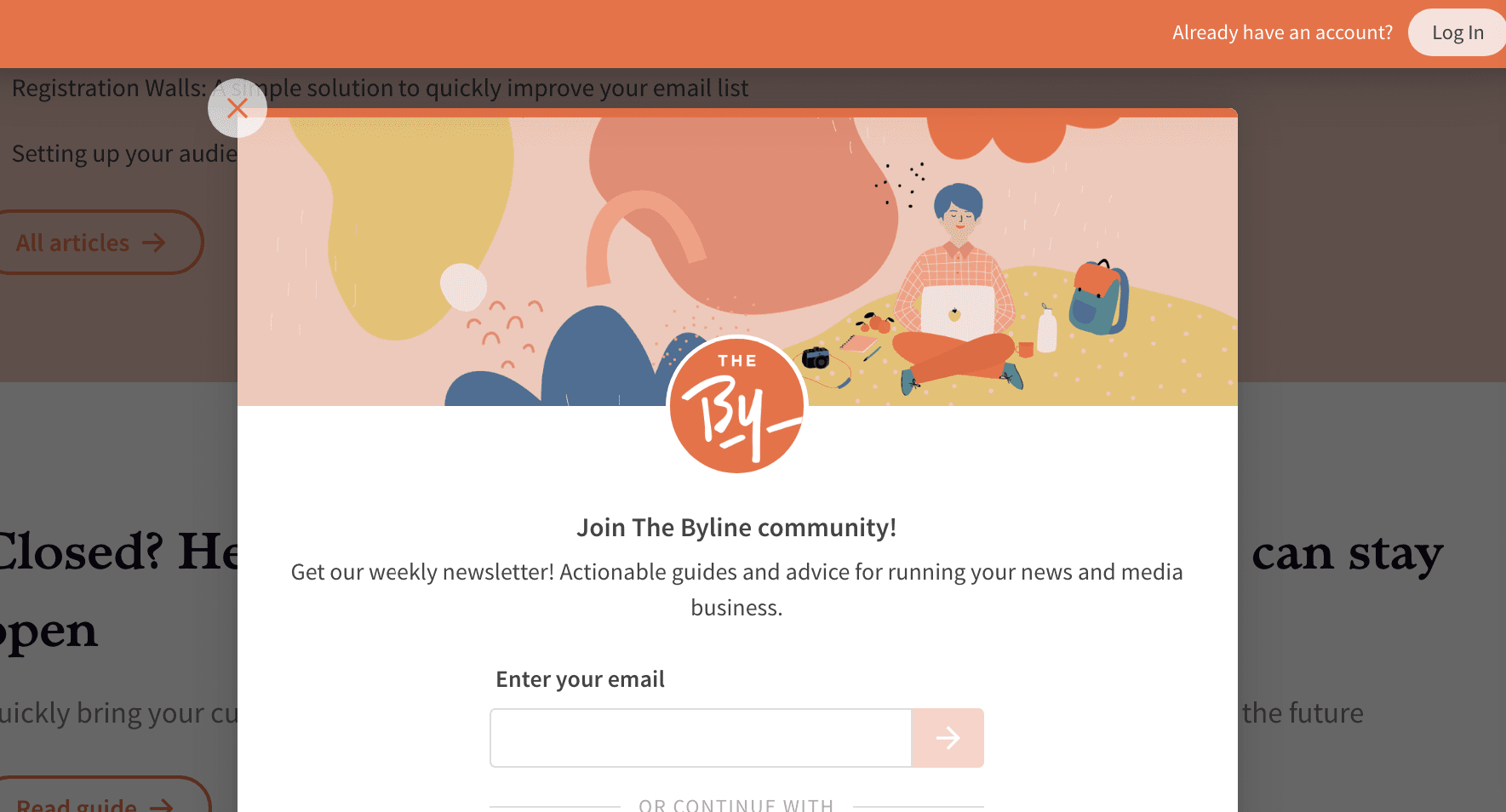 Pico has a link to a community page. This appears to be a showcase for how to use Pico. Notice the pop up that is shown is customized.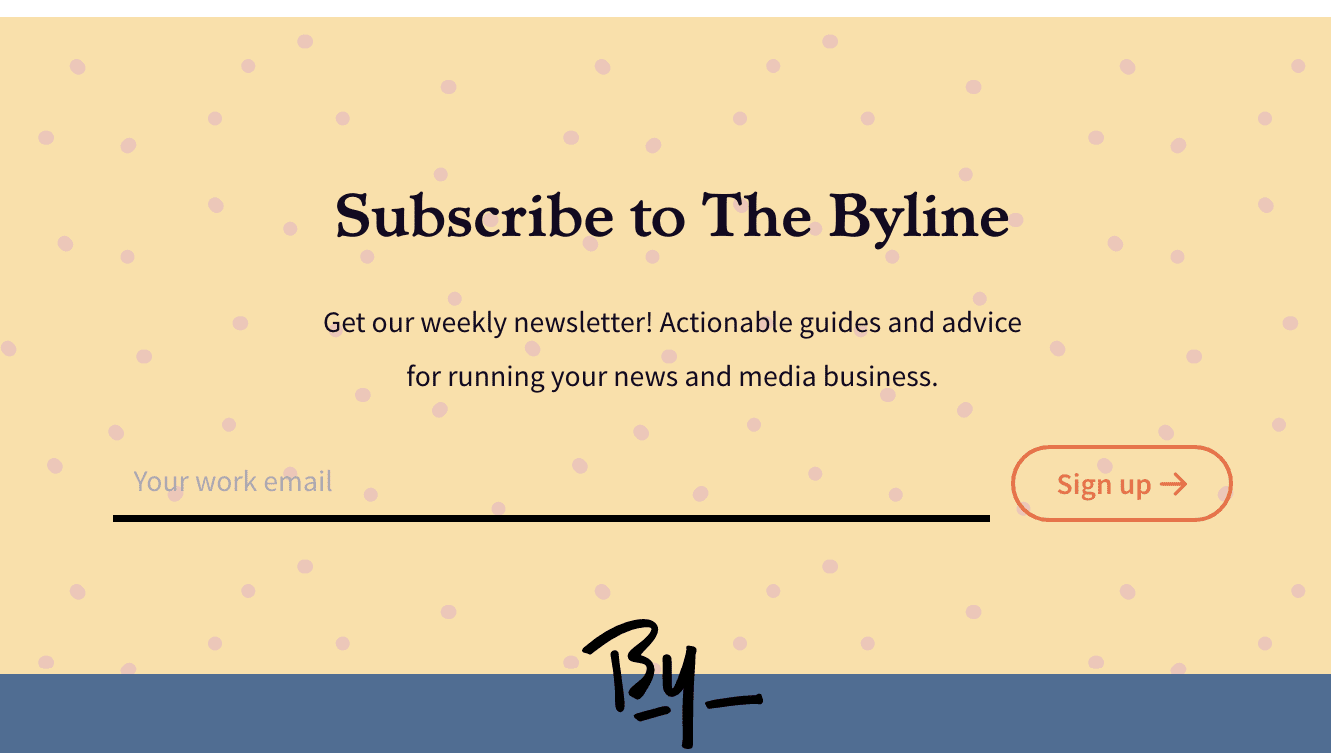 On the Byline, there is an option to sign up for a newsletter. 
One of the functionalities in Pico is the newsletter functionality.
This newsletter functionality would be a bit difficult to use, as Brightwork publishes on a number of different categories of topics. 
Pico on Pico
We built Pico to serve not just as another payment processing tool, but rather, as an all-in-one solution for the next generation of journalists and creatives. By connecting email signups, engagement data, and payment conversion into one unified system, we aim to reduce the overhead of growing a media business and empower small teams to make a big impact.

It's no surprise that some of our biggest customers use Pico just for our email signups and engagement data, and I think that's going to be a big trend going forward. – PubExec
Plans Offered by Pico
Pico offers a variety of ways to charge customers.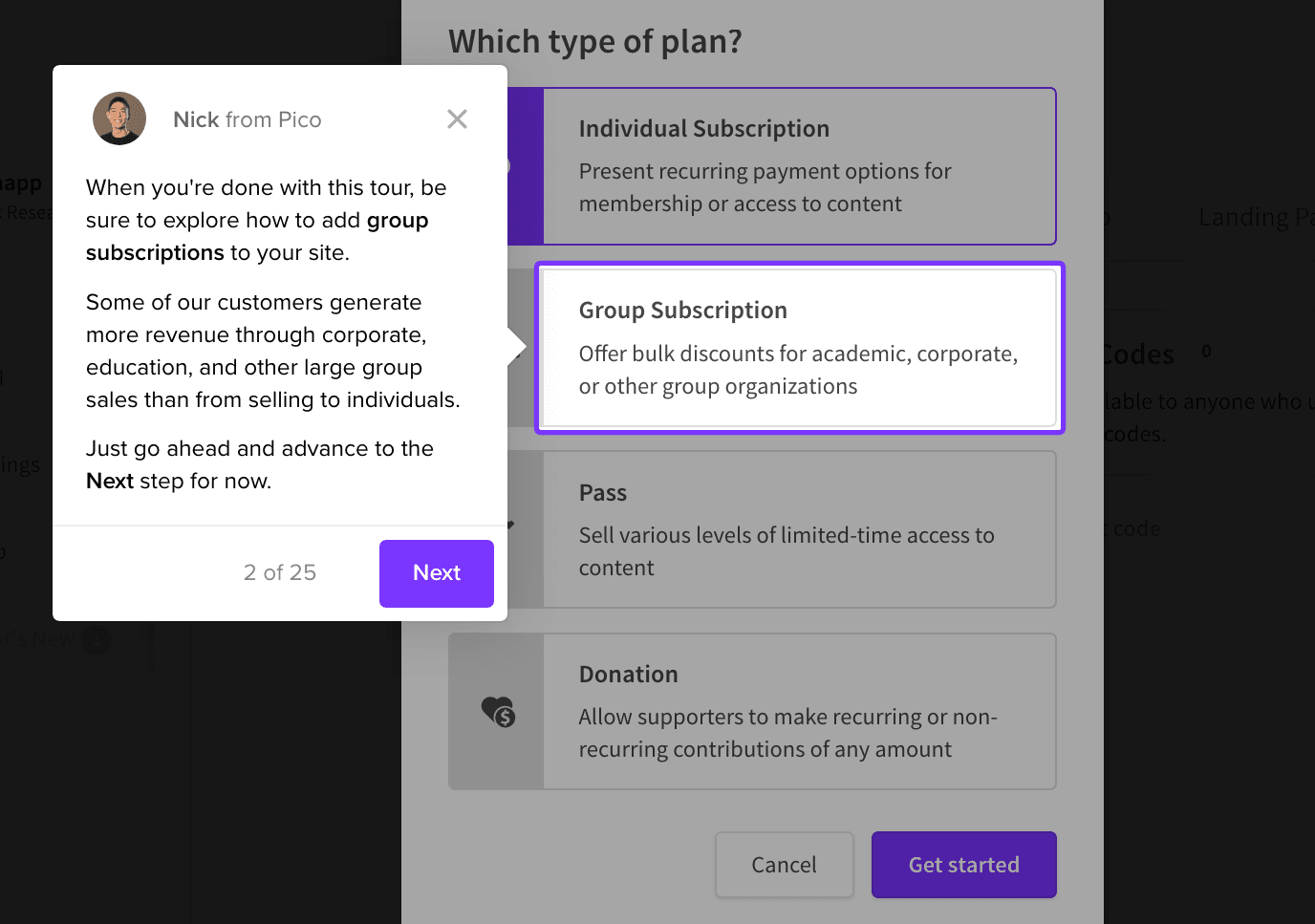 Three are relevant to most media entities. 
Individual Subscription
Group Subscription
Pass
An Individual Subscription is straightforward.
Group Subscription is to sell to a company or government entity that then allows multiple users to sign up.
The Pass is for a onetime purchase.
How to Setup a Pass Plan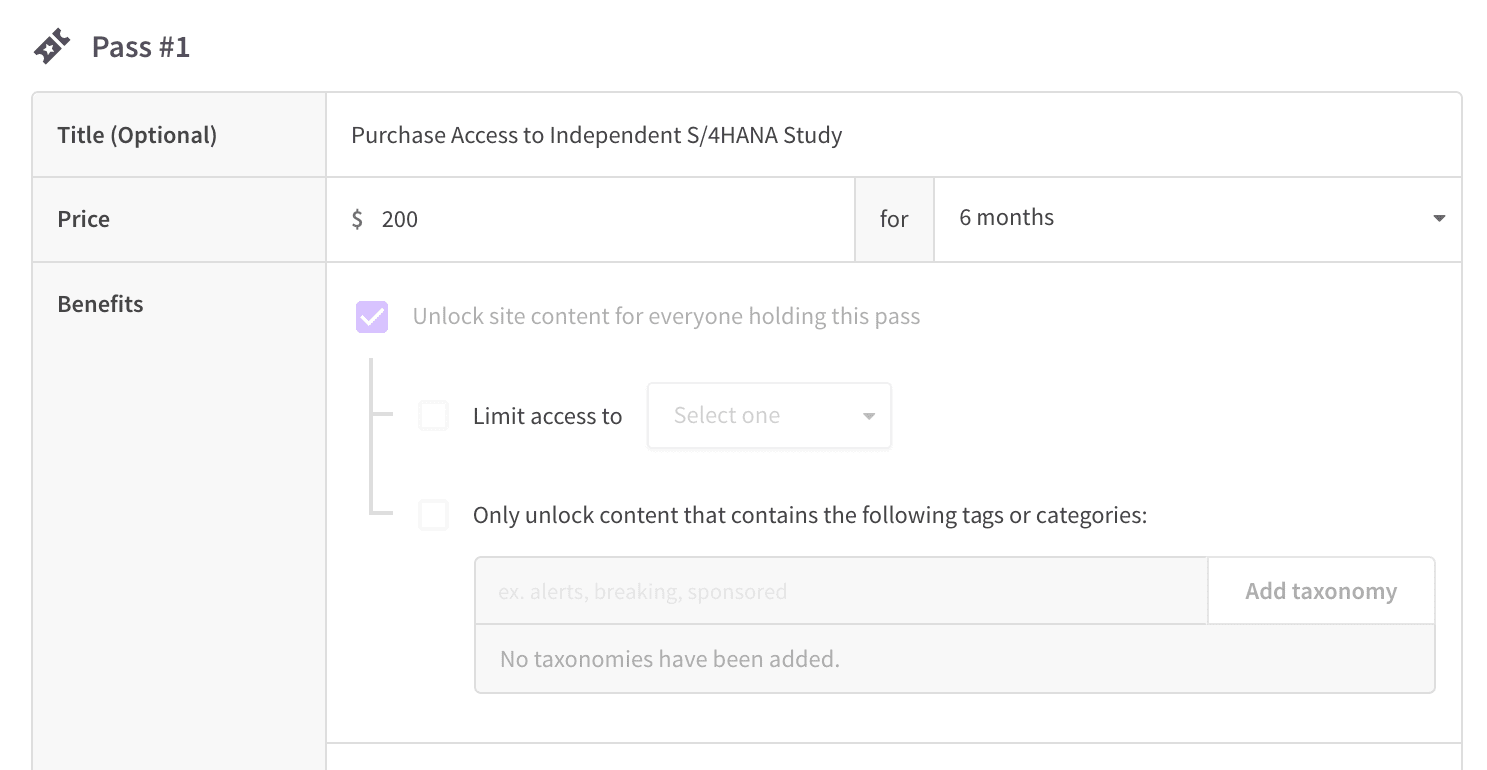 Here is the configuration of a Pass. It allows a specific piece of content or many pieces of content to be accessed for a specific period of time. 
This makes sense for a single purchase.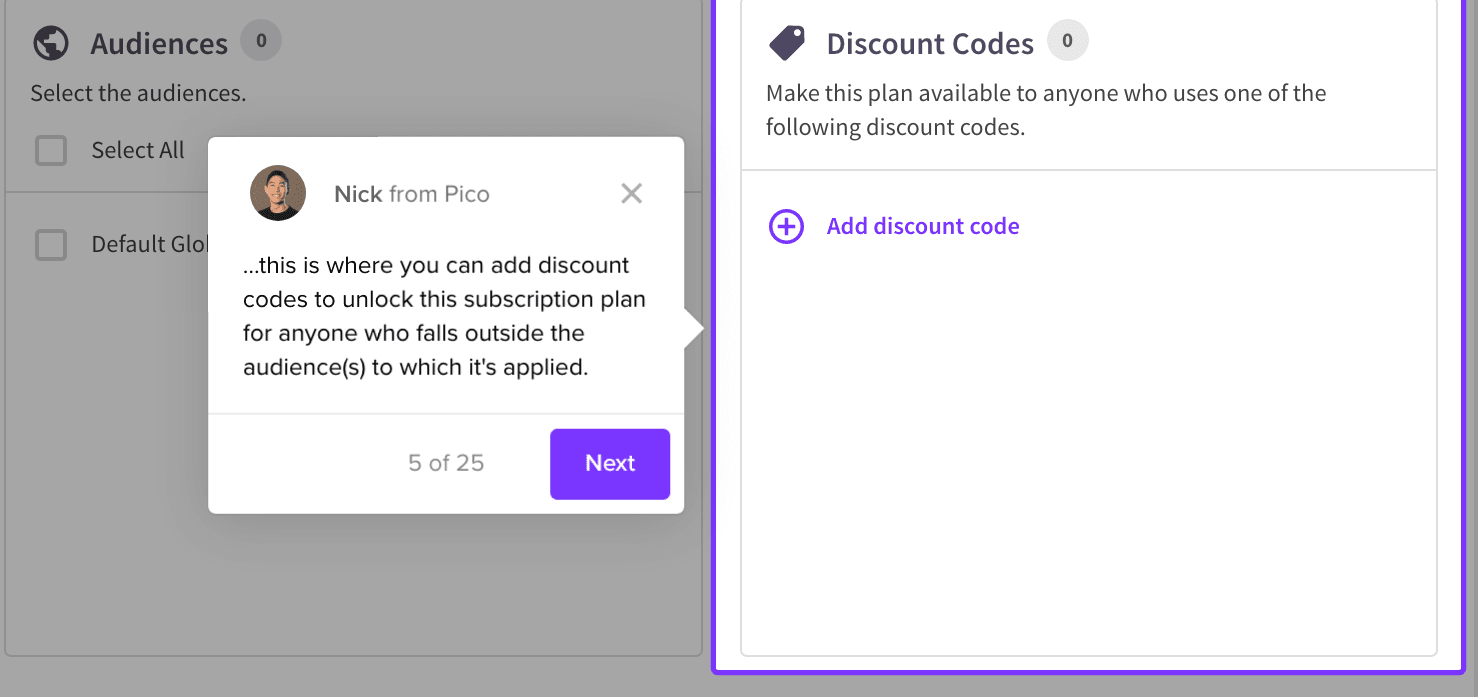 Any plan has a discount code. This allows someone to bypass the plan. One of the issues is to prevent the discount code from being abused. This can be managed by changing the discount code.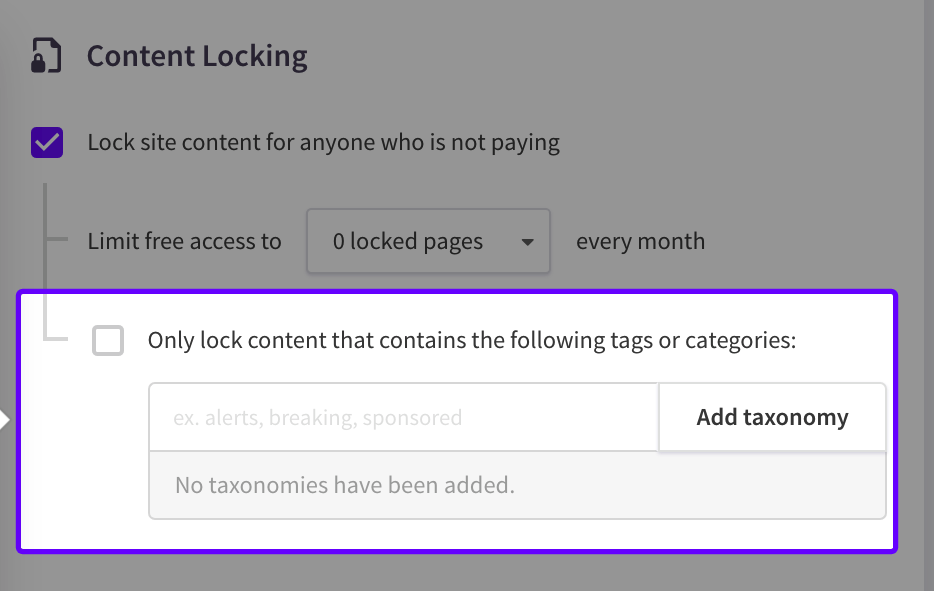 One of the most important features of Pico is the ability to lock content by a tag/category. This means that in a multisite CMS, the plan can be applied to an article in any subsite/sub-blog. This provides a tremendous degree of flexibility and is highly adjustable. 
A second important feature is how the limit is applied. One can apply a specific number of pages per month. So the reader can be denied a second page after viewing just one page. or denied the fourth page after viewing three pages. This is referred to as a metered paywall. A paywall that is not metered, means it requests the user/reader to join a membership immediately, and provide no free access.
When media entities apply a page view rule here, they tend to limit a reader to between 3-5 pages in a month. Here there is a trade-off between the cost to buy a subscription and the number of pages that the media entity allows the reader to view before asking them to subscribe. This is a question every media entity has to ask itself.
Something to note. If the Locked Content box is enabled, but there are no tags or categories in the Taxonomy, it will apply a block to all pages on the site.
Another issue is that if the Locked Content box is disabled the tags or categories are also removed.
The approach is to create multiple plans.
How to Setup an Individual Subscription Plan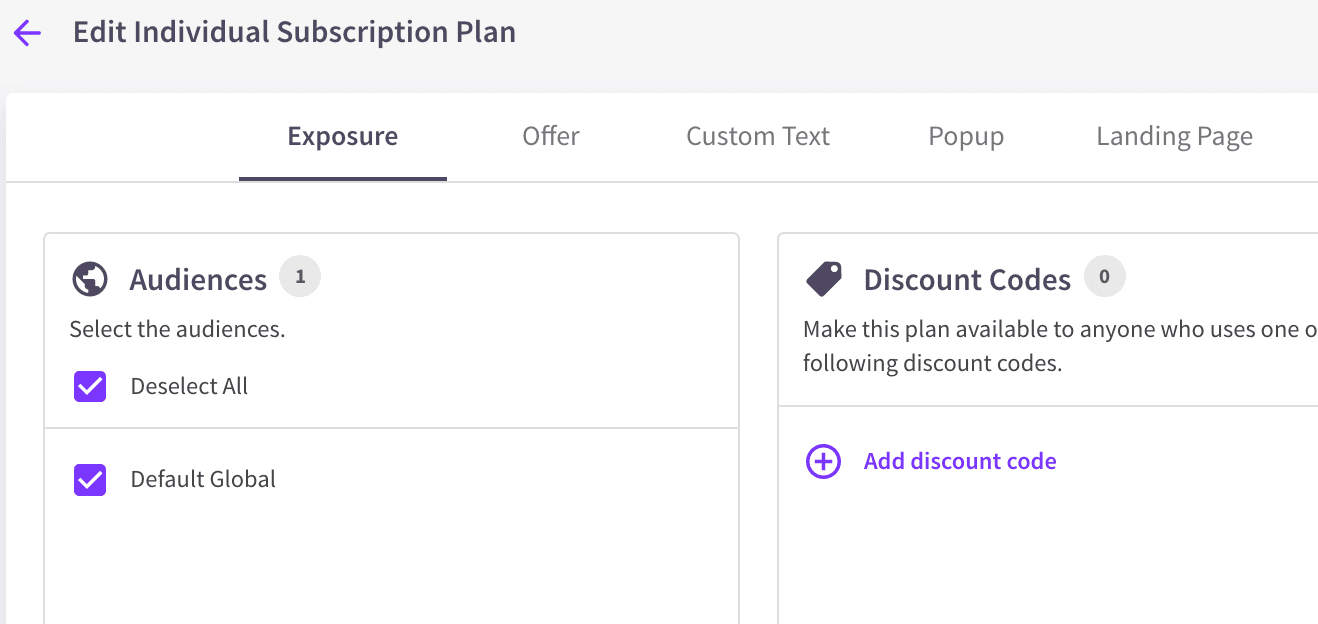 Even activating a Subscription Plan, without defining it further, will restrict the entire website. 
The basic rule is to configure the plan, without having any of the audience buttons selected. A plan can be saved for weeks, without impacting the site, with all of the configuration changes saved, as long as these buttons are not selected.
This is why every plan must have a tag or tags associated with it.
The configuration can be confusing. This is the configuration that allowed us to restrict access the way that we wanted. There is a relationship between the Subscription Plan header….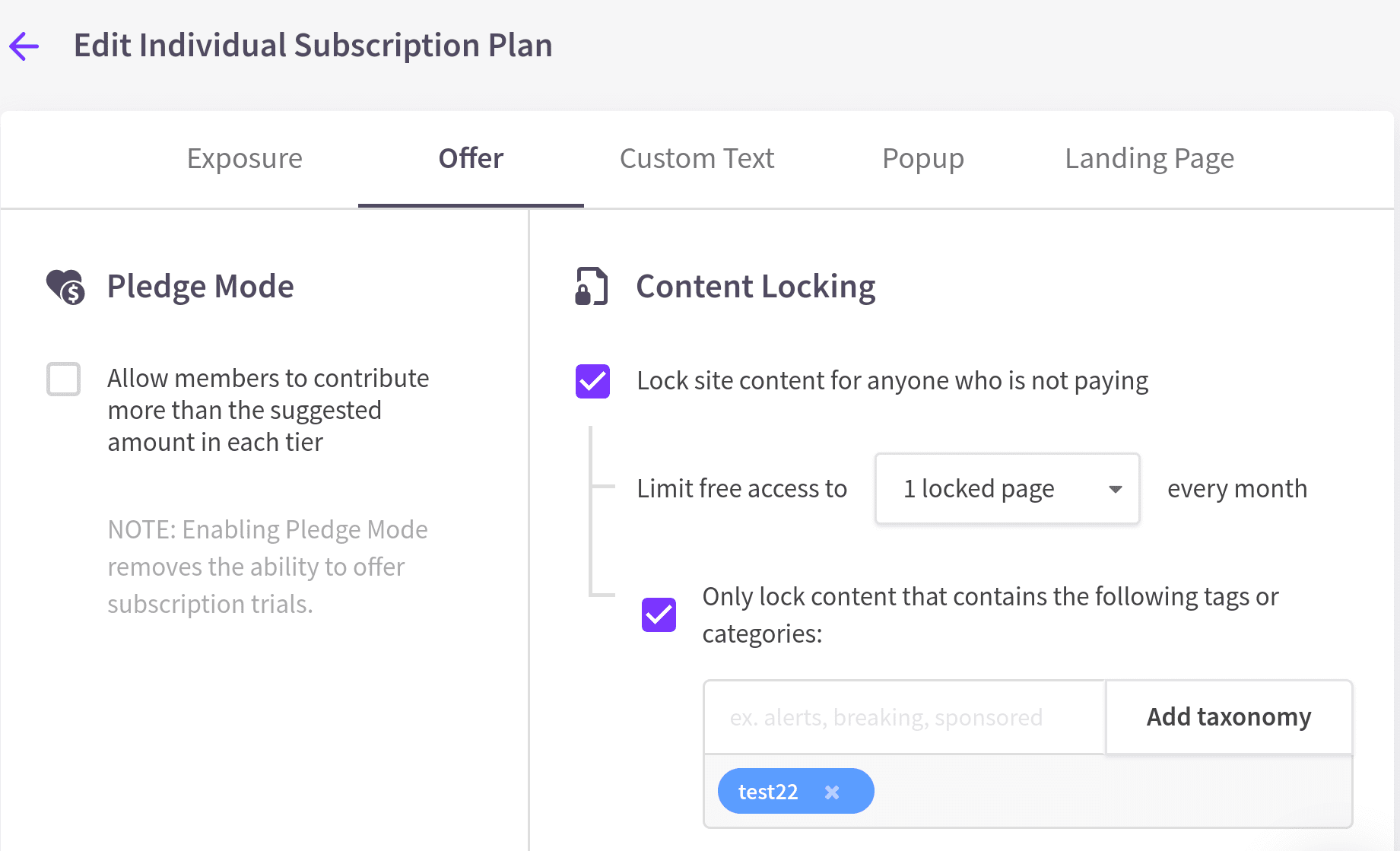 …and the specific Tier (there can be one or multiple Tiers). However, once you get the configuration down, you can simply be sure to copy the settings, but then make the specific changes as needed..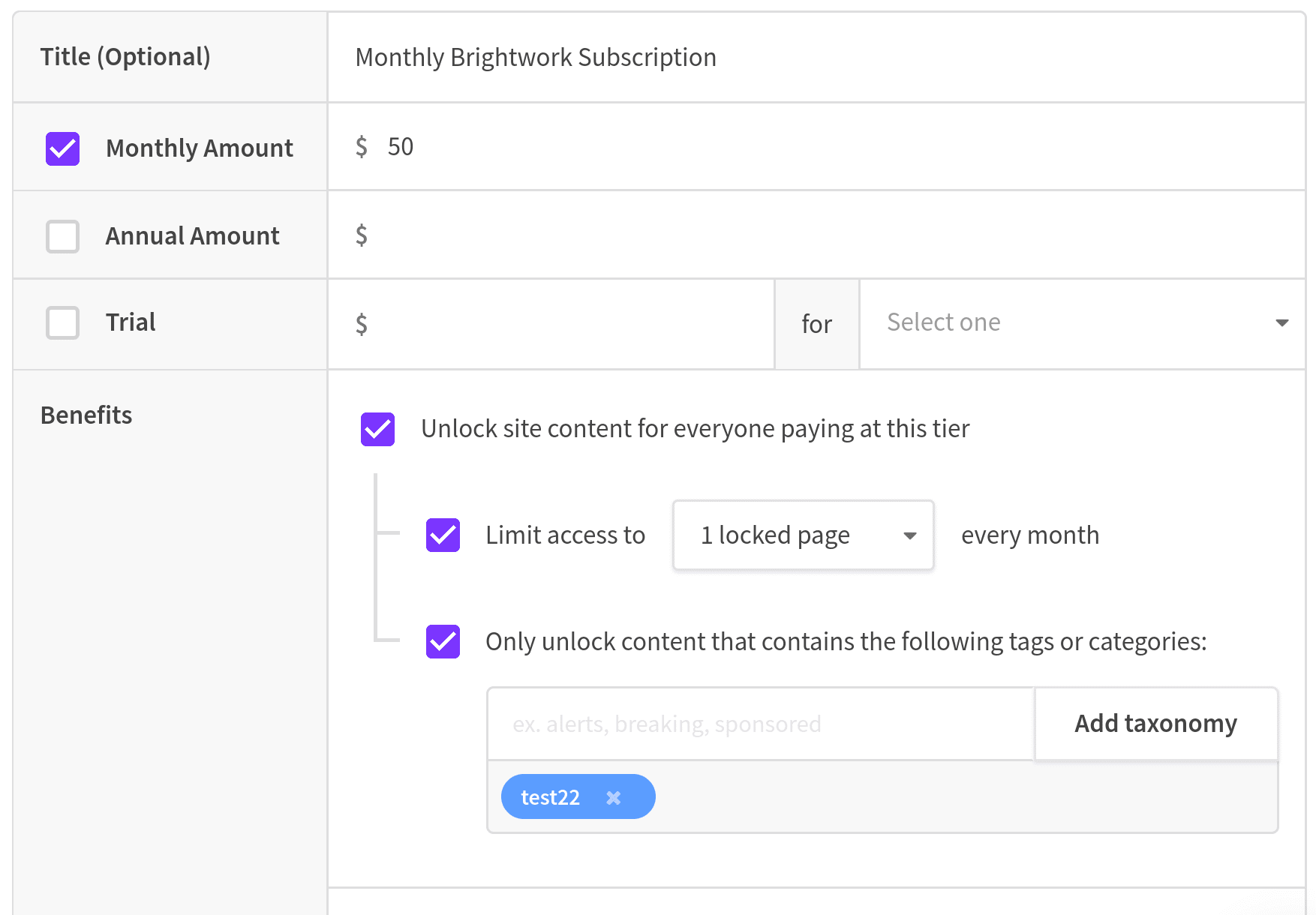 ..we duplicated the Tier above, to the second Tier, then changing it to an annual plan.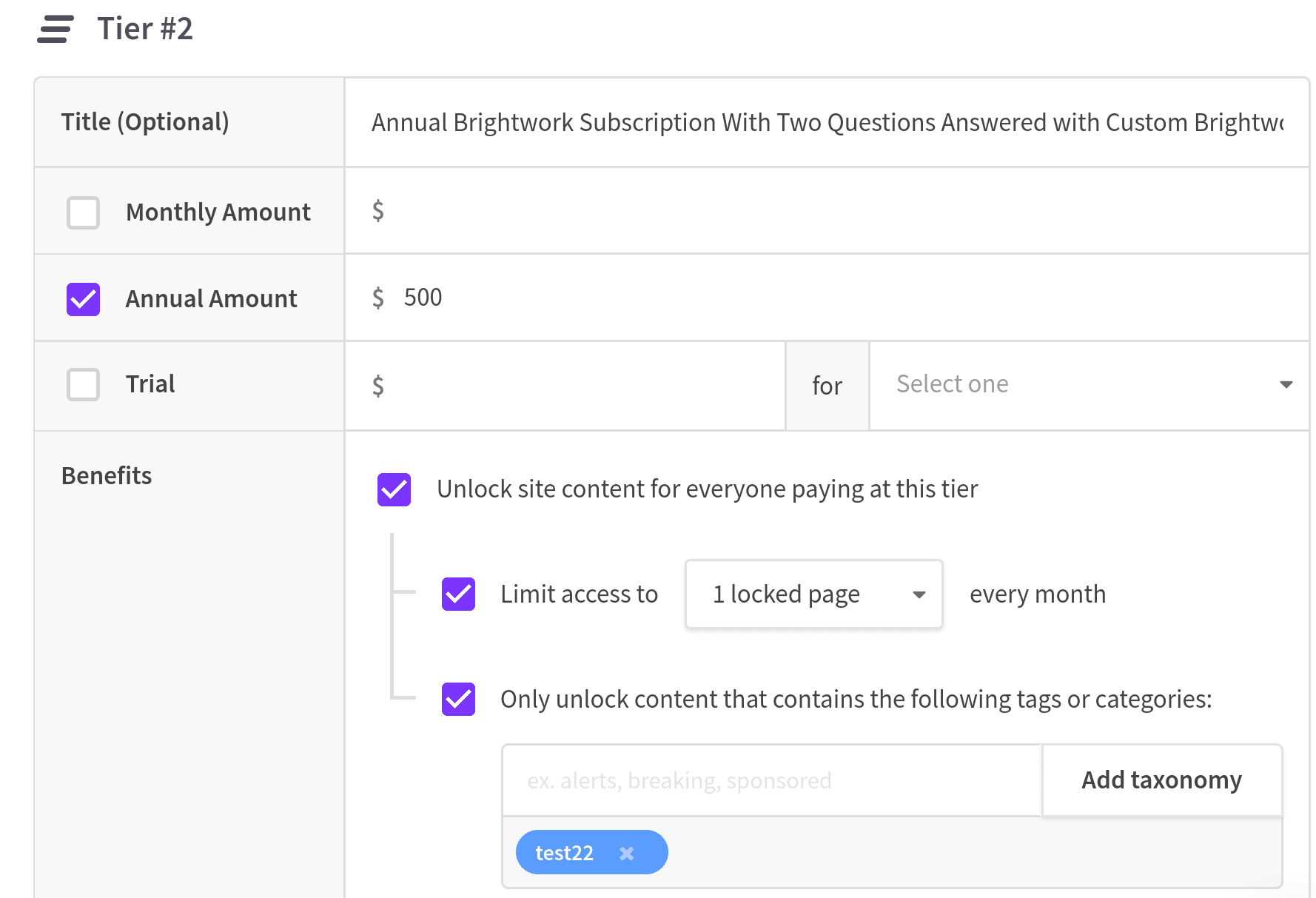 This duplication maintains consistency, reduces errors. Notice the changes to the Title, the duration of the plan, and to the amount — which is now placed in the Annual Amount field and cleared from the Monthly Amount field. 
Each Subscription Plan can also have tiers. So one could be for $50 per month, and a second could be for $100 per month, etc…
This is because unlike a subscription it is a one time charge. 
This is good for charging for onetime access to higher-priced content.
Recall how this Tiering was shown in the Colorado Sun pop up.
These "tiers" or options appear on the popup, and the user/reader can choose the one they prefer. 
One can control when, how, and on which page view the pop up appears. 
You can apply different newsletters per plan. 
Potential Problematic

Functionality #1

We ran into an issue when testing this. Pico would restrict access to the page in one browser, but then allow access in another browser. This was the same page.
The restriction changed depending upon the browser.
This was tested on two different computers, and the issue persisted on one computer, but not the other computer.
When tested on a phone, it worked properly.
One wonders why it did not work on the browser on that one computer.
How to Set Up a Group Subscription Plans
Group plans allow subscriptions to be sold to institutions rather than individuals.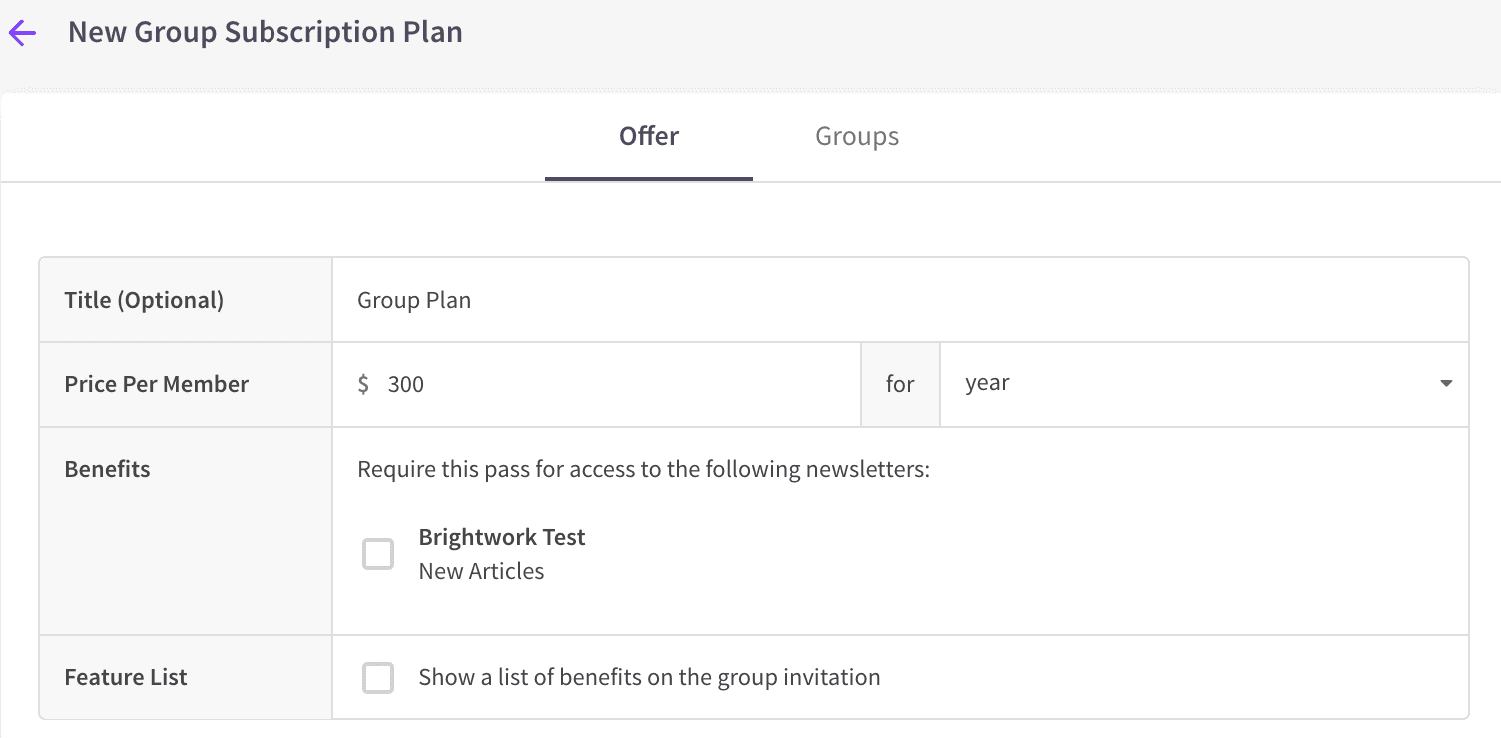 This is where the group plan is set. See the price per member.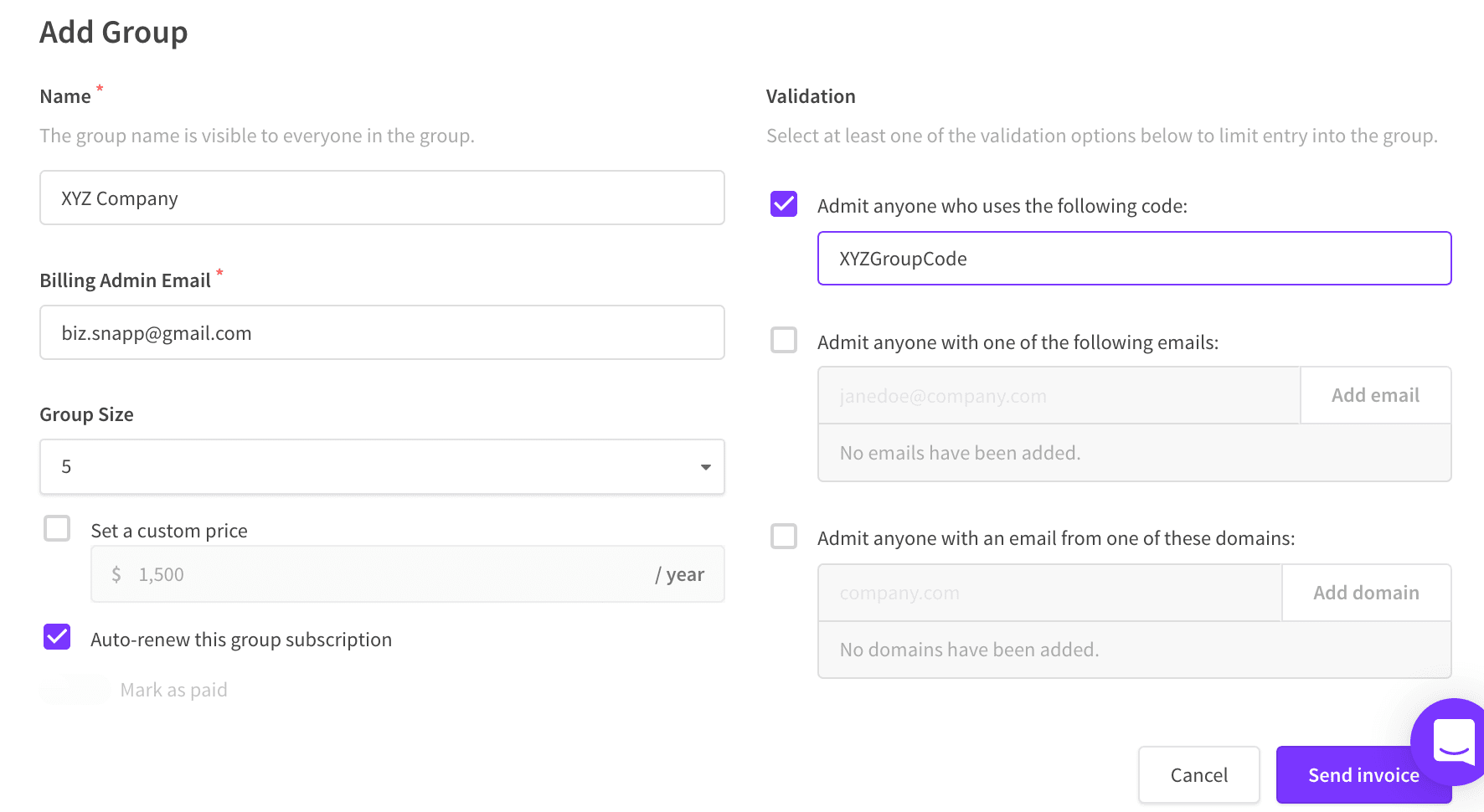 Then the invoice can be sent.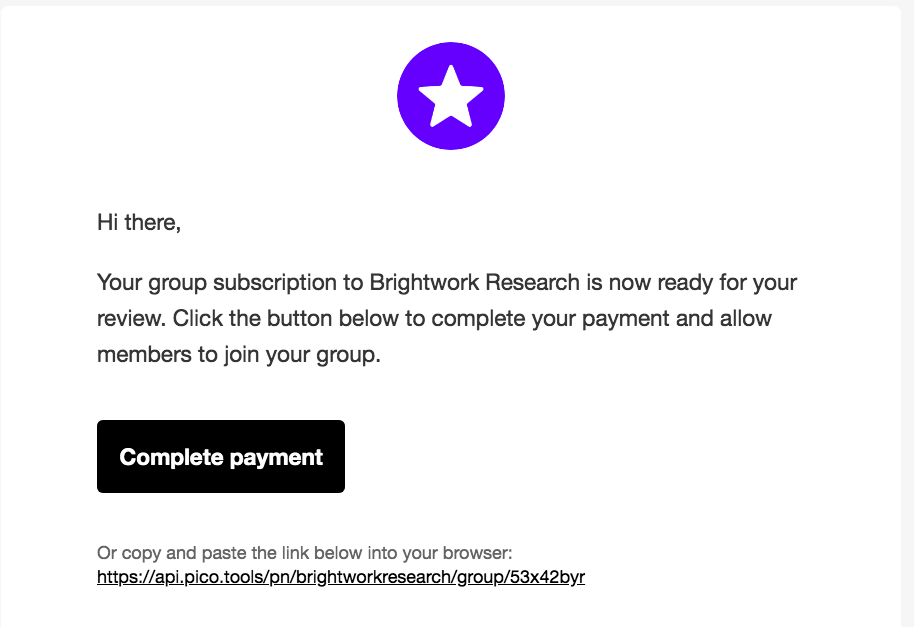 This is the email that is sent out. 
However, it is not clear that the Group Subscription controls the content, as the Individual Subscription does.
It seems like the Group Subscription plan must leverage the content controls in the Individual Subscription. But it is not apparent how this works. But this was explained by Nick from Pico.
Ah sorry, I should have clarified: group subscriptions are designed to only grant full access to all locked content. The more granular tag/category-based unlocking is only available in the Individual Subscription plan.
Brightwork has a number of segmented content areas — so that would prevent us from using Pico's group functionality. We could see Pico adjusting this in the future.
Registration
Registration, where a person enters their contact details, works roughly the same as signing up for a subscription.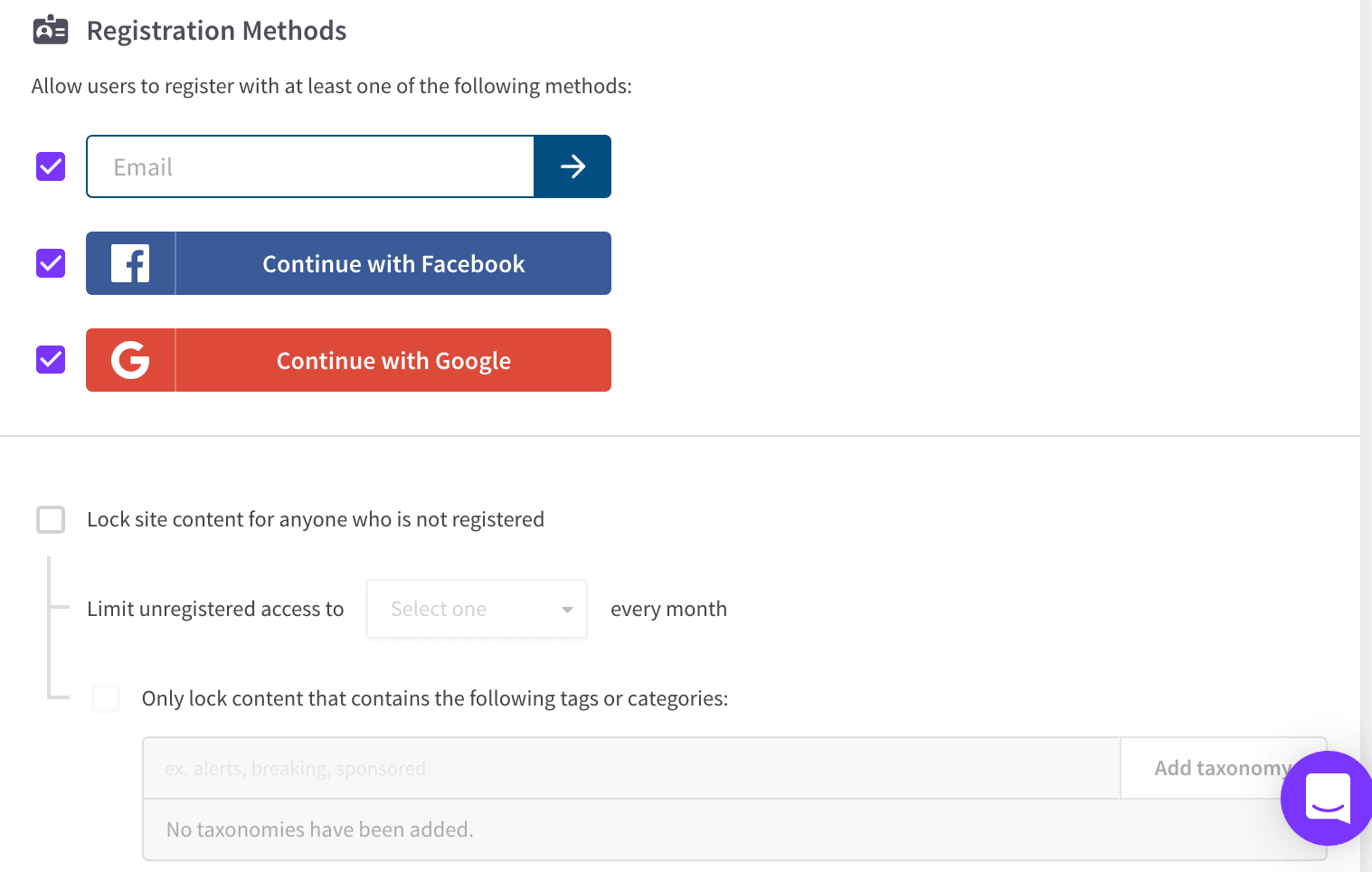 This registration can be similarly metered, and also restricted to specifically tagged/categorized articles. 

A newsletter can be assigned to any registration. This is the primary point of obtaining registration, getting emails, and sending newsletters. 
Audiences
In earlier screenshots, it was shown than any "monetization plan," subscription, etc.. is applied to a specific Audience. Audiences are created as is shown below.
Pico allows an audience to be created, which is then applied to a plan. 
This means that some countries, like India that are known as bad actors, can be given no content to view and be forced to sign up immediately.
Because the plan blocks all traffic, this means that there is no need to apply a specific tag/category. Without a tag/category, the pop up will appear for every single web page.
This is a surprising feature to find because it means that Pico doubles as a country or region restricting software. There are many countries that do nothing for a site's monetization but are a source of questions and other time-consuming activities. Pico can allow a site to block users from these locations.
Potential Problematic

Functionality #2

There is however a flaw, in our view, in how Pico has set up this functionality.

One would think that as each plan is restricted to just tags, that this would be the primary limiter for how the plan is applied. However, this turns out not to be true — at least as of the publication of this article.

Instead, Pico has a restriction on the Plan functionality in that a plan must only be applied to one Audience.

This is explained in the following quotation.
There is no limit to the number of monetization plans (that is subscription plans, etc..) you can create, however you can only apply one to any particular audience (emphasis added) (you can apply the same rule to multiple audiences or create a rule but leave it unattached to an audience).

For example, you might create a monetization plan for attendees of an event or supporters from an outside campaign that is only activated when they enter a discount code at checkout. – Pico
This is a potential problem, at least for many content providers/media that segment their content, because it means that from one Pico account, for the general audience, only one offer can be made.
Unfortunately, there is not a way of segmenting the Audience in the Pico configuration beyond the country, and the device used to access the content. Most websites will generally want to provide their offer to the global audience.
For some websites that don't want to offer different plans to the same audience, this won't be noticed, but for those that do — like we do, this is a serious hurdle to using Pico.
Remediation?
Nick from Pico explains the way around this issue.
You can play around with all the options by creating a new Individual Subscription Plan and going to the Offer tab.

You'll find at the top of the Offer section that you first specify which content is locked across the board (for an anonymous visitor).

Below that, you can create as many subscription tiers as you'd like, with each one granting access to a different tag/category or even granting access to all restricted content.
So long story short, as a single Subscription Plan can have many tiers that can cover all of the tags/categories. It makes more sense to have separate Subscription Plans, but once you learn how Pico requires you (presently, to likely change upon deprecation of the Audience functionality).
Payment Management
Pico integrates with Stripe. Here is an explanation for payments that fail.
If a payment on a recurring plan fails (donations, pledges, and subscriptions), Pico will send out an email to the user to update their payment method. Doing so within 21 days will allow the recurring payment to continue interrupted. – Pico
Users can also manage their own accounts and cancel their account and request refunds.
For recurring payments plan (donations, pledges, and subscriptions), users can cancel their next payment by logging in to their account.

In the case of billing discrepancies, users can request refunds or receipts, both of which can be managed from within the Pico Dashboard. – Pico
This is very easy for user/subscribers to do in their dashboard.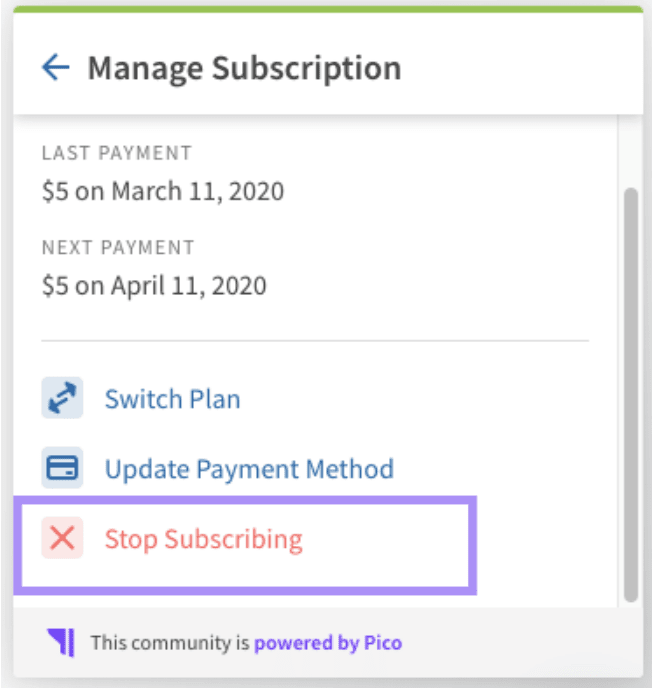 User Management
Users can be managed by the website owner.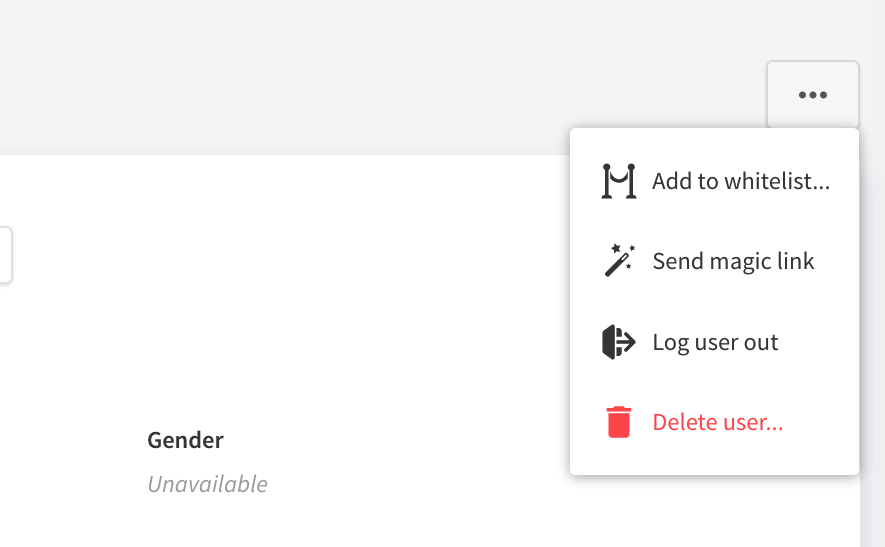 Within the CRM functionality, a user can be added to the whitelist, which gives them access.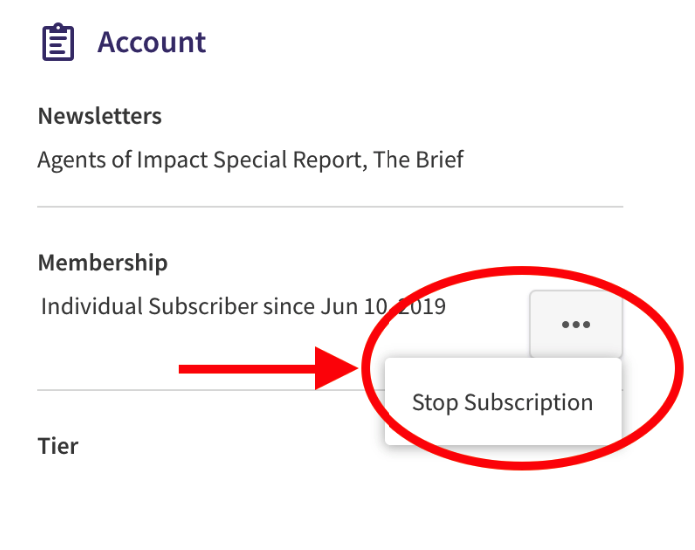 It also allows you to stop the subscription.

Conclusion
Pico in a very important addition to democratizing paywalls for every size online media site. Monetization is important — as it allows for independent coverage, media, research, and analysis. Google wants all information to be free — so that they can make their money off of advertising.
However, without an ability to monetize content, it has to be driven by associated income. Effective paywall software is critical to allowing content producers to earn income. Large media entities can custom develop their own paywall software, but an effective paywall that can be accessed and used by smaller media entities is critical for those to flourish and to democratize media.
References
*https://www.pubexec.com/post/media-pitch-pico-reader-revenue/
https://help.trypico.com/en/articles/4140454-managing-user-payments-in-pico
https://help.trypico.com/en/articles/2906294-creating-monetization-plans
*https://www.niemanlab.org/2020/04/for-its-must-read-coronavirus-coverage-the-atlantic-is-rewarded-with-a-huge-surge-of-digital-subscriptions/
https://medium.com/pico/introducing-pico-e592a60fd4e4
https://trypico.com/thebyline/growth/how-the-shawnee-mission-post-tripled-paid-subscriber-growth-rate-in-6-months-with-pico
https://trypico.com/thebyline/launch/colorado-sun-landing-page
https://trypico.com/thebyline/launch/coronavirus-memberships
https://trypico.com/thebyline/launch/figuring-out-your-membership-tech-stack-a-comprehensive-guide
*https://www.pubexec.com/post/media-pitch-pico-reader-revenue/