How New Jersey Became The Center of Indian H1-B Visa Fraud
Executive Summary
New Jersey has long been known as a location of low-quality Indian recruiters.
It is also very high for H1-B visa fraud.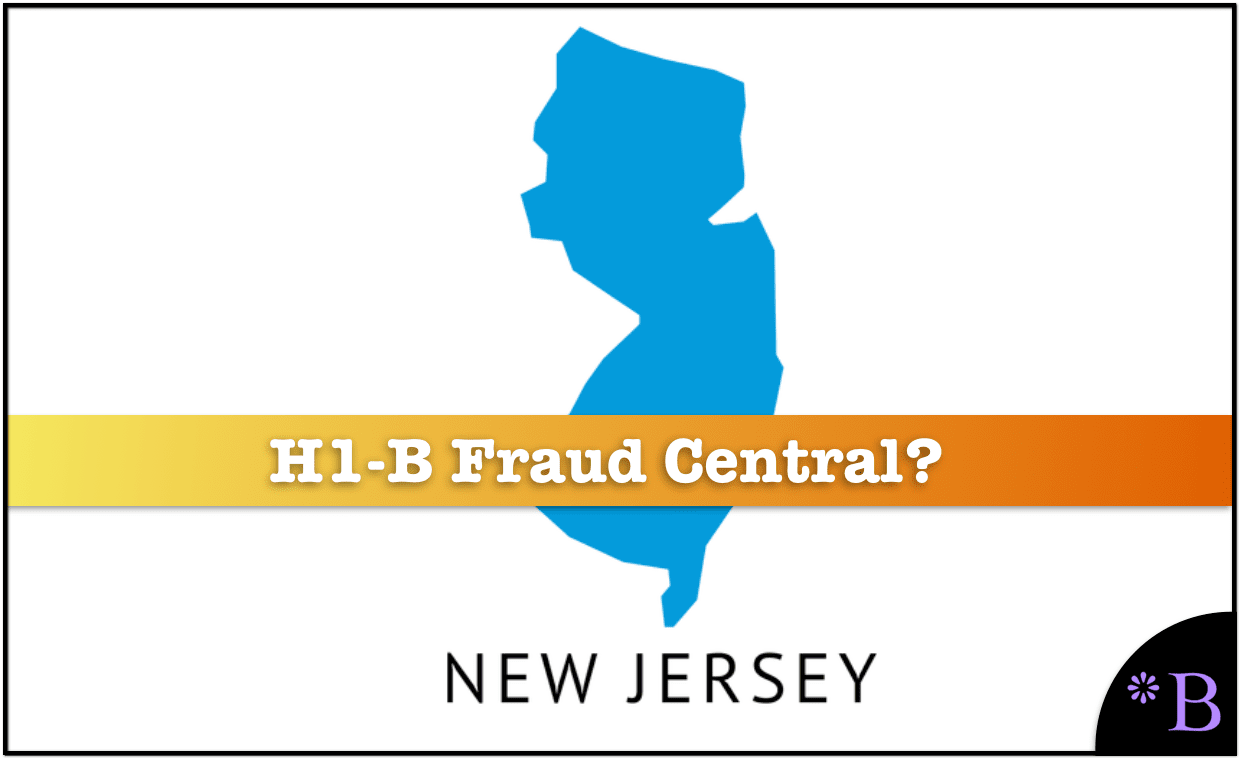 Introduction
Many domestic IT workers have learned not to pick up the phone when the state "New Jersey" comes across on the phone. The reason? Because (unless one has family in New Jersey) for most domestic IT workers the only calls that come from New Jersey are from Indian recruiters who can barely speak English.
However, upon researching, it turns out that New Jersey has more problems than just overflowing Indian recruiters that often only want to gather domestic IT worker resumes so they can position an Indian worker at a lower rate and make it appear that the recruiter workers with domestic workers. And this problem relates to the preponderance of H1-B visa fraud.
The city (Edison, NJ) seems to breed these H1-B hucksters. In September 2014, Sandip Patel, also of Edison, New Jersey, pleaded guilty to a similar "running the payroll scheme." From 2001 to 2009, Patel brought over a dozen phony H1-B workers who he claimed would be employed in tech jobs. The Indian nationals paid Patel tens of thousands of dollars for their fake credentials and fake pay stubs. They also had to reimburse Patel for payroll tax expenses that he incurred. Patel, like fellow Edison resident and H1-B crook Dasoni, was active in Democratic politics in central New Jersey. – Sold Out
The Root of the H1-B Fraud
The root of the H1-B fraud is that rather than having an actual job, Indian companies file for H1-B visas, but don't have jobs. Once Indian H1-Bs come to the US, they have to pay the company, which then keeps their visa active — and the H1-B visa holder must then go and find a job.
The following quotation explains how this works.
"The fake payroll checks and W-2 wage and tax statements were submitted in support of H1-B visa renewals or for adjustments of alien status by way of the Permanent Labor Certification Program," the feds explained. "Foreign workers also paid Kendre a $5,000 "Annual Maintenance Fee" for keeping a visa active with the company, as well as 25 percent fee for each payroll check processed by the company. – Sold Out
Conclusion
If a recruiter is Indian, in most cases they are shady as we cover in the article The Frightening Rise of Indian Recruiters. This is because Indians regularly bring their expectations from India regarding how labor is treated (if they are the employer). Of course, if Indians are employees, then they prefer the protections of the US system, but then they want to violate the rules of the H1-B visa program to displace US workers.
However, beyond merely being unethical and incompetent and discriminating aggressively against US workers, Indian recruiters, in many cases based in New Jersey make a business out of engaging in H1-B fraud.
References
*https://www.amazon.com/Sold-Out-Billionaires-Bipartisan-Crapweasels/dp/1501115944/