How S/4HANA Cost Overruns and Failures are Suppressed
Executive Summary
SAP and the IT media have aggressively pushed S/4HANA.
Now that critical information is streaming in about S/4HANA. IT media is suppressing this information.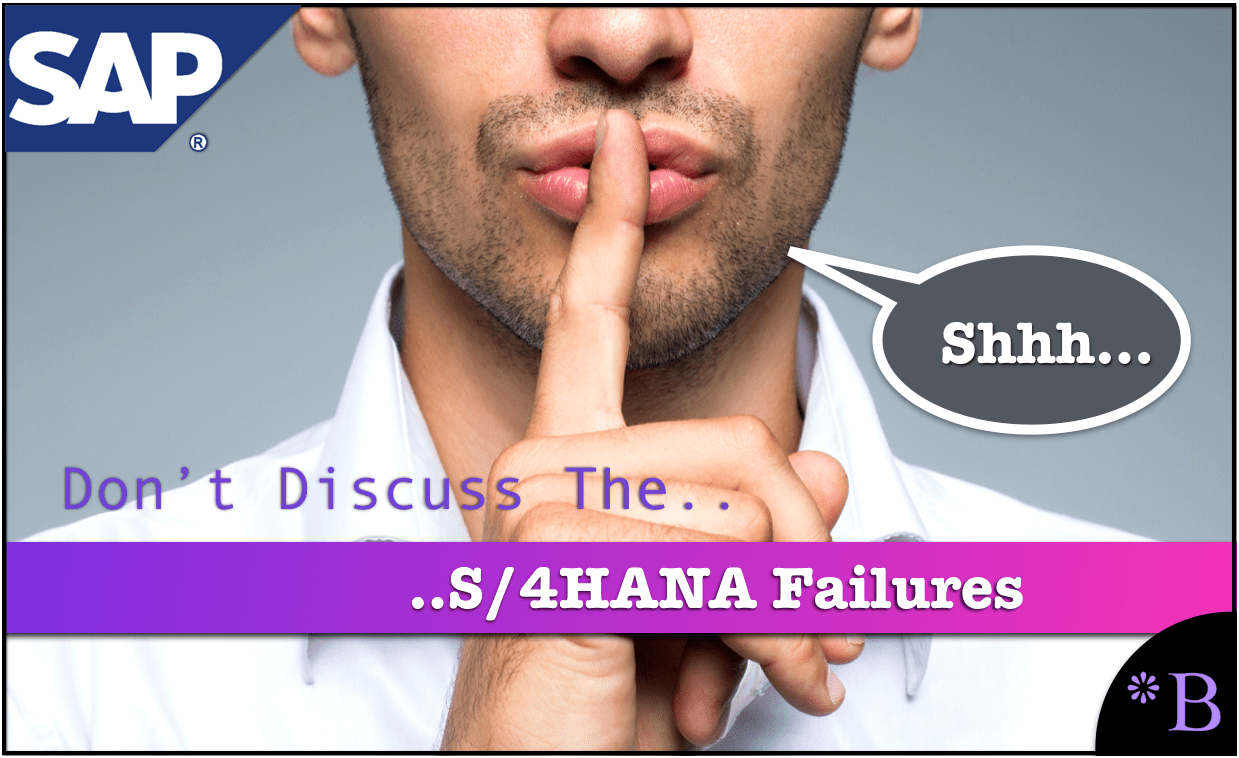 Introduction
S/4HANA has seen an aggressive promotion in the IT media, mostly just repeating what SAP said about the application. The IT media did nothing to warn customers or even to explain fundamental peculiar aspects of S/4HANA. One example of an issue that seems like it should have been covered, but what we did not see covered was that it made little sense to charge current ECC customers that were paying support for ECC, were we covered in the article Why S/4HANA Should be Free.
We see the second type of compliance on the part of IT media to SAP, which is how problems with S/4HANA are being reported.
Cost Overruns at Schweizer or Swiss Post with S/4HANA
S/4HANA sees high-cost overruns on projects all over the world. Notice the following quotation from the latest project, overrun.
"HWF 2021 is about a large-scale centralization. The Board of Directors has spoken a total budget of 83 million francs, as 'Inside Paradeplatz' reported and the Post now confirms. "However, we are checking whether this should be increased because new insights and additional requirements have occurred in the course of the project – the decision has not been made yet", writes Dérobert Fellay upon our request."
Swiss Post received an original estimate of 6.7 million Swiss Francs (which is 1:1 to the USD), but this was just for the implementation. Something else to note, Inside IT of Switzerland did not even list the increase in the budget. The initial budget was contained in a 2017 article. Here is a quote from that article.
"SAP Switzerland has secured a four-year "estimated compensation" contract totaling just under 6.7 million Swiss francs to make the ERP systems fit for the post-2025 period."
But now, let us compare this to reporting in IT Zoom, a German publication.
First, this quote from Deloitte in IT Zoom.
"The new software "in its simplicity represents a powerful and highly configurable suite of software solutions that can make business easier – thus creating clarity and generating the value that organizations desire." So much for the promise of the consultants."
This is not true. S/4HANA is more involved in its implementation than ECC and is not simpler.
Now this quote.
"CHF 2.8 million for data migration. This may sound expensive for a data migration, but the price seems plausible due to the high complexity and the technical and legal peculiarities: The migration of the current and historical data of the various R / 3 systems of Swiss Post into the central S / 4 Hana system must be carried out during the year (first planned system replacement as of July 2019) at the same time as the introduction of the new general ledger ("General Ledger", "new GL") in a single 48-hour step."
This contradicts the earlier statement by Deloitte about the S/4HANA being simpler. The fact is that data migration for ECC to S/4AHANA will be a significant complexity in S/4HANA migrations. This is one of the first estimates we have of the data migration for S/4HANA. However, the code remediation will be even higher.
""However, we are checking whether this should be increased because new insights and additional requirements have occurred in the course of the project – the decision has not been made yet", writes Dérobert Fellay upon our request.

"It's about more than just a change of system or an IT project: it's about harmonizing not only the systems but also the processes and SAP-related roles and thus working more efficiently over the long term.""
The fun has just begun for the Swiss Post. If the previous implementation of S/4HANA is any measure, the Swiss taxpayer can expect a significant increase over the 83 million Swiss francs number. Most likely, the Swiss Post has no independent entity guiding them and relies upon a vast system implementer that is simply parroting whatever SAP says.
83 Million is Just the Starting Point with Swiss Post, a Project Headed for Serious Cost Overruns
That is interesting, so the 83 million Swiss francs will not be the final number. We have S/4HANA projects (which include other applications aside from S/4HANA) with costs in the 500 million Euro level — that have failed, $937 Swiss franc with the Swiss Government (project Superb23), etc..
"The project is now to swallow 930 million francs (more than 815 million euros), which is estimated at about 40 percent more than nine months ago. There are no denials, only relativizations – the costs mentioned are merely "rough estimates". Many politicians already see a bottomless pit in Superb23 ​​because the project planners have lost a lot of trust. In addition, Switzerland has had bad experiences with large IT projects: the Tax Administration (ESTV) swallowed around 120 million francs until it was stopped in 2012. And the successor project Fiscal-IT, which has meanwhile been successfully completed, also cost just under 120 million francs instead of the planned 85 million." – IT Zoom
And yet Forrester published an SAP-funded study where SAP provided the entire sample that showed an average implementation cost of $.87 million. We critiqued in the article How to Understand Forrester's Fake S/4HANA TCO Study. Yet, no SAP resources critiqued this study.
This is where the brain detached critical thinking level and financial bias is in the SAP community.
Why is there was no coverage of the Swiss Post-implementation in any English-speaking media? Does the implementation planning occur in a non-English speaking country mean that the project is not of interest to those who do not speak German — because I do not speak German, and I would like to know. You cannot find this article unless you type in specific German words into Google. After you the article, you can easily translate it with Google Translate, but you can't translate it until you find it, and that means using German words.
Pedro Rodriques is not a member of the IT media. He is an independent Microsoft Dynamics consultant. Why is Pedro breaking stories that the US-based and China-based (the IDC publications are owned by a China company, as is Forbes) IT media is not covering?
The issue appears to be not that there was a rise from 6.7 million to 83 million, but that the project's 83 million Swiss francs was the cost earmarked for the implementation, and the budget will have to be increased.
All the while, Swiss Post receives false information from Deloitte as to what the implementation will cost. How do we know the information is incorrect. Well, first it's Deloitte, but then second, their quotations illustrate that they are merely repeating SAP marketing approved talking points to Swiss Post, as they always do. Why is anyone in Swiss Post listening to Deloitte? Deloitte will underestimate the cost and change order Swiss Post after the project is deep into the project, and the Swiss Post is dependent upon Deloitte. Consulting companies love government clients as it is well known they are easy to rip off.
Here is a page from IT Inside.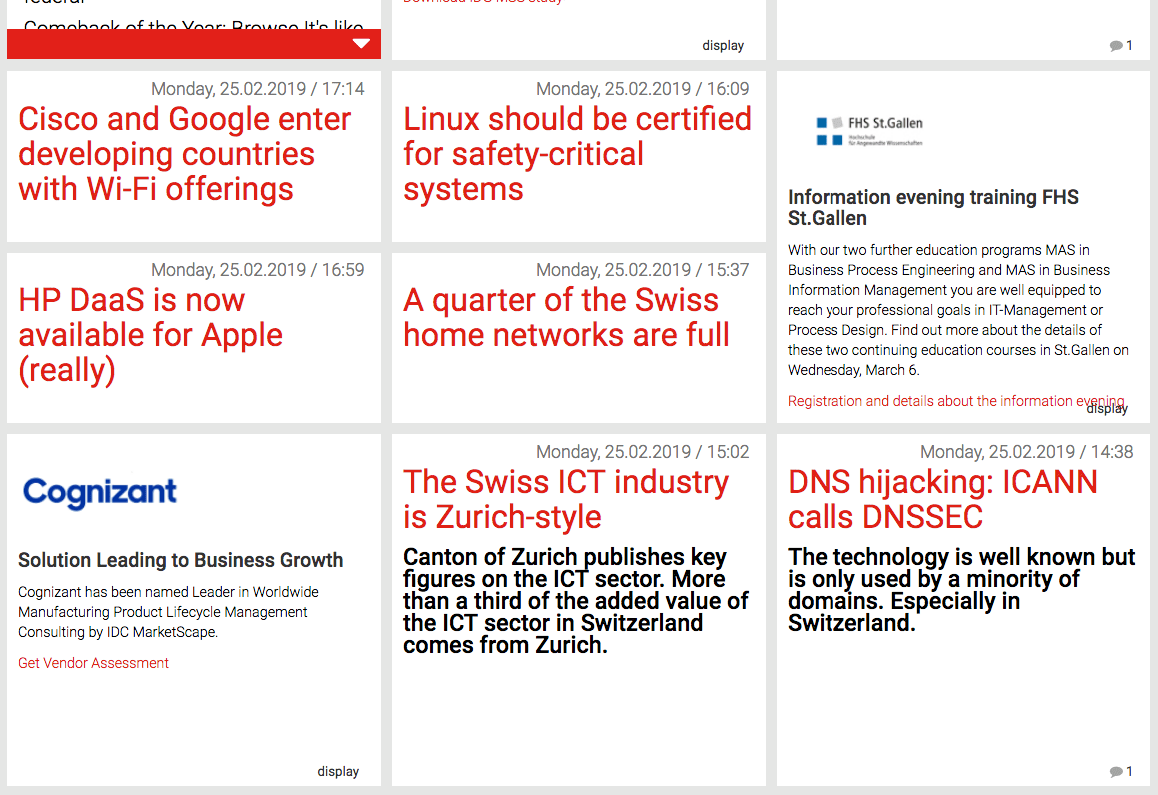 Notice the advertisement from Cognizant — a major SAP implementer. Let us see the IT Inside ad page.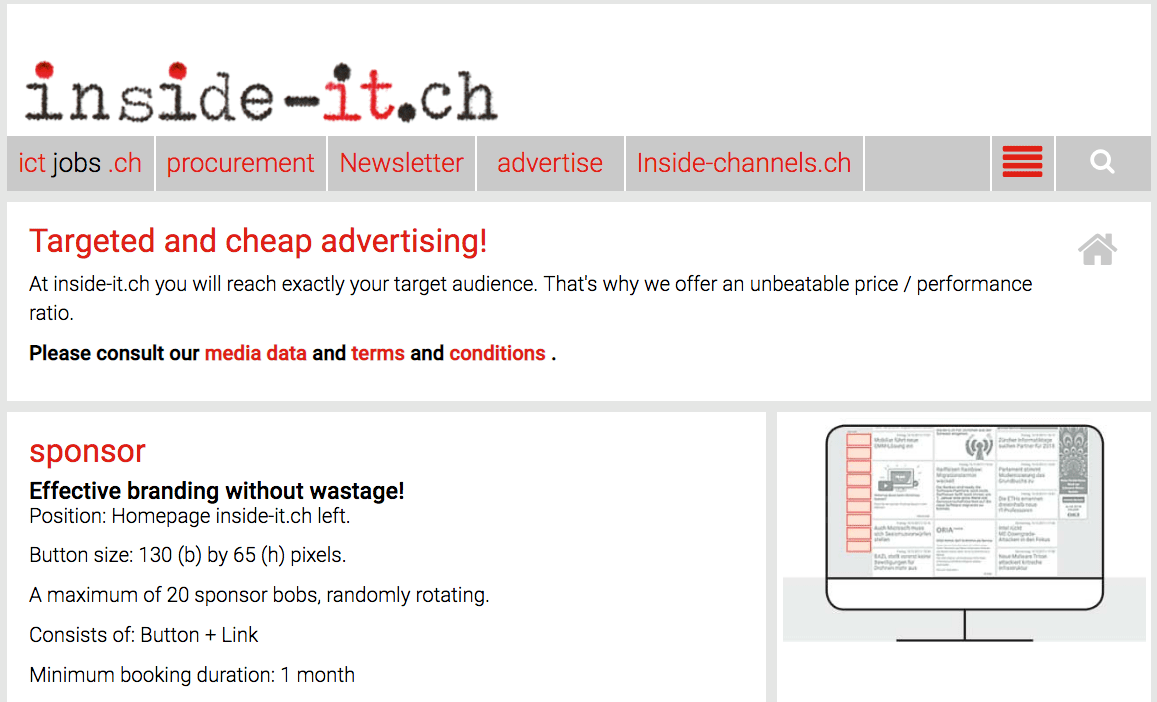 IT Inside is undoubtedly looking for advertisers. Could the need for advertisers mean that critical information from SAP projects is de-emphasized?  
The Backdrop of Application and Database Implementation
The first questions we had when we were told of this were the reasons for HANA's removal. First, it is very uncommon for a recently implemented system to be removed. HANA did not have much of any sales until 2013. Implementations follow sales, so most HANA implementations are by our internal from 2.5 years ago until now. When companies decide to purchase software, many people are brought in and have every incentive to make the implementation seem as good as possible. As an SAP consultant, I have often gone into troubleshooting SAP systems. The one thing you can't point out is that the decision-makers made an error in their selection. The decision-makers in the IT organization can never be held accountable for errors in judgment.
Users can be blamed, SAP can be blamed somewhat, but one has to be careful there because eventually, that comes back as an indictment of the IT organization.
Therefore, software being removed within just a few years after being implemented means something very wrong would have occurred.
The Reasons why HANA is Being Removed
In inquiring, these are the answers that we found. These quotes are from people with a front-row seat to these HANA removals.
Cost Versus Performance & TCO
"HANA has proved to be very expensive; customers are having to constantly patch HANA."
We covered this topic in the article by Forrester and the TCO of HANA.
Lacking Functionality
"Many of the core functions don't work as advertised."
We covered this in several articles, such as How Enlarged is the HANA Implementation Numbers?
Indirect Access Liability
"Clients are being stung by indirect access when they mashup data from 3rd party sources, and then action the insights.
There is now a credible set of solutions other than SAP/Oracle, you have a powerful cocktail to move.

Other issues are concerns around SAP forcing customers to a proprietary Database under the guise of "HANA is best" They see through the BS."
This has taken a while, but it is finally happening. Brightwork has been at the forefront of pointing out these issues for some time. We cover the implications of indirect access for HANA in the article The HANA Police.
Integration Problems with HANA
"The other big driver is integration, massively so. Clients are tired of paying 2 to 4 times the Capex cost for Ariba, on integration.(emphasis added) So they pay 500k on Ariba and end up paying 1-2 million trying to get the integration to work."
This is the problem with the lack of integration. SAP seems to have issues all over the place concerning integrating anything new.
Lies About the Cloud
"Customers are upset that these products acquired are not running natively on HANA. SAP tries to tell them it does in the cloud, only to find out the software is sitting on a VM on a normal server somewhere."
Right, and you can only get away with that for so long.

Conclusion
The IT media has been promoting S/4HANA like crazy since S/4HANA first came out, with paid placements and advertising driving IT media entities to cover S/4HANA with aplomb and little critical thinking. However, when the shortcomings stream in, all of a sudden, the coverage becomes quite abbreviated. UnderArmour, the Swiss Government (with a massive increase in the initial budget for the implementation), Haribo, and Lidl have had setbacks or failures. But only the Lidl implementation has much information about it, and even Lidl is highly censored. The false information streaming into the Swiss Post is going to lead to considerable overruns. All of this and the likelihood of the S/4HANA implementation even being successful is low.
We predicted the problems with S/4HANA before our extensive study into S/4HANA implementations. Still, We were told repeatedly and aggressively debated by pro-SAP resources and SAP entities that ride the SAP money train that there was nothing to worry about. We were told that our many hundreds of research pages into S/4HANA, showing its immaturity, did not matter. With every S/4HANA problematic implementation, one has to try to find details because so few are presented in the IT media, which appears to be remotely controlled by, and is a marketing arm for SAP. This marketing arm not only controls the information on the front end but also controls and suppresses information on the back end. This means the only way we will find the reality of a significant S/4HANA failure is through the filing of a lawsuit, which is when it falls into the public domain.
References
https://www.inside-it.ch/articles/47313
https://www.inside-it.ch/articles/53729
https://www.it-zoom.de/dv-dialog/e/sap-hana-umstellung-teurer-als-geplant-22140/
https://www.it-zoom.de/dv-dialog/e/drohendes-sap-fiasko-in-der-schweiz-21959/