How SAP and Oracle Coerce Customers into the Cloud
Executive Summary
Both SAP and Oracle have uncompetitive cloud offerings, so to get their customers to use their cloud, they bully and intimidate customers into purchasing the cloud.
The secret is to buy the license but never actually use the license.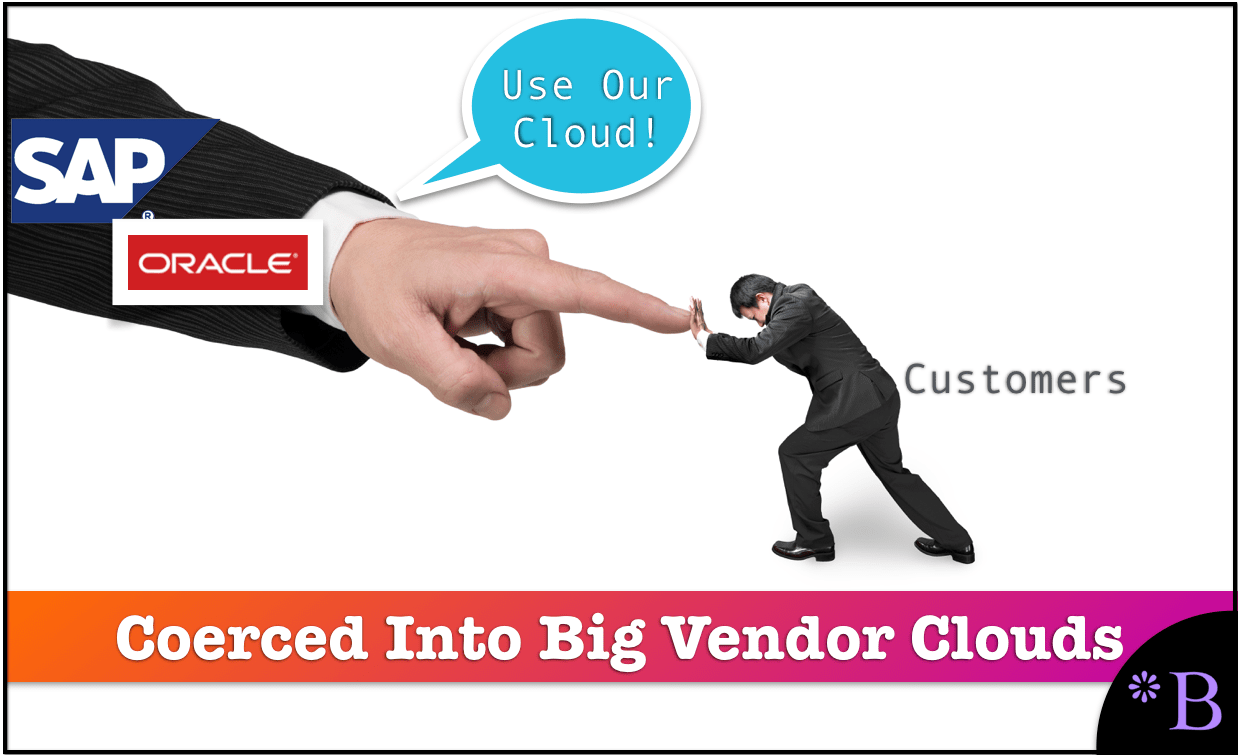 Video Introduction: How SAP and Oracle Coerce Customers into the Cloud
Text Introduction (Skip if You Watched the Video)
Major on premises vendors use their market and account influence to coerce their customers to buy poor quality cloud offerings. These vendors try to create the illusion that they are cloud, such as creating faux marketplaces. The term "cloud" should be considered a euphemism as while they are called cloud. We will cover the definition of cloud, and why they do not meet the definition. You will learn how customers of these cloud pretenders are coerced in the cloud and into services that are not truly cloud.
Our References for This Article
If you want to see our references for this article and other related Brightwork articles, see this link.
Lack of Financial Bias Notice: We have no financial ties to SAP or any other entity mentioned in this article.
This is published by a research entity.
Second, no one paid for this article to be written, and it is not pretending to inform you while being rigged to sell you software or consulting services. Unlike nearly every other article you will find from Google on this topic, it has had no input from any company's marketing or sales department. 
The Eight Criteria of Cloud
Here are the eight cloud criteria, which we will list:
One code base
No customization
The vendor provides the hosting (i.e., the vendor provides and maintains all infrastructure for the application)
Flexible cancellation
Published and transparent pricing
Using a cloud salesforce
Using self-guided demo systems
Vendor-provided Software maintenance.
It should be easy to see that SAP & Oracle do not meet any of these criteria. This may be surprising to many readers, but it is only surprising compared to SAP and Oracle's claimed adherence to the cloud.
Larry Ellison once commented on the topic of cloud computing:
"The interesting thing about Cloud computing is that we've redefined Cloud computing to include everything that we already do."
And…
"We'll make Cloud computing announcements because, you know, if orange is the new pink, we'll make orange blouses. I mean, I'm not gonna fight this thing … well, maybe we'll do an ad. Uh, I don't understand what we would do differently in the light of Cloud computing, other than market … you know, change the wording on some of our ads."
Yes, one can see how dedicated Larry Ellison is to the cloud.
Hasso and the Cloud
Hasso Plattner is also on record critiquing the cloud and stating that most of SAP's customers would not be interested in the cloud. Thus, one wonders why Wall Street has been so accepting of the 180-degree change in position on the part of SAP and Oracle. Except for a few cracks here and here, such as the response to Oracle changing its reporting in June or 2018 in an obvious attempt to obscure their feeble cloud growth, Wall Street appears to have bought SAP and Oracle's cloud story hook line and sinker.
Claims by the Sunrise Florida Firefighter Fund
A recent case brought by the City of Sunrise Florida Firefighter Fund, a pension fund, against Oracle for exaggerating their cloud revenues brings some of these issues to the fore.
"In truth, Oracle drove sales of cloud products using threats and extortive tactics. The use of such tactics concealed the lack of real demand for Oracle's cloud services, making the growth unsustainable (and ultimately driving away customers). Among other things, the Company threatened current customers with "audits" of their use of the Company's non-cloud software licenses unless the customers agreed to shift their business to Oracle cloud programs."
There are public examples of Oracle offering "audit or purchase cloud" options to customers. This is where the expense of the audit is used to coerce a purchase.
Claims by the Union Asset Management Holding AG
This is a class action lawsuit on behalf of all people who bought stocks in Oracle during this 15-month period. The claim is that, due to over-stating their cloud capabilities and sales, Oracle has been fraudulently inducing people to buy stocks in their company.
"Larry Ellison, Oracle's founder and strategic visionary, made a critical blunder by underestimating a fundamental shift in database technology [cloud]"  and go on to say that: "By the time senior management recognized this tactical error, Oracle was years behind its competitors in creating and selling the new technology, causing its revenues to stagnate".

The suit names several key Oracle executives as defendants:

Safra Catz, co-CEO

Mark Hurd, co-CEO, (currently on medical leave)

Larry Ellison, CTO and Chairman of Board of Directors

Thomas Kurian, (then) President of Product Development (now Google Cloud CEO)

Ken Bond, Senior Vice-President of Investor Relations

Steve Miranda, Executive Vice President, Oracle Applications Product Development

The claim is based on information from a variety of Oracle related sources including:

Regional Sales Director for MEA (Middle East & Africa)

Vice President in Cloud Sales, North America

Senior Technology & Cloud Sales consultant, Southern California

Vice President of Global Sales Engineering

Director of Cloud Customer Success

Channel Sales Rep, Northeast region

Regional Technology Sales Director, Czech Republic, Hungary, and Slovakia

Cloud Platform Sales Manager, North America

Director of Cloud Customer Success and Customer Experience

The plaintiff states that Oracle "resorted to systematically coercing and bribing" their existing customers to purchase their new cloud products. They claim that Oracle hid these tactics from investors and simply reported "explosive" growth of their cloud products". However, according to the plaintiff, by June 2018 customers were refusing to renew the short-term subscriptions they'd been made to purchase "under duress" – which caused Oracle's sales to decline. This caused the stock to drop in price and then, when Oracle thereafter decided to stop being as transparent with their cloud sales reporting, the stock dropped again. – ITAM
These quotations demonstrate how inept the Wall Street analysts are when analyzing Oracle.
June 22, 2017, saw Business Insider report that over 20 Wall Street analysts raised their prices on Oracle, while Macquarie also increased their price after Oracle reported its "best quarter in years". The same day saw William Barr analysts state that Oracle had "crossed the cloud chasm" and would see "higher sustained revenue growth". – ITAM
The following quotation explains that the cloud was sold into situations where there was no use case.
It's claimed a $120 million deal with the Saudi Telecom Company had $22 million of "attached" cloud – even though government regulations meant they couldn't use a datacentre located outside of Saudi Arabia!

The documents state that, according to "numerous former Oracle cloud sales executives", between 65%-90% of team's sales were achieved via these "financially engineered deals". They make the argument that customers were not truly buying cloud, but rather buying discounts on non-compliance fines and on-premises licenses. For example, it is said that less than 9% of the MEA region cloud subscriptions were renewed.
Information from the sources (listed earlier) includes that "80% of MEA cloud revenue" was generated through these engineered deals and that it was used to "juice the [cloud] numbers" in other regions. They also say that 90-95% of North American cloud sales had no "use case", that is – there was no reason for the customer to be purchasing the cloud products. – ITAM
As soon as Oracle customers could, they go out of their cloud deals.
As these short-term deals started to expire in late 2017, Oracle struggled with renewals. As customers didn't want the cloud in the first place, they certainly didn't want to renew it; sources referenced in the legal case say that renewal rates were "virtually zero" and "less than 15%". – ITAM
Brutal Oracle Audits
The following quotation regarding Southern California Edison explains how this works.
"Within the past year, Oracle signaled it might audit Southern California Edison. As an alternative, Oracle offered Edison a deal worth $21 million a year that included $4 million to $5 million of Oracle cloud services, said one person briefed about the discussions. Edison said it did not "see the ROI"—return on investment—from such a deal. It decided to instead pay several million dollars to cover any potential shortfall Oracle might find in an audit of its existing licenses. A Southern California Edison spokeswoman declined to comment."
Certainly, there would be no ROI to $5 million in Oracle cloud, but the ROI is not being audited!
The toymaker Mattel received a similar offer from SAP.
"Mattel, a longtime Oracle customer with around 28,000 employees, was recently warned it could be audited. Oracle offered Mattel a $20 million to $25 million deal that included cloud services. Similar to Edison, Mattel decided to pay several million dollars to ensure it was complying with Oracle's licensing terms on existing software and agreed to a small deal involving Oracle cloud services, as well as to continue its relationship with rival Microsoft Azure. Mattel told Oracle that the software giant was "not strategic" as a cloud partner, said an Oracle employee."
This is reinforced by a company with quite a bit of exposure to Oracle customers.
"I don't have to take off my shoes to count the number of House of Brick customers I am aware of that have actually implemented anything in the Oracle Cloud. On the other hand (er, other foot), I'd probably need a bunch of people with shoes off to count the number of customers with Oracle cloud credits on the shelf. This is Oracle Cloud inventory customers were compelled to purchase in order to receive additional on-prem software at the same discount level they used to get."

"I am not at all compelled by Ellison's announcement a month ago about how he's now got a bigger, better deal and will best AWS' performance. He'd have to make it free to compete with the price of all the cloud credits sitting on licensee's shelves. Even with the software costs sunk, these licensees are not implementing their Oracle Cloud credits. Oracle has not produced an implemented market share anywhere near the scale that induced VMware to strike a deal with AWS."

"Sometimes however, you may have a rep say something like "I heard that you are on the list for an audit. If you make this purchase, I can probably make that go away." Not surprisingly, rejecting their proposal will likely trigger an audit. Once we began our assessment, we quickly identified tens of millions of dollars of unneeded expense that could be trimmed from their Oracle budget. The client was thrilled, and their right sizing of expenses was validated when they received an audit notice from Oracle.

Avoiding an audit with Oracle is not necessarily a good thing. As was the case with our client in this story, if you are not being audited there is a good chance you are paying Oracle too much money and that is why they are leaving you alone."
And reinforced by this comment on an article from Slashdot.
"Oracle, in the meantime, is on a mission to push existing customers to their weird and overdue cloud thing. It started about 4 years ago, and their tactics started with stripping their own salesforce of commissions on on-prem solutions. Then price hikes.

Now, I hear, auditing. (We've since canceled all our licenses so luckily that's not one of my problems anymore).

As to why people stick and swear by Oracle – Exadata offers support for insanely bad queries and still manages to make a pretty good job running them. This is a good solutions for companies with incompetent, outsourced dev teams that don't mind paying for the licenses. But the number of such companies is going down and Oracle must see the writing on the wall – they are going the IBM way of being relegated to niche solutions, US gov't contracts and the like. And by looking at IBM numbers, it's not exactly a pleasant place to be."
Vague Promises from SAP and Oracle
AWS and Google Cloud have a history in the cloud that SAP and Oracle do not. All customers have vague promises from SAP and Oracle that they will change and have big plans. These are all projections of what they will do. And after over a decade of making these types of statements, the evidence is that they are not becoming more cloud. They are also not reconfiguring their internal organizational design to become so in the future. Even publishing pricing information is beyond them.
How Prepared are SAP and Oracle to Live with Cloud Margins?
There will be massive internal impediments to change, including the fact that both SAP and Oracle are internally incentivized around the on-premise software model. Furthermore, if SAP and Oracle were to race to the cloud, they would notice their margins quickly eroding. They would need to lay off a sizable percentage of their workforce, and the cloud implementations would cause massive dislocations in their consulting partners. As soon as that happened, their consulting partners cease recommending their software. Wall Street is quite confused on this issue. Here are some critical truths about the cloud.
The highest margin software vendors are on premises vendors like SAP and Oracle, not cloud vendors.
The largest cloud application vendor is Salesforce, and they have not been profitable.
AWS is one of the few cloud entities that has been profitable, but competition is coming, and most analysts predict naturally that AWS's margins will decline.
Because of how they report cloud revenues, it's tough to determine Google Cloud and Azure (Microsoft). However, it is broadly thought that the profitability for both is low. We have contacts within Microsoft that tell us Azure is not profitable and is a loss leader for Microsoft.
We predict that SAP and Oracle won't change or won't be able to adapt fast enough. The changes for both of them will be wrenching, and they won't be undertaken voluntarily. All three authors of this book are all in on AWS and Google Cloud as the future and think SAP and Oracle customers should be evaluating how to incorporate these entities into their IT strategy. Increasingly when we analyze options available for SAP and Oracle customers, we end up looking to see if AWS or Google Cloud have something we can leverage. There are just so many ways to unlock value in SAP and Oracle customers.
With all of this background in mind, let us dive into one of the "killer apps" for AWS and Google Cloud, their managed database services.
Real Versus Faux Marketplaces
One important area of distinction between AWS and Google Cloud and SAP and Oracle are their marketplaces. Marketplaces for vendors and cloud service providers are where users go to add components to their cloud.
Let us review the following marketplace screenshot from SAP.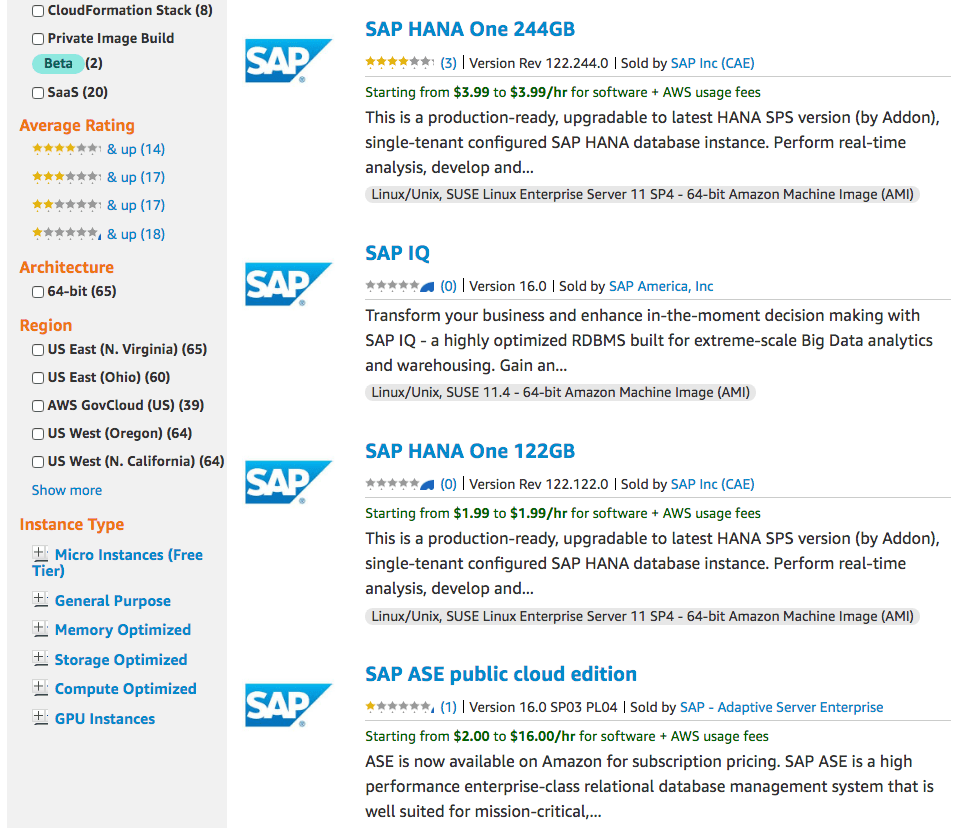 This is the SAP App Center, which is SAP's marketplace. It is meant to conjure images of the Apple App Store or the Google Play, the Android store. However, these applications cannot be directly installed on SAP. Therefore the App Center is misleading. This "marketplace" is nothing like what appears to be, which is a directory of pluggable applications.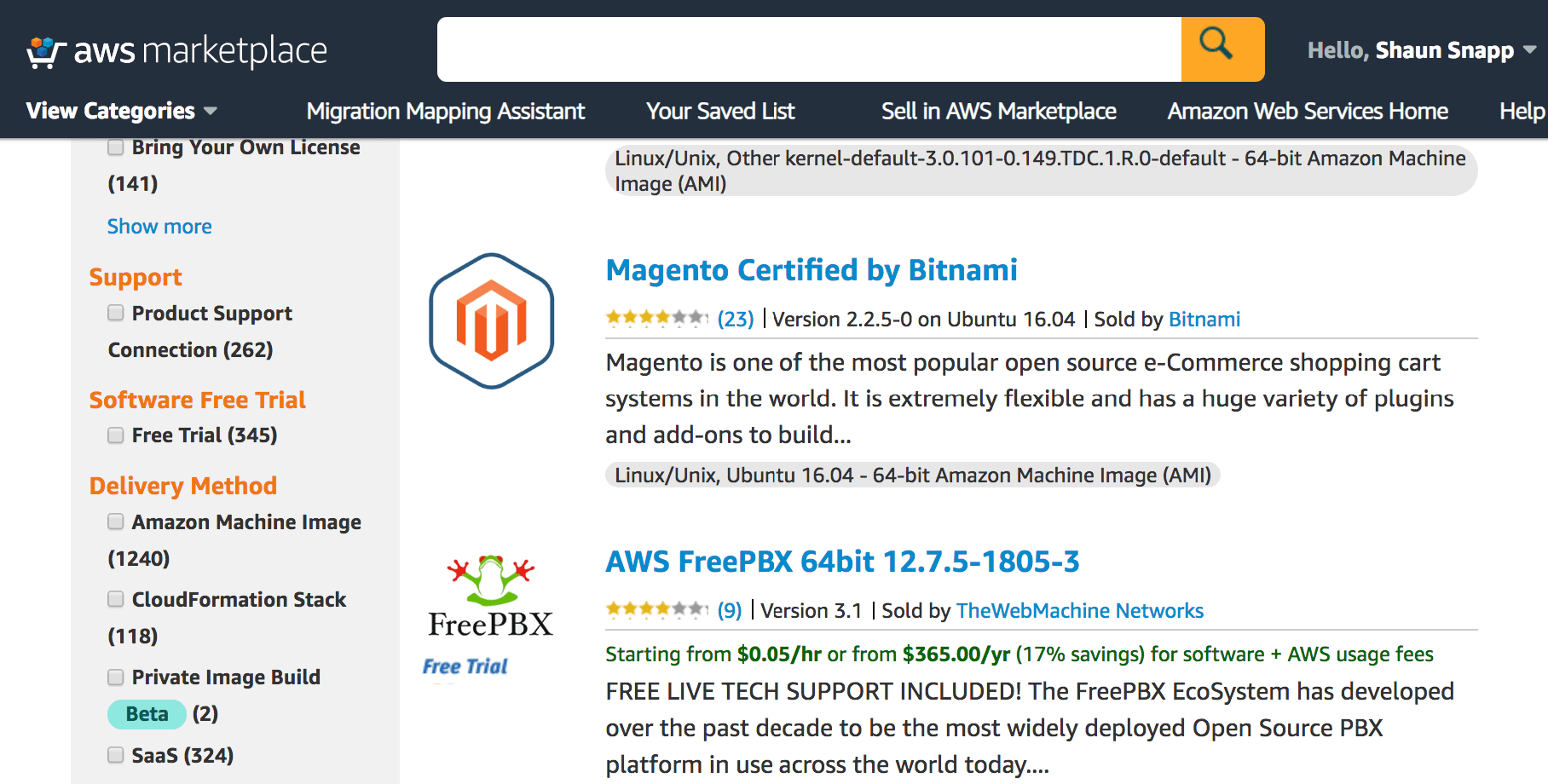 By contrast, this is the AWS Marketplace. The AWS Marketplace is filled with offerings categorized into infrastructure software, developer tools, and business software. Unlike the SAP App Center, these applications can be installed on AWS.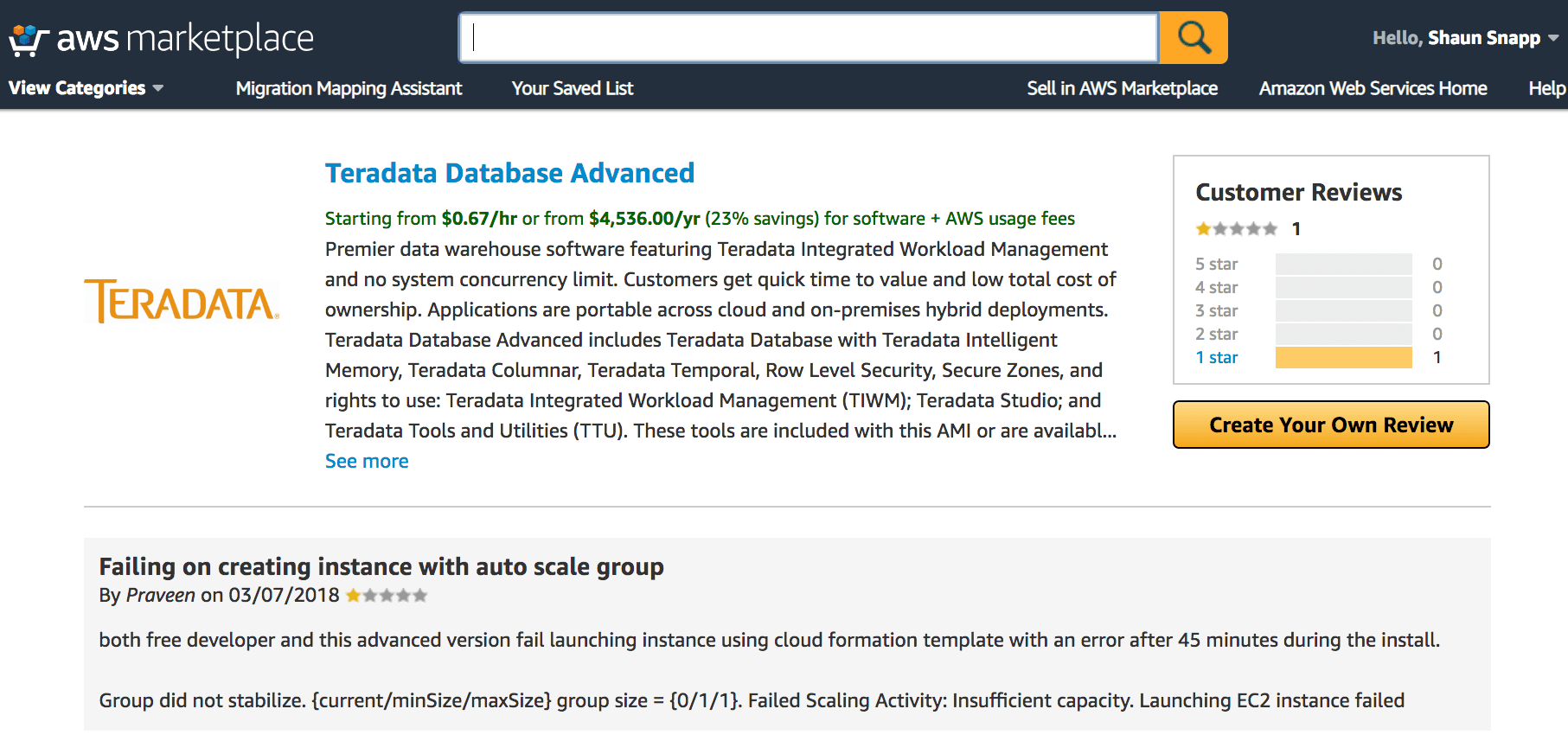 As with the AWS store, reviews are allowed. And apparently, they allow negative reviews, which is a good indicator of accuracy (web entities like G2Crowd may have a few negative reviews, but the overall score always ends up being 4 or higher).
AWS and Google have become so popular that the major vendors have to provide offerings or risk losing out on market share. Teradata has done exceptionally well under the on-premises model. We doubt they really want to be on AWS's marketplace and face competition from open source offerings in such an easily comparable way. However, they don't want to lose out on AWS's customers. Teradata has also seen the future and has migrated its focus to the cloud. It turns out that leveraging cloud services greatly enhances data warehousing, Teradata's core market, which we will cover later in the book.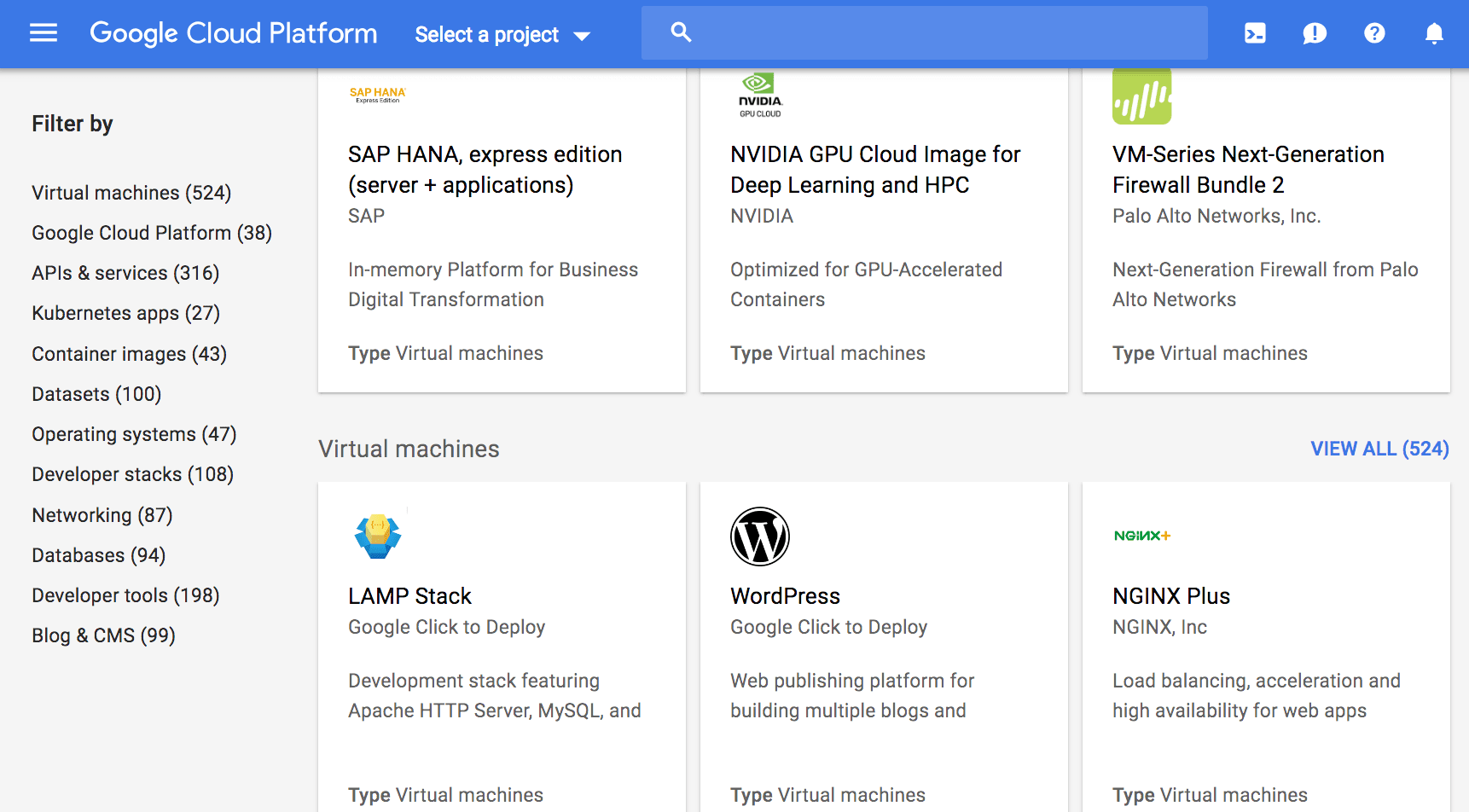 The Google Cloud Platform Marketplace is another example of easy to implement components. None of these items is brochureware. They are immediately available for installation.
Quickly Testing Components
The ability to immediately install components on a marketplace is a critical distinction between SAP and Oracle's marketplaces and AWS and Google Cloud's marketplaces. AWS and Google Cloud's marketplaces are designed to get you to spin up the service as quickly as possible. There is no one you have to talk to, there is no back and forth on secret pricing, there is no waiting while price estimates are run up different hierarchies and where customers are told: "we want to get you the very best price." Instead, the customer begins using the service. Usually, a tiny instance is activated for testing, and the billing usually is small until later in the process when the instance is grown.
All of this translates to the usage is immediate. Or that is close to immediate as the service does, of course, have to install on the account, which is normally in just a few minutes. This is fantastic and genuine innovation in the industry. The efficiency differences between this way and the old on-premises way are stark. And not all cloud providers have mastered this equally, as will be explored as this book progresses.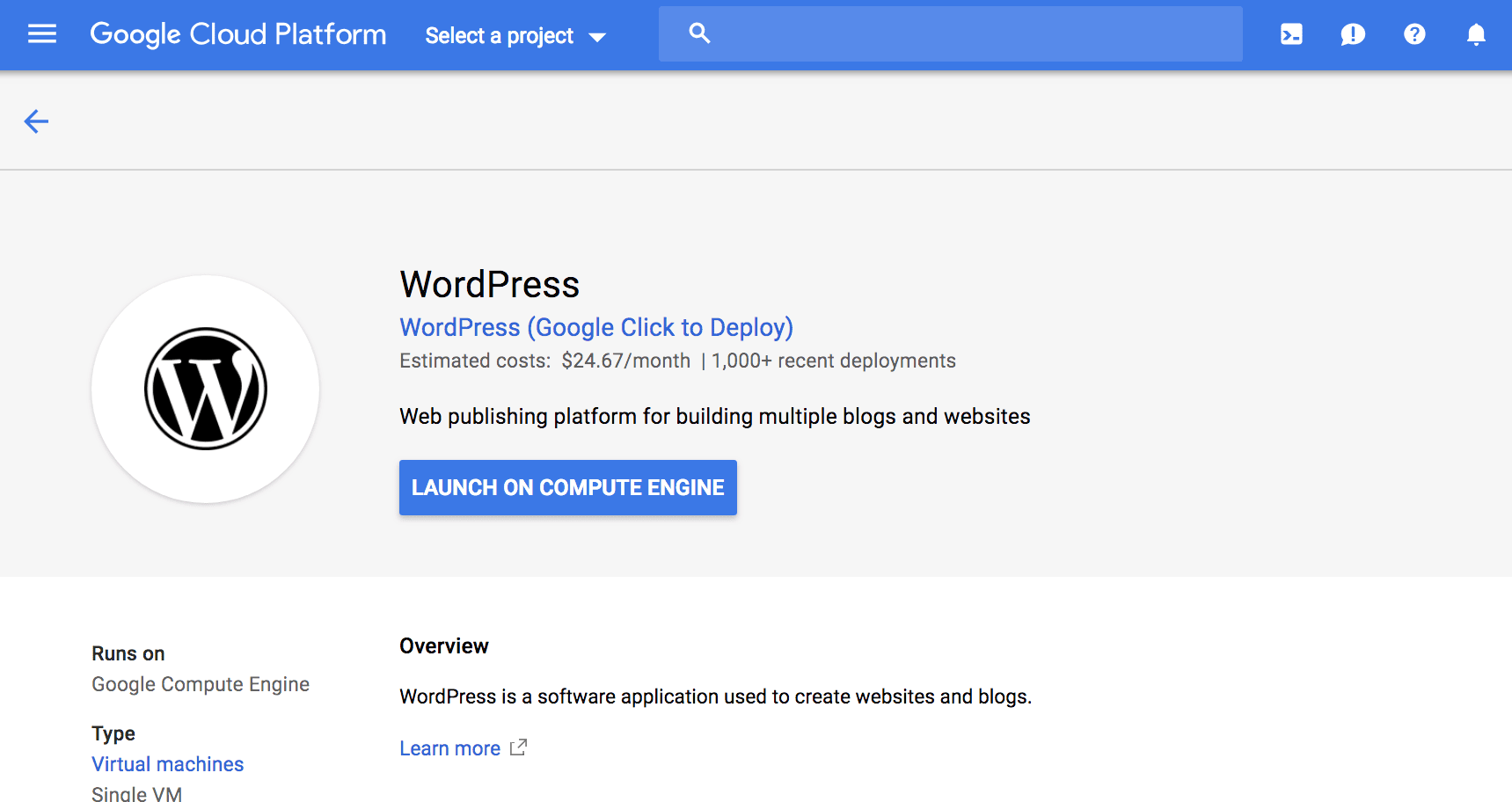 As soon as the item is selected, the cost is estimated, and it can be immediately launched. WordPress is a web application, but notice, it is launched as its virtual machine. This is only one "flavor" of WordPress. Google Cloud offers several other WordPress flavors. Each one a bit different, and one of them likely to fit the needs of a customer. Each can be tested to see which is the best fit for the customer's requirements.
Constant Innovation in the Cloud
Both companies are offering new additions and improvements all the time. Regarding innovation, there is just no comparison between AWS and Google Cloud and these two vendors. AWS by itself far exceeds the year-to-year change as well as improvement offered by both SAP and Oracle. AWS and Google Cloud spend far less as a percentage of their revenues on sales and marketing. Instead, they a far higher percentage of their revenues to development and building infrastructure. You could tell this without even looking at the financial statements of these four companies. Interested in seeing the breadth of this innovation as it appears to the user?
Let us review AWS's services.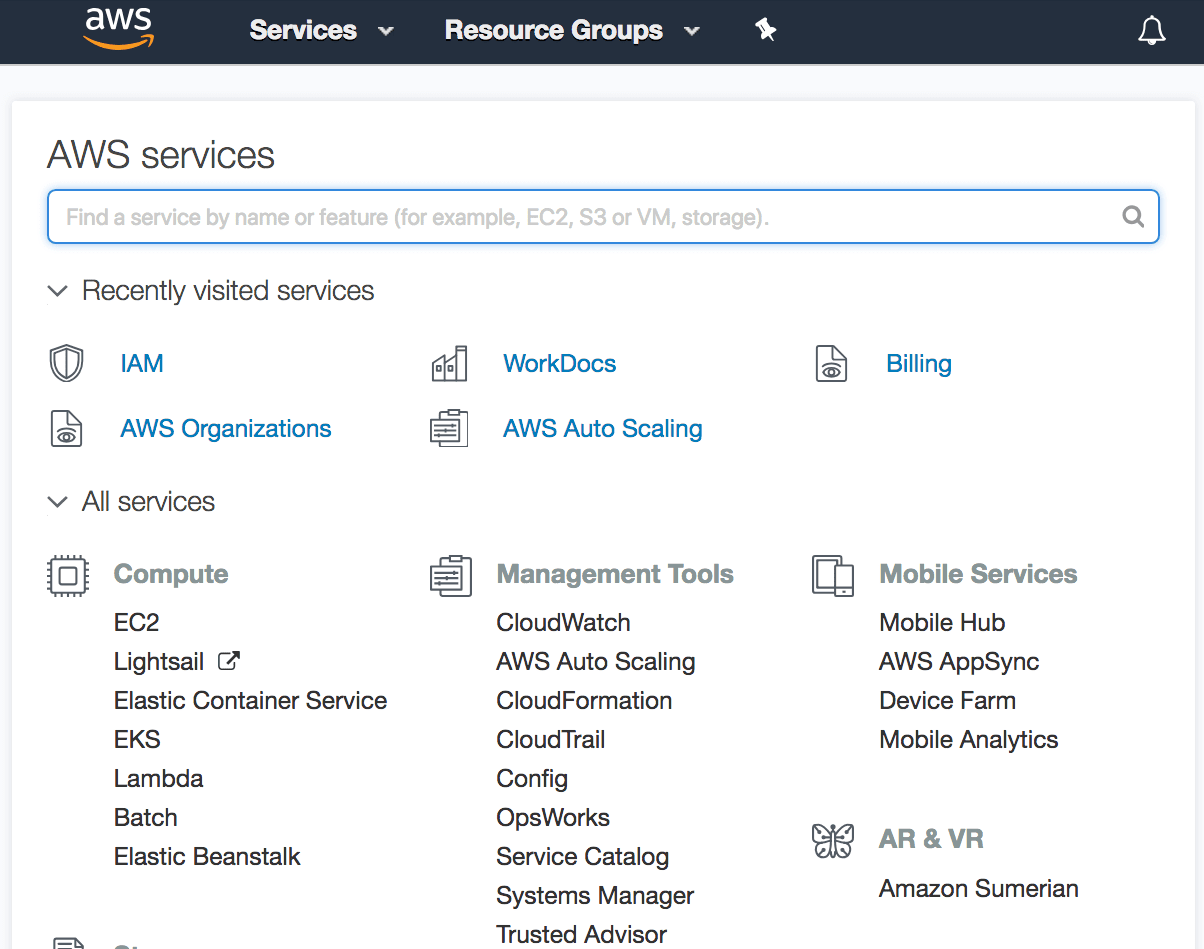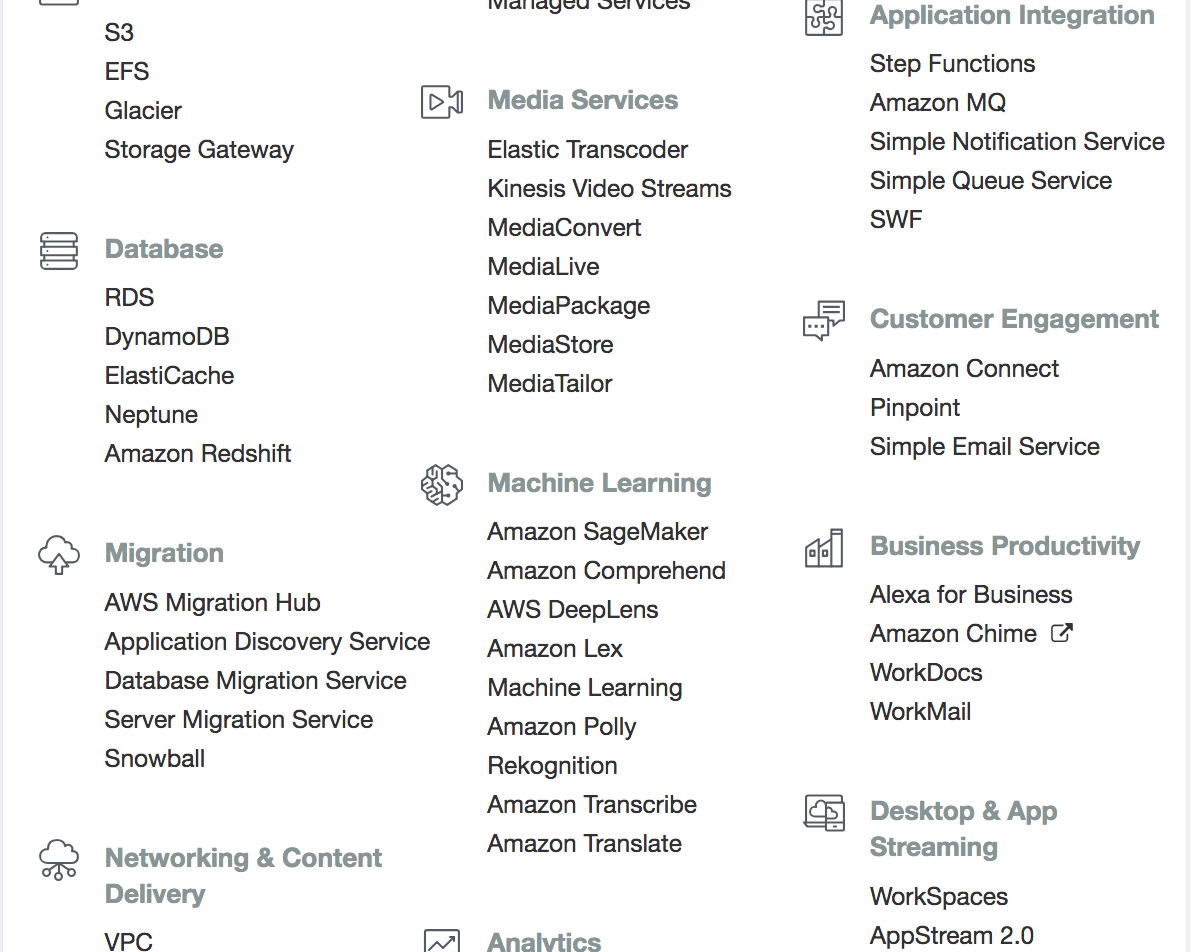 AWS's service catalog shows the amazing breadth of AWS's offerings. This catalog can be searched from this screen or Google.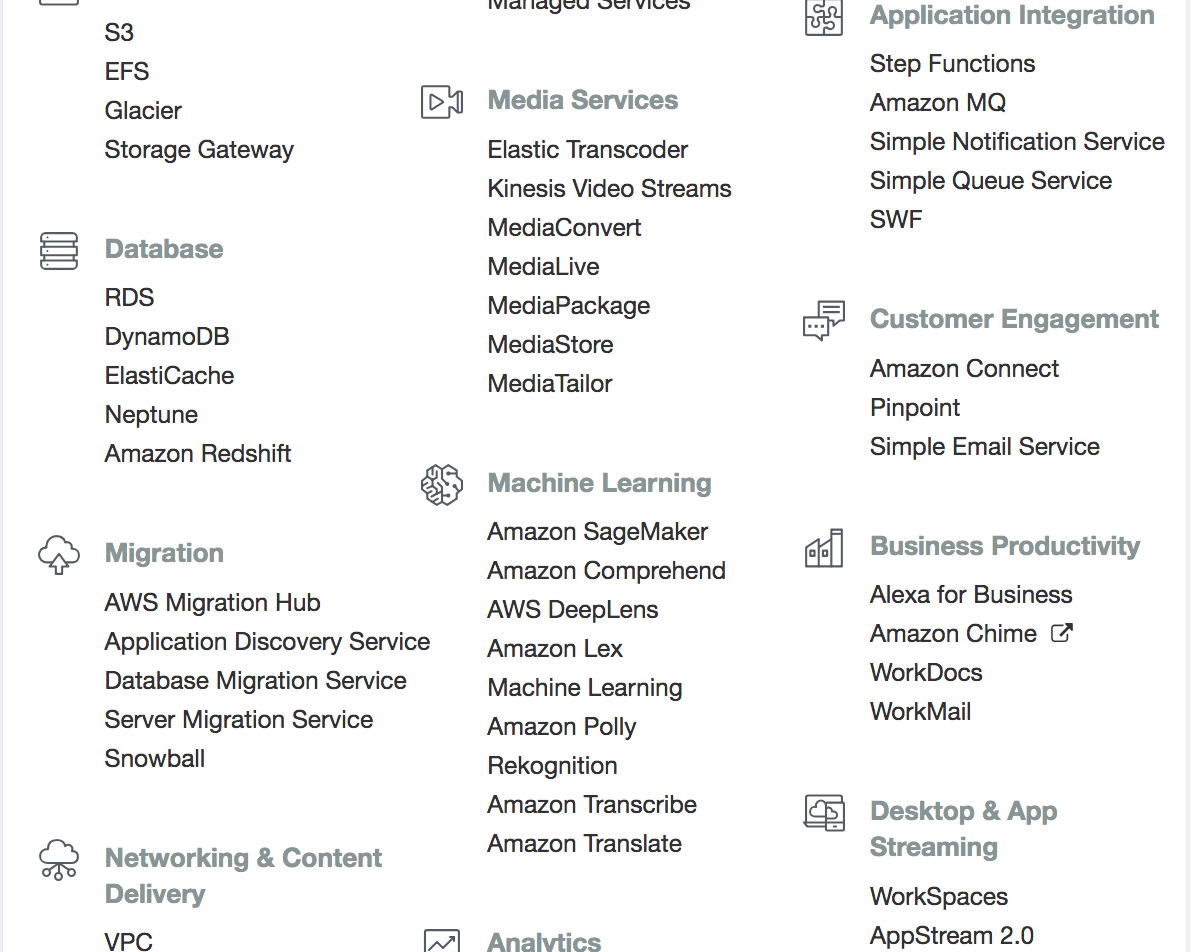 This is the second page.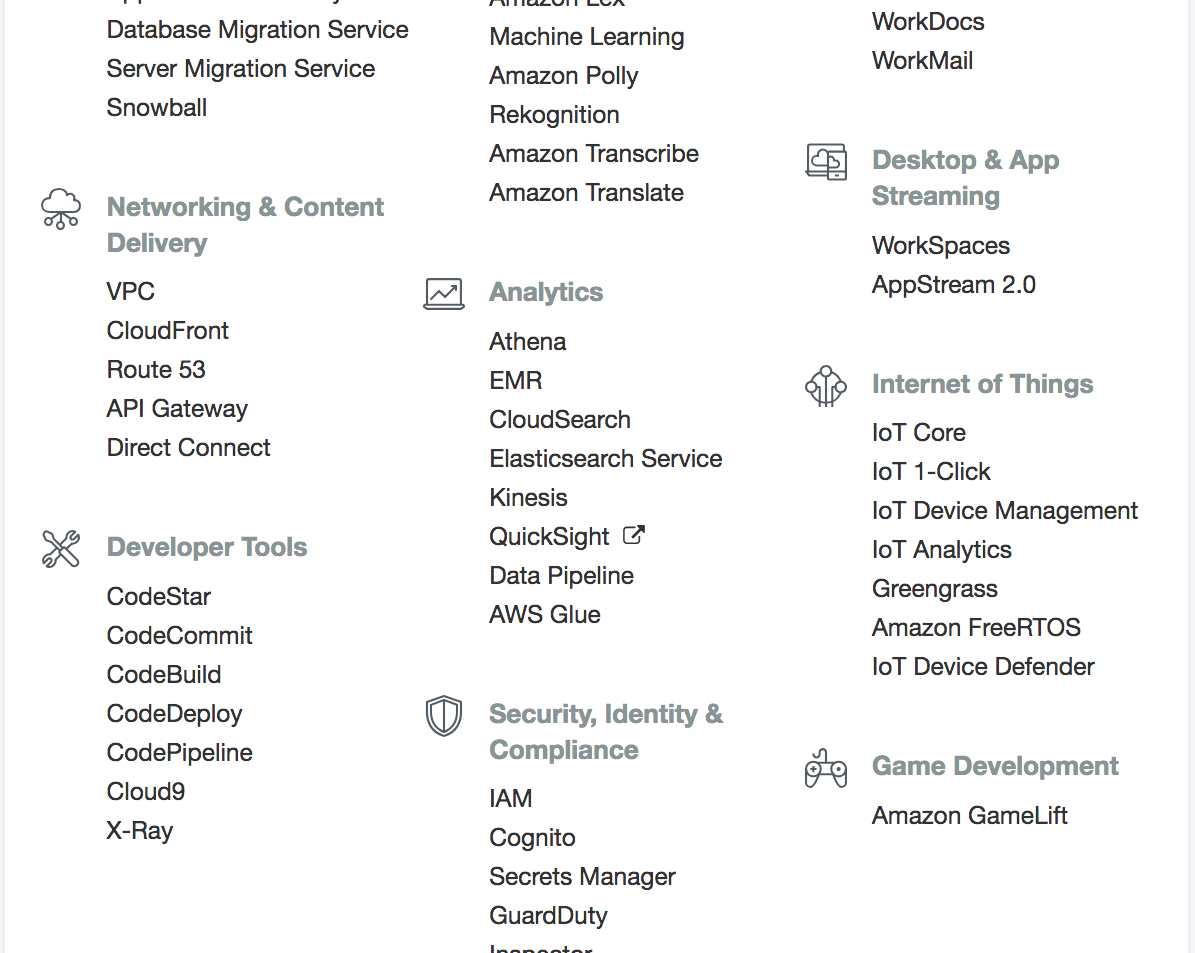 No one can keep up with AWS's services and new service introductions!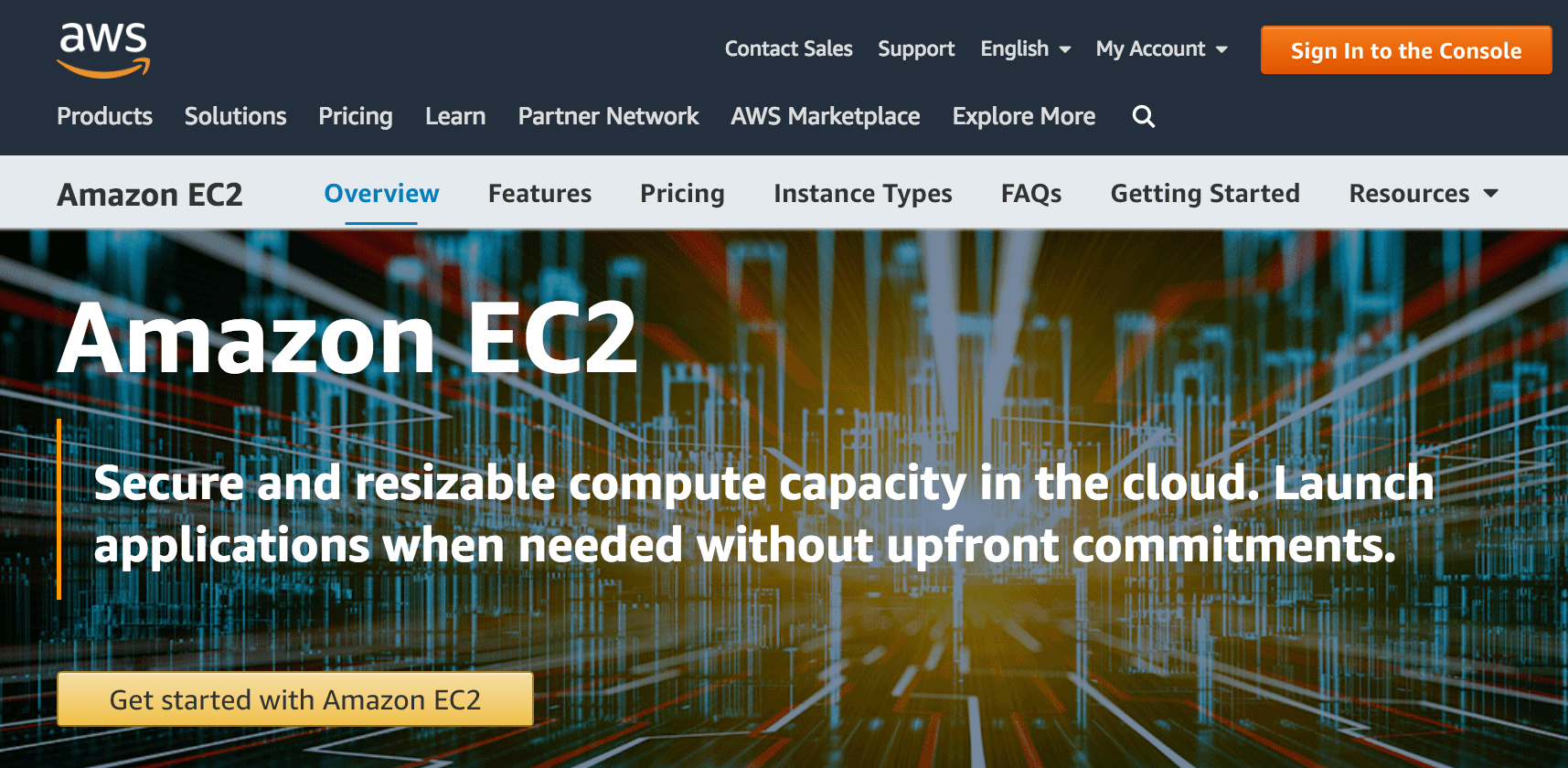 Once a service is found, it can be activated by selecting the "Get Started with…." button. If you are logged in, it opens immediately. If not, all that is required is to sign in to the console.
AWS has so many services it will often lead to information overload.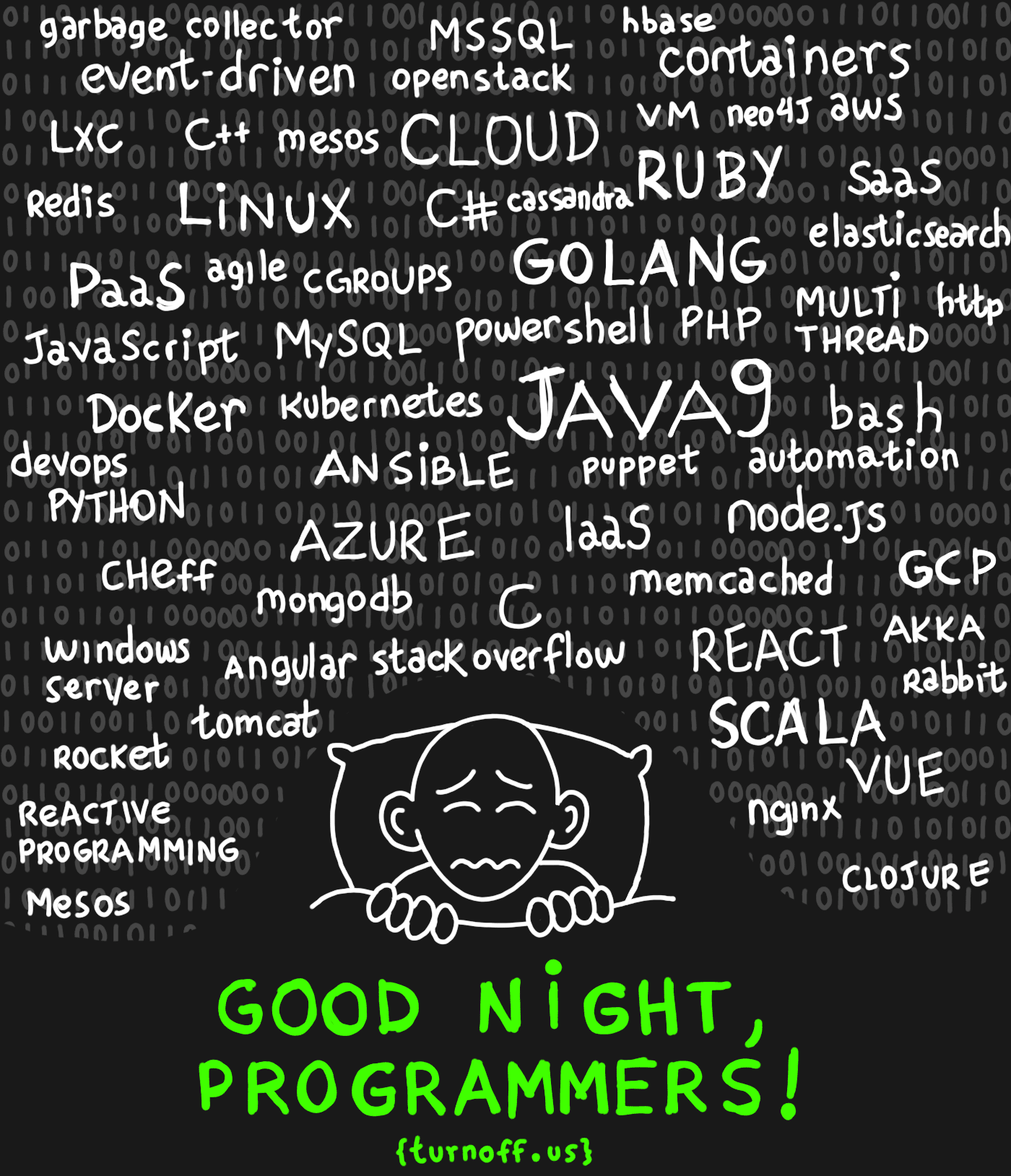 Welcome to the anxiety of being a developer trying to keep up with all the changes that constantly come from the options deployed in the cloud.
The Tools of the Trade
Both SAP and Oracle use tools to control their accounts into doing what is bad for their customers, but which is good for SAP and Oracle, particularly what gives SAP and Oracle the revenues in the areas that they need to demonstrate revenues to customers. For SAP, the tool of choice is called indirect access, where they declare any connection of a system to an SAP system is a violation of the license agreement and requires compensation. SAP enforces this rule inconsistently, depending upon how much the customer is generally bending to their will. And cloud purchases are just one of the actions that SAP wants from customers. We covered how this same tactic was used by SAP to falsify S/4HANA purchases, most of which ended up as shelfware in the article How Indirect Access Drove S/4HANA Purchases. And this was exposed in the book SAP Nation 2.0 as in the following quotation.
"Other customers report "gun to the head" behavior. In a spin-off situation, SAP demanded a hefty assignment fee, but offered an alternate multiyear contract on its cloud products, which the customer did not need. In another such situation, SAP threatened to invoke its "indirect access" clause (a tactic many customers report)-again, the customer was offered a cloud subscription as an alternative."
For Oracle, the tool of choice is the software audit. Customers are threatened with an audit if they do not purchase the requisite number of cloud licenses. It should be understood that the number of cloud licenses put forward to the customer by Oracle has nothing to do with what the customer needs and everything to do with the cloud quota that the sales rep must meet. And further, the rep cares less if the licenses are used and more if they are purchased.
Conclusion
This chapter was designed to illuminate the reader that SAP and Oracle are not really cloud vendors. Eventually, they will be, but they will be pulled to the cloud kicking and screaming. And by the time they make it, they will have lost much of their market position.
They are presently somewhere in the third or fourth stage of grief, which is bargaining and depression.
Stage 1: Anger
Stage 2: Denial
Stage 3: Bargaining
Stage 4: Depression
Stage 5: Acceptance
At the time of this publication, SAP and Oracle are pretending that they are something they are not. And there is certainly plenty of gas (and money) left in the tank in the on-premises model. SAP and Oracle have demonstrated that they will ride the on-premises model until its end, which is really not so much an end per se. However, a greatly reduced part of the overall market (mainframes are still with us after all), leading to new entities taking their place. And those new entities will be the cloud.
AWS and Google Cloud will be two of them. In the next chapter, we will cover one of AWS and Google Cloud's most popular uses, which is to move on-premises databases out to these providers.
SAP has an enormous number of basically out-of-it customers who can't do any independent research and find Deloitte or Infosys to be "good sources of information." SAP can milk that account base for many years. Most likely, SAP is studying IBM very intently. IBM is a poster child for how to manage a long-term decline. The growth is finished, but plenty of money is still extracted from the installed base.