How SAP Sucker Punched Customers with S/4HANA
Last Updated on May 24, 2021 by
Executive Summary
SAP continually overstates the number of S/4HANA customers that are live.
SAP has misled customers how much cost and time S/4HANA is for ECC customers minimizing the problems with S/4HANA.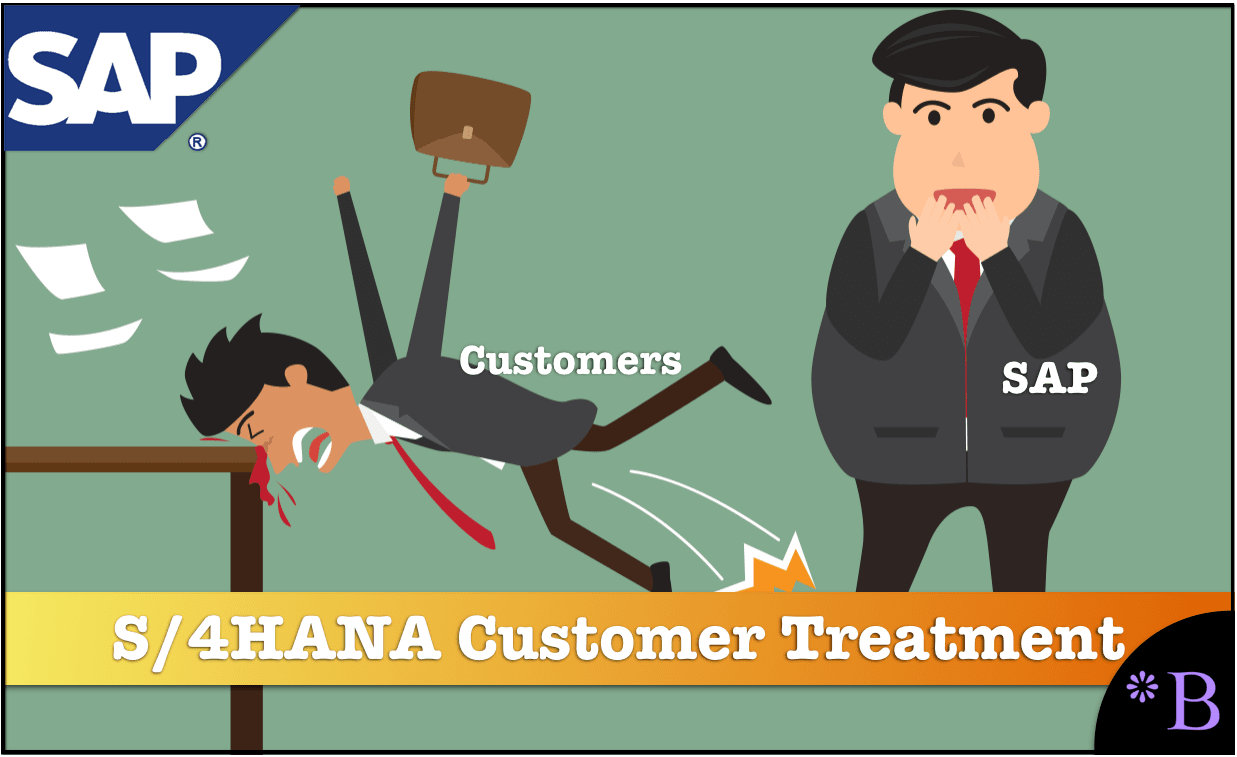 Video Introduction: How SAP Sucker Punched Customers with S/4HANA
Text Introduction (Skip if You Watched the Video)
SAP's S/4HANA is a curious product. It is made more interesting because it has what is, in our estimation, one of the highest overheads of any application ever introduced. SAP has made one false claim after another about S/4HANA to get customers to purchase and implement the application while locking customers into more restrictions than any SAP ERP system has ever had before. SAP is proposing once again that a highly complex and high maintenance application reduces TCO. You will learn how far from being good for customers, as SAP has said, S/4HANA is damaging to SAP customers.
About C4/HANA
The following comment by Amed Azmi highlighted this issue.
"C4/HANA is SAP's final attempt at getting the CRM story right. The intelligent enterprise and the front-back office suite all hinge on customers being already on S4/HANA for DATA to be shared between SCM and CRM systems. Solving for S4/HANA migration, again."
This is correct.
It is not only C/4HANA, but other SAP applications forecast that many customers will be migrating to S/4HANA. However, S/4HANA's penetration is shallow.
Our References for This Article
If you want to see our references for this article and other related Brightwork articles, see this link.
Lack of Financial Bias Notice: We have no financial ties to SAP or any other entity mentioned in this article.
This is published by a research entity.
Second, no one paid for this article to be written, and it is not pretending to inform you while being rigged to sell you software or consulting services. Unlike nearly every other article you will find from Google on this topic, it has had no input from any company's marketing or sales department. 
SAP's Continual Overstatement of the Number of S/4HANA Customers
SAPPHIRE 2018 stated that it had sold 8900 licenses of S/4HANA and had 1500 customers live on HANA. We published a Study on S/4HANA implementations. We found that SAP had significantly been exaggerating the numbers of live S/4HANA implementations since S/4HANA was first introduced.
Upgrade to S/4HANA or Lose the Value of Support?
SAP thinks that companies that don't move towards S/4HANA are missing out. SAP has stated that.
"If you are paying maintenance but not getting innovation, there is no reason not to upgrade. Support value comes from being upgraded."
However, the cost of migrating to S/4HANA is enormous. The costs hit SAP customers from more angles than they can forecast before they perform the implementation. And of course, Hasso Plattner, proposes that S/4HANA reduces a company's TCO.
"Dr. Plattner says in the book "You wouldn't believe my prognosed TCO savings (for S/4HANA), but here are some facts, data entry is three to four times faster, analytics is ten to one thousand times faster, the development of extensions is much faster, and there is significantly less database administration work, with a data footprint of 1/10 and an unlimited workload capacity via replication.""
Our score on Hasso' "facts" are as follows:
Data Entry: No evidence presented, but no reason to think data entry is three to four times faster. If Hasso is referring to SAP Fiori, we found Fiori to be slower than SAPGUI!
Analytics: Slower than a lower hardware footprint for the same year of Oracle, DB2, or SQL Server.
Database Administration Work: Significantly more database administration work, as we cover in our Study into the TCO of HANA.
Data Footprint: Estimated to be between 30% and 50% smaller, as we cover in the article The Secret to Not Talking About the Cost of HANA.
Amazingly, SAP wants to be paid for the S/4HANA upgrade. And the major consulting companies are doing whatever they can to hide the cost of upgrading from customers. Furthermore, SAP is building its strategy around S/4HANA. However, if S/4HANA penetration continues to be so low, what about these other items that rely on S/4?
How SAP Could Improve its Customer Numbers with S/4HANA
SAP has two easy decisions to make on S/4.
Certify Oracle, DB2, and SQL Server for S/4. This will stop penalizing companies and be forcing them to use the disaster that is HANA.
Make S/4HANA free. The standard upgrade should cover S/4HANA. There is no reason for SAP to stab customers who already paid for ECC maintenance.
Those two things would do wonders for S/4HANA. A third thing they could do would admit too much defeat so that they won't do it. But it is the following:
Replace the HANA schema with the ECC schema. This will minimize the breakage of customizations and integrations.
The column-oriented design is entirely unnecessary for an ERP system.
Conclusion
Buying and implementing S/4HANA for companies with ECC is a ridiculous proposal because of the costs it imposes on the customer. It's like SAP was body-slamming its customers in a way that will lead to some of the IT leadership losing their jobs because of how disruptive and expensive (in implementation) S/4HANA is. Secondly, there is no way around most of these costs.
We predict that S/4HANA will cost SAP customers in the future and lead to SAP's declining market share in the large ERP market in the coming years.
We cover what customers should do about S/4HANA in the article What Should Customers Do About S/4HANA Failures?