How to Understand SAP's Upcharge as a Service Cloud
Last Updated on January 4, 2021 by
Executive Summary
SAP has structured its SAP Cloud to provide a massive upcharge on providers like AWS and GCP.
In this article, we cover how the Upcharge by SAP works.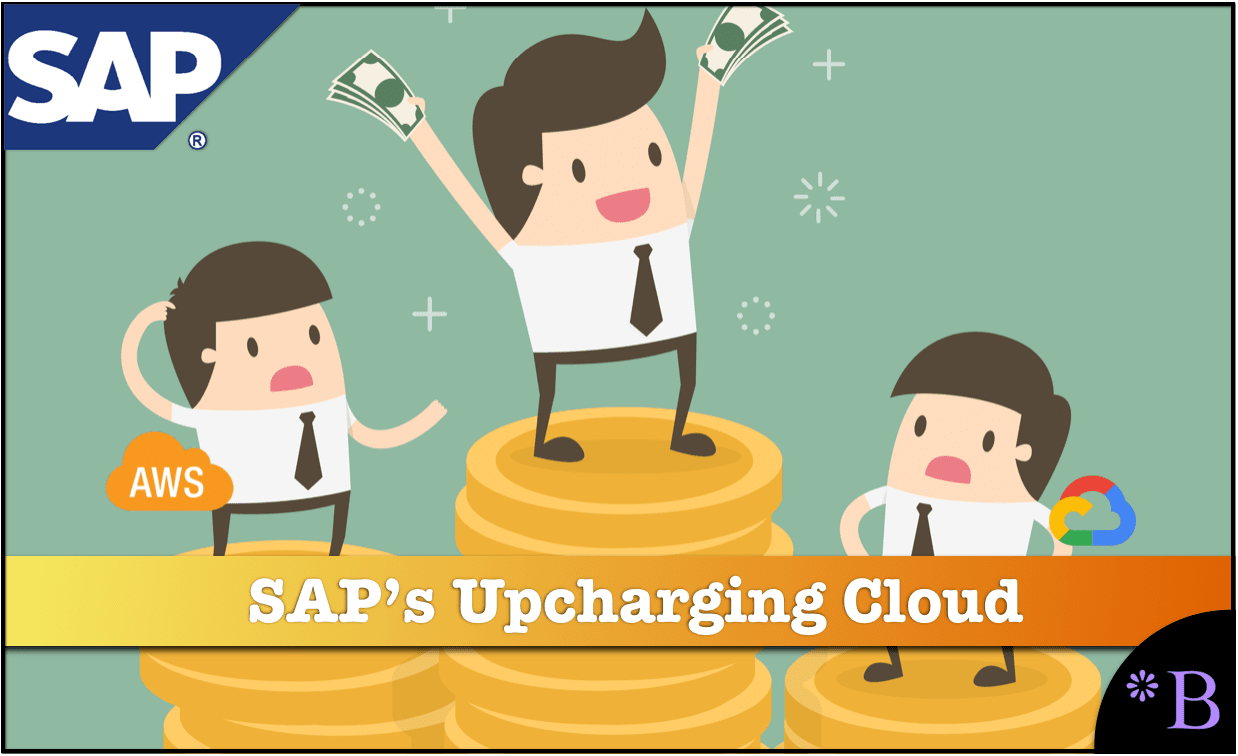 Introduction
We analyzed SAP Cloud, trying to figure out how it adds any value. And we think that SAP may have created a new cloud offering, but without telling anyone.
See our references for this article and related articles at this link.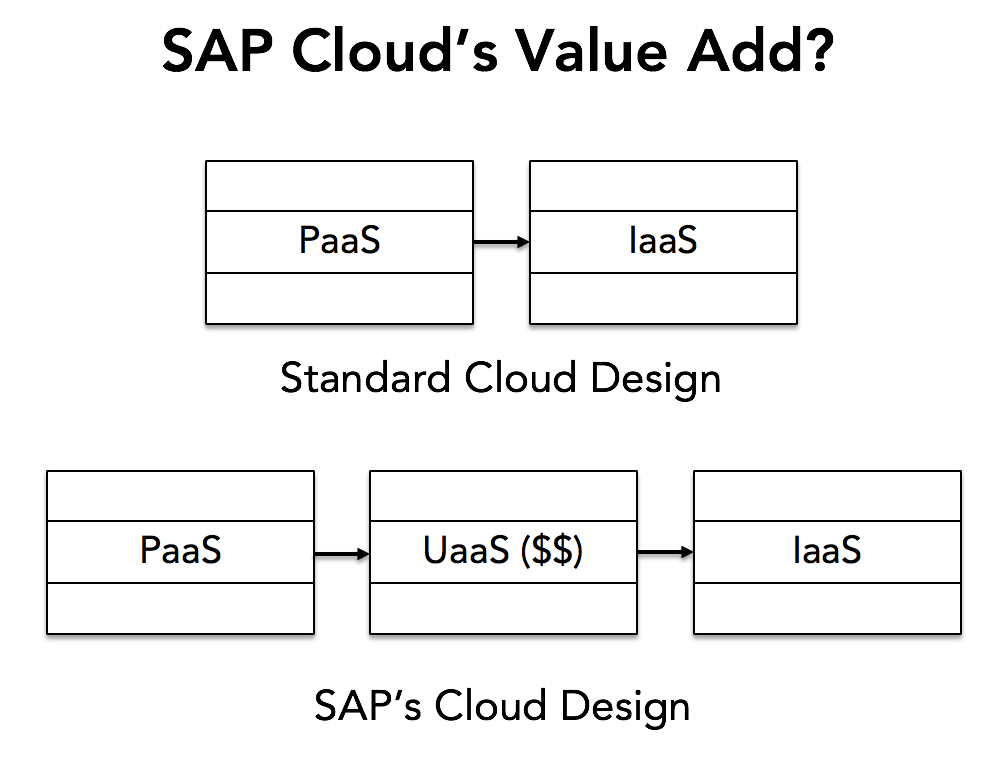 We categorize SAP Cloud not as a PaaS or an IaaS, but as a UaaS, or what we have coined Upcharge as a Service. The UaaS intermediates between the PaaS and IaaS. The solution design is as follows PaaS + UaaS (for upcharging + cloud frustration) + IaaS. It is that essential component that ensures that the entire solution incorporates SAP.
Why UaaS is Necessary?
UaaS does two critical things. First. It SAP-washes the overall cloud endeavor. Some customers want SAP involved, just for a certain comfort level, so instead of being some "pirate" operation, it is now standard SAP. Second, the UaaS helps absorb excess budget, the budgetary consumption of which is reduced by the use of the cloud. The reason for this is the savings from using the cloud will be too jarring for customers without a value-free intermediator that can absorb some of the excesses. This is why SAP recently signed up to buy more AWS.
"SAP announced its multi-cloud strategy more than two years ago," a spokesman for the Walldorf, Germany-based software company said in a statement, referring to SAP's plan to maintain a presence on the world's largest public clouds, such as AWS, Microsoft, Google, International Business Machines Corp. and Alibaba Group Holding Ltd.'s cloud. "We believe in the power of collaboration." SAP declined to comment on the Amazon agreement outlined in the memo."
SAP can't create infrastructure anywhere near the cost or competence of AWS. So the strategy is now to buy from AWS, but then markup AWS. The profits are far higher to simply buy from AWS. SAP needs a significant margin to interest it in doing things. There is not enough margin in the cloud to interest SAP in building its cloud. Therefore SAP Cloud merely is designed to allow SAP to upcharge customers for AWS, Google Cloud, and Azure.
The Position of the Consulting Companies
What is the position of the consulting partners? Well, let's borrow a scene from a famous movie.
Jack Sparrow: "Who are you?"
Tai Huang: "Tai Huang. These are my men."
Jack Sparrow: "Where do your allegiances lie? – With the highest bidder."
Tai Huang: "I have a ship."
Jack Sparrow: "That makes you the highest bidder."
Jack Sparrow: "Good man. Weigh anchor, all hands. Prepare to make sail."
And as with the pirate Tai Huang in the Pirates of the Caribbean: At World's End, the SAP consulting partners recommend whoever is the highest bidder. They will recommend SAP Cloud as they will get a percentage, and SAP can afford to pay them a great percentage because the markup is so high. As soon as they understand that percentage, they will say…
"SAP Cloud is necessary, it is standard SAP."
Why is SAP Proposing the Cloud?
This gets into the topic of why SAP is proposing the SAP Cloud in the first place (outside of cloud washing that is). And this means understanding how SAP controls the development of their customers, historically forcing them to use ABAP and proprietary development tools. Furthermore, Hasso Plattner stated for years that he did not even believe that public cloud (which is just cloud, a private cloud is only hosting) was a fit for SAP customers, as this quotation attests.
"During a Q&A session, SAP chairman Hasso Plattner dismissed the benefits of multi-tenant delivery of its enterprise application, primarily those that deal with mission-critical functions like supply chain and financials. Plattner recalled a heated debate over the merits of multi-tenancy with Lars Dalgaard of SuccessFactors after it was bought by SAP in 2012. To this date, Plattner's position, though not unique, remains that SAP's biggest customers — fearing unnecessary business disruption — would still prefer deploying their applications either in a private cloud setting or as a managed service, all without the intrusion of continuous updates commonly found in other Cloud applications."
How Hasso Really Feels About the Cloud
The first problem with this is that hosting has nearly none of the advantages of the cloud. Therefore, in this quotation, Hasso Plattner may as well be railing against the cloud as an overall construct. This is actually how Hasso feels about the cloud, but over the past few years, he has stopped expressing this view publicly. In our opinion, it's no longer a perspective that will help SAP credibly cloud wash.
The second problem is that SAP has previously stated that one of the primary reasons that it purchased SuccessFactors to gain cloud expertise. Lars Dalgaard was a well-regarded expert in the cloud. When brought into the fold of SAP, he is told that SAP disagrees with the premise of cloud, clashes with Hasso Plattner, and leaves the company. Since the SuccessFactors acquisition, SAP has been mostly unsuccessful in converting SAP customers that used SAP's ERP HR solution, called HCM to SuccessFactors. SAP fundamentally rejected the view of Lars and other experts on the cloud, which was a company they made a conscious effort to purchase and purchased at a premium. SAP then tries to get SuccessFactors to port to HANA, which the SuccessFactors team tells the rest of SAP they have no interest in doing as they don't see the value and don't want the complications that come with HANA.
What was the purpose of purchasing SuccessFactors if this was going to be the outcome?
The experience with SuccessFactors is repeated with other cloud vendors that SAP acquires.
And SAP's position on cloud is reinforced by first-hand accounts of its investment into cloud as described in the following quotation from the book SAP Nation 2.0.
"There is another concern about SAP's S/4 public cloud. The data center in Sankt LeonRot Germany, while close to SAP's impressive Walldorf headquarters, does not itself inspire much confidence. It has been called puny and primitive compared to the data centers of infrastructure as a service providers like Amazon, Microsoft Azure and Rackspace. Indeed competitors like Infor and Unit4 are using infrastructure-as-a-service (using data centers from Amazon and Microsoft respectively) rather than trying to compete with their scale."
This is why SAP finally opened the SAP Cloud to accessing AWS, Google Cloud, and Azure. We covered this in the article How to Understand SAP's Multicloud Announcement.
The Real Story Versus the Story Created for Wall Street
While SAP continues to make headlines with various cloud vendor acquisitions solidifying its cloud credentials with Wall Street, the story from behind the scenes is not good.
"Even where SAP offers public cloud options-for example with its SuccessFactors and Concur customers– the individual data centers are undersized and often supported by co-location vendors around the globe. SAP's about 82 million cloud users are fragmented across products and across geographies. Little attempt appears to have been made to date, to consolidate data centers that support them. While compliance requirements dictate regional diversity in such facilities, they are further reminders of Balkanization in the SAP economy."
How Does this Compare to AWS and Google Cloud?
This is the exact opposite of how AWS and Google Cloud have built their cloud capabilities. All of this background is going to make it very difficult for SAP to ever compete in the cloud. This is why we recommend for customers that want to use SAP applications, get them placed on AWS and Google Cloud, and pass on SAP's cloud offerings.
In our view, Infor and Unit4 have made the obvious decision. Even the largest SaaS vendor now uses AWS Open question to SAP's cloud – is how to upgrade your application. Try to imagine that you have 200 servers, and you need to upgrade 40 of them from version 1.004 to 1.007. Nobody knows how to do that in the SAP Cloud. In AWS, you only need to upload new NGNIX configuration two times, and all will be done, and it will take about 0.002 seconds for two operations.
The Price of SAP Cloud
The SAP Cloud is an uncompetitive mess, and that is before the topic of pricing is brought into the mix. Let us review a direct comparison of pricing between SAP Cloud and AWS.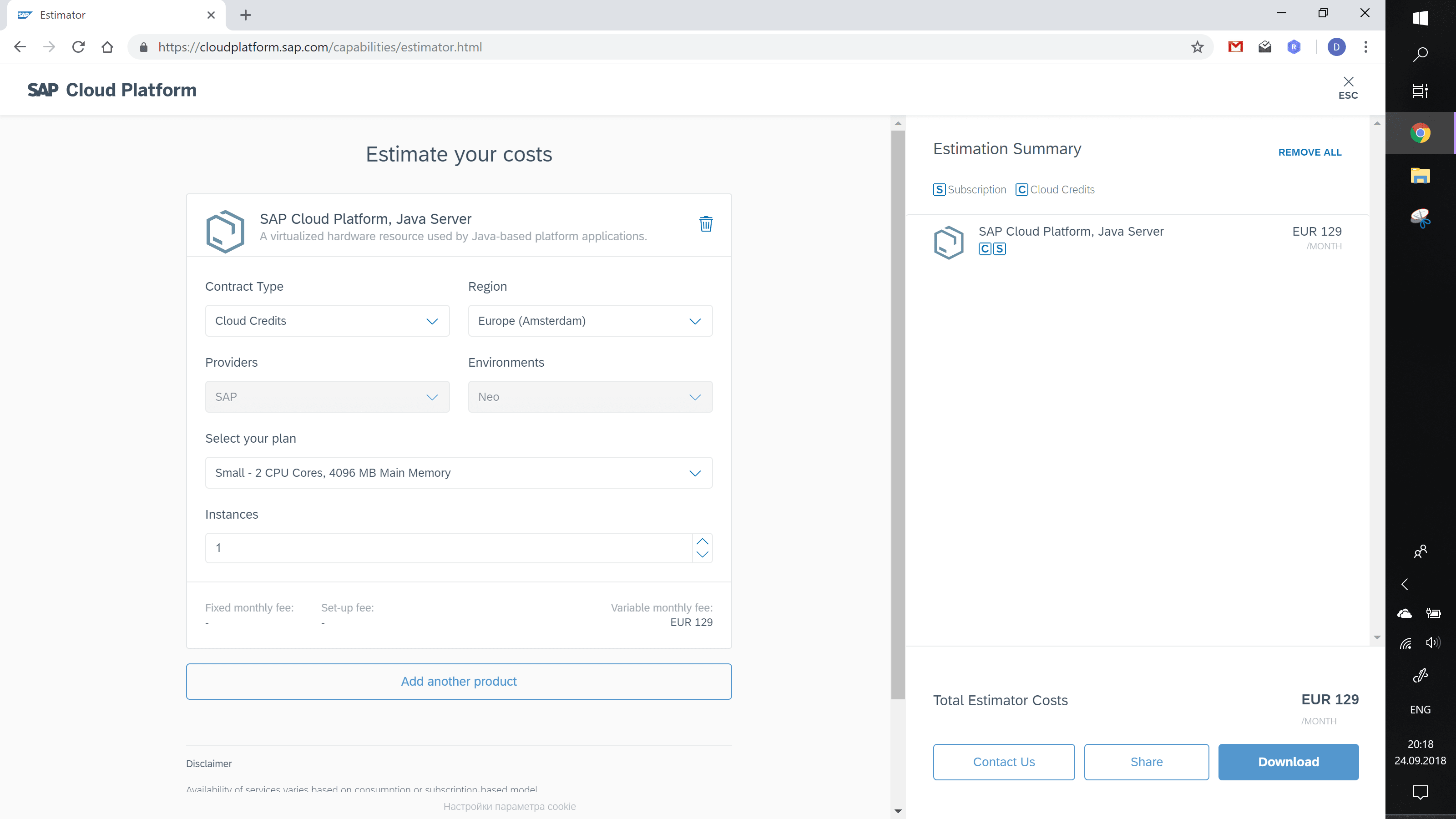 Here is the price for a very small configuration. Notice it comes to 129 Euros is roughly $151.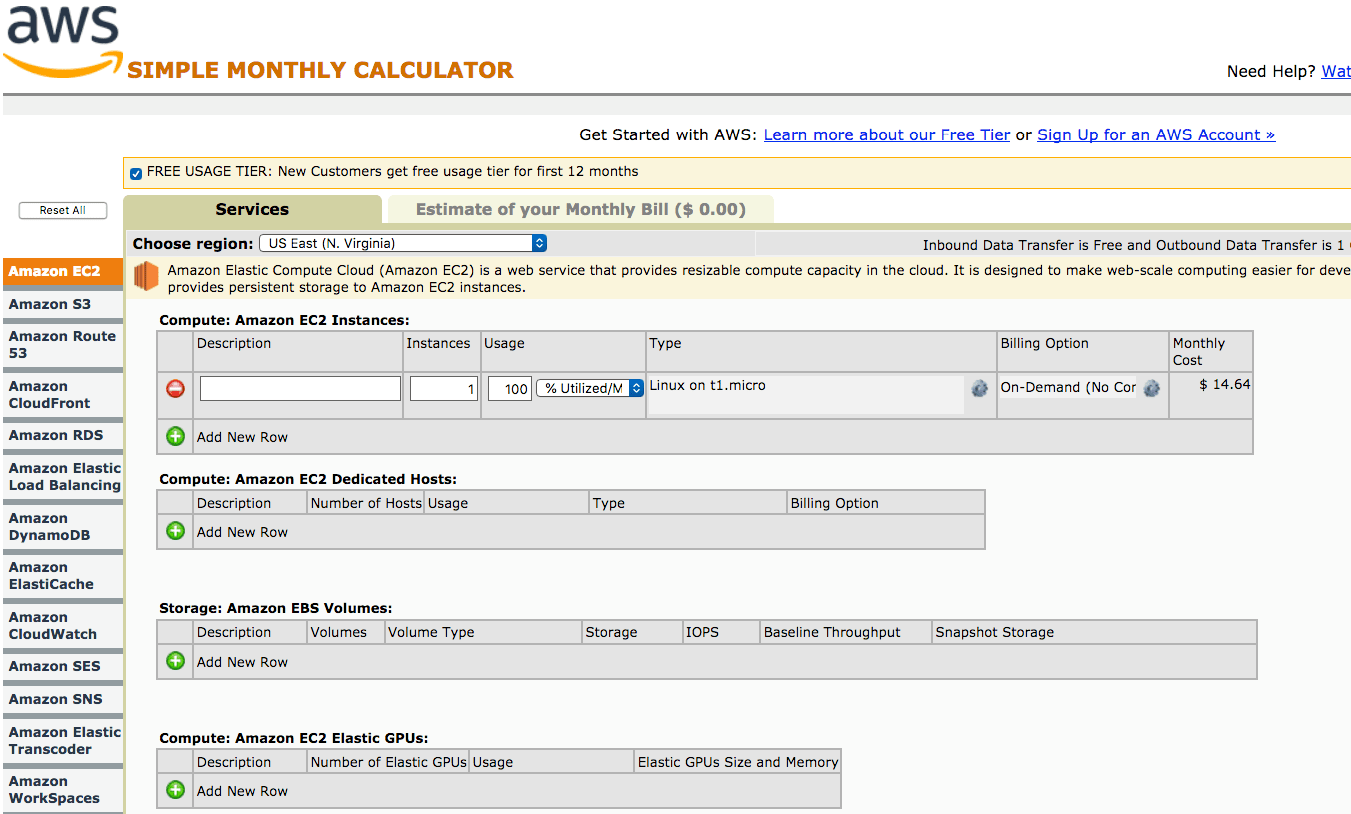 Here is the same configuration on AWS; it comes to $14.64. Now, remember, much of what SAP Cloud sells is just access to AWS (or Google Cloud or Azure). And SAP plans to markup that cost by ten times (151/14.46) = 10.44.
Moreover, this is another major problem with SAP Cloud. One can be able to access some AWS, Google Cloud or Azure services. But they will be far more challenging to set up in SAP Cloud, the menu of services are tiny, some that are proposed to be accessible don't work, and the markup applied by SAP is exorbitant.
This example shows AWS, but SAP is pushing customers away from AWS, Google Cloud or Azure, and towards private cloud/hosted providers and SAP consulting companies.
The Future of SAP Cloud
SAP Cloud has never had many customers and is tiny compared to AWS or Azure or Google Cloud. As these providers continue to grow, the SAP Cloud becomes smaller every year in relation. The following quotation also explains this.
Ultimately, it is a question of size. While hyper scalers like AWS, Google, IBM, Oracle, and Microsoft are able to safely disembark from the journey of iPaaS (too big to fail?), smaller PaaS providers will shipwreck.

SAP serves as an example. Of course, Bill McDermott clings to his "Cloud First" strategy, but internal experts have long since concluded that SAP will not survive with this mindset.

SAP's PaaS business is simply too small compared to hyper scalers – and it is highly likely that it will still be too small in 2023. At SAP Fkom (Field Kick Off Meeting) 2019, SAP therefore presented an exit strategy.

SAP wants to embrace its more successful PaaS partners like Microsoft, AWS, Google, and maybe even IBM, and squeeze their money out of them. It would exist only in their shadow, but at least it would survive. – E3Zine
The Upcharge as a Service strategy that the SAP Cloud will continue to exist, but it will become increasingly irrelevant and simply an OEMing of the services of the actual cloud providers. SAP calls this partnering, but it is really just plan B.

Conclusion
SAP has been marking up items they have nothing to do with for decades. SAP still marks up Oracle databases when they are sold to customers. SAP's strategy in the cloud is to do close to nothing and to have SAP Cloud as a facia or pass-though, but to markup the cloud services of true cloud service providers. The least informed customers will pay SAP the most for the privilege of having SAP do nothing. And SAP can count on compliant propaganda entities like ASUG misexplaining this to "members," as the following quotations attest.
 SAP makes the HANA Enterprise Cloud available via data centers worldwide. SAP says it is bringing online new data centers on an ongoing basis—either SAP owned or co-located. The engagement for HEC customers begins with an assessment service conducted by SAP, followed by onboarding and migration of the customer's applications onto the cloud infrastructure, followed by ongoing application management and support. What's the difference between HEC and a traditional hosting provider? According to SAP, the primary characteristic of HEC is that it is a complete managed service by which SAP provides the infrastructure as well as the deployment and management of the applications. In addition, SAP says, customers benefit from SAP's deep expertise in SAP technologies and HANA. The data centers are run entirely by SAP's application management services team. Other benefits, according to SAP, include a reduction in IT management costs ("moving from opex to capex") and the ability for customers to offload system upgrades to SAP. – ASUG
Everything stated above is false. The hosting is provided by companies like HPE or IBM, and other "private cloud" or hosted providers. SAP is not interested in investing much at all in cloud infrastructure. They will, however, collect their hefty margin. This is why SAP Cloud should be renamed to SAP's Upcharge as a Service.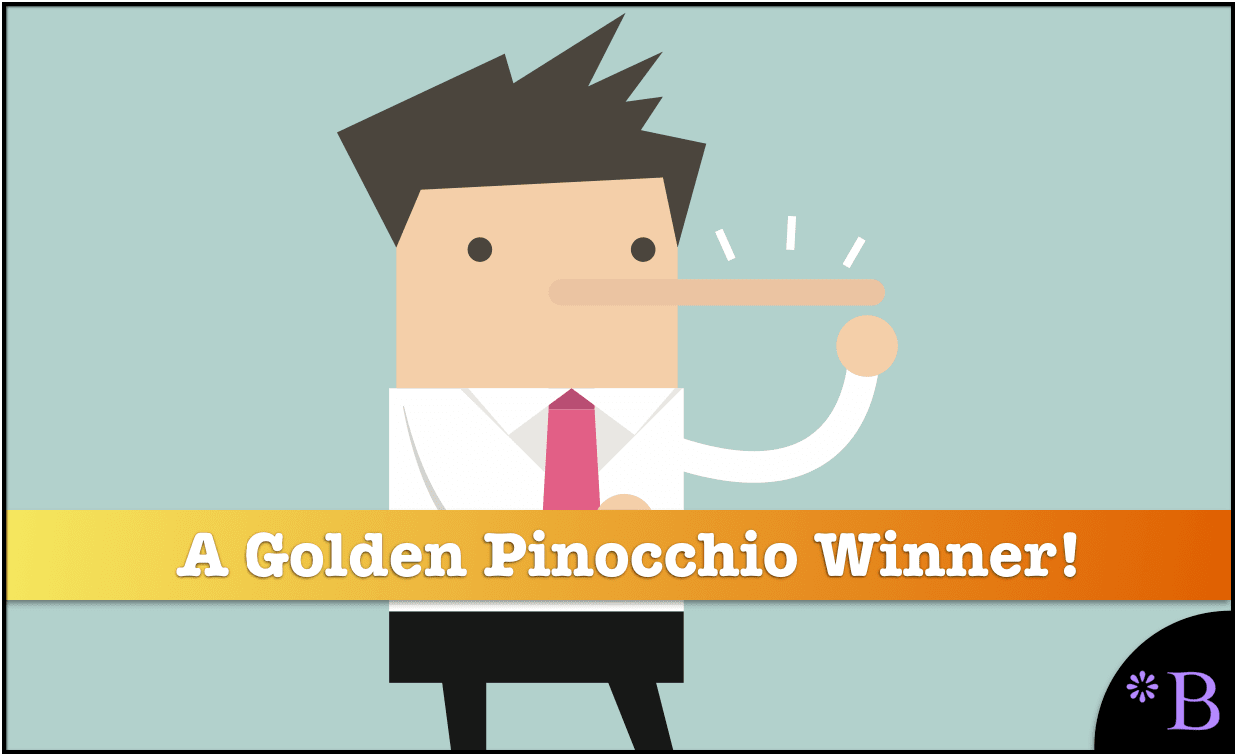 Ding Ding Ding!
Usually when we give out our coveted Golden Pinocchio Award, we recognized one entity. However, in this case, while the statement was published by ASUG, as ASUG produces no content of its own, and the statement was made while serving as a puppet for SAP, the award is co-awarded to both SAP and ASUG!
Congratulations fellas!