What Were the Inaccuracies in SAP's Q2 2017 Earnings Call
Executive Summary
SAP made a large number of inaccurate statements to Wall Street analysts in the Q2 2017 earnings call.
We cover the accuracy of SAP on this earnings call.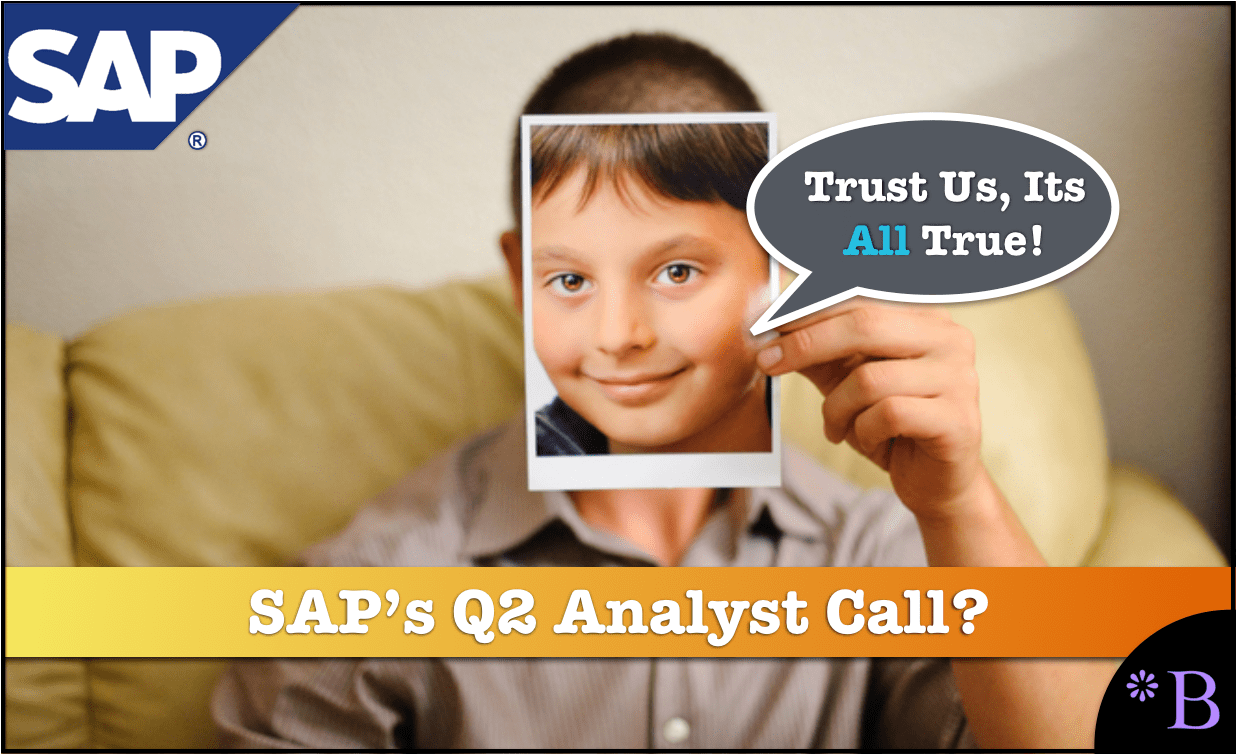 Introduction
On July 20th, 2017, SAP held its Q2 call with analysts. This article is an analysis of some of the information provided by SAP in this call. Much of the information in the call was breathtakingly inaccurate. Understanding why it is quite interesting, I comment on the quotes below.
Our References for This Article
If you want to see our references for this article and other related Brightwork articles, see this link.
Lack of Financial Bias Notice: We have no financial ties to SAP or any other entity mentioned in this article.
This is published by a research entity.
Second, no one paid for this article to be written, and it is not pretending to inform you while being rigged to sell you software or consulting services. Unlike nearly every other article you will find from Google on this topic, it has had no input from any company's marketing or sales department. 
Article Quotations
False S/4HANA Numbers
"S/4HANA adoption grew to more than 6300 customers, up over 70% year-over-year. Many other leading companies also went live on S/4 in Q2, including MG [ph] and Bloomberg."
No, that is inaccurate in that very few of those customers are using S/4HANA. This is covered in the article How SAP Controls Perceptions with Customer Numbers.
Exaggeration of the Cloud
"S/4HANA is the number one and fastest growing cloud ERP solution in the market hard stop. We are growing new cloud bookings triple digits and we see an enormous pipeline going forward. Customers are going live with S/4 cloud in as little as six weeks. Deloitte selected S/4 cloud in Q2 among many other signature companies. Centrica, a multinational utility company is using S/4 cloud as the digital core, along with an IoT solution running on SAP Leonardo. This is SAP integration at its finest."
That is false. S/4HANA has very few customers of any size that are using S/4HANA in the Cloud. Furthermore, this will not grow all that much in the future. The reason why is covered in the article Is S/4HANA Actually Designed for the Cloud? 
SAP + Google Cloud?
"We also announced that Sapphire that we have expanded our co-innovation partnership with Google Cloud to deliver integrated cloud solutions for our customers."
This will not amount to much because Google Cloud is not a big player in the space. Secondly, why is SAP using Google Cloud in the first place? Well, SAP had to drop the pretense that they could compete in the cloud infrastructure space, which is covered in the article How to Best Understand SAP's Multicloud Announcement.
Digital Boardroom for Growth?
"Overall, new cloud bookings grew 33%, while cloud revenue was up 29% in Q2 and 31% in the first half. Led by SAP digital boardroom our re-invigorated analytics portfolio posted triple digit new cloud bookings growth in Q2."
It is extremely doubtful that the digital boardroom has many sales, so its growth would be larger as the base was so small.
SuccessFactors Employee Central
"SAP SuccessFactors, we saw another big quarter with a new customer additions. SuccessFactors Employee Central now has over 1900 customers worldwide and that was up 48% year-on-year."
SAP is frequently showcasing the growth of Employee Central. But this is only one component in SuccessFactors. SAP and Bill McDermott, in particular, like to continually trump up SuccessFactors, but SuccessFactors always seems to be in transition. It is only strong in a few areas of HR. For example, SAP's ECC system's payroll functionality is one of the few goods things SAP's old HRM solution. However, SuccessFactors has nothing close to as good, which is one reason why many of their customers have been so reticent to move to SuccessFactors.
SuccessFactors also continue to have integration issues going back to ECC. This really should have been taken care of at this point as the SuccessFactors acquisition five and a half years ago.
Bill McDermott used the 48% number because it is more impressive than growth in any other area of the SuccessFactors suite. This is the standard of all the comments made by all of the SAP executives in this session. The only part of the story and the most pleasant part ends up being verbalized.
The Ariba Network
"SAP Ariba now has over 2.8 million companies in a 180 countries, trading nearly 1 trillion U.S. dollars in goods and services annually on the Ariba network."
That might be good, but SAP has not been able to leverage Ariba very well. Very few SAP customers connect Ariba to their SAP ERP systems.
Time to be Intensely Clear?
"Let me be intensely clear, the Internet of Everything requires hyper connectivity on a global basis. SAPs business networks lead the industry, connecting not only our customers, but also our competitor's customers. It is the world's network."
Interestingly, the term "being clear," "crystal clear," or, in this case, being '"intensely clear" seems to be a marker for a person who is about to tell a lie. Curiously, this same language appeared with Trump's Lawyer, Jay Sekulow, in recent weeks.
Trump is under investigation. Everything started after "I want to be clear" was a lie.
And similarly, Bill McDermott states he wishes to be "intensely clear" that….IoT requires hyperconnectivity on a global basis.
That may be true, but the following statement about SAP business networks leading the industry is incorrect, but at the same time is nonsensical. What business network is Bill McDermott talking about? SAP owns a procurement application in Ariba – that has a marketplace, but this has nothing to do with IoT. SAP gets a very tiny amount of its revenue from IoT. If this control over "business networks" is a strategic advantage for SAP in IoT, it does not show up in the sales numbers.
Fast Cloud Growth for SAP?
"We believe SAP is the only company in the business software industry at scale to deliver both fast growth in the cloud and core license growth.

This is because SAP takes a much more customer centric approach to the transition in the cloud, protecting legacy investments, while offering the most complete vision for the cloud. The breadth and depth of SAPs end to end portfolio is the clear differentiator."
The problem with this is that SAP is not delivering fast growth to either the Cloud or the "core," which would seem to mean core license growth.
SAP Cloud Platform Incubating Innovation?
"SAP's innovation agenda ensures a clear path to future growth. Without API Hub and open SAP Cloud Platform our ecosystem is actively incubating new innovations. We're excited that new partnerships will proliferate the SAP platform across the hyperscale public cloud providers."
No, the SAP Cloud Platform isn't incubating much of anything because barely anyone uses it. On SAP projects, it is difficult even to get a glimpse of anyone using the SAP Cloud Platform.
Bill McDermott's Digital Revolution and Leonardo
"At the Epicenter of the digital revolution is SAP Leonardo. Why? Because Leonardo integrates breakthrough technologies such as AI, Machine Learning, Big Data, Analytics, IoT and Blockchain."
What particular digital revolution is Bill McDermott talking about? The move from downloading music to using services like Spotify? Bill could benefit from being a little more specific. Leonardo is a very recently introduced solution that is SAP's renaming of its IoT solution. But it does not yet have real customers doing anything, and it's not an application as much as a toolkit you can build things with. It substantially lags other complete IoT solutions. This is covered in the article Why SAP's Leonardo Seems so Fake.
"Customer interest in SAP Leonardo is really high. As you know there was well over 20,000 Sapphire attendees this year from 4600 companies and they all experienced in some form the potential of Leonardo. Nearly 1000 customers in 48 countries attended our local SAP Leonardo event in Frankfurt earlier this month."
It may be, but that does not address that Bill McDermott does not want to talk about that there is not very much to Leonardo, and it does not have customers live on it. SAP has customers live on some customer solutions at various accounts, but Leonardo is another pre-released product that SAP is pretending to use.
Everything About SAP is Best in Class?
"In conclusion, everything about SAPs business is best in class. It's integrated and focused and it's delivering on the shareholder value promise. We're building great products, telling a great story, delivering a great service and most importantly building a great team."
Does Bill McDermott listen to himself when he speaks?
SAP's Exaggerated Pipeline
"We also are just getting started with more than 80% of our ERP customer base still in S/4HANA pipeline. The upside is amazing. Our company has never been stronger, more engaged and more inclusive. In fact, we have reached our goal of having more than 25% women in management positions across SAP.
SAP has a lot more than 80% of the customer base in the pipeline (taking Bill's assumptions that they all convert to S/4HANA, which is not actually true) because the vast majority of S/4HANA customers don't have S/4HANA operational. Many S/4HANA customers are not customers in the traditional sense because they received the software for free. Some customers purchased S/4HANA to setting an indirect access claim on the part of SAP. Therefore, they don't willingly own it.
What Bill McDermott is doing here is switching a negative into a positive. SAP has had very poor adoption of S/4HANA by customers. The primary reason for this is that S/4HANA close to impossible to implement. This is covered in the article How the Overall S/4HANA Suite is Not Yet Released.
So therefore I'd like to acknowledge, recognize and thank the 87,000 women and men of SAP worldwide for their immense dedication to our customers and our shareholders. For SAP, the best is yet to come, a sustainable growth company for the ages." – Bill McDermott
This line was stolen from Frank Sinatra. It is a song, actually. And the idea that SAP is a sustainable growth company for the ages is out there. Especially since outside of acquisitions, SAP has not been growing enough to be considered a growth company.
Rapid Cloud Growth for SAP?
"Firstly, our committed future cloud revenue or new cloud bookings has grown by 33% and our cloud revenue growth came in at 29%, marking the 17th consecutive quarter of consistent rapid growth in the cloud."
SAP's growth in the Cloud may have been consistent, but it has not been rapid. If it had been, SAP would not have to cloud wash so hard. It would not have had to acquire cloud vendors to make an impression on Wall Street that they are more cloud-based than they are.
"Let me first be very clear, from a profitability standpoint we have been all the way through the year very clear on what our priorities are for this year and how this will impact the overall gross margin. We continue with conscious investment decisions in 2017 and we will still see mix shift effects."
Here we go with the "be clear" preamble. And then that SAP is "very clear" about priorities.
Are Cloud Investments Causing Declining Margins?
"Remember, the majority of our investments are in our public cloud business. Our decision to invest in a new data center in the Middle East is yet another perfect example of how we are getting ready for future growth. But this, of course, put additional pressure on the public cloud margin which was 57.6% in Q2, if you back out our highly profitable business networks business."
The problem with this is that SAP has invested very little into data centers. This was covered in the book SAP Nation by Vinnie Mirchandani. Secondly, why have few of these investments paid off? SAP has had a long time to get their cloud infrastructure going, and they chose to invest elsewhere. At one time, SAP said that they were going to go head to head with AWS. What happened to that idea?
The issue is that SAP's margins are declining, but they are not primarily because of SAP's investments into its cloud business, although the cloud acquisitions are related to the decline. Here is how. As SAP increasingly diversifies away from its core offering, the profit margins are lower. This is what SAP does not want Wall Street to figure out. SAP is facing a long-term decline in its profitability. This is the same long-term decline that has already been experienced by, for example, Microsoft. Microsoft still has high revenues, but the profitability outside of Windows and Office is far lower than its profitability among its first products. Microsoft, as it has diversified from its first products, has become less efficient in profit generation. And guess where the growth is coming from? (hint, not the core products).
This is covered in the book The Software Paradox.
"As we strive for running each and every business more effectively and efficiently, we continue to see improvement in the margin of our private cloud infrastructure as a service business, as well as in our business networks. Since however public cloud and private cloud are continuously increasing their share within cloud revenue, this revenue mix shift effects negatively impacted the cloud margin by approximately 2 percentage points."
And the faulty explanation continues.
"As for our services gross margin continue – continued its very nice upward trend as expected and was 23.5% for the quarter, which is the 5.6 percentage point year-over-year increase. This was driven by the completion of previous investment projects and a strong top line increase."
SAP gets roughly 2% of its revenues from consulting services. So why would that matter?
"So what should you all take away from this quarter? To put it in short terms, SAP is the best positioned company to shape the digital enterprise. Our cloud growth is fuelled by the breadth and completeness of our cloud offerings. All our products are linked to our S/4HANA digital core, providing a real end to end offering to our customers."
What company is today not a digital enterprise? Companies in Somalia? The correct term is "enterprise software."
All Cloud Offerings are Connected to S/4HANA?
SAP does not have completeness to its cloud offerings. All of the products are not only connected to S/4HANA, but they also lag in their connectivity. This is a straight-up lie by Luca, who, as a finance person, would not have any idea if it is true as she would have never worked with SAP's technology.
SAP to Become Carbon Neutral?
"In line with our goal to become carbon neutral by 2025, we reduced our second quarter CO2 emissions by over 40% compared to the prior year." – Luca Mucic
How is SAP going to become carbon neutral by 2025? Are all SAP buildings powered by rooftop solar, and will all plane and car transport be powered by small nuclear generators? It is interesting that even on the ancillary statements, SAP never stops with the inaccuracies.
Bill McDermott Wants Analyst to Not Give It a Moment's Thought?
"Yeah. Hi. Thanks very much for taking my questions. I've got one question on the clouds and then just a clarification. If I look at the cloud revenue growth sequentially it looks like it slowed down marginally in the second quarter. I guess it's quite a small change and momentum, but it does come at a time of management change. So I guess the questions off, firstly, are you confident that you can sustain the 30% growth rate as that business scales?

And secondly, are you confident that with the departure of Steve Singh, the management position of the cloud is still robust. And thirdly, can you just give us some metrics around the bookings duration. Obviously, that the year-on-year growth is strong, but can you talk about duration. – Charles Brennan

Thank you so much for the question, Charles. I'll start it off and then hand it over to Luka. So first and foremost on the cloud, the bookings and the revenue don't even spend a moment on it. Basically when you book the software, obviously you're booking the contract and that will go into revenue to be recognized.

The revenue that's actually recognized has something to do with timing and timing in the quarter for sales and so on. And some of these sales happen to have been a little bit more back ended than usual. The pipeline for the cloud is fantastic. The 30 plus percent cloud growth and the pipeline to support that is ever intact. The business looks really, really strong."
Right. So, according to Bill, anything that looks different than what SAP is presenting, "don't even spend a moment on it."
And then Bill wants to convince the listeners that the sales are more backend than usual. But why would that be? What was different about this quarter than Q1? Then Bill goes on to praise the pipeline. Well, the pipeline cannot be validated by the analyst. So Bill is changing the topic from something the analyst can verify to something where the analyst needs to trust Bill McDermott.
Are SAP Executives Friends for Life?
"And just to show you the class of SAP. I next week along with the executive board will be flying out to Seattle to have a going away party for our great friend Steve Singh. So this hotel when you check into SAP you don't check out, like we're friends for life. And that's the kind of company we are." – Bill McDermott
Well, this is nice. Bill did an interesting thing here. He pivoted away from the question. The question was not whether Bill and Steve would be friends for life. That seems like a personal matter. The question was, how was SAP going to deal with the loss of a strategic executive.
On top of this, he then goes back to praising SAP for being very classy. So this is a non-answer.
"A question for Bill and maybe you know, Luka if you could touch on this too. I mean, obviously we've seen the S/4HANA customer account number go up 70% this year, but and I'm assuming that's a big part of what's driving that that license growth."
This is a bit of accuracy. Let me be "crystal clear," S/4HANA is doing very poorly and has few live customers.
"How do you think, where are we, I guess, what's hitting our win with S/4HANA, because the customer count might be high. But you know, our checks still say that penetration still has the way to go even within side those. So how do you think about where we are in the cycle and I guess the sustainability of some of these you know, the six consecutive quarters of growth on license?" – Philipp Winslow
And that is true. The S/4HANA sales numbers are highly exaggerated versus those companies using the application or implementing the application. Many companies that started implementing S/4HANA stopped after what they learned about S/4HANA.
Early Days for a Product that is 2.5 to 3 Years Old?
"Thank you very much, Phil, first of all for your kind remarks. We are in the really early days of the S/4HANA momentum. First of all, if you apply the 80:20 logic, you know, you'd be a lot closer to 15 or 20 then you would be to 80% in terms of the penetration and all the opportunities that are out there.

And you know that's the traditional base we're talking about. We're making a bold move into customers that haven't seen SAP and may not even be thinking of SAP in the mid-market, in the upper mid-market."
But it isn't early days for S/4HANA.
SAP released Simple Finance in June of 2014.
SAP released the rest of the suite (S/4HANA overall or EM) in Feb of 2015.
That is now between 2.5 and 3 years ago. How is July 2017 still "early days?"
Here are some of the statements from that announcement.
"When Hasso Plattner invented SAP HANA, we knew the day would come for SAP Business Suite to be reinvented for the digital age. At a moment when businesses around the world need to enter new markets and engage with their consumers in any channel, there's now an innovation platform designed to drive their growth. This is an historic day and we believe it marks the beginning of the end for the 20th century IT stack and all the complexity that came with it."
Hasso did not invent HANA. That is a myth distributed by Hasso Plattner and by SAP. For details, see the article Did Hasso Planner and his Ph.D. Students Invent HANA? That is, of course, not relevant for an earnings call, but it highlights the difficulty SAP in telling the truth on even ancillary topics. Even how invented something is altered by SAP. Of course, Bill McDermott will suck up to Hasso Plattner. He works for Hasso Plattner. Therefore, Bill helps sustain the myth of Hasso inventing HANA.
Furthermore, it seems like something so great that it should have had no problem in adoption. Right? Well, according to even the SAP biased ASUG in their S/4HANA survey of 2016, S/4HANA had 350 live customers. 350. This is covered in the article How to Best Understand ASUG's S/4HANA Survey.
"So as we assert our will in different marketplaces in different industries, I would call this the earliest possible days of S/4HANA in terms of the rotation and the real catalyst for continued growth in the company." – Bill McDermott
Yes, in McDermott-speak, 2.5 to 3 years is the earliest possible days. If we create a time chart for McDermott-speak, it will look something like the following:
Earliest Possible Days: Up to 3 Years After Launch
Early Days: 4 Years After Launch
Adoption Begins in Ernest: 5.5 Years After Launch
"Yeah. It's hard to add anything to that. I think adoption always in our industry is kind of an S-shape and we are clearly basically still in the early adopter phase. As you pointed out some of the early adopters have a long way to go to really roll it out across the entire end state. And now we see the first emergences of fast followers kicking in. So we have lots of room to grow." – Luca Mucic
Luca has the same strange time concept that Bill McDermott, where an application begins wider adoption somewhere around the 5.5 year mark?
"And more importantly even S/4HANA is invigorating growth in other elements of our portfolio as well. CUC was very strong I highlighted this. Analytics was strong in the quarter that goes along nicely with the digital board room concept that S/4HANA really brings to life. So we will be having a lot of fun with this baby which is just barely becoming a toddler by now." – Luka Mucic
From the beginning of this statement until the end, this is false. However, Luka thinks about babies pretty often. And in a few years from now, when S/4HANA sees adoption (according to Bill and Luka), it will be something!
Run Simple Ahead of its Time?
"And Phil you know, one CEO said something interesting to me yesterday, he said run simple was actually ahead of its time and I think he said right, because the most intractable challenge of our era is complexity, and when you think about the idea of a digital boardroom simplifying the management process for executives around the world and you think about taking cost out and improving productivity with HANA and S/4HANA and aligning all the management team with the line of business cloud and the network, you're talking about just a story that doesn't end because there's so much room for all these companies to radically simplifying grow if they can apply the right digital technology. So it's really early days and it's an exciting era for us Phil." – Bill McDermott
Run Simple was a marketing construct that SAP dropped, as was covered in the article Is SAP's Run Simple Real?
Run Simple has been dropped as a marketing construct not because it was "ahead of its time" but because it was utterly false. SAP makes the most complex software with the highest maintenance costs in the categories; SAP competes in, which can be seen at Brightwork's online TCO Calculators.
As a long-term SAP consultant myself, I found it the height of deception to have a "Run Simple" marketing campaign. Run Simple's idea was a simple counter-marketing to message the opposite of SAP's well-earned reputation for being complicated and expensive. Furthermore, HANA and S/4HANA, in particular, are even more complicated than what customers were exposed to by using Oracle of DB2 as the database and ECC as the ERP system. SAP has drastically increased complexity on SAP projects by introducing HANA and S/4HANA while pretending that these two items allowed companies to "Run Simple."
S/4HANA to Beat Up NetSuite?
"And then secondly, perhaps for kind of Bill, you know, it's now been a couple of quarters that the NetSuite deal has been closed. What do you see from a competitive perspective form that kind of combination and perhaps also give us an update on Workday? Thanks. – Gerardus Vos
And Gerardus, I'll offer you an answer to your question on NetSuite. You know, Oracle strategy seems to be – to stay relatively large enterprise with Fusion, but to have a two tier strategy with ERP and take NetSuite down market and that's understandable, the platform has been around for 20 years. So it will probably do better in the low end markets. We see them. We compete with them. S/4HANA is just going to be a runaway story in that place, up or mid-market, even lower mid-market." – Bill McDermott
So far, has this turned out to be true? Not from Brightwork's research into S/4HANA.
Workday is Good, But Only for Parochial Buyers?
"Workday obviously, Workday can hold their own. If you're – especially if you're in the United States and you're dealing directly with the Human Capital Management Executive. It gets a little bit more interesting for us when it's a more comprehensive decisions for companies than just HR Director.

For example, they don't really have a platform. So the SAP Cloud platform and the extensibility of that. If you think about S/4HANA and the nucleus of the 21st Century Enterprise and all line of business executives evolving their use of their individual line of business with the center of gravity, the data and the process of the company. You know, that's game set match for SAP.

And when you talk Total Workforce Management, we're the only one with the network around contingent labor and therefore Total Workforce Management and that's why Gartner and others say, if you have more than 5000 employees it's all about SAP, because what you see with Workday against SAP is a good fight with the LOB HR director in the United States." – Bill McDermott
So this is how Bill is trying to distract from the fact that Workday is having success versus SAP. Workday customers tend to be far happier than SAP customers. It is true that the larger the company and the larger the decision-making apparatus, the more SAP will manage to win against Workday. Workday is limited to HR and finance.
Workday customers tend to be far happier than SAP customers. But according to Bill, they should not be pleased because they don't have a platform? The SAP Cloud Platform, which was the renamed HANA Cloud Platform and covered in the article, Was the HANA Cloud Platform Designed for HANA Washing, has very few customers using it. Therefore, in terms of use, SAP does not have a "platform," either. The entire term platform is meaningless the way Bill is using it. It is merely a way to take an unsubstantiated shot at Workday, pulling business from SAP.
Also, is it true that the larger the company and the larger the decision-making apparatus, the more SAP will win against Workday? Workday is limited to HR and finance.
This is simply an executive attempting to cover up a weakness. Secondly, SAP has ridden SuccessFactors for years now. However, the acquisition is old at this point. SAP's acquisitions usually decline in competitiveness the longer they are held by SAP.
S/4HANA Has 850 Live Customers on S/4HANA?
"Yes, sure. I think Bernstein [ph] as well. But we have over 850 live customers now to just over two and a half thousand projects ongoing, so it continues to be very successful. And as Bill said these customers are also investing in the top product. So this is really a tremendous success story for a city and the more they go live, the more expansion we will see." – Rob Enslin
Nope. S/4HANA has far fewer live customers than this. The biggest story about S/4HANA is how low the uptake has been and how immature and problematic S/4HANA continues to be. SAP has been continuously misrepresenting the uptake of S/4HANA, as is covered in the article How SAP Controls Perceptions with Customer Numbers.
If SAP has 2500 S/4HANA customers in ongoing implementations, it would be unmissable. But the S/4HANA job market is tiny.
S/4HANA as a 21st Century Digital Platform?
"This is Bill, Ross. You should think about S/4HANA as a growth story. We shouldn't spend all of our time on how much of that growth story and what percentage of that will be recognized one way or the other. I think what you should think about it is the 21st century digital platform for a successful company, is the best run SAP and S/4HANA is central to that."
Bill's similarities to a politician become more and more observable the more one listens to him. And like a politician, he continually diverts his audience away from details, up to the higher level of abstraction, where Bill feels more comfortable. Bill detests details, and that shows in his constant redirections of questions. And the finishing piece is the description of S/4HANA as a "21st-century digital platform."
The Bill McDermott Timeline of Retroactive Expectations Lowering
"Do I believe that the theme is there for continued growth on a positive basis even on the upfront license recognition for S/4HANA? Absolutely. And do I think that the cloud and the full rental model for S/4HANA in the high end, as well as upper mid-market in mid has only scratched the surface so far? Absolutely. That's why I say it's such an early moment in the evolution of this growth story, you should just feel really great about it." – Bill McDermott
Once again, Bill is trotting out the "Bill McDermott Timeline." Things that he predicts that do not come true have not come true only because a sufficient amount of time has not passed.
"And we are very confident that while we talked today a lot about HANA, we talked a lot about S/4HANA, when we talk again in one or two years, Leonardo will be equally important to our financial success than what we talked today about S/4 and HANA. So this should give you some inspiration what's possible." – Bernd Leukert
This is the most important quotation in this call. This indicates that SAP is about to switch horses to Leonardo. If SAP keeps analysts focused on S/4HANA, they will catch on that SAP has been misleading them the entire time. Therefore, SAP needs to change topics. Now Leonardo will be the rallying cry, while SAP hopes that they can distract analysts with the "great Leonardo story" not to ask any questions about S/4HANA.
Bill McDermott's SAP Synopsis for Simpletons
"And if I was just to summarize it for you in five simple points, HANA, S/4HANA, the line of business cloud, the business network and Leonardo and IN five fingers you can tell the entire SAP story and what's so compelling about the SAP story is in all areas we have the greatest breadth, depth and reach into industries and global markets of any competitor in this space." – Bill McDermott
And the master of oversimplification explains SAP in a uniquely false way that one would use on preschoolers, and misdirection drops the mike.
"This is our product that we resell, has nothing to do with databases. Clearly S/4HANA and HANA, therefore, is the absolute standard. That's the main contributing factor what support profitability has actually continued to climb up and continues to be a positive contribution." – Luka Mucic
Luka knows nothing about SAP's products and proves it with every new statement she makes.
Conclusion
SAP's mislead the analysts on this call multiple dimensions. Each of the people speaking from SAP has many millions of dollars in stock options. This model where you obtain information from people with a clear financial bias to mislead you so that they can exercise their options at the maximum price makes little sense.
It is reminiscent of the newspapers I used to read when I was in Pakistan. The information is interesting, but only from analyzing what the powers that be would like people to believe. It has no inherent validity.
When SAP anticipates that it will be speaking to people who can't directly validate their statements, the lying is in a different dimension.