Is There Actually an IT Skills Shortage That Necessitates H1-B Visas?
Executive Summary
Those companies use the excuse of a skills shortage when they displace US workers with H1-B visa holders repeatedly state that they need to hire H1-Bs.
How true is this claimed skills shortage?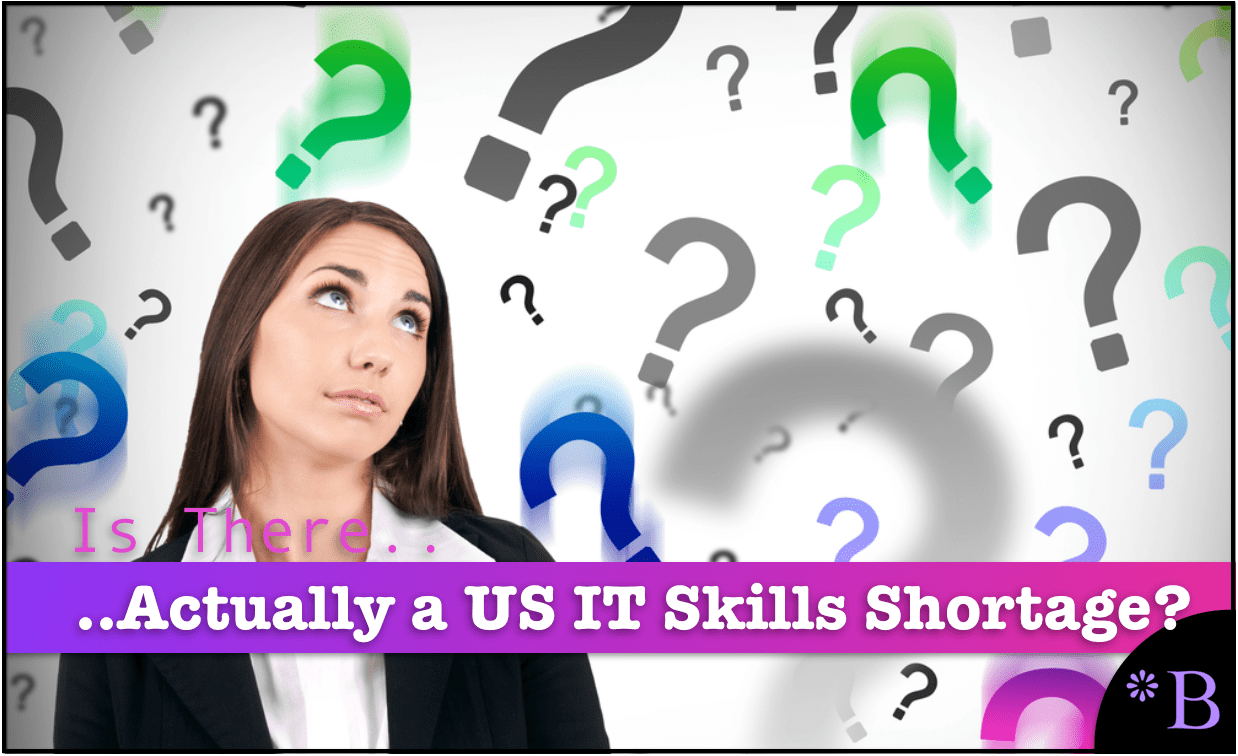 Introduction
This comment is made by Ronil Hira, a professor of public policy at Howard University, who is commenting on the evidence for an IT skills shortage around the H1-B program.
Hira, who has been outspoken about abuses of the H-1B visa system, rebuffs the skills shortage theory. "If there was this terrible shortage, I'd think you'd see different behavior and practices," he says. "If there was really a skills shortage, you'd see more diversity in the tech industry — they'd hire underrepresented minorities and women, they'd be training people and investing, they'd be retaining incumbent workers, not laying them off by the thousands, and you wouldn't see rampant age discrimination."

Here's a simplified way to explain how this plays out: Say you're a big company with your own IT department. To reduce overhead, or to cut costs, or to increase efficiency, you decide to contract out (outsource) some or all of your IT work. So you hire an IT services firm to do that work on a temporary, as-needed basis. That firm sends workers, many of whom are on H-1B visas, to do those tasks. Sometimes, these contract workers supplement your IT staff; other times, you lay off your IT staff and the contractors effectively replace them. – Harvard Business Review
This is reinforced by testimony to the US Senate.
Back in May 2013, Mr. Trumka wrote an opinion piece for USA Today saying that hi tech is not looking to bring in H-1B visa holders for a few years at a time because there is a shortage of tech workers, but instead want a massive expansion of H-1B visa holders "because they can pay them less." He concluded: "This is not about innovation and job creation. It is about dollars and cents." – Immigration Reforms Needed to Protect Skilled American Workers
Defining a Skills Shortage as Any New Skill
Technology moves quickly. When a new item becomes popular, companies can always claim that there is a shortage in that particular area. However, workers need time to skill up on new technologies. Wages rise for these new skills until more entrants enter the market and become proficient. Then as another technology replaces it, the process begins again. This is expressed in the following quotation.
"Mukund Mohan, CEO of Microsoft's startup accelerator programme in India, says the shelf life of certain kinds of developers has shrunk to less than a year. 'My daughter developed an app for iPhone 4. Today, she is redeveloping the app to make it smarter for iPhone 5. Five years ago, developers were talking Symbian (the Nokia operating system). Today, it's not very relevant. You have to look at Android or iOS or may be even Windows 8 to stay relevant'" — "What's the Shelf Life of a Techie? Just 15 Years," Economic Times (Indian press), November 17, 2012
So if a developer has a short shelf life, then the logic can be developed where technology resources only are employed for a short period of time, after which a new batch of workers replaces them. In the philosophy of H1-B proponents, this would be H1-B workers.
What Companies Call Shortages Aren't
Those that study the topic contradict the claims made by industry.
In 1999, Princeton University sociologist Thomas J. Espenshade concluded while at the US Office of Population Research: "Apart from spot shortages that exist in any production process, longer term labor shortages can only exist if there is some artificial mechanism that prevents wages from rising to a market clearing wage. None of these mechanisms seem to be present in today's competitive labor markets…" Perhaps the view of one labor economist comes closes to the heart of the matter. "If computer companies' response to difficulty hiring at the existing wagew is just to put ads out and not raise salaries, then it is not surprising that they perceive some sort of shorage."

A 2006 study published in the National Bureau of Economic Research by distinguished Harvard University labor economist Richard B Freeman found that "labor market measures show now evidence of shortages of S&E[science and engineering] workers."

Claire Brown and Greg Linden published a paper in the University of California, Berkeley, Institute for Research and Employment's working paper series that noted: "When companies claim they face a shortage of engineers, they usually mean that they face a shortage of young, relatively inexpensive engineers with the latest skills, even when they have a queue of experienced engineers who want retraining.

In a rare departure from conventional unwisdom, and enlightened Chronicle of Higher Education writer summarized the state of STEM shoratage research in late 2013: "Most researchers who have looked into the issue–those who don't receive their money from technology companies or their private foundations, anyway–say no. They cite figures showing that the STEM worker shortage is not only a meme but a myth." – Sold Out
And where is the coverage of these facts in the IT media? The answer is it does not exist because IT media now receives almost the entirety of their funding from technology companies and consulting firms — and therefore only their interests predominate.
Conclusion
Ronil Hira does something that almost none of the IT media that covers the H1-B issue ever does, which is testing the hypothesis that there is, in fact, an IT skills shortage.
References
https://en.wikipedia.org/wiki/H-1B_visa
*https://www.amazon.com/Sold-Out-Billionaires-Bipartisan-Crapweasels/dp/1501115944/
https://hbr.org/2017/05/the-h-1b-visa-debate-explained
http://heather.cs.ucdavis.edu/itaa.real.html
https://www.gao.gov/assets/710/700657.pdf
https://www.judiciary.senate.gov/imo/media/doc/03-17-15%20Grassley%20Statement1.pdf