Larry Ellison on SAP and Salesforce Paying Oracle for DB Licenses
Last Updated on March 21, 2021 by Shaun Snapp
Executive Summary
Larry Ellison enjoyed observing how SAP, Salesforce, and Workday pay large amounts of money for Oracle database licenses.
We cover how PostgresSQL is an Oracle replacement.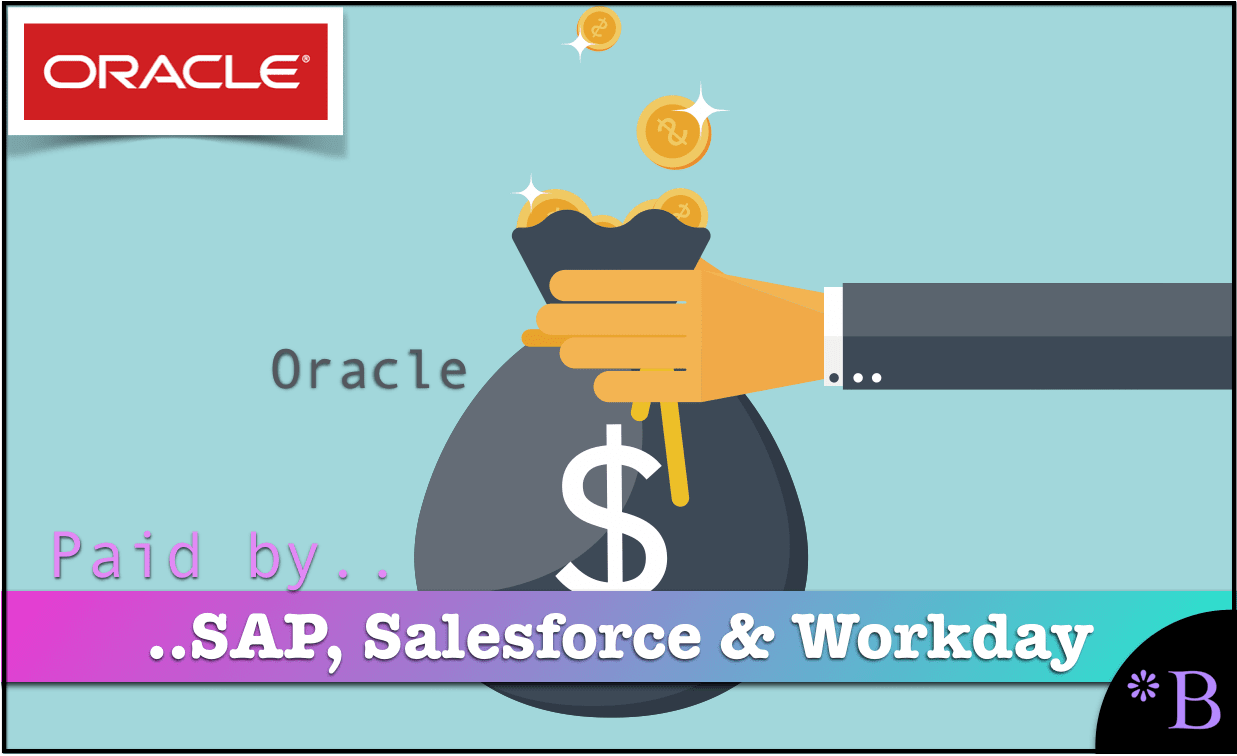 Introduction to Oracle's's Outrageous Statements
On Jun. 17, 2015, Business Insider published the article Larry Ellison: SAP and Salesforce pay Oracle a LOT of money. In this article, we will review the article for accuracy.
Our References for This Article
If you want to see our references for this article and other related Brightwork articles, see this link.
Lack of Financial Bias Notice: The vast majority of content available on the Internet about Oracle is marketing fiddle-faddle published by Oracle, Oracle partners, or media entities paid by Oracle to run their marketing on the media website. Each one of these entities tries to hide its financial bias from readers. The article below is very different.
First, it is published by a research entity.
Second, no one paid for this article to be written, and it is not pretending to inform you while being rigged to sell you software or consulting services. Unlike nearly every other article you will find from Google on this topic, it has had no input from any company's marketing or sales department. 
Article Quotations
"Oracle reported its fourth quarter earnings on Wednesday and, as we've come to expect from the company's flamboyant billionaire founder, Larry Ellison threw a few barbs at his major competitors."
On SAP
"He slammed SAP's Oracle-killer database HANA on a conference call with analysts like this:

"SAP does not use HANA in the cloud very much. I know that because they keep paying us. They paid us again, this quarter, for Oracle for Concur, Oracle for Ariba, Oracle for SuccessFactors," he said, naming three cloud companies that SAP acquired over the past few years to jump start its cloud business.

"If they're using HANA for anything, I don't know about it," Ellison chuckled."
Expanding upon what Larry said, HANA is used for only a small portion of SAP's applications. HANA is compatible with more applications than it is generally used for. Still, up until now, the vast majority of HANA implementations are with only one application, which is SAP BW.
"Like other Oracle customers, SAP must have found that it isn't easy to rip and replace a database, even though it must be excruciating to write checks to Oracle.

One of Oracle's CEOs, Safra Catz, explained why Oracle doesn't have that problem. Oracle makes all the hardware and software it needs to build its own cloud. This means that Oracle's cloud can be run more profitably than competitors, she said."
That may be true, but it is not a reflection of how most of Oracle's database business is delivered. Most of Oracle's database business is still delivered on-premises. Furthermore, this quote does not have much to do with why HANA is not more prevalent.
On Salesforce
"Ellison agreed and used a slam at Salesforce as an example:

"Salesforce paid us a lot of money for their platform. They buy Exadata from us to run their data center, they buy the Oracle database. They paid a LOT of money for the Oracle database," he said, referring to a 9-year deal signed in 2013 between the two competitors."
The parallel between SAP and Salesforce paying Oracle a lot of money is not there. It is not relevant (at least vis-a-vis SAP) that Salesforce pays Oracle a lot of money as unlike SAP, Salesforce has not put all of its chips on pushing HANA into their customer base. Salesforce does not even focus on the database when it discusses its solution with customers. Salesforce focuses on the business value or ease of use of its applications.
The Relevance of Salesforce on Oracle
The relevance is, however, between Salesforce, which does use Oracle versus Workday, which does not use Oracle. Workday is along with Salesforce, one of the largest SaaS vendors in the world.
"As the two companies became more competitive, and the two men had a falling out, Salesforce was rumored to be trying to move to an open source database known as Postgres. That would have been a bad precedent for Oracle, showing other cloud companies how they could migrate off Oracle, too."
Postgres is picking up steam as a highly respected heavy-duty database that can, in many cases, replace Oracle 12c. And Postgres' rise is of concern to Oracle.
"Instead the two men buried the hatchet, momentarily, and cut a deal estimated to be valued at $300 million, where Salesforce would continue to buy Oracle's products for another nearly decade. It was said to be a pretty good deal for Salesforce."
On Workday
"As for Oracle's other arch rival in the cloud, Workday?

Ellison dissed Workday in the usual ways, saying that it was winning 10 times more deals than Workday for a cloud version of the financial application known as enterprise resource planning (ERP).

We know that Workday doesn't use Oracle's database or any of Oracle's technology. Ellison has said so.

So, every customer that leaps to Workday is a double loss for Oracle, both in the sale of the cloud contract, and the sale of the infrastructure that runs Workday's cloud.

"They're basically—this small company is basically going to have to build all of their own database technology. I mean, they need recovery, they need query processing, they need ad-hoc reporting, they need all of these things. They're gonna have to build out that tool set themselves rather than relying on us like Salesforce.com does," said Ellison, who also mentioned in the same context Netsuite, SuccessFactors, and SAP."
It is not just Workday, but many other SaaS companies that have the scale bypass Oracle to develop their databases or use open source databases. Google mostly does not use Oracle. Quite obviously, Larry is going to be negative on this strategy. Yet the trend of not building your own or using open source databases is growing, not shrinking. Many cloud vendors are choosing not to use Oracle for their database.
How is Oracle Situated
Oracle is better situated when they market to an end customer. But large SaaS vendors have the scale to develop their versions of databases and leverage open source databases like Postgres without facing the backlash that a person might receive in an IT organization for not choosing Oracle, IBM, or Microsoft.
"This has caused Wall Street analyst, Jefferies analyst John DiFucci to report that Oracle has been behaving "irrationally" to win deals from Workday for over a year.

Oracle is offering such steep discounts to customers when competing for deals against Workday, that Oracle is willing to go into the red on these deals, Jefferies analyst John DiFucci tells Business Insider."
That makes sense. If Workday shows success without Oracle as a database, it is a signal to other SaaS vendors. One of the significant marketing pitches of Oracle is that for large and essential implementations you use Oracle because it is so tested, so stable, etc. But if Workday, which uses a multi-tenant database, and has significant volume, cannot choose Oracle, then it is a beacon to those who would also choose a different path.
How This Lock-In Works According to Mark Hurd
Oracle CEO Mark Hurd told analysts that he felt very safe from database replacement in Oracle customers. And he gave a specific reason related to the history of databases.
"The third largest database in the world is IBM DB2, and it's been going out of business for 20 years," Hurd said in a characterization that IBM (IBM, -0.64%) would dispute. "If it was so easy to replace databases, DB2 market share would be zero."
"That is because most databases—which companies rely on as the basis for core accounting and financial operations—run custom programming, which is hard to move."
Mark Hurd should not feel so comfortable. This is because there are significant differences between IBM DB2 and the options available in AWS and Google Cloud.
The past 20 years did not have the cloud options that we have today or the number of open source databases today. For decades Oracle and IBM could say the open-source alternatives were not ready for the "big time." But not anymore. It is increasingly difficult for this assertion to be made and to be accepted.
RDS and Cloud SQL offers cloud migration and testing and the ability to bring up and close down instances without committing to hardware.
Therefore, while it is true, there is "stickiness" in databases, with the most substantial sticky factor being application certification. However, the growth of AWS is undeniable. Companies are migrating; Oracle is going to lose a lot of business because of these cloud alternatives combined with open source alternatives. And we predict customers will be the winners.
Conclusion
This article by Business Insider replays the quotes from the different actors, but it does not seem to know what they mean. It hits on several important points, such as some SaaS vendors have turned away from Oracle. It also gets the fact that SAP still mostly uses Oracle.
But overall, it is not clear the author understands these topics at sufficient depth to write an article on the subjects being covered. It appears that this article could be split into two, one covering the topic of SaaS vendors that use non-Oracle databases, and the other being how even after years of promoting HANA, SAP still primarily runs on Oracle (and DB2).