A List of SAP Implementation Failures
Last Updated on May 18, 2021 by
Executive Summary
The control highly censors SAP failures that SAP has over IT media entities.
We evaluate the coverage of previous SAP implementation failures.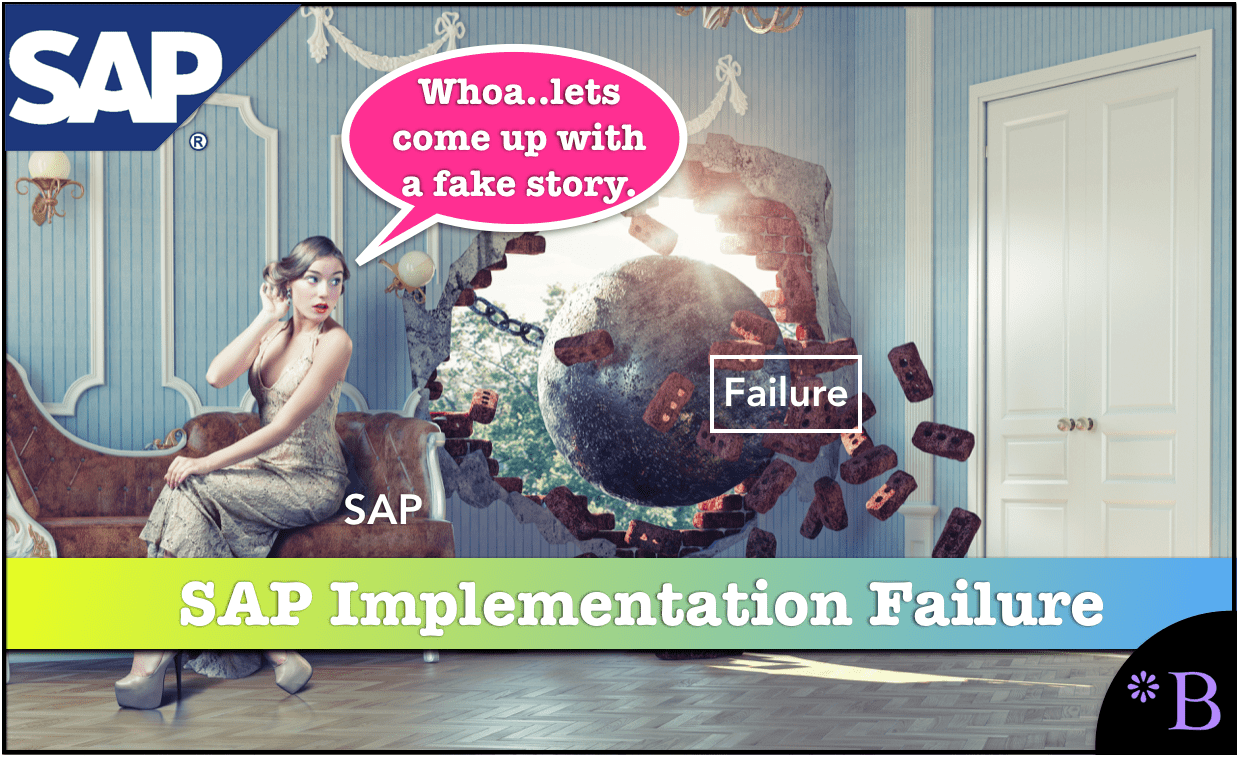 Video Introduction: A List of SAP Implementation Failures
Text Introduction (Skip if You Watched the Video)
This article looks at the top Google results that reported SAP implementation failures. What is curious is that few SAP implementation problems or failures could be found through Google. This pales in comparison to the promotional information provided by SAP on their go-lives. Our other research shows that SAP often publishes an implementation as a success when it isn't. We differentiated this list from SAP implementations that led to lawsuits. Therefore we created a second article that covers SAP lawsuits at A List of SAP Lawsuits. You will see our analysis of these SAP implementation failures.
Our References for This Article
If you want to see our references for this article and other related Brightwork articles, see this link.
Lack of Financial Bias Notice: We have no financial ties to SAP or any other entity mentioned in this article.
This is published by a research entity.
Second, no one paid for this article to be written, and it is not pretending to inform you while being rigged to sell you software or consulting services. Unlike nearly every other article you will find from Google on this topic, it has had no input from any company's marketing or sales department. 
Problematic Implementation #1:

City of San Diego

We cover the City of San Deigo SAP implementation failure in detail in the article The Art of Blaming the Client When an SAP Project Goes South; we found not only mass problems in the implementation but a cover-up the firm that The City of San Diego hired to "investigate" the implementation.

One of the few articles on this is by ZDNet (owned by CBS) and Michael Krigsman — who naturally will not blame SAP, as can be seen from the following quotation.
My take. Given tightly interwoven accountability on both sides, it's difficult to accurately dissect the strands of responsibility. I suspect both San Diego and Axon bear responsibility for this failure. Regardless of what happened in the past, the new contract puts SAP squarely on the hot seat to get this project back on track.
Problematic Implementation #2:

County of Dorset (UK)
At a time when the authority is facing a financial crisis and has to save almost £50million, concerns remain about the new £16 million IT system that was introduced to save the council time and money.

A staff survey reveals satisfaction rates have improved only slightly a few months down the line.

Chief executive David Jenkins admitted there was 'much to be done.' The Dorset Enterprise System (DES), the local name for Enterprise Resource Planning (ERP), was heralded as a major new investment when it came online last year.

Introduced as part of the Fit for the Future restructuring programme, it changes the way the council organises things like payroll, procurement, HR and finance.

But there have been regular problems with the system, with some staff getting so stressed they have been forced to take time off sick.

Some workers claimed a job which previously only took a minute was now taking an hour. (emphasis added)

The system still has to shut down a few days each month to allow data to be processed.

A staff survey conducted in March revealed 65 per cent of employees felt 'negative or very negative' about DES and many agreed it was a 'waste of time'.

A similar survey was conducted in the summer to see if things had got any better, and these results were presented to the audit and scrutiny committee. Surveys were sent to 1,000 DES users but only 53 per cent responded. Of these, almost half said they thought DES had not improved and nine per cent thought it had got worse.

There has been an improvement in the support provided but there is more to do to make finding information easier.

The survey also shows an improvement in the views of those using DES for procurement but 55 per cent still feel negative. A separate survey was compiled for those using DES in schools. A total of 200 were sent out but only 68 were returned. The overall feedback is that 58 per cent feel negative with concerns about training, usability and support.

Vice-chairman of the audit and scrutiny committee David Harris said: "We have suggested the next report to the committee articulates the benefits the system has produced.

"Clearly the system isn't liked yet but if you look at how it's been received in other counties that's a common element to its introduction."

Secretary of the Dorset branch of Unison Pam Jeffries said: "The feedback I'm getting is that people are no longer reporting faults because they've given up due to the length of time it takes for people to get back to them.

"We've heard it's going to get an upgrade and that may be good and well but the other places where it's operating, I've heard they're still having huge problems." – Dorset Echo
Notice the different views presented between management and the reaction from users of the system. In nearly all cases, management sugar coats problems on SAP projects.
Problematic Implementation #3:

Levis Strauss
The following covers the Levis Strauss ERP system problems.
Problems with a massive global enterprise resource planning (ERP) rollout have helped send Levi Strauss' second-quarter results through the floor.

The jeans giant reported a 98 per cent drop in net income to $1m and squarely blamed "substantial costs" associated with its new ERP system among other factors for the shocker.

Levi's is standardizing on a single global instance of SAP ERP, and told The Reg it was forced to take shipping systems at its three massive US distribution centers off line for a full week in April to fix problems receiving and fulfilling orders.

The company not only lost business during the shut down, but also saw customers who'd placed orders cancel them once the systems were back up.

A Levi's company spokesman blamed the problem on integration of "legacy systems". He told The Reg Levi's is continuing the software rollout but notes it's currently in a "stabilization phase".

An SAP company spokeswoman said the company has a "great relationship" with Levi's. "As part of this close partnership we work closely together to resolve any challenges that arise," she said.

It's rare for software to get called out in an SEC filing for materially hurting the business or increasing costs, along with the standard business complexities of currency fluctuations or retail expansion. ERP was fingered with other factors, though, as Levi's explained its poor performance this week. – The Register
The Register is a very few IT media entities that do not report implementation problems with a slant towards exonerating the vendor and the consulting firm. See this comment on this article.
Who'd have thought it?
1) An IT disaster in the private sector? Everybody knows it's only the public sector that's incompetent…

2) Another disastrous "bet your business on a single package" rollout, sometimes it's SAP, sometimes it's Oracle Apps, either way, there'll be more kept quiet than reach the public… – Comment #1
Yes, that is precisely our thoughts.
And this comment.
When we tried SAP Business one, they integrator was desperate for us to stop using the old system which we refused to do and ran them all in parallel. Two years latter when they just couldn't get anything to work, words were mentioned about our lack of payment and a law suit was mentioned. The result was a fraud counter suit was mentioned and they took their buggy software and went home.

SAP is still showing a video of how they helped us improve our productivity by using their software and we occasionally get contacted by people saying they bought SBO because of the video. So far they have all received full refunds. – Comment #2
Problematic Implementation #4:

The City of Portland
An SAP implementation conducted by the city government of Portland, Ore., went badly awry due to planning and project leadership problems, resulting in skyrocketing costs and a protracted time line, according to a report released Tuesday by the city's auditor.

The project to replace Portland's software with SAP started with a planning phase in 2004 and was originally budgeted at US$14 million, the report states. But while the project has now achieved its primary goal, the implementation ended up costing more than $47 million and took longer than 30 months, instead of an expected 14 months.

"The issues that have appeared pre-dated SAP's involvement in this project," said SAP spokesman Andy Kendzie. "To my knowledge, the project is under control and moving forward. They are a very valued customer."

For example, city officials had based the original budget on an independent estimate that did not factor in costs such as new hardware needed to run the system. In addition, city officials later added more functionality to the project plan.

Meanwhile, the project's contractor, Ariston Consulting and Technologies, "was not always able to identify standardized ways of incorporating these additional items," resulting in higher costs, according to the report.

Ariston also failed to finish project documents on time and had staffing difficulties, it adds.

Portland ultimately terminated its contract with Ariston in 2008 and signed a new deal with SAP's Public Services arm to finish the project, the report adds.
It is curious that the initial timelines, which were undoubtedly presented to The City of Portland by both SAP and the SAP consulting firm — the idea that The City of Portland would come up with its timelines would bring up the question of where they would get this information. At Brightwork, we have a project planning estimator for ECC, Project Planning Package – SAP ERP/ECC/R/3. However, it is unlikely that they would find it — and if they did find it — SAP and the consulting company would say that our estimate is far too long.
As we cover in a later implementation, this is written by Chris Kanaracus, who provides inaccurate information about SAP. Overall, a large percentage of the article on SAP lawsuits and problems comes from just a few authors, all of which work for media entities with an undeclared financial connection to SAP.
Problematic Implementation #5:

Lumber Liquidators
Lumber Liquidators is attributing a weak third quarter to a complex SAP implementation, saying the project imposed a significant drain on worker productivity. But the problems appear to be largely related to employees having trouble acclimating to the new system, versus malfunctions in the software itself.

But Lumber Liquidators expects the SAP system to have significant benefits for the company over time, CEO Jeffrey Griffiths said during a conference call Thursday. It will help the company grow internationally, as well as take advantage of a broad ecosystem of complementary applications, he added.

"Lumber Liquidators is a valued SAP customer and we remain strong and positive partners," SAP spokesman Andy Kendzie said in a statement. "SAP is actively engaged with the company in completing their implementation and we believe this is solidly on track. When complete, we are confident Lumber Liquidators will reap significant benefits from the system and it will continue to be a critical element in the company's growth strategy." – PCWorld
The software did not do what SAP said it would do. However, SAP is not blamed in this article. The author of the article, Chris Kanaracus, covers SAP for IDG publications and can be relied upon to provide pro-SAP and inaccurate information.
Observe this quote.
Overall, ERP projects can go badly for multiple reasons, such as "changing internal requirements by the company that slow down system integrator implementation, lack of resources for training and system design, and complexity in the software," said Altimeter Group analyst Ray Wang.
This is typical of analysts that cover SAP to generalize the implementation issues such that the blame is never assigned to SAP.
Problematic Implementation #6:

Alberta Union of Provincial Employees
Some public servants in Alberta have been underpaid for weeks after the introduction of a new payroll management system. The provincial government confirmed to CBC News that the large-scale transition to the 1GX program in December has led to pay errors for a "small percentage" of Government of Alberta staff. The government did not initially specify how many, but following the publication of this story, Service Alberta provided information saying approximately 531 employees had reported pay issues. Some members have reported that they are missing up to 40 per cent of their wages, while others are missing premium pay for working evening or weekend shifts. "We definitely do not want it to look like what happened with the Phoenix system," Susan Slade, a vice president at the union, said. That debacle involved tens of thousands of federal public servants getting overpaid, underpaid or not paid at all because of a new, issue-plagued pay system. – CBC
Payroll problems are a common issue with problematic SAP projects. This article did not have commentary from anyone who attempted to minimize or otherwise deflect or rationalize the problems on the project.
Conclusion
Much like the articles on SAP lawsuits, the articles that covered SAP implementation failures appeared highly censored. Some of the most in-depth coverage was published in media outlets like ComputerWorld, PCWorld, and CIO — which are not, in fact, different or independent entities — but are all owned by IDG — which is in turn owned by a Chinese construction firm — which we cover in the article Can You Trust IDC and Their Now China Based Owners?.
The number of problematic implementations stretches over several decades. However, the problems are few. This is a minimal number for how many SAP customers SAP has had — and the problems that have come from purchasing SAP. We observed a database of problematic implementations recorded by a person who works in competitive intelligence at a major ERP vendor — and it was a far more extensive list. To find these problematic implementations is an effort.
These IT media entities all take money from SAP. This is why they produce articles that help SAP understate the reality of SAP implementation problems. And they are written by a minimal number of authors — all of who produce unreliable information on SAP when they write other articles about SAP. These authors are clearly protecting SAP and are not reporting honestly.