What is Motley Fool's Accuracy on SAP Overtaking Oracle in Cloud?
Last Updated on January 4, 2021 by
Executive Summary
Motley Fool's published an article on how SAP would overtake SAP in the cloud.
Motley Fool's analysis of Larry Ellison, internal growth, and HANA being related to the cloud are entirely illogical.

Introduction
On Mar 1, 2015, the article Oracle Corporation Falls Victim to Hubris as SAP Overtakes Its Cloud Business was published.
See our references for this article and related articles at this link.
In this article, we will review the accuracy of this article.
Article Quotations
The founder of Oracle Corporation (NYSE:ORCL) had some pretty bold words at his keynote speech at Oracle World last fall. He may be right about IBM, but Mr. Ellison may have to eat his words in regards to SAP (NYSE:SAP). Here is how the two stocks have performed over the past year.
Stock Performance Indicates Movement to the Cloud?
Not only has SAP outperformed Oracle recently, but since Bill McDermott took the CEO reigns in February 2010, SAP stock has increased 77%, outpacing Oracle which is up about 60% over the same period.
Stocks can go up and down for several reasons. While it is true that Wall Street prefers a cloud story, Wall Street is often easily fooled by companies like Oracle and SAP that both engage in cloud washing. The stock price is not a reliable indicator of whether one or other companies are being more successful in improving its cloud offerings.
Larry Ellison Was Wrong About SAP Being Nowhere in the Cloud?
When Larry Ellison made his comment, he was referring to the cloud business. He had mentioned that while Amazon Web Services, Salesforce, and Microsoft are seen as competition in the field, "SAP is nowhere in cloud."
And outside of SAP's acquisitions, firms like SuccessFactors and Ariba — that were in part specifically purchased to gain cloud capabilities (and to make an impression on Wall Street) Larry Ellison is correct. Larry Elison is a bit like Vladamir Putin. He is unreliable regarding Oracle information, but he has, in the past, had a good bead on SAP. And he is far more predictive about SAP than has been Hasso Plattner.
There's an old saying that goes something like, "men lie, women lie, but numbers don't." Let's see if the numbers back up Ellison's statements.

SAP and Oracle have fiscal calendars which end at different times of the year, but taking the latest 12 months of results for each company shows that SAP is growing at a much faster rate than Oracle. As a German company, SAP also reports its results in euros. Converting those figures to U.S. dollars results in annual cloud revenue of over $2.5 billion.

Winner: SAP.
This analysis leaves out entirely how these types of numbers can be doctored. If SAP did grow 110% due to the cloud, it was due to cloud acquisitions. Any big rich software vendor can purchase a cloud vendor and increase its cloud growth rate.
But even if they were true, SAP is still getting the vast majority of its revenues from on premises sales. Both Oracle and SAP are slow to get to the cloud. For Salesforce or Arena Solutions, these numbers are 100%.
The Author Getting Confused about Internal Versus Acquisition Cloud Growth
Not only is SAP beating Oracle in the cloud, it is doing so by taking a page out of Oracle's own playbook — making savvy acquisitions. Over the past five years, the software giant has spent $16 billion acquiring SuccessFactors, Ariba, and most recently, Concur Technologies, a travel and expense software provider. All three company's solutions already do or will run on HANA, SAP's application server that includes an in-memory database management solution.
And that is the issue. Those acquisitions are making it appear (if you don't pay attention) that SAP is switching it's on premises applications into cloud applications with customers. But it isn't doing this. It is acquiring its way into the cloud, as is covered in the article How SAP is Acquiring its Way Into the Cloud.
Secondly, none of these applications run on HANA. They did not accomplish this when this article was written, which means "they already do" is inaccurate, and "they will" is also incorrect. Secondly, it makes really no sense to run any of these applications on HANA because they would not benefit from high-speed read performance. Still, HANA would dramatically increase the price of each.
HANA is Related to Cloud How?
As of the most recent quarter, HANA has been adopted by over 2,700 customers, more than double last year's total. One high profile customer is the NFL, which utilizes HANA to leverage player performance data for the leagues fantasy football product. Analytics tools are also being utilized by the NBA and NHL.
Those same customers realize that HANA has enormous overhead, and HANA's growth is now negative for eight months straight.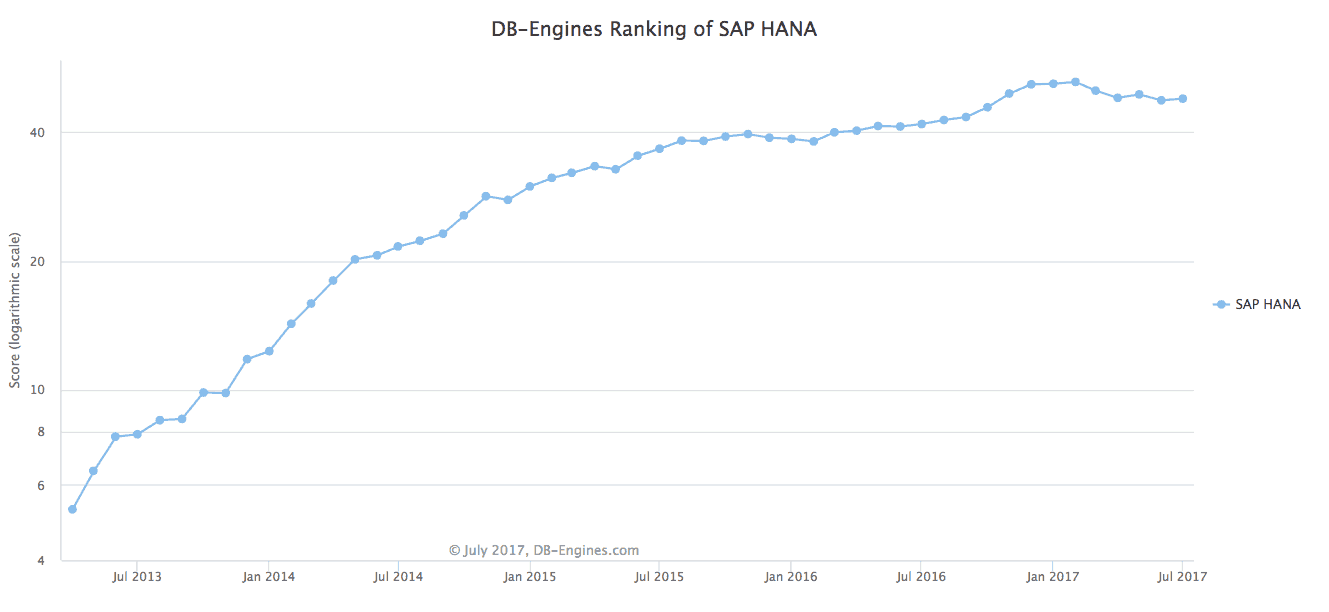 SAP has put enormous marketing resources into HANA, but for excellent reason, it is stalling and declining.
Amazing Customer Case Study Statistics?
Another success story includes Procter & Gamble, which migrated its database from Oracle to SAP. Implementation of SAP's cloud-based data warehouse application resulted in a 55% reduction in the size of its database and 400% increase in data loading speeds.
Why is the reduction so small? SAP promised a 98.5% reduction in the size of the database in marketing documentation. And read access is all that HANA does well, so a 400% increase in read performance is not surprising. But the problem is that DB2 or Oracle 12c beat SAP in performance at a lower cost. This is covered in the article, Which is Faster HANA or Oracle 12c.
But there is a bigger problem with bringing up HANA in this context. HANA has nothing to do with the cloud. HANA is primarily implemented on premises.
With strong momentum in its cloud products and a long-term plan to increase cloud revenue to €7.5 billion to €8.0 billion by 2020, SAP is not stepping off the gas pedal. Oracle should probably pay attention.
SAP has momentum in acquiring cloud vendors, but not growing cloud business internally. So Oracle need not pay attention to what SAP is doing. But they should look at Salesforce or AWS, but Oracle already knows this.

Conclusion
This author has no business writing in this area as they are clearly out of their depth. Still, because the Motley Fool was unaware of this, they allowed the author to promote inaccurate information about SAP. After analyzing many media outlets, ranging from Fortune and Forbes to ComputerWeekly, this is a common problem with media that provide coverage to SAP.
This article receives a 1 out of 10 for accuracy.