How Only Roughly 50 Companies are Classified as H1-B Dependent
Executive Summary
Congress created a classification of company that is H1-B dependent.
These companies have more stringent rules that apply to them, but there is a problem with this.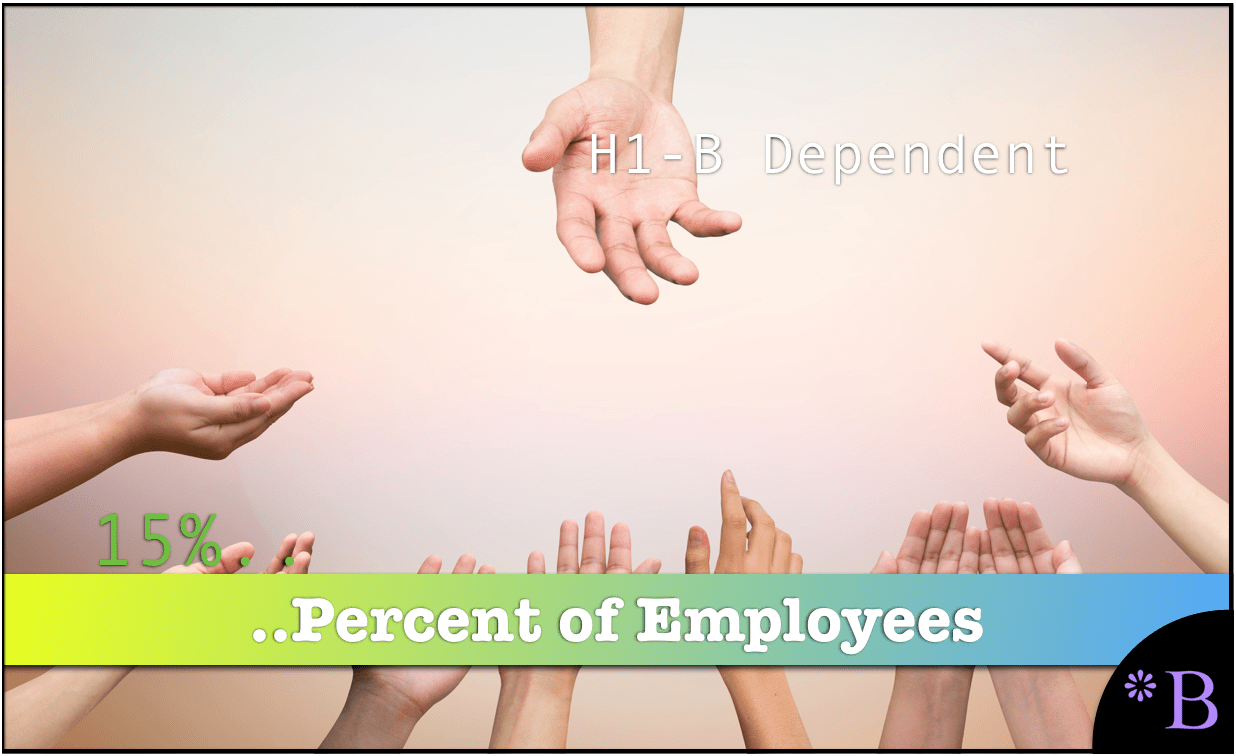 Introduction
The H1-B dependent company classification was designed to provide extra protection or standards for companies that passed a 15 percent threshold of their employees being H1-Bs. The following quotation explains why this classification has been less helpful than one might initially think.
The 15-percent threshold applied to all employees, not just programmers and engineers. Most employers would have enough nontechnical workers (marketing people, secretaries, janitors etc.) that even if their programming staff were, say, 50 percent H-1B, they would still not fit the definition of H-1B dependency.

In addition, the industry put heavy pressure on the DOL to implement the law in a manner that further restricted the scope of the H-1B dependence provisions. It took the DOL two years to issue regulations regarding the provisions, and in the end only 50 out of 50,000 H-1B employers were declared to be H-1B dependent. – University of Michigan Journal of Law Reform 
Furthermore, while H1-B dependent seems to have real meaning it is yet another example of the H1-B program legislation pretending to offer protection, that in effect means nothing.
Thanks to Sen. Hatch's advocacy, however, the restrictions for H1-B dependent employers were so watered down in the final bill that there was little practical difference, anyway.

As FAIR explained the provisions. H1-B "skilled worker dependent employers" had to offer a job to equally or better qualified US workers before considering an H1-B, while all other employers "merely had to advertize the position online; and take good faith steps to recruit US workers 'using procedures that meed industry wide standards' and offer at least the wage rate offered to H1-B workrers." – Sold Out
However, as we cover in the article How the US Department of Labor is Useless in Policing, as there is no enforcement promoted at either the DOL or the INS regarding the H1-B or other foreign worker programs, there is no meaning to this safeguard.

Conclusion
The companies that bring in H1-Bs are highly Pareto-ed or just the top ten or so are responsible for a high percentage of the overall H1-Bs brought in the US every year. As we cover in the article Cognizant Receives Approval for 28,908 H1-B Visas in a Single Year, Cognizant brought in an enormous number of H1-Bs visa workers all by themselves (nearly all of them targeted towards displacing US workers).
References
http://heather.cs.ucdavis.edu/Mich.pdf
*https://www.amazon.com/Sold-Out-Billionaires-Bipartisan-Crapweasels/dp/1501115944/