The Propaganda in IT Award: The Award Goes to NTT Data on HANA
Last Updated on February 24, 2021 by Shaun Snapp
Executive Summary
The lies in an NTT Data article about HANA are so extreme that we created a new award called the Propaganda Award.
Review one of the worst articles ever written about HANA.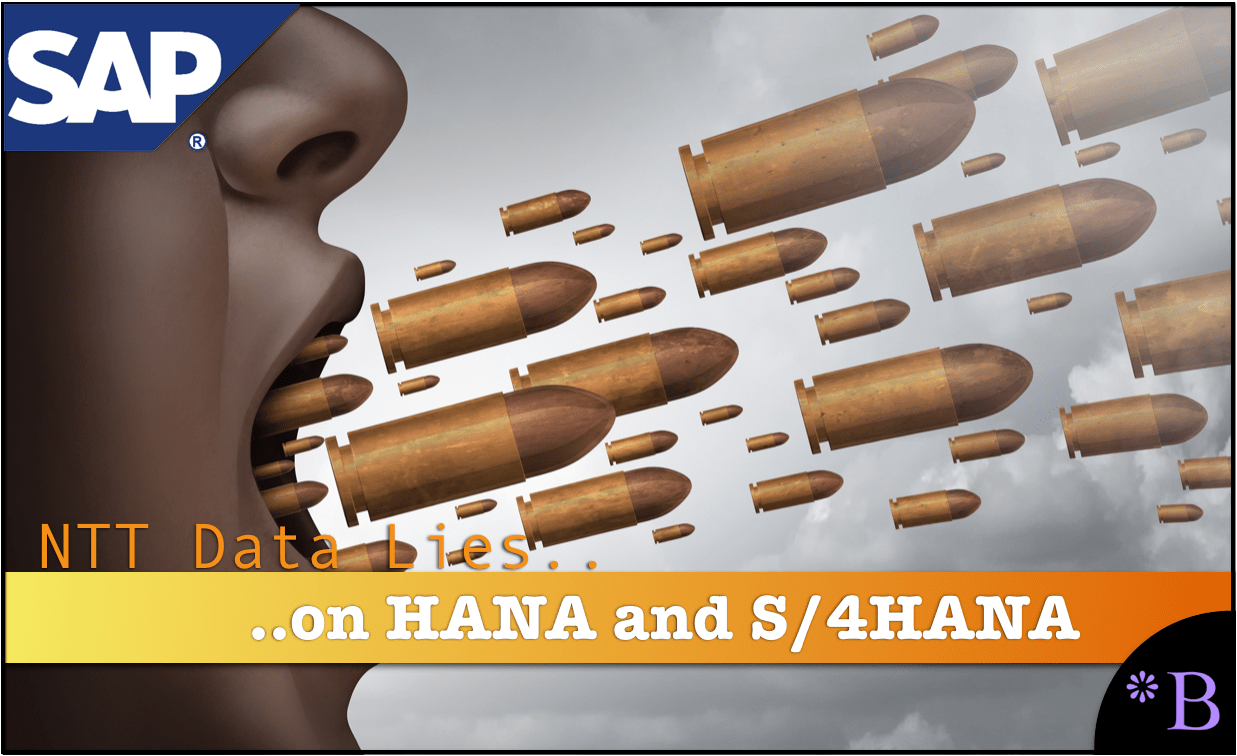 Introduction
The Brightwork Research & Analysis Propaganda in It Award is awarded to articles that contain excessive degrees of false information about IT topics. In this award, we include parts of the awarded article, along with our critique.
Our References for This Article
If you want to see our references for this article and other related Brightwork articles, see this link.
Lack of Financial Bias Notice: We have no financial ties to SAP or any other entity mentioned in this article.
This is published by a research entity.
Second, no one paid for this article to be written, and it is not pretending to inform you while being rigged to sell you software or consulting services. Unlike nearly every other article you will find from Google on this topic, it has had no input from any company's marketing or sales department.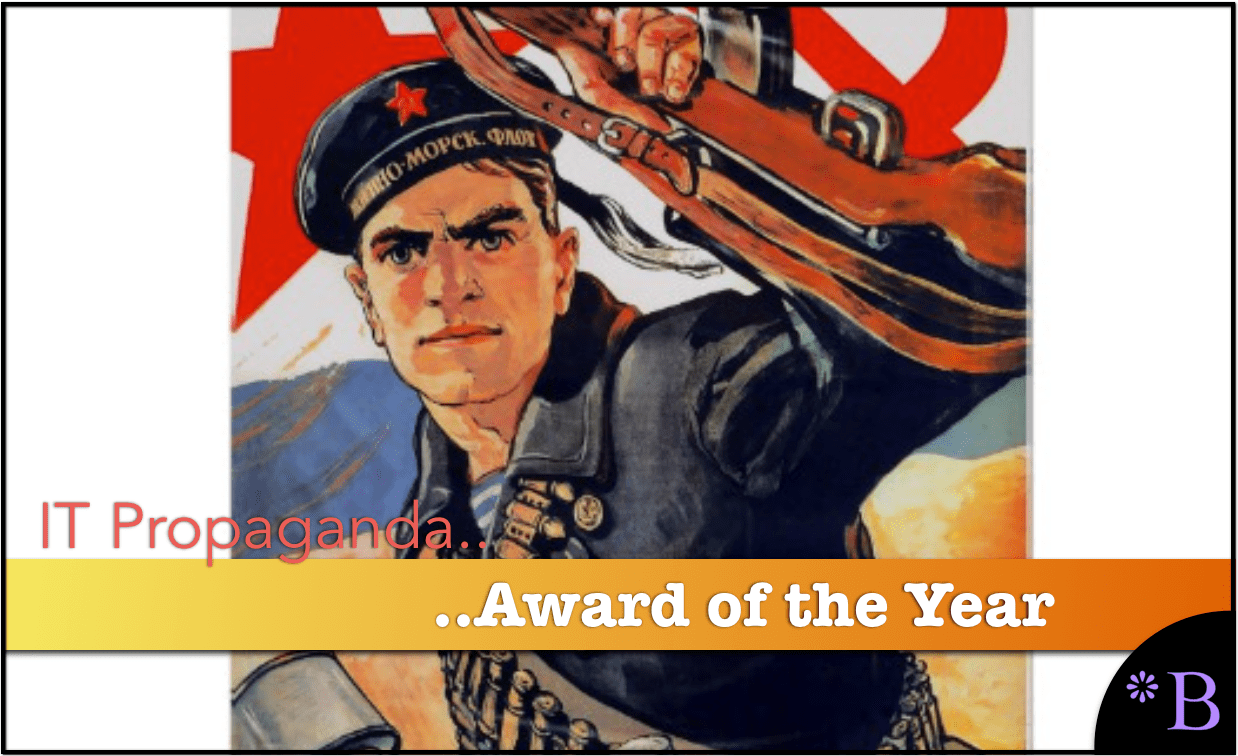 The award winner can display the image above on their website. We recommend right below the article for which they won the award. This article is titled 2015: The Year of S/4 HANA.
2015: The Year of S/4 HANA
Posted 01/31/2015 by Alison Bessho
"First announced in 2010, it quickly became clear that SAP HANA would be the foundation for everything at SAP. With columnar storage, advanced in-memory compressions, and unmatched processing power, SAP on HANA is fast, empowering businesses to run in real time, crunching Big Data – transactional, operational, structured, & unstructured – to transact, analyze and predict instantly on a single platform at the moment of opportunity."
It is untrue that HANA has "unmatched processing power." SAP has provided no benchmarks that support any of SAP's marketing proposals regarding HANA. This is covered in the article, Which is Faster HANA or Oracle 12C? While comparing benchmarks requires interpretation, SAP is no basis to state that HANA is faster or has better performance than comparable databases on the market.
"While HANA's accolades for speed are well earned, HANA's ability to dramatically simplify enterprise architecture, reinforce stability, scale limitlessly, and generate big savings in the process are equally impressive."
This is an unproven claim but a claim often made by SAP. SAP has proposed that HANA greatly simplifies enterprise architecture. That statement makes no sense. HANA is not an "enterprise architecture." HANA is a database. SAP has stated that HANA has a simplified data model, but this article, Does SAP S/4HANA Actual Have a Simplified Date Mode? This explains why this is untrue. This article Is SAP S/4HANA a New Application Architecture?, explains that Hasso Plattner and SAP's proposals regarding SAP S/4HANA are an unsupported application architecture.
According to Forrester,  enterprises opting to implement SAP HANA can expect to see their software costs fall by more than 70%, their hardware costs by 15%, and their administration and development costs by 20%.
This study was funded by SAP. And it is both an utterly flawed study that is entirely based upon information provided by SAP. Forrester's statements are entirely based upon projections. Brightwork estimates that HANA is the most expensive database that can be purchased. There are multiple reasons for this: the cost of the software, the cost of the hardware, the transition from Oracle or another database to HANA, the cost of HANA resources, etc..
There are multiple reasons for this: the cost of the software, the cost of the hardware, the transition from Oracle or another database to HANA, the cost of HANA resources, etc..
It is no surprise that today, according to SAP,  HANA has more than 5,800 customers and more than 1,850 customers running Business Suite on HANA, making it the fastest-growing product in SAP history.

S/4 HANA is sure to further accelerate this torrid pace of HANA adoption.
HANA does not have 5,800 customers using the database. The definition of a customer is that the SAP customer has a HANA license. This license will include a run time license, which requires very little investment from a company. Because SAP has exaggerated these numbers to make an impression on Wall Street and customers, the statement about being the fastest growing product in SAP history is improbable to be true. HANA has been a modestly selling database and still has a modest market share.
HANA has been a modestly selling database and still has a modest market share.
"Many core enterprise systems today — think of the ERP boom in the '90 — are flirting with overdue replacement cycles and/or upgrades, extensive and expensive customizations, rising maintenance costs and, most critically, a lack of flexibility needed to meet today's changing business demands."
All of this may be true in parts. However, the overall sentence is highly misleading.
The extensive customizations were necessary because SAP's functionality was not sufficient to meet the ECC customers' requirements.
The customizations will have to be significantly adjusted due to S/4HANA using the HANA database.
There is no evidence that S/4HANA will reduce maintenance costs. If one uses S/4HANA, it lowers the ability of a company to use outsourced support. Companies usually save 1/2 of their support spend when they move to a third party support entity. However, NTT Data, as with all the SAP partners, will not tell their customers this fact.
There is no evidence that S/4HANA has any more flexibility to meet today's changing business demands. This continues the overall article's pattern of presenting proposals without any evidence or where the evidence goes the other way.
"In a nutshell, S/4 HANA is a collection of integrated, modernized ERP (and other) apps with a simplified code and data model (no material aggregates to be maintained) capable of running OLTP and OLAP on the same system."
Untrue. HANA does have aggregates, but they are not called aggregates by SAP. And the problem with current ERP implementations is not that ECC uses "aggregates." Secondly, the code may be simplified. However, it is not true that the data model is simplified. This is covered in our article Does SAP S/4HANA Actual Have a Simplified Date Mode?
"In addition to ease of implementation without disruption, S/4 HANA benefits include compression, real time analytics, landscape simplification, and ease of configuration, delivered through a simplified and enhanced end-user interface based on SAP Fiori. S/4 HANA, not incidentally, is also optimized for cloud deployment."
S/4HANA has compression, but again the problems at SAP ECC accounts having nothing to do with compression. There is no landscape simplification with S/4AHANA. There is no ease of configuration. There discussion of preconfigured capabilities in S/4HANA, but SAP has claimed this so many times in SAP's history, and configuration is still done the way it always has been. S/4HANA has nothing to do with the cloud, although SAP has tried to comingle S/4HANA with the cloud since S/4HANA was first developed.
But the truth is most S/4HANA implementations are on premises. Something which confuses companies is the HANA Cloud Platform. This is covered in the article Is the SAP HANA Cloud Platform Designed for Cloud Washing?
As the cloud-computing paradigm shift plays out and more mission-critical functions ascend to the cloud, and as reported by Computerworld, 53% of IT leaders cite cost containment as their number one business priority, S/4 HANA will play a pivotal role in 2015, simplifying and reducing hardware costs, driving deeper cost savings from cloud services; increasing the cloud's analytic and BI capabilities by orders of magnitude; wringing latency from cloud-based services; and infusing cloud services with unprecedented reach and flexibility.
There is zero evidence for any of this, except for the quote from Computerworld. 2015 came and went, and S/4HANA did not play a "pivotal role." It was barely implemented at all in 2015.
It is confusing as to why S/4HANA would reduce hardware costs. S/4HANA requires HANA, and HANA uses the most expensive hardware as it is a combination of memory and SSD. S/4HANA is still barely implemented in the cloud. Therefore it has not reduced savings in cloud-based services.
S/4HANA (or short: S/4) is the next-generation Business Suite — a new product and not a legal successor of the SAP Business Suite 7 — based on the following three attributes:

SAP HANA as the underlying platform with increased speed, merge of analytical and transactional data (OLTP & OLAP merge) and in-memory compression to reduce data footprint. S4 is only built on SAP HANA.
Real-Time & Simplified: SAP HANA allows us to simplify our applications and the underlying data model (no aggregates, no indices anymore) leading to higher flexibility & throughput and data footprint reduction
SAP Fiori as the holistic user experience (UX) paradigm delivering cross application user experience: web-based, all devices, role-based and decisive.
There is an important reason why S/4HANA is classified as a legal successor but not a logical successor to ECC. SAP can charge companies that are already paying 23% in yearly support now have to pay for S/4HANA as if it was a new product. Brightwork has previously proposed that S/4HANA should be free to the customer.
This is covered in the article Why SAP S/4HANA Should be Free. NTT Data will never side with customers on this topic, even though its logic is irrefutable because NTT Data is a SAP Partner, and SAP partners must toe the line on anything that SAP says.
The S/4 product family – new products that will be delivered within 2015, starting Q1 – consist of the following three products (deployment options):

1

S/4HANA Public Cloud – simplified, HANA-based end2end solutions for lines of businesses (LOB) operated in the SAP public cloud with full SaaS qualities (e.g. end2end ERP processes for the Professional Services industries; end2end Marketing Campaign Management; Operational Procurement; …)

2

S/4HANA Private Managed Cloud – a full ERP-only version, partly simplified, fully HANA-based, ~30% Fiori-based UI (rest classical SAP GUI), operated and managed in the new Innovation-HEC along SaaS operation practices

3

S/4HANA on-Premise – full on-Premise ERP version (equal to Suite on HANA) with Simplification Exchange Innovation add-ons for finance (sFIN Q1) and logistics (sLOG Q4)
This is misleading as the vast majority of S/4HANA implementations are on-premises. Option 1 and option two above are barely used.
Conclusion
NTT Data told a massive amount of lies in a single article. The article is deceptive from beginning to end, which is why it is most deserving of our award for the Brightwork IT Propaganda Award.