How to Understand Our S/4HANA Implementation Study (Intro)
Executive Summary
This is the only independent S/4HANA implementation study ever published.
The research method we followed, which required interpreting S/4HANA public case studies and private case studies.
Implications of the research and future research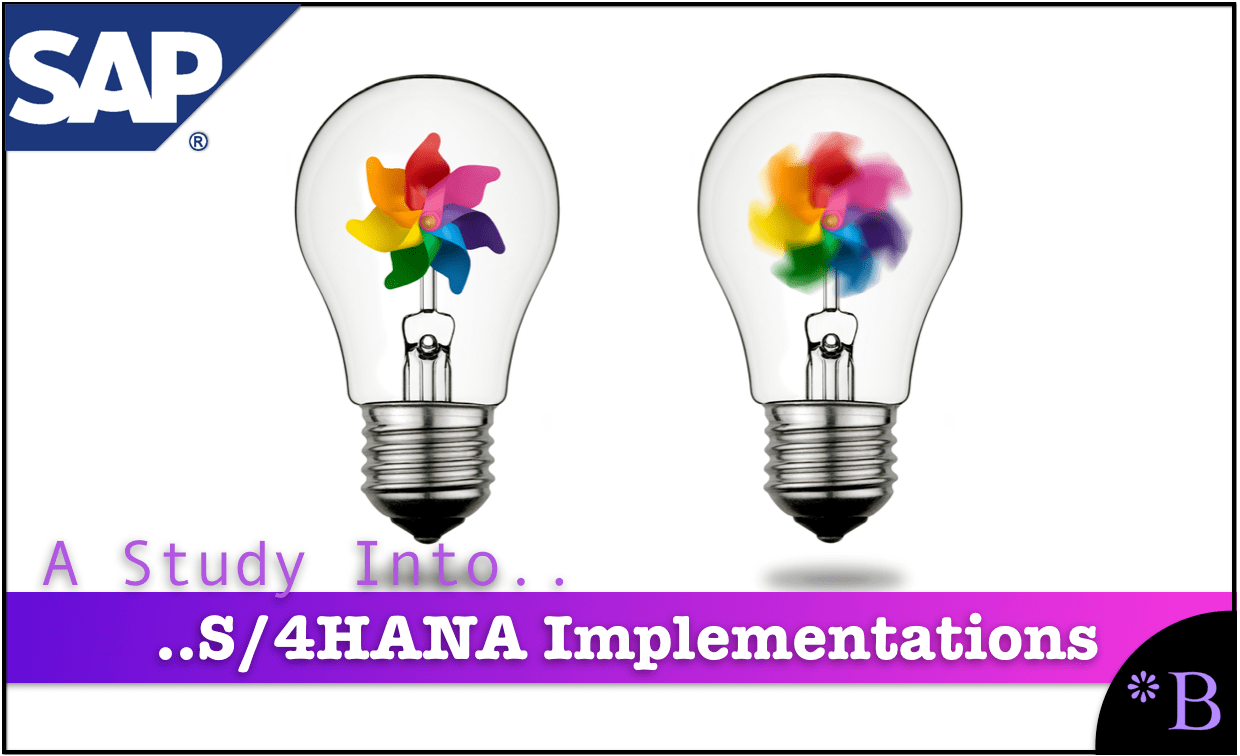 Video Introduction: How to Understand Our S/4HANA Implementation Study (Intro)
Text Introduction (Skip if You Watched the Video)
This is the first study of its kind. This is because it is the first study into the reality of S/4HANA implementations not produced by an entity that is in some way connected to or funded by SAP. The study has not relied upon SAP for information about S/4HANA implementations, as SAP is an unreliable source for unbiased information on the state of S/4HANA at its customers. We instead relied on direct sources. The study found SAP S/4HANA case studies and determined the state of these implementations and the plans that the implementation companies have for S/4HANA. The closest thing to this study is the ASUG Member S/4HANA Adoption Survey, which is carried out yearly. When performing this research and then comparing it to the ASUG S/4HANA Adoptions Survey, it became clear that the ASUG survey cannot be considered a study that can be relied upon for accurate information happening on S/4HANA projects. For example, the private case studies that this research paper could acquire show several halted or failed implementations. In the ASUG study, on the contrary, no projects show as halted or failed. You will learn about our research into S/4HANA implementations.
Our References for This Article
If you want to see our references for this article and other related Brightwork articles, see this link.
Lack of Financial Bias Notice: We have no financial ties to SAP or any other entity mentioned in this article.
This is published by a research entity.
Second, no one paid for this article to be written, and it is not pretending to inform you while being rigged to sell you software or consulting services. Unlike nearly every other article you will find from Google on this topic, it has had no input from any company's marketing or sales department. 
The Orientation of the Article
This research document provides information regarding the implementation of S/4HANA. The research reviews two categories of case studies.
Public or Published Case Studies: These are case studies that have been released to the public and consist of massaged information designed to, in many cases, lead to more implementations of S/4HANA for consulting companies.
Private Case Studies

:

Information provided by these case studies is from people who have either worked on or had exposure to S/4HANA implementations.
Many companies are trying to determine if they can improve their condition by moving to S/4HANA. And the problem with coming to this determination is that just about every entity that offers views on S/4HANA makes money from either selling S/4HANA or S/4HANA services. The top 18 system integrators such as Accenture, IBM, Deloitte, Cap Gemini combined have 240,000 SAP consultants.
To say they have a bit of a financial bias would be an understatement.
The Problem with Financial Bias
Listening to people and entities that have a financial bias in one direction or another is generally not the right way to come to an accurate conclusion on any topic. However, almost every entity that provides information about S/4HANA (and SAP products usually) either draws an income directly from SAP implementation (in the case of SAP consulting companies) or is paid by SAP (as in the case of IT media entities like Forbes and ComputerWeekly). This biases the information provided in favor of SAP.
For example, in performing this research, we came upon information that a particular customer, a very public case study and is showcased on SAP's website as a great S/4HANA success, is a very problematic installation for the customer. This customer will not communicate anything but positive things about its S/4HANA implementation. Furthermore, in addition to the typical disinterest in publishing reality-based information about projects, SAP customers sign NDA with SAP, which hinders the customer from communicating any adverse facts about SAP.
The purpose of this study was to get to the truth of S/4HANA implementations up to this point.
Paid Research Explanation
This article you are reading will provide some of the research details; however, the bulk of the article is paid research. Researching S/4HANA, validating case studies, checking with many sources in many parts of the world is time consuming and requires funding. While there exists a great interest in selling S/4HANA and S/4HANA consulting services, there has been close to no interest in determining the true state and activities of S/4HANA. This is a problem.
It is recommended to purchase this document to get the only credible information available in the market for the status of S/4HANA. Being a new product still being developed, it is of the highest importance to become aware of early adopters' experience. Given that SAP research and development have run into various limitations in developing new products going back to after R/3 was released in 1992, S/4HANA has a high probability of being less than projected by financially biased promoters S/4HANA.
Description of the Different Versions of S/4HANA
In reading this research, one will come across several versions of S/4HANA. S/4HANA is different from other applications in that there are multiple versions of the application even at one time.
Description of versions of S/4HANA are as follows: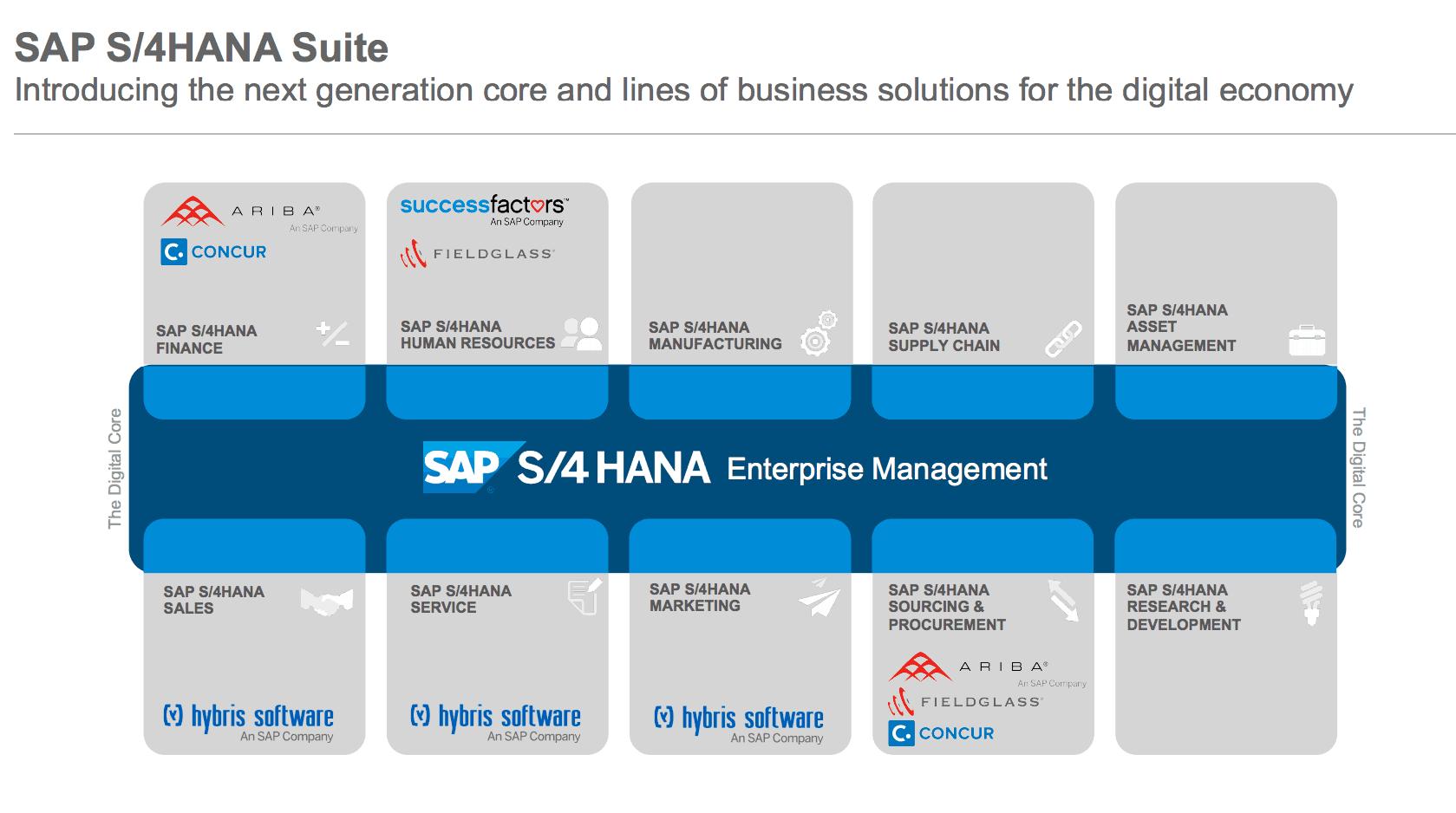 SAP's Ridiculous Release Schedule for S/4HANA
SAP releases are the most confusing of any releases that we have ever tracked. There are both cloud and on-premises releases. The cloud release is significantly behind the on-premises release in terms of functionality and with the cloud releases being far more frequent. There is version 1503, 1508, 1511, 1511 FSP01, 15100 FSP02, 1605, 1608, 1610 and 1709. However, all of the releases have hazy details on what is included in the release. For example, release 1709 states that "parts of finance, warehousing, sales, manufacturing, transportation, and CRM" are included. For example, both 1610 and 1709 declare releases within manufacturing. Manufacturing functionality was not completed in version 1610. However, it was also not completed in 1709. What is the difference between 1610 and 1709? Well, that takes a little research project.
And sometimes, releases that were supposed to be released on specific dates were not released on those dates.
To explain these releases, we consider the following to be the most important.
S/4HANA Simple Finance (now renamed Finance)
S/4HANA 1511 Inventory Logistics
S/4HANA 1610 Sales, Service, Warehouse, Manufacturing, Transportation
S/4HANA 1709 (more) Sales, Service, Warehouse, Manufacturing, Transportation
These are all on-premises releases. SAP spends a lot of marketing effort describing the S/4HANA cloud. However, we have very reliable sources that tell us extremely few customers use S/4HANA in the cloud. These tend to be the smaller companies. For this reason, we won't spend much time talking about S/4HANA in the cloud.
Considering the "Simplification List"
There are details listed in the Simplification List related to the release, which is a list of what is included in a release that is not simplified as much as a lengthy explanation of the release inclusion. For details on the Simplification List, see our article titled How to Best Understand the S/4HANA Simplification List. Then there is a further question: which of the stated functionality that is released actually works as stated in the Simplification List.
Tracking and validating the development in S/4HANA is an enormous job, and in our estimation, beyond the research funding of most companies that will purchase and implement S/4HANA. However, we had used our research into when S/4HANA released what functionality to validate the public case studies published by SAP.
Who is Brightwork Research & Analysis?
Brightwork Research & Analysis is an independent research entity. Brightwork does not take money from software vendors for research and has no financial reason to favor or against SAP or any other vendor for that matter. In S/4HANA, it is not material to us whether S/4HANA does well or whether it never becomes popular. We offer advice on S/4HANA and HANA and other SAP topics to our clients, but we sell advice, not licenses or implementation services. This separates us from the vast majority of information sources on S/4HANA.
SAP leadership perceptions are the result of a global orchestrated powerful ecosystem, all with vested interests. System integrators, CIOs/CFOs, analysts, and IT media defend the perception of SAP leadership to preserve their interests, which have been valued in trillions of dollars. (See the book SAP Nation and SAP Nation 2.0 by Vinnie Mirchandani for a fuller explanation of the financial implications of SAP's ecosystem.) According to Gartner, Accenture has 46,000 SAP consultants, IBM has 36,000. Can you count on their neutrality to give you advice on SAP? They clone what SAP says with no research or verification. What SAP says they repeat. This leads to zero objectivity and what should, logically at least, amount to zero credibility as to the viability of S/4HANA.
How Billing Hours for SAP Have the Curious Effect of Making Entities Pro SAP
SAP is pro-S/4HANA, but many SAP consulting companies are also pro-S/4HANA. And their evidence? That can be found in billing hours. Getting behind SAP S/4HANA maintains its income streams. The more money customers invest in SAP, the better these consulting companies do. Most media entities, who take money from SAP, are also pro-S/4HANA. SAP has distributed large amounts of information directly from SAP marketing and is unfiltered by the media outlet since HANA S/4HANA's introduction. SAP has distributed large sums of money to media entities for what is called "paid placements." These are undeclared advertisements, usually written by SAP, and can be found in Fortune, Forbes, ComputerWorld (owned by IDC), and many other IT media outlets. All of this has led to a general misimpression as to what has been happening on S/4HANA implementations. ASUG, the US SAP user group, publishes a yearly survey on S/4HANA. However, ASUG is part of the ecosystem that defends SAP. ASUG's media output is remarkably close to SAP marketing, demonstrating that SAP and ASUG coordinate their output, and ASUG is merely an SAP arm.
Our lack of financial relationship with SAP or any other software vendor has allowed us to publish this study without external influence.
The Background on S/4HANA
Before getting into the case studies of S/4HANA, it is essential to have a full frame of reference as to what S/4HANA is. It is one of the largest initiatives on the part of SAP ever undertaken. It is the largest current development project at SAP and has been for several years. SAP went public in 2014 with the announcement, which was the first component of the modernized suite. S/4HANA maintains a natural connection with the HANA database, as currently S/4HANA, the ERP system can only run on the HANA database.
SAP's reason for doing this is primarily marketing related.
S/4HANA maintains an artificially exclusive restriction with the HANA database. SAP S/4HANA runs only on HANA. But there is no technical reason for this to be the case. SAP makes many arguments for why, but having evaluated each of them, all appears to be manufactured. Customers are being forced to replace Oracle and IBM, and Microsoft databases with HANA.
The two products have the same term "HANA" in their title. This is quite unusual as it is either extremely rare or unique to include the database in the application's name. SAP's reason for doing this is primarily for marketing and revenue related. SAP tells companies that S/4 will only work with HANA. This has lead to significant confusion as to what is being discussed, the ERP system or the database when referring to S/4HANA and HANA. Even at this date, it is not uncommon for people to switch the terms during a conversation. People will begin discussing SAP's new ERP system and then say the word HANA, and vice versa. There are no applications in memory that are so frequently interchanged with one another. So while S/4HANA and HANA are linked, they are separate products.
The Intent of the Study
This study was intended to determine the implementation status of S/4HANA.
This study was not undertaken to determine the implementation status of HANA. HANA is a database that can be used with many SAP applications so that that study would cover topics outside of ERP systems. HANA's most common pairing is not with S/4HANA but instead with SAP BI/BW.
It is essential to understand that HANA is a database supporting several SAP applications, not only S/4HANA. Those other applications do not contain the name HANA as does S/4HANA.
S/4HANA is the next version of SAP's widely implemented ERP system. SAP has put an enormous effort into marketing S/4HANA. Yet, many of the aspects of S/4HANA are not well covered by SAP. For example, important implications for a S/4HANA implementation are left out, mainly if those implications are not positive.
For all of the effort expended by SAP on socializing and popularizing S/4HANA, it can be said without a doubt that S/4HANA is generally poorly understood. But beyond misunderstanding the components that make up the solution, there is an even greater misunderstanding regarding the implications of S/4HANA.