Understanding SAP and Harvey Weinstein and the Abuse of Power
 Executive Summary
The techniques used by SAP for abusing its power, including the use of attorneys, NDAs, and control over media and PR, are surprisingly similar to those used by the recent abuses proven to have been used by Weinstein, Cosby, Ailes, and O'Reilly.
As with SAP, people's unwillingness to speak up perpetuates the cycle of abuse.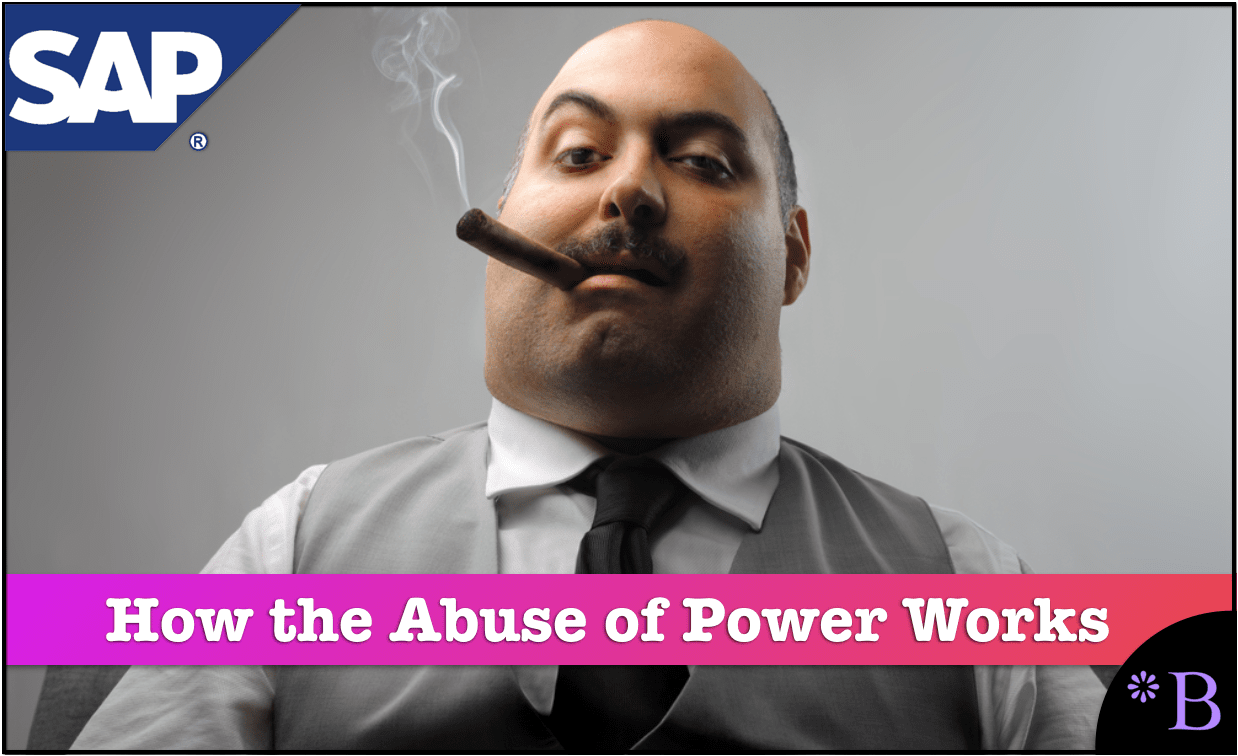 Introduction
This article will review important lessons from Weinstein and other serial abusers in the entertainment industry. We will then draw parallels to strikingly similar techniques used to cover up the power abuse in the IT-sphere.
Unbelievable Patterns of Abuse in the Entertainment Industry and Elsewhere
As is well known internationally at this point, it has come out that one of the most powerful men in Hollywood was a decades-long serial sexual harasser and abuser. Bill Cosby followed a similar pattern to Weinstein. And yet, it was kept quiet for decades. Roger Ailes followed a similar pattern, as Roger Ailes (of Fox News) served as a gatekeeper for women and men to become anchors and correspondents on Fox News. Bill O'Reilly of Fox News followed a similar pattern as well. One question that continues to arise is how did the abuse continue for so long. Weinstein had been sexually harassing and even assaulting/raping women for around 3.5 decades. Bill Cosby had been drugging women for 4.5 decades. Roger Ailes was chasing women around rooms without his pants on back in the 1970s. This question of a sustained pattern of abuse over so many decades from multiple men (and now reports arise that Weinstein is not that much of an "outlier," Molly Ringwald came forward to state that she had worked with "several Harvey Weinsteins") keep secret is the question that we all wrestle with.
Some might see this pattern of abuse restricted to men being sexual predators on women. However, if we generalize the question to the abuse of power, it is clear that this issue is much more extensive than just men versus women, just Hollywood, or just the United States president.
How SAP Fits into the Pattern
At Brightwork, the company we spend the most time analyzing and receiving inside information on is SAP. SAP is the 4rth largest software company in the world. But they have built up an ecosystem that listing SAP as only the 4rth largest software company dramatically underestimates their ecosystem's power.
As of early 2017, the top 18 System Integrators combined had 245,084 SAP consultants. Assuming an average rate of $225 per hour, 200 working days per year, and 80% utilization, each consultant generates $288,000 per year. 245,084 consultants generate $70.05 billion a year. This amount corresponds only to the top 18 System Integrator SAP partners; SAP has 15,000 partners (consulting, software, hardware, etc..), the total amount would be, of course, far more than $70.05 billion. The details on this are available in Vinnie Mirchandani's books SAP Nation 1 & 2.  It is straightforward to understand that the ecosystem has vested interest and protect no matter the perceptions of SAP leadership and clone SAP claims with no verification analysis.
SAP is a primary abuser of power, ranging from pharaonic implementation delay and cost overruns to cumbersome usability, complex upgrades, frozen versions, TCO, business damages, predatory audits, millions in indirect access, unfulfilled promises, and more. And while the distinct way that power was abused by Harvey Weinstein and was and continues to be abused by SAP is different, how this abuse is covered up are quite similar.
The Role of High Powered Lawyers Fits into the Pattern
Like Weinstein, SAP uses some lawyers to enforce its abuse of power. There are plenty of lawyers who don't care what is legal. So with Weinstein, women were bought off and put into NDAs. SAP also uses NDAs to clamp down on people speaking about abuse. As explained in the Brightwork Research & Analysis S/4HANA research, customers of S/4HANA are put into NDAs, so they can't go public with their experience with S/4HANA. NDAs are extremely rare for enterprise software and ordinarily unnecessary as customers naturally have a disincentive to publish any negative experiences with their applications. However, after tracking S/4HANA's maturity and usefulness at customers, it's quite apparent why. I question a company's right to place a customer under an NDA designed to prevent truthful information from getting out about an application. On the other hand, SAP has relentlessly promoted S/4HANA as an overwhelming success with prospects and Wall Street.
How NDAs are Abused
NDAs are merely becoming increasingly abused. In the case of S/4HANA, it prevents new customers from getting any real information about S/4HANA and leads them to implement an application that we have repeatedly proposed that is not mature enough to be implemented. We recently published the first and only realistic research into S/4HANA implementations.
Would any other research entity have published this?
We are ramping up research into SAP's claims and seem to have the market of investigating SAP's claims to ourselves. The reason is simple — there is little interest in validating SAP's claims. The IT media and analyst community seem more interested in repeating what SAP says. Even the most ridiculous claims, for example, SAP's Run Simple marketing campaign, go unquestioned.
The intertwined nature of sexual harassment and cash settlements, along with NDAs, have become so problematic that, as the Washington Post reports…
"These sorts of non-disclosure agreements and confidentiality settlements have been used to resolve claims against Bill Cosby, former presidential candidate Herman Cain and former Fox News CEO Roger Ailes. The New York Times reported last weekened that Bill O'Reilly settled a sexual harassment complaint in January for $32 million, with the intent of keeping the allegations out of court and the public view. The Times reported that Weinstein has reached at least eight such settlements over decades.

Lawmakers in New York and California are proposing legislation that would void any settlement agreement that conceals claims of sexual harassment or discrimination."
NDAs Generalized to Broadscale Abuse
However, a natural question that arises is why only for sexual harassment or discrimination? That is, is covering up abuse ok if it is not sexual harassment or discrimination? Are lawmakers proposing this legislation interested in a broader discussion of how private practice attorneys enable abuse through settlement agreements and NDAs?
Right now, SAP is pressuring customers into moving to HANA and S/4HANA by threatening them with an audit. Why is that bullying acceptable? Indeed, it is not sexual, but it is still wrong.
SAP attorneys deliberately put ambiguous clauses in the contracts to improve SAP's position in audits. These discussions happen openly within SAP as to how to best trick customers. Here is one such example.
"Use" is first defined as "to directly or indirectly activate the processing capabilities of the software, Load, access, execute, utilize, store, employ the software or display the information, resulting from such capabilities.

"Use may occur by way of interface delivered with or as part of the Software, A Licencee or Third Party Interface, or any other intermediary system". When requested, but not before, SAP MAY define specific indirect usage – such as a "retail indirect user" such as the following.

"SAP Retail Store Indirect User" is a Named User working in Licensee's retail store as an associate who is solely authorized to perform non-managerial retail store / point-of-sale related roles supported by the licensed Software, subject to the following. Such SAP Retail Store Indirect User is authorized to Use licensed Software solely through a separate Non-SAP application: (A) which: (i) connects to and/or communicates through published SAP application program interfaces, web services or other batch/middleware type interfaces; (ii) is developed without using a SAP technology; and (iii) performs only one single operational role supported by a limited number of transactions in the licensed Software (i.e. record sales, inventory related tasks, and end-of-day cash balancing & reconciliation activities); and (B) which shall in no case: (i) enable the bypassing or circumventing of any of the restrictions set forth in the Agreement; (ii) allow use of SBOP; (iii) provide Licensee with access to any Software to which Licensee is not licensed, and/or (iv) permit mass data or metadata extraction from SAP Software to non-SAP software for the purpose of creating a new system of record for that data or metadata."
Can this clause be said to be precise?
The rules that have been established are quite clear. If you are a large and powerful entity or person, then you can do what you like. Lawyers will protect you, pay off who needs to be paid off and threaten legal action (as Harvey Weinstein's attorneys did to many media entities that covered the story). Attorneys often complain that they are unfairly maligned for having poor morals. Well, one way they could reduce this reputation is to stop doing evil things for money. The attorneys who worked for Weinstein made a very conscious decision to support evil in return for cash.
Waiting for the Abuser's Power to Wane Before Coming Forward
Harvey Weinstein was at one point the 4rth most influential person in Hollywood but had fallen to 200. This is a lesser-discussed feature of the Weinstein scandal, but it explains why these revelations are coming out now, rather than ten or twenty years ago. Weinstein was merely less able to affect people's careers today than he was earlier negatively. One woman who was assaulted went to the police and tape-recorded the incident. People knew about the abuse for decades, but it took Weinstein to decline in power before anything happened.
That says something compelling about how much people will preserve themselves and look out for their careers versus doing the right thing.
Here is a list of Oscar nominees who thanked Harvey Weinstein.
Harvey Weinstein sexually harassed Gweneth Paltrow before this speech.
How many of the people who thanked Harvey Weinstein knew of this continual sexual harassment and thanked him at their Oscar speech?
Meryl Streep called out Donald Trump as a bully in a lengthy speech at the Golden Globes in 2017. However, after working with Harvey Weinstein on many movies, someone of Meryl Streep's keen ability was unaware that Harvey Weinstein was a bully? Hollywood has been uniquely aggressive in criticizing Donald Trump (who has been called the Harvey Weinstein of Presidents). He was silent on Weinstein until the story broke in the New York Times and New Yorker.
The Role of Media Control
Like SAP, Weinstein had an iron grip on media. In this case, it was the entertainment media rather than the IT media. Notice Tina Brown's quotation on this exact topic while being interviewed by the BBC.
"He had pretty much every publicist in the city was being paid a retainer by him and by Miramax. Very dissapointingly to me….half the gossip columnists were also on his payrol will consultancy deals and book contracts…which were never ever called in."
Media control is one of the most underplayed aspects of the Weinstein scandal. This means payments to any opinion shapers in Weinstein's industry.
How much did this insulate Weinstein? How much does SAP's control over media protect it from repercussions of at the very least inaccurate statements that it makes? Forbes, Fortune, ComputerWorld, Deloitte, Accenture, CapGemini, and the list goes on and on. All of them on the SAP payroll in some shape or form. SAP can do anything it wants, and it can be as unethical it wants, and it can be assured that only will it not be criticized by Deloitte, Accenture, etc.. but it will be endorsed. 
How Cases Enter the Public Domain
Some cases escape SAP control and reach the public domain.
A few examples are the following:
DHL (Germany): November 2015: DHL Germany, serious deficiencies, significant business disruptions, cancel the implementation project, write-off €345 million
Sysco (USA): February 2016: Sysco USA spent $1.4 billion implementing SAP to discover when it was done that SAP does not enable to provide the level of a specified quality of service to its customers. And as consequently removing SAP returning to the previous in-house system.
Stallergenes (France): August 2016: Stallergenes France, SAP implementation triggered a drop of 58% revenue, had to close a factory for a few months and recall products, lost market share
Datatec, (South Africa): May 2017: Datatec South Africa, SAP implementation triggered a $338 million revenue decline
Publicis (France): May 2017: Publicis France, this case that happened in 2014 had to stay secret, but it went public on August 26, 2016. Following a friendly arbitration in 2014, SAP paid €150M to Publicis to compensate costs and delays of the implementation.
NDAs and press controls minimize the number of such cases that reach the public domain.
The case of Publicis that filtered to the public two years after it happened is a perfect example exhibiting that cases remain silent.
How many similar cases never reach the public domain?
Would existing SAP Business Suite customers upgrade to S/4HANA or new customers select SAP if they aware of these experiences?
Can you find out about these experiences from Deloitte, Accenture, or Capgemini, or would they prefer to sell more S/4HANA implementation business by covering these stories up and emphasizing promises made by Bill McDermott or Hasso Plattner?
The Unwillingness of People to Speak Up and How it Perpetuates the Cycle of Abuse
SAP abuses its power as a natural course of its existence. Stories continuously come to us with some trick that SAP is pulling.
SAP is enabled by some entities, large consulting companies, IT media, etc..that don't care, and that defend and promote SAP because they find it to be profit-maximizing. These are the largest and most well respected consulting companies, and they will support anything SAP says, and turn a blind eye to any form of abuse that SAP performs. And each of these companies in many cases engages in their way of harm, cheating, lying misrepresenting — so they live in a moral vacuum where quota attainment trumps all.
In the end, before "SAP through Bill McDermott or Hasso": SAP interests are protecIn many cases, not only by NDAs, analyst Integrators, and partners but also by CFO and CIO that spent their life around SAP and enforce SAP into acquired companies or companies when they change job. Don't make mistakes, get this right, this is about protecting their job, not about doing the best for the interest of the company that pays their salary, another way of unethical behaviors.
SAP through Bill McDermott or Hasso Plattner release a steady stream of false information, information that we have repeatedly analyzed in various articles, and these quotations pass without commentary.
Example Number One
For example, SAP has proposed through there will be no more batch pro, SAPcessing. The following is how they phrased this proposal.
"No More Batch — All Processes in Real-Time"

"…enterprises can dramatically simplify their processes, drive them in real time and change them as needed to gain new efficiencies – no more batch processing is required."
SAP is making a massive claim here. That there is no latency on any application that runs HANA.
However, S/4HANA running on HANA is not in real-time. This can be validated with some investigation. Why does not one call SAP out on this point? (we cover this point concerning MRP)
Example Number Two
SAP recently provided a patently false reason for missing its last quarter. It blamed "investments in cloud," even though SAP invests quite little in the cloud. Notice the quote from Luka Mucic from SAP as reported in Reuters.
"Chief Financial Officer Luka Mucic said the slowdown in new orders growth in the last quarter had coincided with accelerated investments in the cloud business.

As this spending rolls off, an improvement in margins will start to shine through in the current quarter, setting the scene for "exponential" growth in gross margins thereafter, he said.

The number of S/4HANA customers rose 70 percent, year-on-year, of which 40 percent were net new customers, SAP said."
Now having just completed our research into S/4HANA, we know the last part of the quote is false. SAP may have transitioned licenses to customers for S/4HANA using a variety of techniques (indirect access claims, massive discounts, etc..) but they are not real purchases.
But what is most interesting is the logic given for missing the quarter – the investment in "cloud business."
This is curious because SAP has been investing in their cloud business for some years, why is it impacting this quarter in particular? And is this the only explanation?
Now, look at this analysis from Morgan Stanley. This is, by the way, the same issue as with Reuters from which these quotes are taken, the analyst from Morgan Stanley assumes merely what SAP says is true.
"We think the key investor debate on SAP today is around margins – is there operating leverage at SAP after a period of heavy investment or is the move to cloud structurally negative for margins?" Morgan Stanley said ahead of the quarterly report."
Promising Growth
What about the promised growth of things like S/4HANA, HANA, and IoT? Before questioning the assertion, Morgan Stanley begins debating details around the cloud argument.
Did Morgan Stanley verify this "heavy investment" or did Morgan Stanley assume it was true because SAP said it, and then went on from there?
If that is all that Morgan Stanley is doing before issuing a statement, then they are not adding any value. I was told that these financial analysts work very hard — but this does not look like work, it seems like parroting statements or passing on rumors. This same level of analysis can be replicated by school children.
Let us review Morgan Stanley's business model, momentarily. Do they have a genuine incentive to perform analysis, or are they primarily about promoting stocks? That is, is Morgan Stanley school children can replicate this same level of analysis once of how we seem to deal with false information depends upon the power of the entity saying it.
That is, if you are powerful, you can say and do whatever you like, and the cult of power will protect you from criticism. The top paid attorneys will leap to your defense to force any entity to sign any NDA offering any cash settlement that is necessary to maintain the silence, to maintain the illusion and to allow the pattern of abuse to continue. This can be violating US antitrust law, just one example being tying agreements. I covered in the article SAP Indirect Access and Tying Agreements and US Anti Trust Law). It can be tricking companies with contracts that contain "grenades" such as indirect access that SAP can later come back and audit the firm to find, or it can be sexual harassment and rape (in the case of Weinstein). Whatever you want to be done, there is an attorney who is there for you to whitewash behavior.
How SAP Perpetuates Inaccurate Perceptions
Here is an example of how inaccurate perceptions are launched by SAP and accepted and cloned by all the media and ecosystem.
Bill McDermott, SAP CEO, in the earnings, call for 2017 Q3 on October 19, 2017:
"SAP, the most innovative cloud company," "The reality is we've added more cloud ERP customers in 7 months than some competitors have added in 7 years".
What McDermott omits is that SAP cloud revenue is originated from the acquired products and that S/4HANA cloud has minimal revenue and is "private cloud," meaning "hosting," i.e., 20-year-old technology, not the modern cloud.
Darren Ross, SAP President S/4HANA Public Cloud acknowledged in November 2016 having a modest number of customers in Public Cloud and missing know-how to develop multi-tenant cloud.
Many Harvey Weinsteins?
Silence is key. It is paramount, and as brought up by Viola Davis, who commented on the Weinstein allegations, it is what all victimizers crave.
"The predator wants your silence. It feeds their power, entitlement AND they want it to feed your shame."
Several weeks after the Weinstein scandal broke, 38 women spoke on the record on the director James Toback for what amounted to similar behavior.
People fear SAP, as they once feared Harvey Weinstein. I am frequently told by people that work with or in SAP that they would like to come forward, to tell the truth on SAP, but the director, James Toback's record, have your name associated with criticizing SAP is negative for the career. This is why everyone that speaks to me about SAP does it under the condition of anonymity.
Conclusion
More information may come out years from now about SAP after they have declined, but providing this information year from now is not as useful as providing it now, or even five years ago. So while very close to the entirety of IT media is on SAP's payroll, and cowardice seems like at the standard operating procedure. But at Brightwork Research & Analysis, we publish truthful information about SAP. So while others want to milk SAP for as many paid placements as they can, we do publish validated stories about SAP.
It is the silence that enables abuse to continue. For Weinstein, the plethora of women who have come out like Angelina Jolie and Gwyneth Paltrow in the last few weeks to describe their experiences with Weinstein suffered these actions over 20 years ago. If this information had come out sooner, that is 20 years of other women being harassed that need not have happened.
References
https://www.vanityfair.com/style/2017/10/molly-ringwald-on-sexual-assault-in-hollywood
https://www.washingtonpost.com/politics/when-power-protects-in-hollywood-and-politics-a-history-of-hiding-abuse/2017/10/18/f252ded2-af5c-11e7-a908-a3470754bbb9_story.html?utm_term=.0edd31fc5e7d
Gibson, Caitlin. The Secret Agreements that Hide Harassment Scandals, Washington Post, October 26 2017.
https://uk.reuters.com/article/us-sap-results/just-relax-europes-tech-leader-sap-tells-investors-fourth-quarter-will-be-dynamite-idUKKBN1CO0FL
*https://www.brightworkresearch.com/saphana/2017/08/03/hasso-plattner-students-invent-hana/
DHL
https://www.manager-magazin.de/unternehmen/artikel/post-post-dhl-prueft-schadenersatz-von-sap-und-ibm-a-1063763.htm
Sysco
https://investors.sysco.com/press-releases/Press-Release-Details/2016/Sysco-Announces-Additional-Details-of-Three-Year-Plan/default.aspx
*https://panorama-consulting.com/sysco-has-selected-sap-to-help-transform-its-business/
Stallergenes
*https://www.silicon.fr/echec-du-projet-sap-de-stallergenes-une-facture-finale-qui-fait-tousser-156099.html?inf_by=59daa62c681db8182a8b467c
Datatec
https://www.businesslive.co.za/bd/companies/2017-05-22-software-upgrade-takes-toll-on-datatecs-net-profit/
Publicis
https://www.lemondeinformatique.fr/actualites/lire-sap-aurait-verse-150-meteuro-d-indemnites-de-retard-a-publicis-68366.html
Bill McDermott Earnings Call 2017 Q3
https://seekingalpha.com/article/4114787-saps-sap-ceo-william-mcdermott-q3-2017-results-earnings-call-transcript?part=single
Darren Roos
https://diginomica.com/2016/11/01/sap-ramps-up-s4hana-public-cloud-division-exclusive-with-new-chief-darren-roos/
https://variety.com/2017/film/news/viola-davis-harvey-weinstein-sexual-harassment-1202586232/