SAP is Accused of Witness Tampering in Teradata Lawsuit
Last Updated on March 27, 2021 by Shaun Snapp
Executive Summary
In a filing, SAP has been accused of shocking behavior by Thomas Waldbaum, their formal internal auditor.
We analyze the claims made in this filing.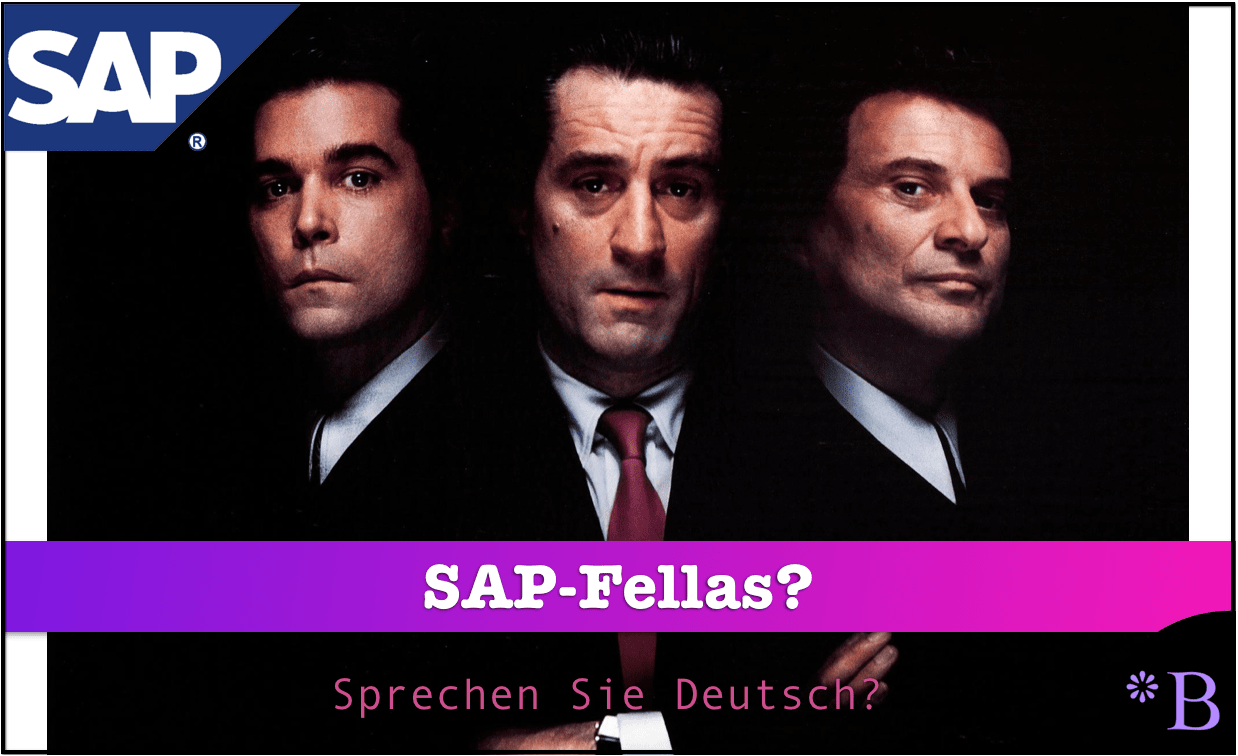 Introduction
The Teradata vs. SAP lawsuit has been proceeding through the Northern District of California. A Statement of Corrective Evidence was filed on August 6th of 2019.
Our References for This Article
If you want to see our references for this article and related Brightwork articles, visit this link.
We analyze some of the claims that we found most interesting that were made in this filing. This tends to be something that most people do not associate with SAP.
The Introduction of the Corrective Statement
Let us move to the witness tampering claim made in the submission to the court.
This is a corrective statement submitted by third-party witness Thomas Waldbaum (a former SAP senior intellectual property auditor) in the case Teradata v. SAP SE, USDC Case No. 3:18-CV-03670-WHO (the "Litigation") to correct and protect the record from intentionally false and misleading statements submitted by defendants SAP to unfairly attack Mr. Waldbaum's credibility and character, and to retaliate against him for protected whistleblower activity. SAP's assertions distort, misrepresent and omit facts concerning Mr. Waldbaum's conduct and findings as a senior intellectual property auditor for SAP. SAP's assertions concern not only Teradata, but also "other companies," as referenced in SAP's motion.

In the Litigation, Mr. Waldbaum has been identified in pleadings and related papers as a principal material witness because of the work Mr. Waldbaum did for SAP between May 2011 and February 2014 as a senior intellectual property auditor involving information concerning Teradata and other SAP competitors.
Threats to Mr. Waldbaum and Witness Tampering
Mr. Waldbaum is a crucial, material witness. His safety, and availability to testify are essential to the proper administration of justice and to the success or failure of each party's claims. It is extremely urgent that law and order be reestablished concerning Mr. Waldbaum's physical safety, and the safety of his rights. With the filing of this motion, SAP has undeniably confirmed in writing its motives and intention to wrongfully damage Mr. Waldbaum's reputation, and viciously cause him irreparable harm.

Mr. Waldbaum will not allow himself to be harassed, victimized or wrongfully criminalized once again because SAP has no better defense than to harass and tamper with the witness, and illegitimately seek to discredit and ruin him.
Our Analysis
Its bears being pointed out that witness tampering and obstruction of justice are criminal offenses. It leads witnesses to be placed in witness protection. Witness tampering is what Arthur Andersen was found guilty of and was instrumental in ending Arthur Andersen and assistance in supporting the Enron fraud.
Part of a Pattern of Employee Intimidation
SAP falsely asserts in its motion at least 5 times that Mr. Waldbaum stole information. Mr. Waldbaum stole nothing. To the contrary, Mr. Waldbaum preserved and protected the laptop computer evidence as required for the OSHA SOX case and as allowed by the German State Prosecutor, which preservation now also directly serves the interests of justice in this case. On the other hand, SAP is attempting to suppress information. The harassment of this motion and its accusations, and SAP's attempts at suppression, are tampering with the witness and obstructing justice. Moreover, Mr. Waldbaum is not the only SAP employee to complain of extreme duress at the company to cover up issues. At least one instance involving another SAP employee is reflected in one of Mr. Waldbaum's audits.

The German State Prosecutor's office itself confirmed that Mr. Waldbaum's status as a Whistleblower and his possession of the evidence as a natural course of this Waldbaum duly returned the laptop to SAP as soon as legal and forensic protocols could be put in place to preserve the evidence and forbid its destruction notwithstanding long intentional protraction by SAP for its own purposes.
Our Analysis
It is tough to see what SAP's claim is regarding Mr. Waldbaum stealing information. The information that Mr. Waldbaum possessed as part of his audit. This information was provided to SAP in 2016 in their settlement, as is covered further on in the article.
SAP Makes Accusation that it Refuses to Provide Evidence Against Waldbaum
In December 2012, shortly after compiling notes of privileged and confidential interviews, Waldbaum called in sick, never to return to work at SAP. Then, in January 2013 Waldbaum began contacting SAP management and executives, directly and through a lawyer (his father), demanding that SAP pay him millions of Euros or he would make public dramatic allegations of alleged misconduct related to Teradata (as well as other companies). The allegations underlying Waldbaum's threats were not shared with SAP before going on leave. And, unbeknownst to SAP at the time, after going on leave, Waldbaum had apparently altered his privileged audit interview notes with embellishments to add "evidence" supporting his dramatic but false allegations of SAP misconduct."

Teradata's claims of wrongdoing are based entirely on the self-serving writings of Waldbaum who, as found by the German Labor Court, pursued personal goals in a selfish way by threatening to disclose his findings unless SAP paid 25 million Euros.
Our Analysis
Furthermore, SAP asserts that Mr. Waldbaum's father and his attorney were also part of this conspiracy.
We wrote this in the first version of this article.
We hope that SAP has the evidence for this and that SAP has alerted German authorities that they were the victim of this blackmail. If the blackmail attempt were made, it would have most likely been made orally. Therefore, the specific SAP employee or SAP employees need to be deposed who is accusing Mr. Waldbaum and therefore be under threat of perjury.
Unsurprisingly, SAP never provided any evidence of the blackmail. German authorities investigated this, and due to the lack of evidence the charges, initiated by SAP against Mr. Waldbaum were dropped. Making false criminal charges against a person is itself a crime.
Knowingly Making Defamatory and False Accusations
Here is a question.
If SAP could not provide any evidence for this accusation — how did they know this accusation occurred? Did SAP cynically accuse Mr. Waldbaum to see if they could get Mr. Waldbaum in trouble with the authorities to distract from the claims made against them?
This seems quite likely.
In fact, it is not apparent what another conclusion one would come to. Is SAP's argument that they had evidence to support their accusation, but they lost it?
Mr. Waldbaum's Response to SAP's Allegations
SAP's representations above, and throughout its motion, are false and misleading, and are sanctionable. SAP is fabricating a scandal by attempting to divert attention from SAP's conduct, acts and omissions Mr. Waldbaum observed during his audit work to Mr. Waldbaum himself, and to make him a scapegoat for SAP's actions.

SAP began retaliating against Mr. Waldbaum in late 2012 for his audit reporting, attempted in 2014 to have him falsely prosecuted under its unsubstantiated accusations which were rejected as such by the German state prosecutor, and has now repeated those same false and defamatory accusations in this Court in 2019.

Now, in this Litigation, Mr. Waldbaum will not allow himself to be falsely accused, victimized or wrongfully criminalized once again by SAP. SAP's motion is craftily worded to mislead and deceive, and to distract and divert attention from the merits of the case. This case is fundamentally about SAP's conduct, not about Mr. Waldbaum's conduct.

If SAP truly wishes to prove that Mr. Waldbaum's audit findings were "unsupported" and that SAP's conduct was correct in all respects, then SAP should support full disclosure of all materials from the audits. If SAP is confident in its positions taken in the Litigation, SAP should immediately produce Mr. Waldbaum's laptop computer for full disclosure in discovery and immediately allow for his full and safe testimony on the documents therein to set the record straight.

Since SAP is arguing that the audit findings and audit reports were self-serving or unsubstantiated, then it must produce Mr. Waldbaum's laptop computer into evidence for full disclosure to get to the bottom of the truth in this matter.
Our Analysis
Mr. Waldbaum has an excellent point. SAP is accusing Mr. Waldbaum of misbehaving and bringing false claims against SAP but simultaneously claiming attorney-client privilege on the information contained in Mr. Waldbaum's laptop, which is the overall audit documents. If SAP's accusations against Mr. Waldbaum are correct, then they should have no issue allowing this information compiled by Mr. Waldbaum into the public domain.
It's almost as if SAP is trying to hide something.
SAP has stated that the claims made by Teradata are also without merit.
What better way to speed this process along than by releasing the contents of their internal audit?
On SAP's Previous Relationship with Mr. Waldbaum
In November 2012, Mr. Waldbaum's supervisors took issue with his HANA audit findings, and would not accept them as expressed. One day in early December 2012, when Mr. Waldbaum was using his work phone, files stored on the phone were completely erased by someone, apparently using a wiping program that could remotely access and manipulate his phone. At about the same time, Mr. Waldbaum concluded that if he tried to use his laptop computer to access SAP servers, wiping software could be used to eliminate or corrupt the information Mr. Waldbaum had collected on the computer. For his own protection and for the protection of others, Mr. Waldbaum took necessary steps to preserve the files in the computer (i.e., Mr. Waldbaum did not connect the computer to the internet).
Mr. Waldbaum Has His Residence Raided at the Behest of SAP
A forceful and unjustified dawn raid with the presence of at least 8 members of law enforcement and 5 vehicles was conducted on Mr. Waldbaum's family's home in France by German police with the collaboration of French police in November 2014.
Intimidation Beginning in 2013
Beginning in 2013 and continuing to the present, Mr. Waldbaum and his family have been subjected to electronic cyber-intrusions, electronic and physical stalking, and physical intimidation and attacks, as described in Mr. Waldbaum's submission to the Court on July 24, 2019 concerning such matters and protections against witness tampering.
Digital Stalking and Physical Violence in 2014
In September 2014, attacks on his family and him were visibly expanded from digital stalking and attacks to physical stalking and physical violence, including assault and battery. On September 25, 2014, Mr. Waldbaum's wife was driving to their home after a parent-teacher meeting at their son's school. She was forced to pull her car over by a van that pulled in front of her car on a dark road leading to the small town in which they lived at the time. She told Mr. Waldbaum and the police that the driver of the van quickly and angrily got out of the van, and then approached her with a large ax handle wielded in a menacing manner and that he put it to her head and angrily threatened "people like you should die." Mr. Waldbaum and his wife had taken separate vehicles to the school meeting.

Starting in September 2014, Mr. Waldbaum noticed men in cars and on foot following him. They usually maintained separation from him, and almost always followed him until he reached his destination. At this time, Mr. Waldbaum also began to notice individuals sitting for long periods in cars who were not residents of his neighborhood and who did not belong in the neighborhood. These people parked in front of and adjacent to his home on a daily basis. These events became more frequent as the days went on, and Mr. Waldbaum concluded these people were stalking him. These individuals generally drove brand-new expensive German cars often having German plates, which were not numerous in his neighborhood and town. (Mr. Waldbaum lived in France when these events occured).
Our Analysis
If these things are untrue, it means that not only Mr. Waldbaum but his wife and his father were all part of a conspiracy to defame SAP.
A Settlement is Reached in 2016
In June 2016, all matters, known or unknown, civil or criminal, in Europe or the United States, between SAP and Mr. Waldbaum were dispositively settled and released under a formal confidential agreement…at which time Waldbaum returned the SAP laptop and SAP relied on Waldbaum's representations that he was returning all SAP confidential or privileged information in his possession and had only shared such information with his counsel.
Our Analysis
Let us recall that Teradata had yet to file its lawsuit in 2016.
Intimidation in 2019 by SAP
Mr. Waldbaum was sent an unsolicited contact by Stefan Schulz, who is the long-time personal assistant of SAP's Chairman Hasso Plattner and SAP's "Government Security Programs Leader" (and thus the SAP executive with primary access to law enforcement at the highest levels internationally). The contact is attached as Exhibit 3. March 30, 2019, Mr. Waldbaum was intentionally exposed to a harmful substance for the first in a certain sequence of events directly targeting his physical health and safety.
Our Analysis
This is quite unspecific. We want more details on what Mr. Waldbaum was exposed to, who exposed him to this substance.
The Involvement of Vishal Sikka
Mr. Waldbaum reported his findings in the different audits to Vishal Sikka, Chris Faye and Pascal Gibert in Palo Alto, California, and Melissa Lea, John Mullen and Robert Dillon in Newtown Square, Pennsylvania and many others including Alexandra Cordes in Walldorf, Germany. Eventually, in early 2014, SAP's Executive Board, which included CTO Vishal Sikka, also received the findings. Mr. Waldbaum anticipates that these people are identified in any evidence or privilege logs served or filed in the Litigation.

Vishal Sikka was SAP's Chief Technology Officer during the time period Mr. Waldbaum was conducting his audit work. Mr. Sikka oversaw SAP's software development at SAP's laboratory in Palo Alto, California. Mr. Sikka's employment also was terminated in 2014 under curious circumstances.
Our Analysis
Vishal Sikka has strenuously objected in public to being named in this lawsuit and states he did nothing wrong. But it would be interesting to have a public statement from Vishal Sikka on what was contained in the report and his reaction to this. He never mentioned publicly that he viewed this report.
Secondly, why did Vishal Sikka leave SAP in a departure that was a surprise to everyone, only three months after Mr. Waldbaum was terminated?
Mr. Waldbaum Stays on Medical Leave Until 2014
Mr. Waldbaum reported a summary of his audit findings to the SAP Executive Board and to the SAP Supervisory Board (Board of Directors) in January 2014. None of their members contacted him. Mr. Waldbaum first learned of the termination activity concerning him on February 13, 2014, when two very aggressive German men delivered a letter of termination dated February 12, 2014. Commencing on February 13, 2014, and in response to his reports, while still on medical leave, Mr. Waldbaum received ambiguous written notices that his employment was being terminated, then reinstated for a limited time, and then terminated.
Out Analysis
Curiously, Mr. Waldbaum stayed on medical leave for over a year. The following quote explains this from the filing.
Mr. Waldbaum's sick leave was not contested by SAP and it never asked him to return to work, apparently satisfied that he would no longer be in a position to discover and report on SAP's handling of intellectual property.
Does Attorney-Client Privilege cover Mr. Waldbaum's Audit Work?
Mr. Waldbaum is himself an attorney, and SAP contends that the audit results were attorney-client privileged.
Mr. Waldbaum's Response
As explained above, Mr. Waldbaum's audit work began in or about August 2011, not in 2012. Mr. Waldbaum performed his work as an auditor, not as an attorney. He was instructed to put "attorney-client privileged" on certain documents he created, but such words do not appear on almost all of the documents and files he reviewed and noted as part of his audit work, most of which were created by business people in the course of software development work. Mr. Waldbaum understood he served an audit function, not a legal function, and such audit documents were provided to business people, as well as attorneys. As explained above, he understood his audit work was to be performed pursuant to international audit standards and to SAP policies and procedures, including those requiring respect for the intellectual property of others. He safeguarded information and did not disclose information to any third parties, [the information] is preserved in his laptop computer and in another manner of which SAP is aware. The audit work exists in stark contrast to the versions of events submitted by SAP declarants, including Alexandra Cordes and Markus Falk. The laptop and its contents are now in the custody of SAP and preserved in another manner of which SAP is aware, and should be available to the Court and the parties, in camera or otherwise, and to substantiate Mr. Waldbaum's corrective facts relating to his relationship with SAP.
Our Analysis
SAP appears to be concocting the claim of attorney-client privilege to keep these audit documents from being admitted as evidence. If SAP is confident, they could contradict each point, but instead, they want the records sealed. Two entities are claiming IP theft. One is Teradata, which SAP claims is only bringing their lawsuit because they can't compete, and Mr. Waldbaum, who they claim blackmailed them. And according to SAP, it is of the utmost importance that none of the audit material from Mr. Waldbaum be admitted into evidence.

Conclusion
This story sounds remarkably similar to the 1999 movie starring Russel Crowe and Al Pacino, which was based on Dr. Jeffrey Wigand and Brown and Williamson Tobacco's true story that did not want information getting out that was true.
This segment below was blocked from being displayed on 60 Minutes for fear of a lawsuit from Brown and Williamson Tobacco.
In each case of whistleblowing that we have analyzed, the company engages in a program to defame the whistleblower. And in each case, the whistleblower ends up being wrong. There is simply no incentive to whistleblow based on false information. 
The most likely explanation of the problems between SAP and Mr.Waldbaum is as follows.
SAP hired Mr. Waldbaum, someone who was highly qualified to perform the work to evaluate their liability in a lawsuit for IP theft.
When SAP did not like the results that Mr. Waldbaum developed, SAP realized they had created a liability. This is because it now meant that they knew and could not say that they had not known Mr. Waldbaum's work product was available to executives.
In the event of exposure to this information, the favorite excuse (used by VW) is that they had no idea what was happening. Therefore, the decision was taken to shut Mr. Waldbaum down.
SAP's claims are absurd.
First, they claim that Teradata's lawsuit should be dismissed based on the fact that Teradata could not compete because they did not "develop an ERP system." (which we covered in the article How True is SAP's Motion to Dismiss the Teradata Suit) They say that their internal auditor, who appears to have information that corroborates Teradata's claims blackmailed them. This further lacks credibility because, as we published in 2010, SAP is known to lift IP from vendors with which they partner. If the xApp contracts are entered into evidence, this clause is apparent. This contract resides at any vendor that was part of SAP's xApp program, hundreds of vendors.
This is why we called for this program, called the xApp program, to be terminated, as we covered in the article. It's Time for the xApp Program to End.
Since that time, we repeatedly advised companies not to partner with SAP, but they ignored our advice, seeing dreams of lollipops and candy sticks dance in their head about all of the business SAP would send them. If it has not been entered into evidence yet, the now-defunct xApp program should be.
Giving Credit
Caroline Olsen covered this and predicted this back in her article in Jan of 2015.
SAP has been offering its Oracle-killer database, HANA…

"Oracle-killer"? Not so sure. Snabe and Sikka left SAP for one very specific reason. A common secret: fraud. Same for Apotheker, Heitmann, Fisher and many others.
Outside of this, it is curious that there are no articles that showcase Mr. Waldbaum that I could find. One can be sure that the significant IT media entities, all paid by SAP, will only cover the story in the most cursory way.
Who Else Reported on the Filing?
One of the criticisms of Brightwork is that we act as if we are the only ones willing to tell the truth on SAP. Well, in addition to having large numbers of articles that no other information providing entity will touch, and that where both the SAP consulting firms and IT media outlets ceaselessly repeat what SAP SAP says, let us look at this filing as an example.
This filing is at the time that we published this article is around 1.5 months old.
We performed a search in Google using the search term "witness tampering SAP" without using the quotation marks in the actual search to be open-ended.
What we found was curious.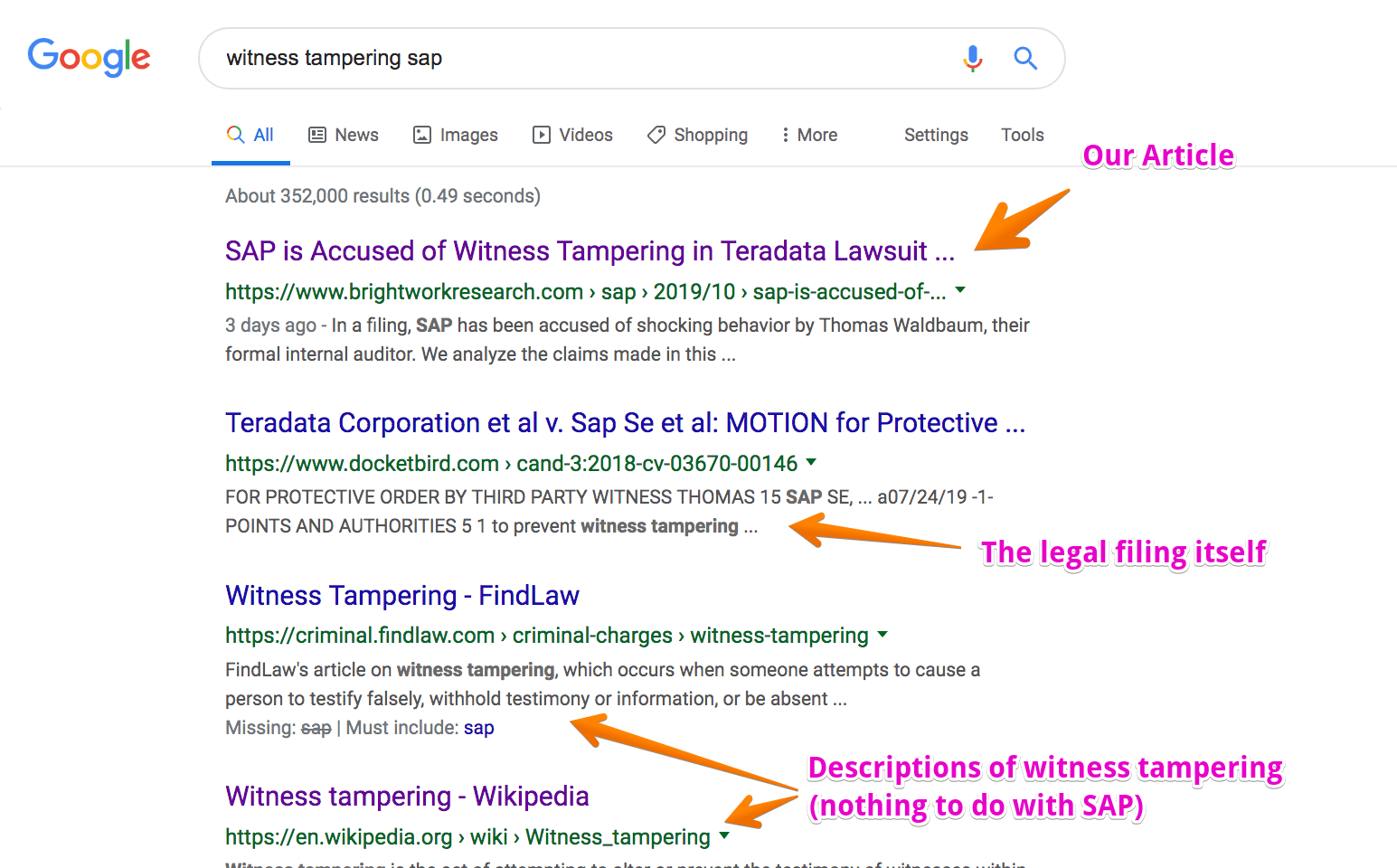 Viewing the results below, this shows the same thing. The topic has, in the six weeks since this filing, not been covered. 
Readers can perform this search for themselves. Although media entities may be forced to cover this story in the future, even though it is apparent, they don't want to.
What was that argument about Brightwork having an attitude that it reports on enterprise software things that others won't? I wonder why we have this attitude.
Personal Concern from Mr. Waldbaum's Filing
This is the first time we have read about SAP engaging in physical threats, threats to one's health, and cyber attacks. Brightwork Research & Analysis is the foremost critic of SAP, primarily because we follow a research approach, and the evidence leads to this conclusion. Unlike Gartner or TechTarget and nearly all other IT media entities, we don't have our hand out for money from SAP or any other vendor.
These credible claims from Mr. Waldbaum make us wonder if SAP will use these mafia tactics against us at some point. E3Zine, another independent entity that critiques SAP, should have the same concern.
SAP should be assured that if we see any of this Goodfellas horse****, our readers will read about it, and it will be reported to legal authorities along with Mr. Waldbaum's claims against SAP that are part of the public record.
The obvious question is, why would Mr. Waldbaum lie about these things? Second, if these claims are correct, then Mr. Waldbaum and his family should be placed in witness protection, which is Mr. Waldbaum's request. People do not simply request to be placed in witness protection. Witness protection significantly reduces your freedoms, relocates your entire family, severs communication to friends and family. It is one of the most disruptive things that can happen in a person's life.
Secondly, it appears that Mr. Waldbaum does not trust French law enforcement and brings up the question of how much longer (if he is even still there) Mr. Waldbaum and his family will live in France.
Imagine that is something that Mr. Waldbaum is requesting. He does not state this explicitly in the filing, but when a witness seeks protection, this results in the US system. 
Finally, if one believes Mr. Waldbaum, and we do, it means that Mr. Waldbaum has highly damaging information about SAP that would lead to a large settlement for Teradata.