How SAP Mislead Analysts on Q1 2017 Earnings Call
Executive Summary
SAP provided a large amount of false information on their Q1 2017 earnings call, while none of the Wall Street analysts seemed to notice.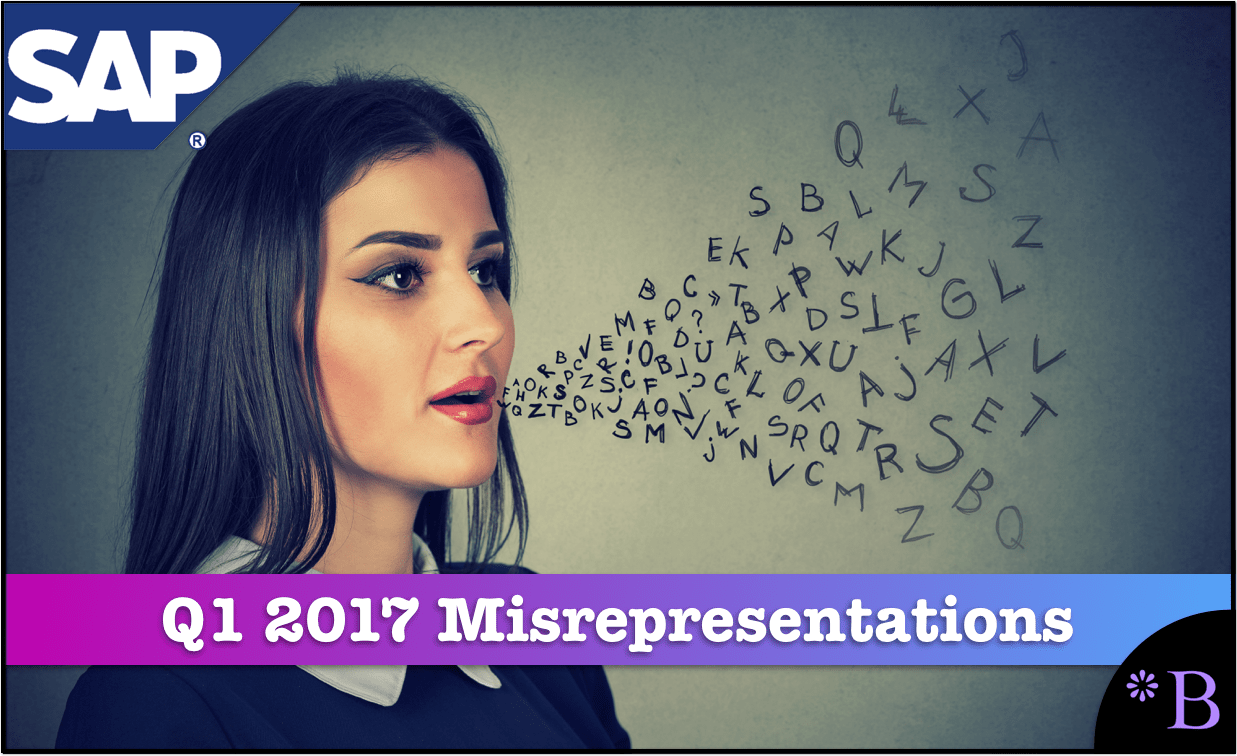 Introduction
On April 24, 2017, SAP held its Q1 call with analysts. This article is an analysis of some of the information provided by SAP in this call. Much of the information in the call was breathtakingly inaccurate. Understanding why it is quite impressive, I comment on the quotes below.
We will begin with SAP's introductory statement around S/4HANA.
Our References for This Article
If you want to see our references for this article and other related Brightwork articles, see this link.
Lack of Financial Bias Notice: We have no financial ties to SAP or any other entity mentioned in this article.
This is published by a research entity.
Second, no one paid for this article to be written, and it is not pretending to inform you while being rigged to sell you software or consulting services. Unlike nearly every other article you will find from Google on this topic, it has had no input from any company's marketing or sales department. 
Introductory Statement and S/4HANA
"The facts show that we are executing our winning strategy at scale. Our customers are endorsing the unique breadth and depth of SAP core cloud networks, and all come with soaring adoption for our new innovation on a global basis. We believe SAP is the only company in the business software industry to deliver soaring cloud growth and double-digit license growth.

Driven by S/4HANA, our core innovations are growing really fast with software licenses up 13%. We now have more than 5,800 S/4HANA customers with global companies like Energy SE, choosing S/4 in the first quarter. Big brands like Citrix Systems selected S/4 cloud edition, the leading intelligent cloud ERP solution in the market by far."
This is greatly exaggerated in the area of S/4HANA. According to ASUG (which is highly connected to SAP and actively censors any negative information about SAP), SAP has only 350 live S/4HANA customers.
And I estimate this to be far below this level, as covered in the following article, The Math of Probable S4 & Fiori Apps Usage. This article was written some months ago, but the actual number of live customers has only increased incrementally since it was written.
It is also true that SAP routinely exaggerates the numbers of S/4HANA customers, as explained in the article How SAP Controls Perceptions with Customer Numbers.
Question from Michael Briest on S/4HANA
"And then just, Bill, on the S/4 uptake, could you give some data points? I think Ross asked around but maybe the number of public cloud customers that you now have on S/4, and whether also the 400 overall S/4 additions in the quarter was as you expected, would you think that maybe it will accelerate as we go through the year in 2017, you will see more adds than the 2016? Thank you."
Uptake of S/4HANA will not accelerate in short to medium term. S/4HANA was announced far too early, and it is not a functional ERP system. This should not be surprising as most of the S/4HANA suite is not complete, as is described in the article How S/4HANA EM Suite is Not Yet Released.
Answer from Bill McDermott
"Yes, Michael, maybe let me first address the question around the cloud gross margins. For this year, we expect roughly stable overall cloud gross margin. You have seen in Q1 that we are slightly better in the Q1 cloud gross margins compared to the full-year 2016. But I think assuming a stable cloud gross margin is a fair assumption here."

"In terms of the March 2020 targets, yes, we absolutely believe that the SaaS/PaaS business, will the biggest net accelerator on cloud gross margins as we exit 2017. They have a huge catch-up to do. But if you think about the fact that at the moment we are essentially operating duplicate infrastructures across the main ones of our SaaS/Paas assets, especially SuccessFactors, that of course is a massive cost burden that will basically go entirely away once all of the customers are migrated by the end of this year. Hence we are still confident that we will achieve the gross margin progression marching towards around about 80% that we have in mind for SaaS/Pass by 2020."
Wait for SAP for PaaS?: The first sentence in this paragraph steps into SAP's problem and offers information counter to what is occurring. PaaS, or platform as a service, has never been a business SAP has made much money from. In the recent article How to Best Understand SAP's Multicloud Announcement, I cover how SAP put a brave face on what cannot be interpreted as anything but a concession of defeat to AWS, Azure, and Google — allowing greater integration of the SAP Cloud to AWS and Azure. SAP merely is not a PaaS vendor. AWS and Azure, in particular, are enlarging the PaaS market and gobbling up market share from data center providers like IBM and CSC at a rapid pace.
SuccessFactors Again?: SAP's constant referral to SuccessFactors may sound impressive to SAP newbies, but it highlights how little cloud vendor SAP is. Walk into the vast majority of SAP accounts, and cloud applications from SAP are nowhere to be seen. SAP's core on-premises applications, ECC, BW, APO, always seem to be there. SuccessFactors is still a relatively recent acquisition and has had zero to do what made SAP what it is today. SuccessFactors is mostly a true Cloud offering (although it does not have transparent pricing, and while I am not sure, if I know SAP, they do not allow a month to month cancellation as pure SaaS needs to)
Duplicate Infrastructures?: It's hard to tell what Bill is talking about here. He began with a false premise at the start of his comment. And I don't know why he says duplicate infrastructures are being run. I guess my question would but why. SuccessFactors acquired over five years ago, so why has this not been worked out already? This speaks to the disorganization of the Cloud offerings described in Vinnie Mirchandani's SAP Nation 2.0.
Overall, whatever happens to SuccessFactors is not reflective of the applications that were developed internally, and these applications are still overwhelmingly delivered on premises. SAP is engaged in a massive cloud washing campaign, where it both overstates how many customers are using things like S/4HANA in the cloud and then attempts to confuse customers and analysts by commingling SaaS applications like SuccessFactors and Ariba and Concur with the rest of the portfolio. But Bill McDermott is showing signs of being a parrot on SuccessFactors. Virtually every time the topic of the Cloud comes up, Bill begins talking about SuccessFactors. He uses the trick to make a general statement about SAP and the Cloud and then say, "especially SuccessFactors."He might as well say "only SuccessFactors (and Ariba)"
Although dated, a surprisingly frank article in 2013 in ASUG that referenced an analyst named Albert Pang pointed out that 52% of Cloud revenues at SAP came from SuccessFactors.
"SuccessFactors and Ariba accounted for the bulk of SAP's Cloud Applications subscription revenues in 2013. Recent acquisitions included Fieldglass for contingent labor management and Seewhy for Cloud marketing. SuccessFactors alone generated 49 percent of SAP's cloud subscription revenue in 2013. So where did the other 51 percent of cloud revenue come from? Ariba, mostly."  – ASUG
This article is dated, but I doubt the story has changed much from that time as things like S/4HANA Cloud or HANA Cloud Platform (I think now SAP Cloud) have not driven very much revenue.
On The Number of S/4HANA Customers Per Quarter
Question from Michael Briest
Yes, on S/4, do you think – you did 400 or so in the quarter with 500 in Q1 last year. I know it's a small quarter but were you disappointed by that? Do you think you'll do more this year than last year, and just an update on public cloud within that?
Answer from Ron Enslin
"Michael, great question. I think we'll continue to accelerate the S/4, the HANA business. It still looks pretty strong. The pipelines look strong. What we are seeing that value stories are now coming out consistently across all the customer base. And it is truly the digital story for SAP and our customers and I think you'll continue to see that.

Were we happy or disappointed with 400? I think the bigger topic is we have 5,800. We have a snowballing effect now that on the go-live customers and we have more and more projects ongoing that are more complete than just finance and logistics, so it's really a very, very good story for all of SAP."
Continue accelerating what?
SAP, even by ASUG's inflated measure, has 350 S/4HANA customers live (as of their survey in 2016, but SAP's S/4HANA numbers are not growing fast enough for this number to be much larger than that 350 now). The first independent research on S/4HANA, which Brightwork Research & Analysis is publishing soon, is showing that many of these live S/4HANA implementations don't seem to make very much sense. There is just no way that what Ron Enslin says regarding "value stories now coming out consistently across all of the customer bases" is true. The opposite is true. S/4HANA was implemented by these companies far before it was ready to be implemented. Ron performs a trick here. First, he starts with an unsubstantiated claim, which is that values stories are coming out. Then moves to the proposal that you will continue to see something that was unsubstantiated. This is, to me, at least a marker of a person who is trying to trick the listener. And when I happen to know that there aren't value stories coming out, that puts the presenter in an even worse light.
The discrepancy that is difficult to hide is that SAP, by the most optimistic measurement by ASUG, has 6% of its customers for S/4HANA live. It is also known that most of those customers paid little to nothing for S/4HANA. SAP coerced some of these customers into purchasing S/4HANA in ways that I will be explaining in a future article. As these clients have not implemented, they have not obtained the HANA database.
HANA is where SAP wants to lead these companies to the costs and the restrictions rise as soon as they purchase HANA (which can be used to lock in accounts to a high degree, ensuring, even more, purchases after HANA is purchased).
The bottom line is that SAP is not getting much revenue from S/4HANA. And S/4HANA has been one of the most significant launches in the history of enterprise software. I cover S/4HANA's readiness in the article How the Overall S/4HANA Suite is Not Yet Released. This article was written a little less than a year ago, but it is still valid.
But What Ron Enslin demonstrates here is that whenever a person responds to weakness by stating, "the bigger topic is," a Kelly Ann Conway pivot. That means the speaker can't provide an affirmative answer to the question, so pivots to something else, which is often irrelevant to the topic asked. If asked if a murder was committed, the answer can be, "the bigger issue is the price of housing. It is outrageous!" But here, Ron pivots to what is a misleading statement. SAP has 5,800 companies that own the license, with the vast majority using it as shelfware.
His next sentence is confusing, but what he means to say is that S/4HANA is more than just Finance (Logistics is the rest of the suite, so it would not make sense to announce these new implementations are "more than Logistics." But from my research, that is most likely not true. And there are obvious reasons for this that are covered in the "Overall Suite" article link I just listed.
More from Bill McDermott
"And the one thing that you have to keep in mind on S/4HANA and the answer is definitely you'll have a more this year than last year by a lot is when you are the CEO of a company, just think about that as your digital core and then you have all the tax rates of the line of business, the business network, machine learning, AI, the internet of things, I was recently meeting with the CEO of an energy company who chose us to rip and replace the competition and it's a net new customer to SAP. It was the strength of S/4 as the core platform but it was also the attach rates of all the other entities within the company that aligned their board and called SAP as the ultimate winner, and that would be a more difficult decision to make than status quo, so the innovation is there Michael. We are going to win every place. It's going to be an unbelievable year."
This sounds like Donald Trump could have uttered it.
"Its going to be an unbelievable year." could be enhanced and made even more Trumpish with with "beleive me, beleive me."
This paragraph stands out for its disregard for the mind of the listener. If we think for a moment, Bill McDermott, with stock options, makes over $50 million per year. But look how idiotic this paragraph is. And then consider how misleading it is. This is what $50 million buys you regarding propaganda.
There is, in fact, very little innovation in S/4HANA. Code analysis by a colleague indicated that 93% of the code in S/4HANA is from ECC.
I had exposure to the system and talked to people who have used it, and it is mostly just ECC with some adjustments. These adjustments are covered in the Simplification List, which I analyze in the article Analysis fo SAP Provided Information in S/4HANA 1610.
Most of the Fiori apps don't work, and they need to be set up with a special server, but the number of customers that have invested in this for Fiori is minimal.
Customers are not reporting improvement very much from using HANA as the database, which could have been predicted by observing the benchmarks, as I explain in the article What is the Actual Performance of S/4HANA?
Bill McDermott on S/4HANA
"Now since we reinvented our core ERP system on S/4HANA, we are the only company in the world that can tell a C-level decision maker, you can run new transactional systems and your analytics all on one database, one common S/4HANA platform for all of your ERP activities. And why this is so powerful is every single CEO you talk to wants to align this all stuff, meaning the management team and the people motives of a company along with the hard stuff, which is the transactions and the financials of the company. Only SAP unifies this in one real-time in-memory suit and there is the S/4HANA self."
Well, if every single CEO Bill McDermott speaks to want to align with "this stuff," why is the S/4HANA uptake so tiny?
Bill McDermott describes running the same database for the ERP system as analytics is not a very big issue for customers. Data can be brought over into the data warehouse, which has been a good design for decades. If every single CEO wants to align to "all this stuff," it is most likely because the CEO does not have enough of an understanding of software or business intelligence to know why it is not very advantageous. CEOs at most companies are not technologists, so they don't know. Furthermore, other ERP companies are not following SAP down this path of using an analytical database for ERP to sit on top of. So if it is so advantageous as SAP states, the question should be, why not.
Furthermore, other ERP companies are not following SAP down this path of using an analytical database for ERP to sit on top of. So if it is so advantageous as SAP states, the question should be, why not? Either SAP is the only ERP vendor to figure this out, or it is simply not that much of an advantage.
The SAP BW and Business Objects are designed to run on data warehouses and not on S/4HANA. The most impressive analytics product that SAP has in its portfolio is Lumira, but Lumira does not sell very well, and I am told Lumira lacks in substance. And I have yet to hear of Lumira being run on S/4HANA. Bill McDermott describes in his quote that SAP customers are simply not doing in any significant number.
Rob Enslin on S/4HANA
"Yes, I think people forget that the S/4HANA ERP, there is nothing out like it in the market at all. When you look what it does and how it changes businesses and how it connects digital supply chains, it is by far the next generation ERP and everyone else is far way behind. And then when you connect everything, the machine learning and IoT and analytics space, we are the only company on the distribution side and on the product side that have a true supply chain end-to-end for the digital world and I think that's the major difference. There is nobody out there that can actually talk about what it looks like in a digital world to connect an ERP system and actually look at next generation of applications, and I think you will see us changing it more and more AI and artificial intelligence becomes relevant for S/4HANA. So I think the opportunity is huge. I think the S/4 cloud opportunity is going to be incredible.

Some of the companies that signed up like more pretty significant company in the chemical business and just committed to SAP and I think you'll see us do really well in this space."
If S/4HANA is so fantastic, why have so few companies implemented it? Why, when people use S/4HANA, do they see little value in it, observe so many things that do not work in it, and generally see it as more of an upgrade that benefits SAP versus benefiting customers? Why is it estimated that around 93% of the code of S/4HANA is ECC's code?
Comments from Rob about connecting to digital supply chains also don't add up. I have not heard a lot from Rob Enslin. But his quotations indicate a person who is deliberately misleading the audience, and it is offensive to be deliberately lied to. It (hopefully) goes without saying that ECC is already connected to "digital supply chains." I mean, that term is a bit ridiculous. The supply chain itself is not digital. That only happens on Star Trek. But the information system that manages the supply chain is digital in that the data is stored in binary code. S/4HANA is not bringing anything in the supply chain area that ECC did not have. If Rob does not understand that, he is not a good source of information.
Things like machine learning and IoT are not things with any SAP product and are more conference talking points. Devices are communicating with one another, but this has nothing to do with S/4HANA. As I cover in Why SAP Leonardo Seems So Fake, SAP wants to convince customers to move device data to S/4HANA to then sell them, Leonardo.
The statement about "true supply chain end-to-end for the digital world" tells me this person is not in touch with anything real.
Bill McDermott On Latin America
"And keep in mind just in closing on this topic, Adam, if you take Latin America – take a market like Latin America – this was an on-premise market up to about 18 months ago. Today we get more revenue out of the cloud in Latin America than anything on-premise, so this is an interesting dynamic. There is another region that's now crossing over to more cloud revenue than the on-premise world and we've been in business for a little while. And in 2018, the cloud eclipses the on-premise revenues of SAP."
Indeed this is a statement designed to mislead the audience. Latin America is a minor region for enterprise software. Companies in Latin America cannot afford SAP's applications in most cases (there are exceptions like ByDesign, BusinessOne, etc.). Therefore it is not surprising that if SAP decided to open up hosted solutions to Latin America, it would rapidly exceed on-premises installations. But SAP will not make very much money from this increase. This is a low margin market for enterprise software.
More from Bill McDermott on SAP's Monopoly Power
"So here is my hypothesis on the industry. Why is SAP the de facto standard business software company in the world? I'll tell you why. Because even if we don't win every sale and somebody at a point solution level takes something, they still have to live with us and the other 80% of the enterprise."
I don't know what "and the other 80% of the enterprise means. Many companies don't have any SAP, so it seems Bill is overstating the case.
This is the type of statement a monopolist would make. SAP is frequently used (it is not the de facto standard, but it is prevalent). But it should be because their software is so good, not because other vendors have to "live with" SAP.
More from Bill McDermott
"And frankly when you are thinking like CEOs think, they want things to be simple. So if you are at least good enough in all the other areas and you own the core, you'll own the edge, you'll own the network, you'll own IoT, and I think that's represented in our numbers. And I kindly ask you all to take the back of the envelope approach, add up the revenues that others are getting from M&A, add up their core declines, one plus one equals negative two, and when you add out SAP's numbers, one plus one equals three plus."
SAP makes the most sophisticated software in each area offers (except for the acquired applications). I have worked in SAP for 20 years, and nothing in SAP is easy. Every day it takes significant effort to get SAP to do things that other applications do far more easily. In the Brightwork Research & Analysis TCO calculators, the complexity of SAP shows in its higher TCO. SAP has the highest estimated TCO of any application in each of the categories that Brightwork evaluates.
So whatever reason companies choose SAP (which is because it is robust, has an extensive product portfolio, is recommended by a consulting company), it is not because it is simple. I cover the inaccuracies around SAP being simple in the article Is SAP's Run Simple Real?
The rest of the quotation from Bill is lacking in any substance worthy of commentary.
Question from Gerardus Vos on S/4HANA
"Hi, thanks for taking my questions. Just have two on S/4 probably for Bill. Just first regarding the adoption and what you see in the pipeline in that last year and a half, there was a lot of smaller deals on a deficient level. Do you start to see in the pipe now large enterprise-wide adoption for S/4? Then secondly, how many go live did you have in the quarter? And then finally, a question for Luka on the gross margin. The drop in the core business in software and support in the quarter was a bit of an unusual given the good improvement we've seen over the last four quarters. Was this an aberration and should we expect that gross margin takes up pretty out of three-quarters, or is there a structural reason why it's coming down now? Thank you."
Response from Rob Enslin
"So when it comes to the go live for S/4HANA, we have now over 700 go lives. That's up significantly more than – as I said earlier on, more than 2,700 projects ongoing. Almost all of those projects are 1610 versions, so significant logistics. And when we look at the large enterprise, I would pretty much say that there is almost every single one of our large customers that have a plan or obviously implementing it for at some point. We've seen it with my advisory board. To the group, every single one of them has a project or some of them are already live with significant parts of their business. Luka?"
Incorrect. Seven hundred go-lives are far higher than even the inflated number by ASUG of 350 provided in their 2016 survey. And the majority of these go-lives, which most likely number less than 200, have major problems. S/4HANA is currently one of the very riskiest applications that one can implement. If there are 2700 S/4HANA implementations on-going, it is not showing up in the market for S/4HANA skills. It is still rare to see requests for S/4HANA implementation skills.
Polls on expected implementations for S/4HANA do not show that customers all plan to move to S/4HANA, as the following quotation from E3 Magazine, published April 10, 2017, attests.
"More than two years after SAP launched S4 amid considerable fanfare, user adoption has been underwhelming. In the UK, just 5% of customers have deployed S/4, a survey by the UK and Ireland SAP User Group found. Nearly half have no plans for S/4 at all. Similarly, 60% of members of DSAG (German speaking SAP user group) have no S/4 plans or are undecided, and 50% don't consider the early stage product a "real alternative" to traditional ERP. Licenses are also righly wary about functionality parity between S/4 and SAP's Business Suite 7. According to industry experts, it could take 5 to 10 years before SAP can fully rewrite 400 million lines of code for S/4 to be on functional parity with Business Suite. Of course, SAP observers are well aware of SAP's mixed track record for new product delivery."
On the SME Market
"So first of all, I'd like to say that SAP has been a very, very successful company without putting all the wood behind the arrow in SME. And one of the detractors to really growing and taking over the SME market had been the limitations of and on-premise business model. It's just not fast enough to scale as fast as a company like ours would like to. Well, that now has been taken off the table. You have B1 on HANA. You have ByDesign growing very fast. But now we have S/4 Cloud edition that without a doubt, market down with giant crayon will be the leader and not only small, medium sized but even upper mid-market for cloud computing in the ERP world. So that business is on a tale and I think that's a big bogey of growth that is upside as we think about our future."
SAP has not taken over the SME market. SAP is too expensive to implement and operate for the SME market for most of SAP's applications. SAP can sell customers in this market B1 or ByDesign, but undifferentiated offerings are a market teeming with competitors. And once purchased, these applications do not allow SAP to upgrade the account by buying many other SAP applications.
SAP's business model is simple. Sell the ERP system to a large company with a significant IT budget. Use the ERP system to penetrate further in the account by making the integration argument that the customer so that the customer purchases non-ERP systems that connect to the ERP system. Buy off the consulting companies and IT media outlets to serve as repeaters for SAP's messaging. This strategy only works with very much effectiveness at the larger companies that purchase SAP's ECC or S/4HANA ERP system. B1 and ByDesign are simply commodity applications that don't create the network effect for SAP in the customers in which they are sold.
Running BusinessOne or BI on HANA makes no sense because HANA is far too expensive and complicated for the SME market. And SAP will be unsuccessful in trying to push HANA into that market.
ByDesign is not growing very fast. A while back, ByDesign was supposed to be sunsetted. People that use ByDesign tend to despise it, and it is not considered a competitive product.
The S/4HANA Cloud edition is not the cloud in any significant numerical way. ERP systems typically require some customization, particularly the larger companies that tend to be SAP's sweet spot and that can't work in the cloud, so it becomes a private cloud or hosted. However, this is not cloud and will not provide the same cost benefits and maintainability as true cloud or public cloud. All of this is covered in the article Is S/4HANA Designed for the Cloud?
More from Bill McDermott
"Bernd, I'll let you make some comments on that and Rob – but also we ran through the Fortune 1000 and 2000 a little while ago with 350,000-plus customers but when you think about the SME market, there is literally millions of them out there that could be in the SAP portfolio and we are going after it with everything we have. So I think you're now seeing us completely unified on S/4 cloud edition being something that could take over the market."
For years, SAP has been saying this but still has not replicated anywhere near its success in tier 2 and three markets as it has in the tier 1 market. The reason for this is SAP is mostly a vendor that works best in the tier 1 market.
SAP is the most expensive software globally with the most costly implementation and the most costly maintenance and, therefore, TCO.
SAP's complexity and the fact that it is the only vendor to outsource their consulting to other companies (that have an incentive to extend projects to maximize billing hours) means that no other vendor's applications are as expensive to implement or maintain.
These are not good fits for the SME market. SME's in many cases, use SAP's lower priced applications, but the model here breaks down. SAP is suited for and is the best fit for the tier 1 market. A decade and a half of focusing on the SME market has increased the number of customers for SAP, but this is not SAP's bread and butter.
On the S/4HANA Cloud
"S/4HANA Cloud, if we take the overall triple-digit growth and then look at the customer list, it's in the range of between 35% and 45% of net new names and this gives us tremendous opportunity not just to convert and install base from an on-premise into the cloud, as well to conquer complete new markets. And this is the path we are going forward, and looking at the numbers we are confident that this path is really resonating very well. Rob, any additional comments from your side?"
The growth here is small companies that SAP is obtaining because their complexity is very low. These companies have not driven and will not drive revenues. They are being added more to impress analysts than because of revenue potential.
On The Private Cloud
"In the private cloud, the HANA Enterprise Cloud also continues to be a fast-growth business for SAP. Led by SAP Digital Boardroom, our reinvigorated analytics portfolio grew in strong double-digits across cloud and software in Q1."
Close to no one uses the SAP Digitial Boardroom. And feedback from customers is that SAP's analytics across the board are mostly vaporware.
On SAP's Acquisitions
"SAP's track record of strong M&A is also validated with our amazing cloud growth. We have one rule, only by the best companies in the business. Now these best-in-class assets have been fully integrated for many, many years, and all of our growth in the cloud is totally organic. That's something very new to our industry. Our new cloud bookings surged to 49% growth in Q1. Our cloud revenue grew by 34%. SAP Hybris, our customer engagement solution, saw a triple-digit new cloud bookings growth in the first quarter."
SAP does not own the best companies in the business. It possesses a hodgepodge of vendors that don't make a lot of sense for SAP to own and seem to have been acquired to make an impression on Wall Street and improve its "Cloud cred" rather than improve operations. Most of them are still not wholly integrated back to SAP ERP.
The growth in the cloud is not organic. It is based upon a strategy of an acquisition. The acquisitions are the only area where SAP is successful with the cloud, which is where the vendors were already successful with the cloud before SAP purchased them. SAP still gets the vast majority of its cloud revenues from two acquisitions, SuccessFactors and Ariba. These are two vendors who were already Cloud when SAP acquired them.
It is unclear which analysts SAP refers to that gave SAP the highest ranking in cloud HCM for core HR. SAP pays analysts that rank them, so it is difficult to determine what the IT analysts think. IT analysts like Gartner are filled with analysts who do not and have not ever touched enterprise software. Gartner and many other IT analysts spend most of their time talking to executives in vendors and software buyers. This is covered in detail in the article, Gartner and the Devil Wears Prada.
In this quotation, SAP is merely segmenting the description so that SuccessFactors can seem more impressive than it is. SuccessFactors was one of many HR solutions when SAP purchased it, and that has not changed after the acquisition. Overall, SAP has an abysmal track record with acquisitions.
Business Objects, one of SAP's highest-profile acquisitions, is now entering a period of steep decline as SAP has stopped investing in it.
Sybase, another high-profile acquisition, is also in decline.
SAP has done very little with Ariba since the acquisition. Ariba does not fit in very well with SAP's core offering of ERP because Ariba primarily specializes in indirect procurement. SAP needed to purchase a company that performed direct procurement. Companies like Ford Motor and New Balance may have selected Ariba in the first quarter, but they will have a problem leveraging it with the rest of SAP if that was Ford and New Balance's intention. As with all of SAP's acquisitions, Ariba is now less prominent, several years after the purchase, than when SAP performed the acquisition.
On IoT and So On
"Our internet-of-things business is already the leader with Goldwind Science & Technologies, and Energy [indiscernible] selecting ASAP in the first quarter. We are accelerating internet-of-things innovation, including predictive maintenance, logistics, autonomous payments, quality assurance, anti-counterfeiting and industrial securities. We are also focused on machine-learning, which we believe takes the work out of workflow. Our first wave of machine-learning enabled application is already commercially available today. Examples include invoice and payment matching, predictive recruiting, intelligent sales forecasting, sales discount approvals and data-driven renewal management to name a few."
This is a deceptive paragraph. SAP has very little IoT business. This paragraph is to future sell the analyst on all the great things that SAP is involved with. As a consultant with many new SAP product implementations under my belt, I can say that working in new SAP offerings is always fraught with problems. A huge percentage of them fail, and the story is most often not a pretty one. As more information comes in from global implementations as Brightwork gains access to more data points, the information globally looks about the same as the information I obtained over two decades of SAP consulting.
I have yet to see anything from SAP in machine learning. This entire paragraph by SAP falls under the category of vapor.
All of these things have very little to do with what is happening on SAP projects. This is a lot of selling of the future to financial analysts, but these are not proven. So SAP can say anything about development, and it is difficult to verify or contradict.
On Future Prospects
"Near half of S/4HANA transaction in Q1 were net new business. More than 80% of our ERP customer base remains in the S/4/HANA pipeline, which is swelling by the moment. We are growing double-digits in every region of the world. Our organic SAP cloud innovation is now the biggest part of our growth story. With the 22nd most valuable brand in the world, Sapphire now 2017 will be the biggest in SAP history."
SAP is a valuable brand, and SAPPHIRE in 2017 may be the biggest in history. But the earlier statements are just not correct. The net new business of S/4HANA may very well have been highly promoted.
S/4HANA as a Digital Core
If you think about S/4HANA and the digital core, there is no doubt that SAP is winning and that we are continuing to take substantial market share. As we continue our acceleration to the cloud, increased not only the predictability of our revenues but we will also improve gross margins and profitability. This is what the entire executive board of SAP is committed to. A strong free cash flow generation while investing for the future provides significant optionality around strategic decisions aimed at driving customer and shareholder value. SAP is extremely well positioned for success through 2020 and far beyond.
The statements about S/4HANA from SAP are inaccurate and exaggerated and are intended to mislead the analysts on the call. SAP does not even see fit to explain that S/4HANA is still not complete, as I covered in the article Why the S/4HANA EM Suite is Still not Released. The article is nine months old but still applicable today.
The truth of S/4HANA has virtually nothing to do with what is being stated by SAP in this quotation. I have analyzed S/4HANA from many dimensions and documented these conclusions in articles.
Conclusion
SAP's mislead the analysts on this call multiple dimensions. Each of the people speaking from SAP has many millions of dollars in stock options. So this model where you obtain information from people with a clear financial bias to mislead you so that they can exercise their options at the maximum price makes little sense. (Bill McDermott alone makes over $50 million a year in compensation when stock options are included)
It is reminiscent of the newspapers I used to read when I was in Pakistan. The information is interesting, but only from analyzing what the powers that be would like people to believe. It has no inherent validity.
When SAP anticipates that it will be speaking to people who can't directly validate their statements, the lying is in a different dimension.