Comparing SAP TM Versus MercuryGate as a TMS
Executive Summary
There is a market for transportation management systems.
We cover MercuryGate and SAP Transportation Management or TM.
There are important things to understand in terms of migrating from freight brokerage to a 3PL environment.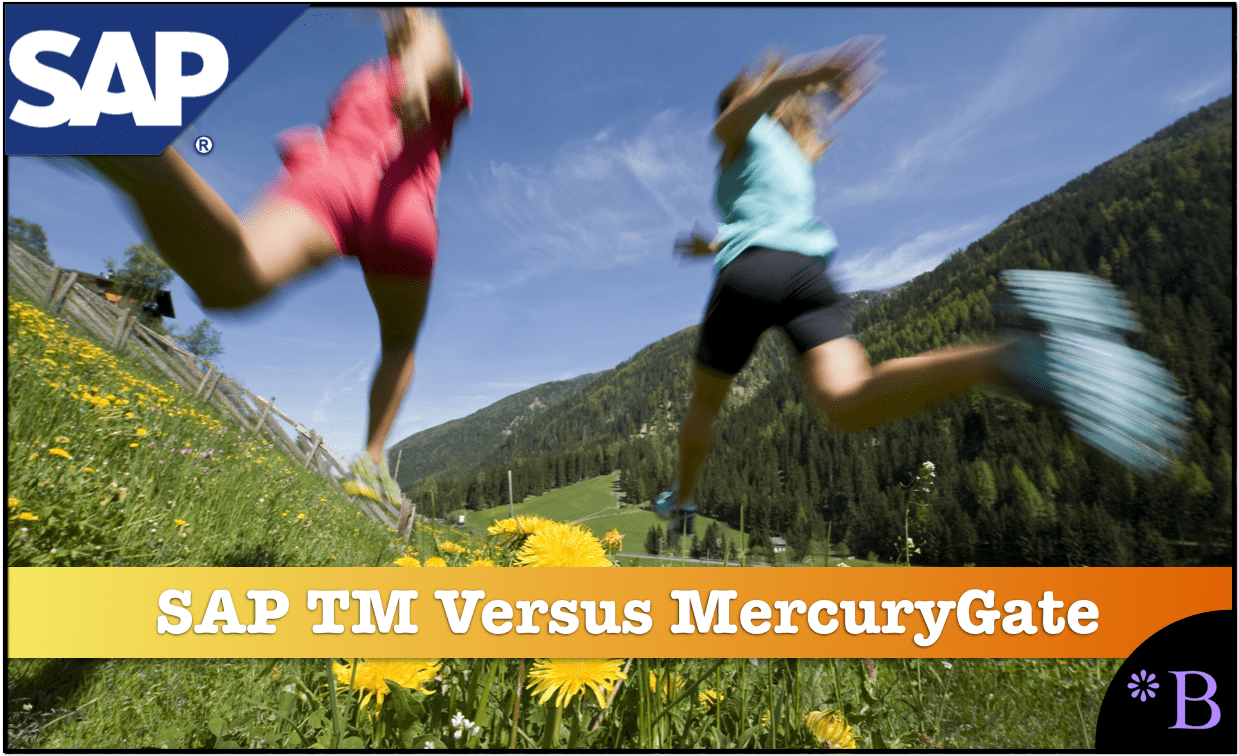 Introduction to Transporation Management Systems
Transportation management systems allow shippers to get the most out of their transportation spend. You will learn about two well-known TMS solutions.
Understanding The Transportation Management System Market
In most cases where the company purchases and implements a transportation management system (transportation management system), a single traffic management system is obtained. The transportation management system is a well-established application category, and most traffic management system systems are not designed from the broker's perspective. This is because most transportation management system applications have been developed from the shipper or the carrier's perspective. The focus of most transportation management system applications is optimizing the use of private transportation assets rather than optimizing the selection of different transportation providers.
However, freight brokers do not "fingerprint" or touch freight (this is the difference between a broker and 3PL). Unlike a transportation company or a shipper with a private fleet, they do not have to worry about the optimal use of logistics resources. Instead, they are concerned with finding the best combination of movements to serve their shipper or customers' needs. This puts a stronger emphasis on areas such as rate searching and collaboration over internal asset management. A broker will always be searching for the best transportation offerings far more intensively than any single shipper would (adjusting for the company size, of course – certainly Wal-Mart would search for rates far more than a small freight broker).
The Freight Broker's Transportation Management System Requirements
The footprint of transportation management systems differs somewhat per software vendor. However, as listed by the Wikipedia entry on the transportation management system, the following functionalities can be considered a reasonable accounting of what is often considered the core of transportation management system functionality.
Next to each item has been placed a rough approximation of the applicability to freight brokers.
Planning and optimizing of terrestrial transport rounds: Low
Inbound and outbound transportation mode and transportation provider selection: High
Management of motor carrier, rail, air, and maritime transport: High
Real-time transportation tracking: High
Service quality control in the form of KPI's (see below)

Vehicle Load and Route Optimization: Low
Transportation costs and scheme simulation: High
Shipment batching of orders: Low
Cost control: High
As can be seen from this listing, the freight broker has a binary relationship to the core transportation management system requirements – very high needs in some areas and minimal needs in others. This is not at all unusual. Multiple types of freight entities use transportation management systems — shippers, transportation companies, 3PLs, freight forwarders, freight brokers, and these entities' requirements do not converge on the standard transportation management system solution footprint.
Now that we have discussed the transportation management system market broadly, we will compare and contrast MercuryGate and SAP TM.
Understanding MercuryGate
MercuryGate is a non-traditional transportation management system solution. So much so that several years ago, MercuryGate did not market itself as a transportation management system but instead marketed itself as a freight marketplace. The addition of new functionality allowed it to rebrand itself as a transportation management system credibly.
Implementing MercuryGate
MercuryGate has two separate ways of being implemented.
The Traditional transportation management system Approach: The traditional way transportation management systems are implemented is that master data is set up in the transportation management system by leveraging the information the company is currently using to manage transportation, much like any other planning system.
Through Data Download: This is where the master data setup before going live minimal, and most of the data, such as rates, lanes, etc.… are directly added through using either concentrated searching and saving of partner data – specifically for the implementation, or through simply the regular use of the system. That master data is downloaded from carriers, freight marketplaces, and so on, and the system then begins to work off this data. This data is built through the process of use. As time passes, the master data that is used becomes less of the more recently downloaded data and more of data that has been saved from previous interactions and searches.
MercuryGate's heritage as a freight marketplace is clear through interacting with the system. It is best when enabling the user to search for master data elements such as rates and combining rate legs to find the most up-to-date and best available cost and time characteristics.
Understanding SAP TM
Contrary to MercuryGate, SAP TM is a traditional transportation management system application, and this comes with a different design orientation than an application like MercuryGate and has. Therefore, it has different strengths and weaknesses. SAP TM has far more overall functionality than MercuryGate and would be more appealing for 3PLs that have actual transportation assets to manage. Secondly, SAP TM is part of the SAP software ecosystem. It has been designed to work with the other SAP applications, the most important of these being SAP ECC or Business All in One, SAP's highly successful ERP system.
Creating a Purpose Built TM/MG Solution
The natural question is where each application would best address each of the categories of functionalities required at a typical transportation company. Without expertise in SAP TM and our investigation into MercuryGate, this is the primary value add of this paper.
Here is the division of the categories of requirements between SAP TM, MercuryGate, and other SAP applications.
Carrier and Contract Details: MercuryGate & SAP TM
Rate Inquiry: MercuryGate
Freight Consolidation: SAP TM
Contract Compliance: MercuryGate
Address Validation and Quality Control: MercuryGate
transportation management system Execution: MercuryGate
Facilitate User Queries Across Entities: MercuryGate
Proof Of Delivery: SAP TM
Tracking Functionality: MercuryGate
Analysis Functionality: SAP TM
Freight Payment: MercuryGate
Order Entry: MercuryGate
Fuel Surcharge: SAP TM
Data Elements: MercuryGate & SAP TM
Accessorial Rates: MercuryGate
Invoicing: SAP TM
Purchase Transportation: MercuryGate
Resource Management: MercuryGate
Shipment Management: SAP TM
Routing Management: SAP TM
Asset Management: SAP TM
Track and Trace: MercuryGate
Manifest Consolidation: SAP TM
Compliance & Insurance: SAP TM
Vehicle Maintenance/Pre-Trip Cost:

SAP TM

with SAP ECC and SAP EHM
Yard Pool Management: SAP EWM
Exception Reporting: MercuryGate
Internet/Web: MercuryGate & SAP TM
Preventative Maintenance:

SAP TM

/SAP EAM
EDI Messaging: SAP TM
Rating and Billing:

MercuryGate

Data Elements: MercuryGate
Field Level Reporting:

SAP TM

/SAP ECC
P&L Reporting:

SAP TM

/SAP ECC
Claims Processing: SAP ECC
End-User Reporting:

SAP TM

/SAP ECC
Furthermore, once one goes below the functionality category into the specific requirement, in some cases, more elaboration would be necessary to say which specific requirement (this list is of categories of requirements, each category having some specific line items contained within these). This is particularly true for the requirement categories that have both SAP TM and MercuryGate applied to them. Some of the line items may shift between SAP TM and MercuryGate as more is learned.
Conclusion
MercuryGate is rapidly encroaching into the TMS space while bringing all of its freight marketplace heritage.