The Brightwork SAP Analytics Research Based Assessment
Executive Summary
SAP and SAP consulting firms dominate the presentation of how to leverage SAP analytics.
Our analytics assessment is without SAP or their consulting firm's influence or financial bias.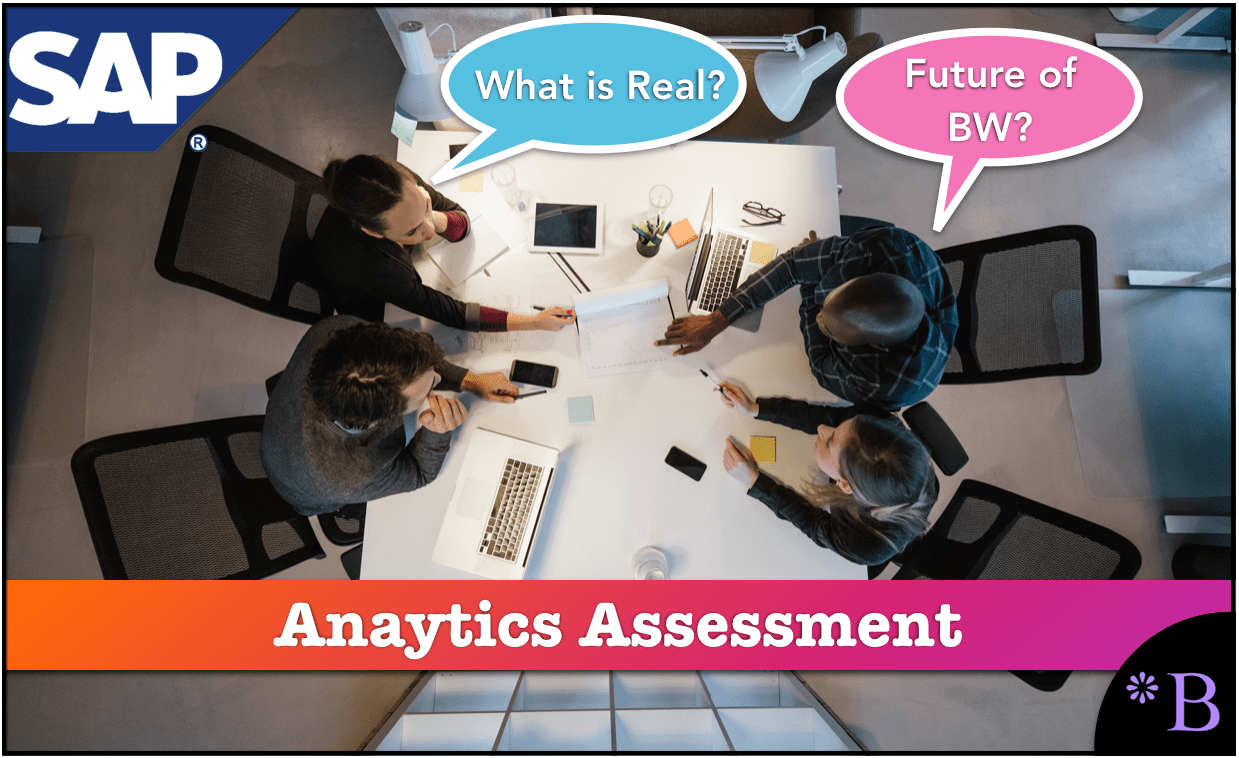 Introduction
SAP and SAP consulting companies propose that their customers must use either the SAP BW or SAP Business Objects, (before Lumira) and now SAP Cloud Analytics. What SAP nor SAP consulting companies discuss is the efficiency level of their analytics solutions. Our evaluation does this and places SAP's analytics solutions in the context of what makes effective analytics that is both efficient and useful for the business. 
What is the Assessment Based Upon?
Our SAP Analytics Assessment is based upon years of research into SAP that combines decades of SAP implementation experience with technical research and case studies to provide what is real and what is not with SAP analytics without concern for what SAP thinks of our research conclusions. 
Our ABAP assessment covers the following areas. 
#1:

Reviewing The Current Environment

Every customer has particularities to their environments that range from the functionality utilized in ECC to the degree of customization to the yearly IT budget and a host of other factors.

The first step of the assessment is an SAP environment evaluation. This allows us the customization of the assessment to our client's situation. This is achieved with in-person interviews with various people in IT. These are not lengthy interviews, and this part of the process does not have much elapsed time. We have seen many SAP environments and can generally ascertain the general lay of the land in a few weeks. This assumes that many people are not out or traveling, which relates to the timing of the assessment. 
#2:

SAP Analytics Overreach

SAP has specific limitations to all of their analytics solutions. SAP customers that accept SAP's claims around the analytics scope capability end up with low functioning analytics environments.
#3:

SAP Analytics Cloud

SAP has been pushing hard for companies to perform a "cloud conversion" of Business Objects to SAP Analytics Cloud. This allows SAP to report cloud earnings to Wall Street and has little to do with customers actually moving to cloud. There are also implications to having an on-premises solution "converted" to the cloud from the perspective of flexibility. We lay out what the SAP Analytics Cloud program actually does, and what it far less of a focus, which is what is the state and roadmap of SAP Analytics Cloud.
#4:

SAP BW & HANA, and BW/4HANA

This video, promoting BW/4HANA, is entirely inaccurate. Information from the field is wholly inconsistent with what SAP says about BW/4HANA. 

This states that the data warehouse is removed because of S/4HANA. S/4HANA has no capabilities that would support this, and any ERP system is not replacing data warehouses in the foreseeable future. 
#5:

Implementation and Maintenance Cost Estimates

Most companies that are interested in SAP BW or Business Objects already have. Now the question is how to reduce the substantial overhead with these systems.

The question for the future is the SAP Analytics Cloud. We cover both the old and the new components of the SAP analytics strategy

This man might as well be reading the back of a cereal box. Nothing he is saying is true. SAP account managers are saying the same false things on projects. 
Question #6:

 Integration with Better Analytics Solutions

For better outcomes, one of the most significant opportunities is in connecting the older SAP BI backends with newer technologies. We cover how to do this very flexibly and at low cost.
Question #7:

BW Modernization with HANA

The presentation of HANA is that it is made to work with BW. However, most of BW is actually designed to work with a standard row-oriented database. With many column-based tables, HANA does not require much of what BW offers. SAP and their consulting firms paper over these issues. We expose them.

Conclusion
Analytics is a major consumer of IT budgets at SAP customers. All of our clients have received nothing but promotional SAP information, which makes it difficult to make effective decisions with the analytics budget. Our SAP analytics assessment provides accurate information so that far more value can be wrung out of the analytics spend.
References