The Brightwork SAP APO/IBP Research Based Assessment
Executive Summary
SAP and SAP consulting firms dominate the presentation of how to leverage SAP APO and IBP.
Our analytics assessment is without SAP or their consulting firm's influence or financial bias.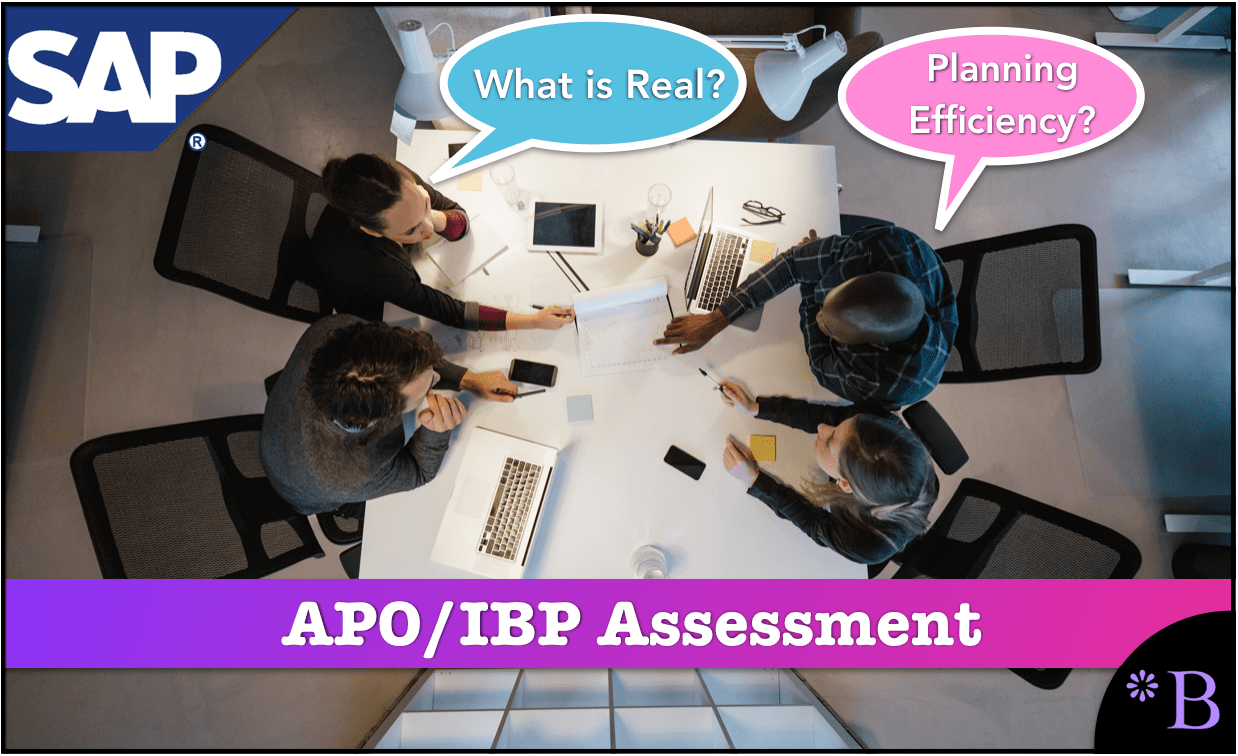 Introduction
SAP and SAP consulting companies propose that their customers must use APO, and they would prefer if they move to IBP so that they can obtain the license and implementation revenue. However, something that is barely discussed is that is the actual history of APO on projects. At one time, IBP was positioned as only an S&OP solution. However, its slow adoption has lead to mixed messages coming from SAP. Parts of APO have now been pushed back into the ERP system.
The best description of SAP's advanced planning messaging is "muddled."
What is the Assessment Based Upon?
Our SAP APO/IBP Assessment is based upon years of research into SAP that combines decades of SAP implementation experience with technical research and case studies to provide what is real and what is not with SAP APO/IBP without concern for what SAP thinks of our research conclusions. 
Our APO/IBP assessment covers the following areas. 
Question #1:

Reviewing The Current Environment

Every customer has particularities to their environments that range from the functionality utilized in ECC to the degree of customization to the yearly IT budget and a host of other factors.

The first step of the assessment is an SAP environment evaluation. This allows us the customization of the assessment to our client's situation. This is achieved with in-person interviews with various people in IT. These are not lengthy interviews, and this part of the process does not have much elapsed time. We have seen many SAP environments and can generally ascertain the general lay of the land in a few weeks. This assumes that many people are not out or traveling, which relates to the timing of the assessment. 
Question #2:

SAP APO History

SAP APO rapidly became the most popular planning system, taking over for i2 Technologies and Manugistics in the early 2000s. This was primarily on the back of SAP consulting companies recommending APO, and on a long term set of assumptions that APO would always have a growing and improving functionality footprint. Brightwork Research & Analysis, and Lora Cecere and her Supply Chain Insights as virtually the only entity, research or otherwise, to cover the reality of APO.
Question #3:

SAP IBP Opportunities

Since IBP was first introduced, SAP presented this as a "game-changer" for SAP customers. It would not only be easier to use than APO, but customers would finally get S&OP. IBP has an entirely new set of claims around machine learning to demand sensing to DDMRP and nearly every other trendy item that SAP marketing has decided to leverage to try to sell IBP.

https://www.youtube.com/watch?v=WO1AUo9PnYI

DDMRP is simply a variant of Lean that has been renamed and with a few extra tweaks included to sell more services. It replaces "safety stock" with "inventory buffers" and tries to apply a concept related to physical movement — called KANBAN to a planning system. 

Lora Cecere is correct, the simulation limitations of SAP APO, have continued into IBP. This video is produced by Kinaxis, which is trying to sell its software. However, there are very few realistic videos on IBP, and what Lora is saying here is accurate. 
Question #4:

APO Module Implementation Analysis

APO has around eleven modules, but only around six that are implemented to any degree (DP, SNP. PP/DS, GATP, TM, EWM).

Most of these modules underperform expectations by a large degree on projects, and the information that companies get around these modules is designed to protect SAP rather than provide a realistic analysis of what should be done with the modules. As part of the assessment, for those companies that have implemented APO modules, we analyze each implementation and provide our analysis of what should be done with these modules.
Question #5:

Implementation and Maintenance Cost Estimates

We are familiar with all of the commercial package advanced planning solutions, and APO has the highest maintenance overhead of any system in this category. A significant issue at all APO customers that we have reviewed (and information we have received from active APO implementations remotely) that companies that purchase and install APO are almost never prepared for the amount of maintenance required to keep the systems working properly.

Every APO system we have evaluated has degraded since its initial implementation. At one project, a batch job that was supposed to execute a forecast had never run since the system was implemented six years before us performing the analysis.

As part of our APO assessment, we explain the maintenance implications for APO going forward and help develop a plan for improving maintenance.
Question #6:

 APO, ECC, and Non SAP Integration

SAP presents APO and IBP as "entirely integrated" into the ERP system, and SAP and consulting firms propose that any non-SAP system will radically increase integration costs.

What is undiscussed, is that neither APO nor IBP are part of the ERP schema, and are integrated through adapters exactly are other non-SAP applications. We get to the bottom of the trade-offs regarding SAP adapters versus non-SAP adapters.
Question #7:

Planning Modernization HANA

The presentation of IBP is that HANA significantly improves planning. However, HANA does not do most of what SAP says that it does. We cover what SAP customers can expect to see from using HANA as a database with an advanced planning system.

Conclusion
Listening exclusively to SAP and SAP's consulting firms lead to the highly wasteful multi-decade investment into APO. SAP and SAP consulting firms want this history wiped clean, and for companies to, without thought or evaluation of options, invest in IBP. Inaccurate information about IBP is available right out in the open on SAP and SAP consulting firm websites and at SAP conferences.
Listening to this information without an independent analysis is most likely to lead to the same outcome as the investments into APO. This scenario is what our APO/IBP assessment helps keep companies from experiencing.
References