The Brightwork SAP S/4HANA Research Based Assessment
Executive Summary
SAP and SAP consulting firms dominate the presentation of why and when SAP customers should move to S/4HANA.
Our S/4HANA Assessment is without SAP or their consulting firms' influence or financial bias.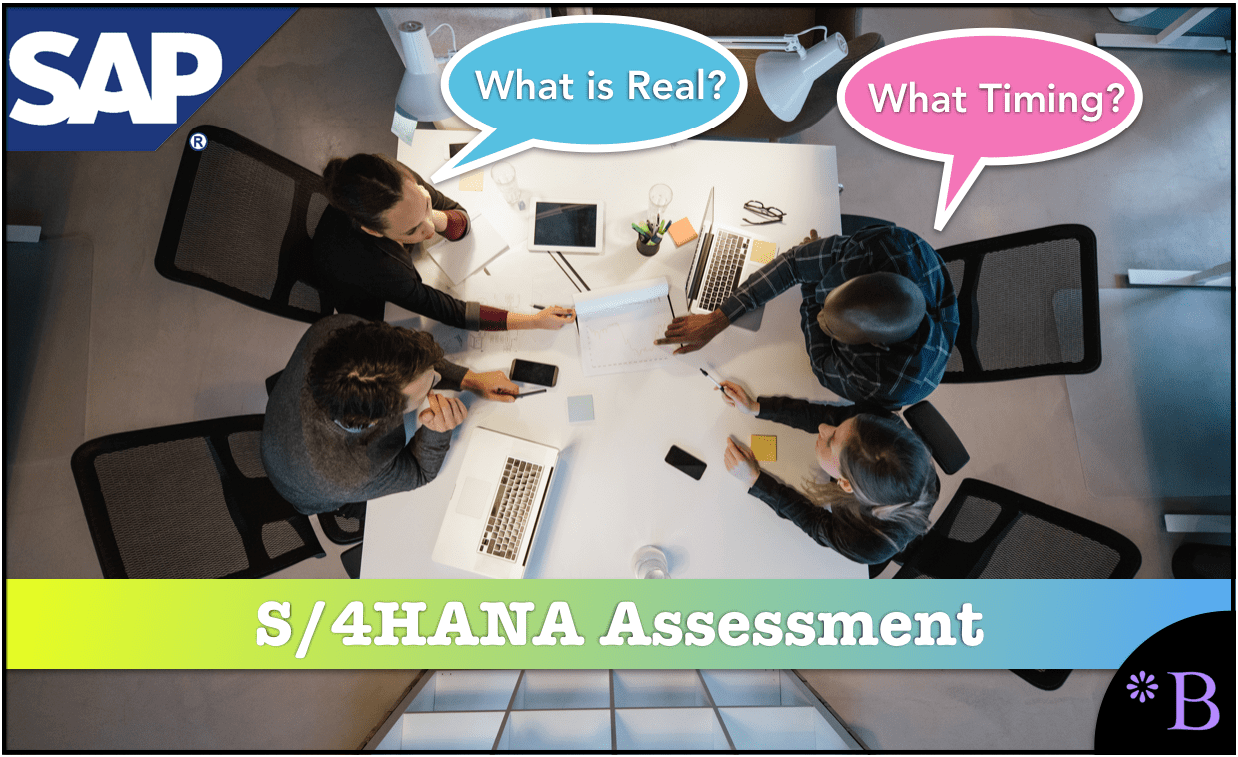 Introduction
SAP and SAP consulting companies propose that S/4HANA is the future and that companies should move to S/4HANA now, and those that do not move now will have to move inevitably. Brightwork Research & Analysis is the only research entity that researches and publishes on SAP that is entirely financially and otherwise disconnected from SAP.
Our research shows that nearly all of the information available on S/4HANA is provided by companies with a financial bias to migrate companies to S/4HANA.
This means the information on S/4HANA is unreliable. 
What is the Assessment Based Upon?
Our S/4HANA assessment is based upon years of research into SAP that combines decades of SAP implementation experience with technical research and case studies to provide what is real and what is not with S/4HANA without concern for what SAP thinks of our research conclusions. 
Our S/4HANA assessment covers the following areas. 
Question #1:

Reviewing The Current Environment

Every customer has particularities to their environments that range from the functionality utilized in ECC to the degree of customization to the yearly IT budget and a host of other factors.

The first step of the assessment is an SAP environment evaluation. This allows us the customization of the assessment to our client's situation. This is achieved with in-person interviews with various people in IT. These are not lengthy interviews, and this part of the process does not have much elapsed time. We have seen many SAP environments and can generally ascertain the general lay of the land in a few weeks. This assumes that many people are not out or traveling, which relates to the timing of the assessment. 
Question #2:

Database Strategy

As S/4HANA stipulates HANA as the database, no analysis of S/4HANA is complete without understanding the impact of HANA. HANA has different requirements for the IT department, and its claims, as with S/4HANA, require thorough vetting. We offer a truncated version of our HANA Assessment into the S/4HANA Assessment so that clients can understand all of the implications.

Incorporating a new database, particularly HANA, requires an understanding of the impact of HANA on our client's environment, their resources, and other related factors.

We illuminate the reality of beginning to use HANA with S/4HANA and potentially other SAP applications. 

This states that the data warehouse is removed because of S/4HANA. S/4HANA has no capabilities that would support this and data warehouses are not being replaced by any ERP system in the foreseeable future. 
Question #3:

Code Remediation

S/4HANA's database schema means changes to the adapters and the customizations in the current ECC system. This issue tends to be minimized by SAP and consulting firms trying to sell S/4HANA business. They will often point to code remediation tools, which mistakenly gives the impression that the tools, which is their attempt to minimize the concern regarding the code remediation steps. 

We use the environment analysis to tell our clients what code remediation will entail. 
Question #4:

User Interface

One of the first items that SAP used to promote S/4HANA was a completely new user experience with Fiori and the jettisoning of the SAPGUI. That is the high-level story.

Fiori does not come out of the box with S/4HANA, and there are many essential details in terms of how much Fiori can be used. We illuminate what can and cannot be expected from Fiori. 
Question #5:

Implementation and Maintenance Cost Estimates

SAP and SAP consulting companies provide unreliable cost estimates of S/4HANA, going so far as to say that S/4HANA will dramatically reduce TCO, without any evidence that this is the truth. 

Unlike SAP, which is trying to sell S/4HANA licenses or SAP consulting firms that are trying to sell S/4HANA services, we do not try to sell S/4HANA implementation business. We, therefore, use a research-based approach to estimate the client's costs, which include the long term maintenance of S/4HANA very importantly. 
Question #6:

 The Likelihood of S/4HANA Implementation Success

Two of the crucial factors of implementation success and the ability to go live are the conditions at the customer and the readiness of the software. 

The SAP ecosystem perpetuates the myth that the likelihood of success of S/4HANA implementations is not something to worry about and not something on which SAP customers should focus their attention. 

We disagree with this interpretation.

We focus significant attention on this topic, and we weave together S/4HANA project status from projects around the world to present our client's likelihood of success should they decide to go forward with a S/4HANA implementation
Question #7:

The "Inevitability of S/4HANA" and Timing Analysis

Some SAP customers are very likely to move to S/4HANA. However, it is not valid, as SAP claims, that movement to S/4HANA is inevitable for all customers. Some SAP customers will never move. SAP has attempted to correlate it having a new version of its ERP system, with the value to customers to move being a 100% proposition. 

We rate a company's need and ability to move to S/4HANA and provide a rough approximation of the general timing that would make sense for our clients. 

This is not based upon a motivation to sell the client S/4HANA or consulting services. But instead is based upon our evaluation of the client's specific situation and S/4HANA and its roadmap. This includes its real likely roadmap, which is not the official roadmap published by SAP. 

Conclusion
Our S/4HANA Assessment is focused around getting our clients the most accurate and financially unbiased information S/4HANA. It is comprehensive of the client's environment, S/4HANA implementation case studies, and technical analysis of S/4HANA. This is all to provide clients with the information they need to make the most accurate decision regarding moving to S/4HANA.
References