Planned Orders and Purchase Requisitions and Their Deletion
Last Updated on April 12, 2021 by
Executive Summary
A Planned Order or a Planned Production Order is different from a Purchase Requisition.
How Purchase Requisitions sent to outlier locations, and how can one determine if Purchased Requisitions should be in APO?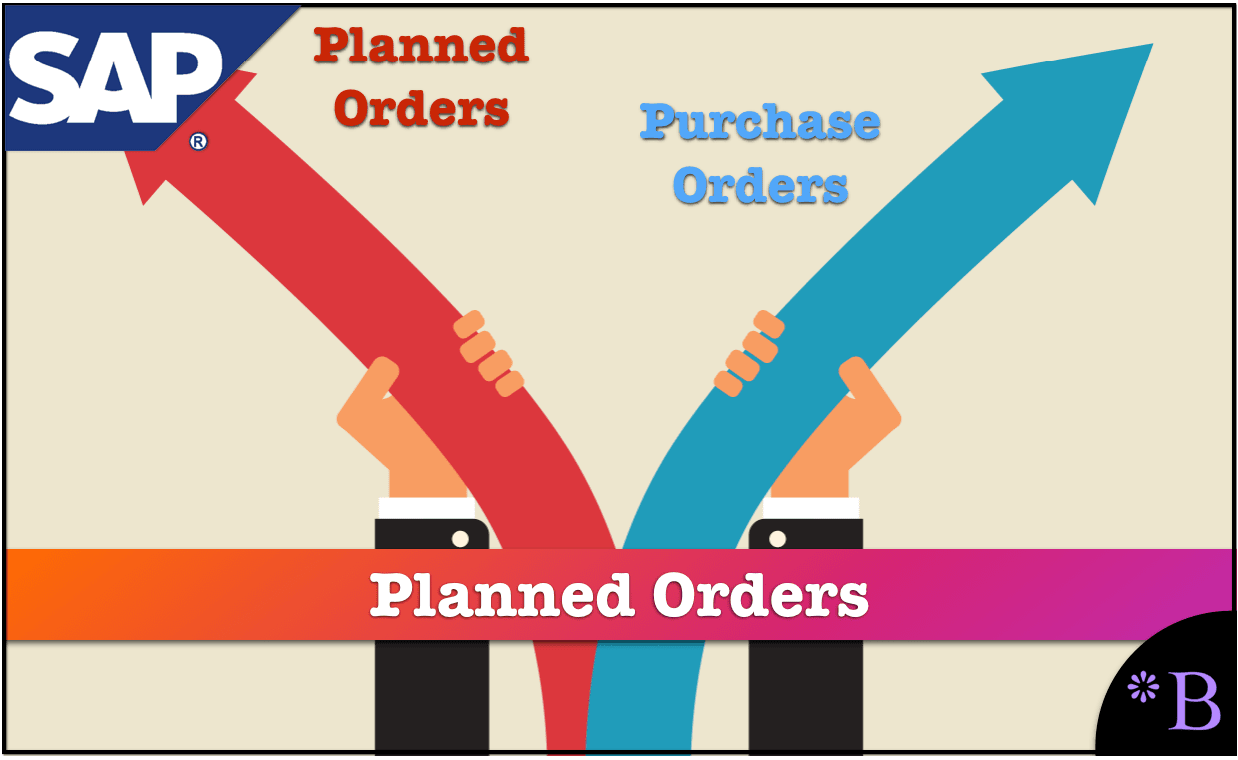 Video Introduction: Understanding Planned Orders
Text Introduction (Skip if You Watched the Video)
There is confusing terminology used in SAP regarding things like planned orders and purchase requisitions. This combined with how purchase requisitions are treated differently by SAP ERP depending upon the type they are, can make the topic of the deletion of these items even more confusing. This article has two sections. The first section will cover what a planned order/production order and a purchase requisition are. In the second section, you will learn how to delete purchase requisitions from SAP SNP.
Our References for This Article
If you want to see our references for this article and related Brightwork articles, visit this link.
What is a Planned Order or Planned Production Order?
SAP has the following definition of a planned order:
A procurement proposal that is generated manually or automatically during planning and that is converted to a purchase requisition or a manufacturing order. Planned orders can be generated in both SAP R/3 and SAP APO. – SAP Help
Therefore a planned order is a precursor to either a production order or a purchase requisition. Interestingly, planned orders created in SAP ERP and transferred to APO are always shown (in the planning book's details view, for instance) as PP/DS planned orders.
In SAP APO, the planned order is the "planned production order." Somewhat inconsistently, the planned purchase order is called the purchase requisition. The term "production requisition," which would be consistent, is not used.
How Purchase Requisitions Sent to Outlier Locations from SNP are Used by ECC
There is a huge difference in how Purchase Requisitions sent to outlier locations from SNP that ship to SNP locations are dealt with in ECC. This changes depending upon whether the Purchase Requisitions drive production or deployment.
R/3 uses SNP Purchase Requisitions for scheduling production
R/3 does not use SNP Purchase Requisitions that are sent over to R/3 for deployment
This means that the Purchase Requisitions for deployment stay in R/3 without being acted upon. However, the new Purchase Requisitions for deployment must be created by SNP. For this to occur, the Purchase Requisitions that reside in R/3 (sent from SNP to outlier locations that are shipping into SNP locations) must be deleted.
This is described in the following graphic.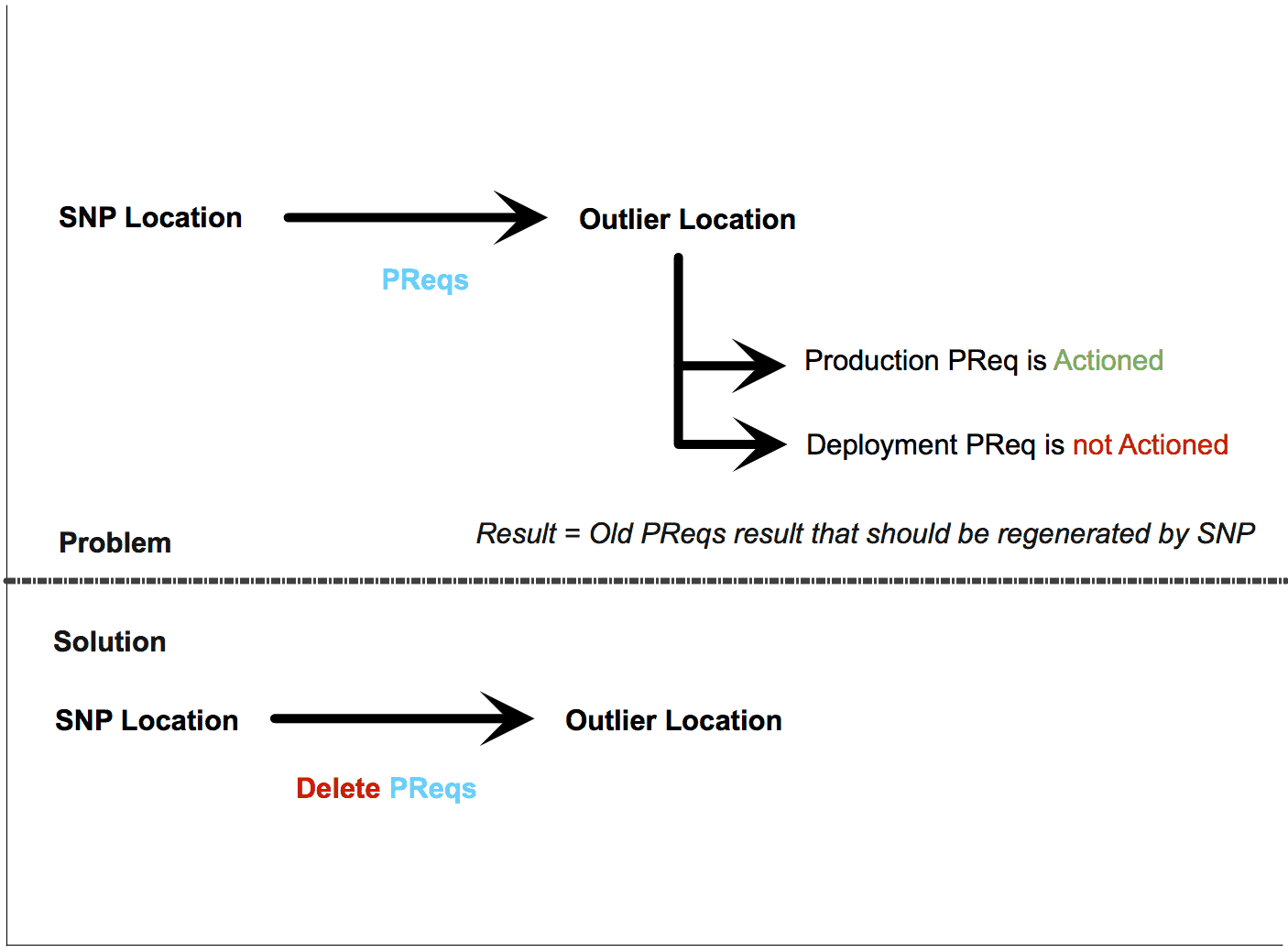 Are Purchase Requisitions Created in APO?
This very much depends on the following things:
Question 1: Are the purchased products planned in APO, that is, is the BOM exploded in APO?
Question 2: Does the company sell purchased products and plan purchased products in APO?
Are the Purchased Products Planned in APO?
When implementing APO, a company has the option of only planning at the good finished level. Then passing the finished goods supply plan (which still allows production planning and scheduling to occur in PP/DS if PP/DS is in scope for the project) to the ERP system for the BOM to be exploded and the dependent requirements to drive the creation of purchase requisitions.
This design's weakness is because the purchased products do not exist in APO; material shortages will not show in the alert monitor if a purchased product has had its purchase requisitions or purchase order delayed.
This negates the material availability capability checking in APO and would move planners to do their procurement analysis and ERP management.
Does the Company Sell Purchased Products and Plan Purchased Products in APO?
If a company resells products that it purchases, and decides to plan these products in APO, then purchase requisitions will be created by APO. The process is the same as creating planned (production) orders, except the purchase requisition is created instead. Each product location combination is coded for whether it is an internally produced or externally procured product.
This is set in the Procurement Type field on the Procurement Tab in Product Location Master.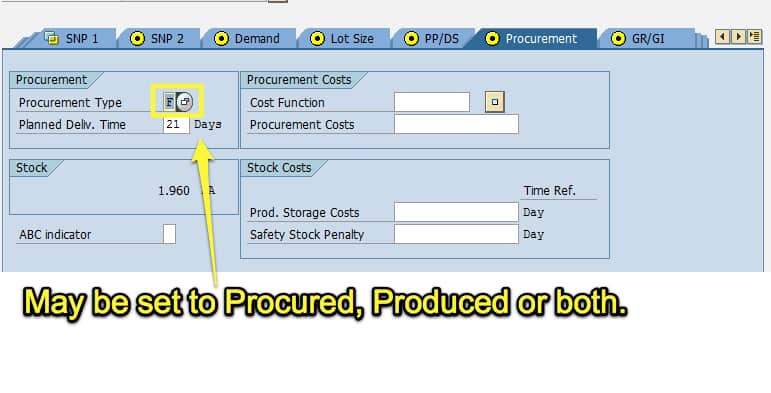 If the answer to question 1 above is "no."
The answer to the question is also "no" then purchase requisitions, and purchase orders would not appear in APO and the Distribution Receipt (Planned) (for purchase requisitions) and Distribution Receipt (Confirmed) (for purchase orders) key figures in the SNP Planning Book.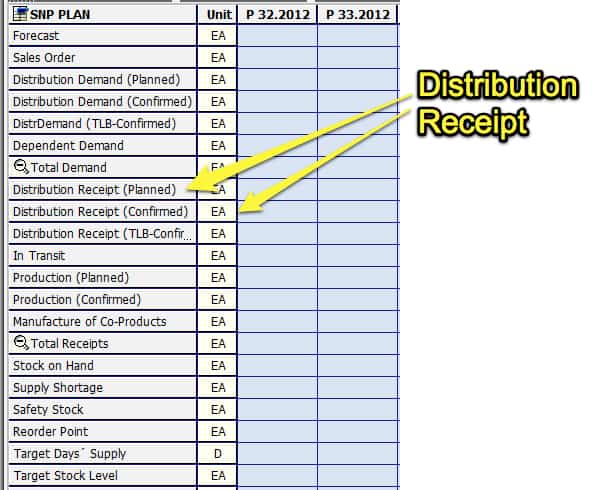 In this case, no purchase requisitions would show in the APO planning book key figure.
Purchase Order System or Purchase Order Software or Supply Planning Software
If we think of purchase order software or a purchase order system, this is a supply planning system. The output of a supply planning system is the following:
A Purchase Order Recommendation
A Production Order Recommendation
A Stock Transport Recommendation
We don't refer to supply planning systems as production order systems, a purchase order system, or purchase order software. This is what this classification of software does. If a company does not perform manufacturing, then the supply planning systems affect a purchase order system or purchase order software.
The Automated Job for the Delete
To accomplish deleting SNP-generated Purchase Requisitions that reside in R/3, two automated jobs are envisioned. One job would be scheduled to run every day, Monday to Thursday, and a second job would run every Friday.
This is described in the following graphic.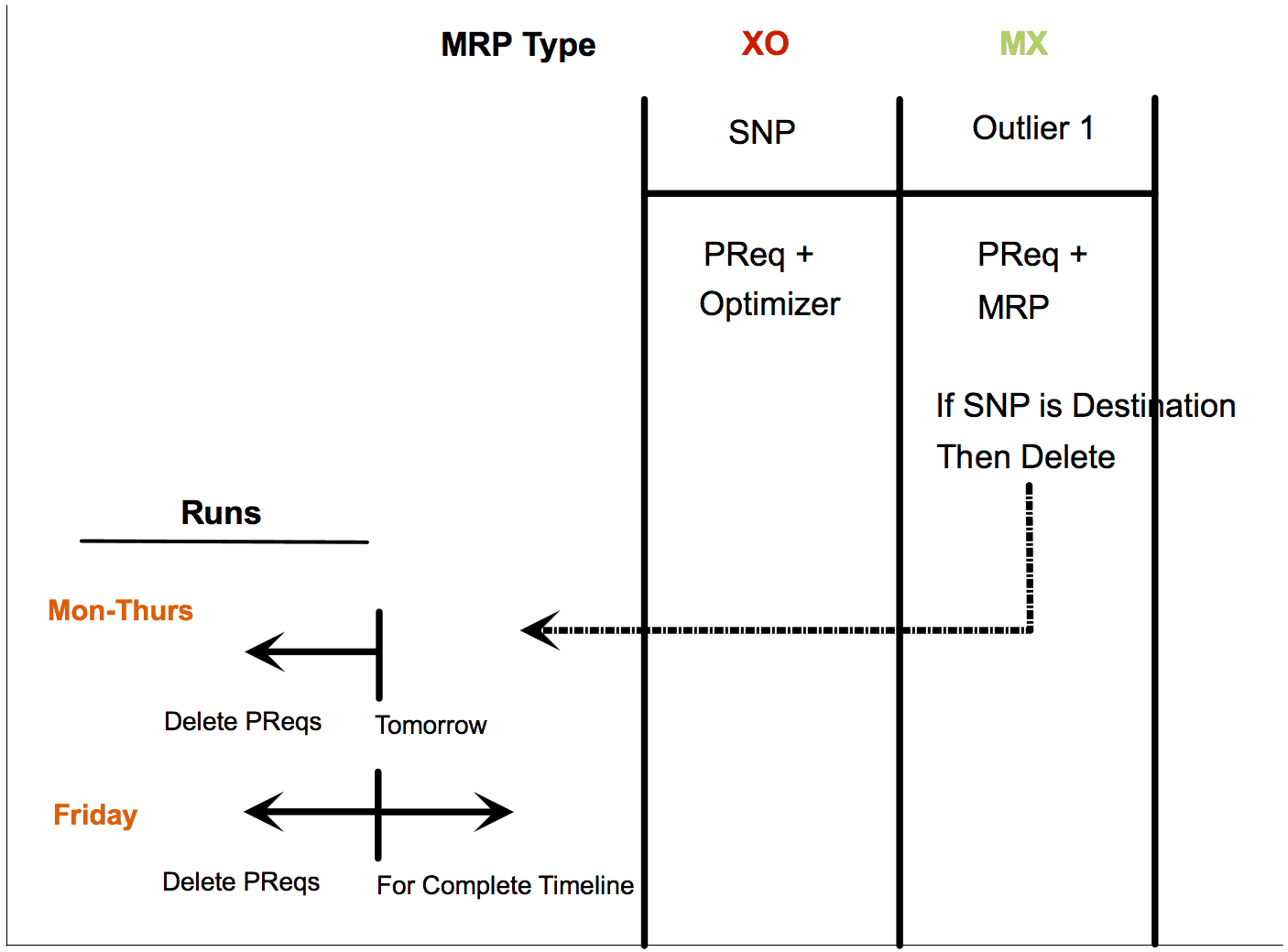 The Master Data Team will often perform this Purchase Requisition deletion process.
Setup of the Deletion Runs by IT
As described in the graphic above, when this process is automated, the deletion must be performed slightly differently in two separate runs.
One job is only backward-looking and only deletes Purchase Requisitions that satisfy the requirement above from "tomorrow" back in time.
This job is run every day from Monday to Thursday.
A second delete job should delete all Purchase Requisitions in SNP for the entire time horizon forward and all Purchase Requisitions in the past that meet the requirements above. This job would be run on Fridays.
Conclusion
Planned orders are a response to requirements that can go in several different directions. The two most common routes being internal production, which results in production order, and purchasing, which then becomes a purchase requisition.
There is some inconsistency here because a planned order is a precursor to a production order for produced items. But a planned order is a precursor to first a purchase requisition and then a purchase order.
In the planning, book planned orders show a planned production order and purchase requisitions for planned procurement. Therefore planned orders have an extra step that I believe confuses.