Executive Summary
This book covers hardware and the changes that are occurring to cloud commodity servers, on-premises proprietary servers, mainframe, and appliances like Oracle Exadata and how this is enabled by open source.
Open source gets less of the focus in IT media but is critical to the changes in the public cloud, but is driving change behind the scenes.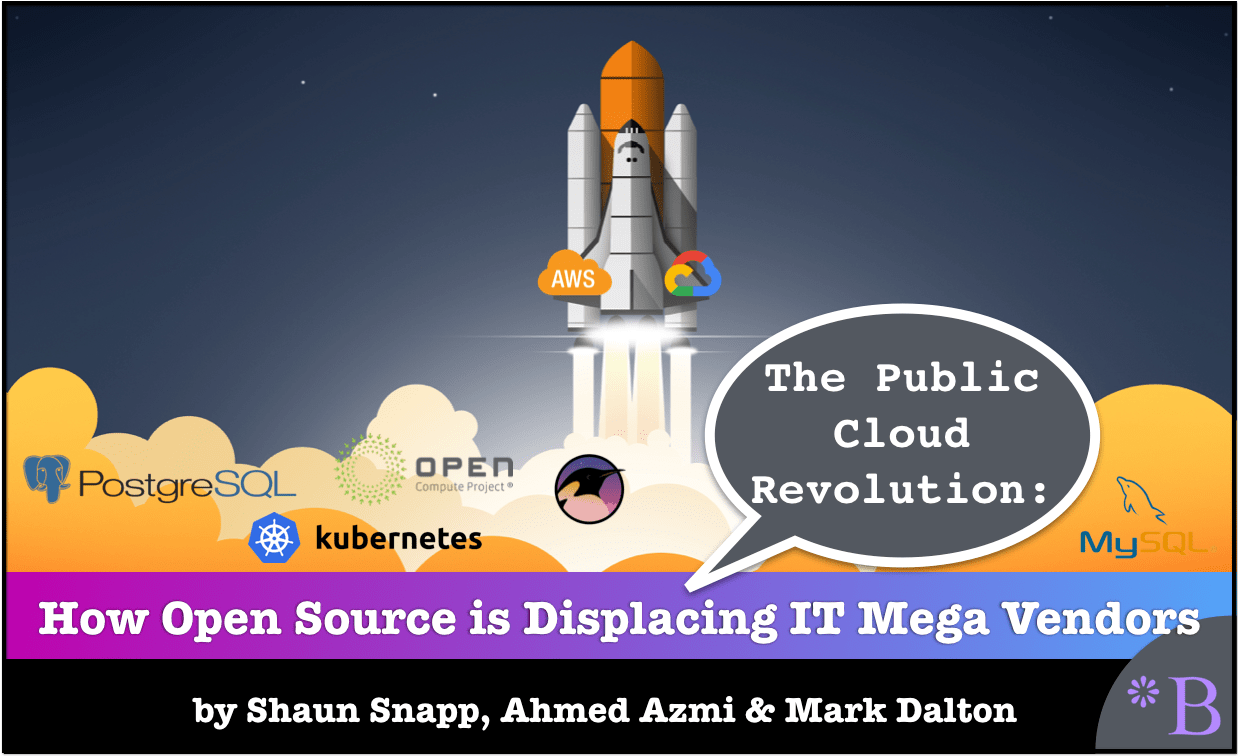 The Public Cloud Revolution: How Open Source is Displacing Proprietary IT Mega Vendors
The Book on the Primary Driver of Open Source
Everywhere one looks open source is driving change in enterprise software. The ascendant cloud service providers like AWS and Google Cloud have leveraged open-source software and hardware to create hyperscale environments that the proprietary software vendors will find very difficult to replicate. This book tells the minimally-told story of how exclusive software and hardware vendors overstate their innovation, seeking to be compensated for their claimed IP, rather than their real IP. And how quietly, open-source projects have lead to driving some of the most critical changes in computing.
The Book on How Open Source Drives the Cloud
Open source projects ranging from the well known Linux OS to PostgreSQL to lesser-known projects like The Open Compute Project are increasingly providing the most stable and foundational elements to the Public Cloud. IBM is attempting to piggyback on this reality through their acquisition of Red Hat. But in the coin-operated IT media coverage, it is the private vendors that steal the spotlight from these open source projects. This book, devoid of any vendor funding, focuses on the impact of open source and how it is undermining the claims made by commercial vendors.
The Book on the Ability to Move Away from Proprietary Hardware
This book compares four different hardware modalities, commodity (open-source specification) servers for cloud service providers, on-premises proprietary servers, mainframes, and appliances. And it explains that in all but one of the modalities, mainframe (which has now embraced Linux), the role of proprietary hardware vendors will decline into the future.
A Book Based in Reality
Currently, to get business, many companies are making migration appear more straightforward than it is. This book is not about marketing or getting people in a lather open source or cloud services. A significant component of the book explains the central and overlooked importance of the mainframe. Instead, the book provides many examples from real-life project experiences, the emphasis being on the reality of these projects.
Our Authors
Our three authors, Shaun Snapp, Ahmed Azmi, and Mark Dalton, combine for decades of SAP and Oracle experience and five years of AWS/Google Cloud experience.
Shaun Snapp
Shaun Snapp is the managing editor for Brightwork Research & Analysis. He is a long time SAP consultant and researcher. Brightwork covers a variety of topics but has a strong focus on SAP. Brightwork has increasingly been focused on researching how to combine AWS and Google Cloud services with SAP on-premises environments.
Shaun Snapp's Linked In Profile
Ahmed Azmi
Ahmed is a senior advisor for the minister of information technology and a member of the advisory board at the national telecommunication regulatory authority. Previously, he held senior leadership positions at Sybase, HP, Oracle, and SAP. Ahmed is a contributing member of the international executive association. A guest speaker at Dubai Gitex, Flat6labs, and DTEC. And a featured author on Armatic.com, Brightwork Research & Analysis, and Autodeploy.net.
Ahmed Azmi's Linked In Profile
Mark Dalton
Mark's deep commitment to creating transformational outcomes using enterprise software for customers has been a driving force throughout his career. Working at JD Edwards, Mark was able to see how great organizations focus on the customer and developed the first multi-channel business intelligence platform across the organization. That experience has guided how Mark views the importance of organizational alignment of sales, customer support, product development, and marketing to enable a superior customer experience.
Mark Dalton's LinkedIn Profile
Interconnected to Web Information
In order the keep the book at a manageable and easily readable length, the book also provides numerous links out to the Brightwork Research & Analysis site, where supporting articles allow readers to get into more detail on topics that interest them.
Chapters
Chapter 1: The Rise of Commodity Servers in the Cloud
Chapter 2: On-Premises Proprietary Servers
Chapter 3: The Journey from Mainframe to Client-Server to the Cloud
Chapter 4: Exadata and Exadata Cloud Services
Chapter 5: Tying the Major Hardware Modalities Together With Containers and the Hybrid Cloud
Questions about the Book? 
Do you have any questions about the book? If so, please leave us a comment in the message box to the right, and we will address them.