The Reasons Given for McDermott's Departure from SAP
Last Updated on February 27, 2021 by Shaun Snapp
Executive Summary
The reasons offered for Bill McDermott to step down are highly questionable.
We evaluate the official story and project the most likely real reason.
Introduction
On October 10, Bill McDermott announced he was stepping down as CEO of SAP. The announcement caught virtually everyone that follows SAP by surprise, and the explanations for his sudden departure naturally caused suspicion as to the real reason for the change. You will learn about the evidence we used to identify the most likely catalyst for McDermott's departure.
Our References for This Article
If you want to see our references for this article and other related Brightwork articles, see this link.
Lack of Financial Bias Notice: We have no financial ties to SAP or any other entity mentioned in this article.
This is published by a research entity.
Second, no one paid for this article to be written, and it is not pretending to inform you while being rigged to sell you software or consulting services. Unlike nearly every other article you will find from Google on this topic, it has had no input from any company's marketing or sales department. 
The "Explanation"?
If you watch the video of McDermott's departure explanation, it immediately seems odd. The only thing he said is that he had been at SAP for a long time, 17 years and that he decided not to renew his contract, which begs the question of why he did not renew.
This is like me saying I decided not to buy a ticket to a movie I had planned on seeing and focusing on the fact that I was without a ticket.
He also gave a ridiculous response to Elliott Management's interactions that he enjoyed his interactions with Elliott Management. Elliott Management is a firm that targets a company if they think the management is doing a poor job squeezing the most money out of the company (note, not making the company better, squeezing out share price increases). It would be like saying you enjoyed being put into a big bag with a python.
McDermott then quickly pivoted to a discussion about how great his two successors were.
The problem with this is that McDermott is a lifelong sociopath and could not care less about his successors, so this was theater.
Overall, McDermott provided non-explanation that is only prominent for how much it pivoted away from the question. He was anxious to get off the question of "why" and move on to other topics such as how strong the company is. And also what a good job he did and how great the transition team is.
I found the following quote from McDermott curious, a quote not in the video but an article in TechCrunch.
"Very rarely do CEOs get the joy of handing over a company at maximum strength. And today is a great day for SAP. It's a great day for me personally and Hasso Plattner, the chairman and [co-]founder of SAP. And also — and most importantly — a great day for Jennifer Morgan and Christian Klein." – TechCrunch
Yes, that is because it is not done unless the CEO is ill. CEOs leave jobs when the company declines, or when a better job, say a CEO job at a larger company, opens up (this is also very rare) or retires because of age (McDermott is only 58).
But in the case of SAP, the CEO's job is already a top CEO job — there is no CEO job one can step up to.
My ears have perked up that SAP did not craft some legitimate sounding cover story for the departure. Even the highly compliant interviewer (it was on CNBC, which licks the ankles of any executive who comes on the show) seemed perplexed by what McDermott was saying.
The Replacements
This video is where Bill McDermott's replacements repeat McDermott's talking points and then respond to questions.
https://www.youtube.com/watch?v=0KAhsknXdh4
This video introduces Bill's replacements. Neither of these people is qualified to be CEO of SAP, although Jennifer Morgan is far closer. If this were an NFL draft, Christian Klein would be considered a "reach" draft pick.
I had to rub my eyes when reading these two profiles because it is difficult to believe either of these people was selected for this job.
Christian's background is financial controlling. So he specializes in preparing financial statements. He is a behind-the-scenes operator and a strange pick to lead in the most forward-facing role. Jennifer Morgan is an ex-business development schmoozer. Neither Jennifer Morgan nor Christian Klein has any real product experience. Jennifer ran SAP public services, where SAP rips off government entities that are usually considered the easiest targets in the SAP space. Although I have never met Jennifer, I have worked with a lot of people like Jennifer. She is very PC. She will repeat back to you whatever the cue cards say.
This is a sales/accounting team. It is not a product-focused team. Secondly, Hasso's hand-picked Juergen Mueller as CTO, who is very young and entirely passive, will be easily controlled by Hasso. Now both the German-based CTO and German-based CEO are under 40 years of age — Hasso Plattner seems like a God to these two men. Jennifer will soon slip into the PR function role of McDermott. When Leo Apotheker was replaced as CEO in 2010, he was told by Hasso that SAP needed a "happy face," which was McDermott. Jennifer Morgan is that new happy face.
If you want to be schmoozed, you talk to Jennifer.
If you want to know how to adjust the quarterly report, then contact Christian.
Here is Jennifer lying on the Q2 2019 analyst call.
Don't forget also HANA as a service will be hitting hyperscalers clouds near you and it's a whole new vector of growth along with analytics and on the SAP Cloud Platform, there will be a tremendous opportunity with the SAP Cloud Platform between that and the up-selling opportunity of experienced management, yes. Any dilutive effect to moving the infrastructure as a service and the Embrace program will be compensated for. – Yahoo
This is wholly false.
SAP Cloud has never seen much adoption, and framing it in this way is how SAP has been cloud washing its revenues, as we cover in the article Is the SAP HANA Cloud Platform Designed for Cloud Washing?
Unless the point is to have extremely controllable individuals that Hasso can puppeteer, this is the only way the selection of these two individuals makes sense. Both of these people are just overjoyed to have this job and will likely do anything they are told.
Christian Klein's LinkedIn Article
Christian introduced himself with this LinkedIn article.
"Today we are humbled to succeed Hasso Plattner, Dietmar Hopp, Henning Kagermann, Leo Apotheker, Jim Hagemann Snabe and Bill McDermott as CEOs of SAP. When we were first notified of our new appointment, our first reaction to the news – beyond a sense of immense pride and gratitude – was this means that Bill would no longer be CEO of SAP. It's tough for us to imagine SAP without Bill.

Naturally, we asked Bill – "what's the story?" He was very candid with us. He talked openly about how much he loves this company and that he really wanted to do the right thing by handing the reins to a new generation while the company is in such strong position.

Like Bill, we deeply believe in SAP, its people and its products. The three most meaningful letters on our business cards won't be CEO – they are and will remain SAP.
And then he has to, of course, praise Hasso Plattner and Bill McDermott. This is mandatory.
 You've heard the phrase "standing on the shoulders of giants." In Chairman Hasso Plattner and Bill McDermott, we have two such giants. That they both believe in our potential as Co-CEOs means so much to us. To Bill, there is more to say than we can accomplish in this post. His leadership has inspired SAP to do what few ever thought we could achieve. He challenged us, motivated us and called on us to embrace his optimistic view of the world. We look forward to celebrating and thanking him in the days and weeks ahead.

Most importantly, the best is yet to come for SAP. Together with our full leadership team, we intend to empower everyone here to achieve even greater ambitions. Whether it's forging the ethical boundaries of artificial intelligence, helping our customers reduce carbon emissions, or building a new middle class, SAP belongs in the center of a better world.

And we will do it together – with our global colleagues, customers, partners and other stakeholders.

It's a profound honor to be the next CEOs of SAP. We look forward to continuing our mission of helping the world run better and improving people's lives."
After Christian wrote this short and rather content-free article, the SAP sycophants lined up to pay "tribute" to their new leaders.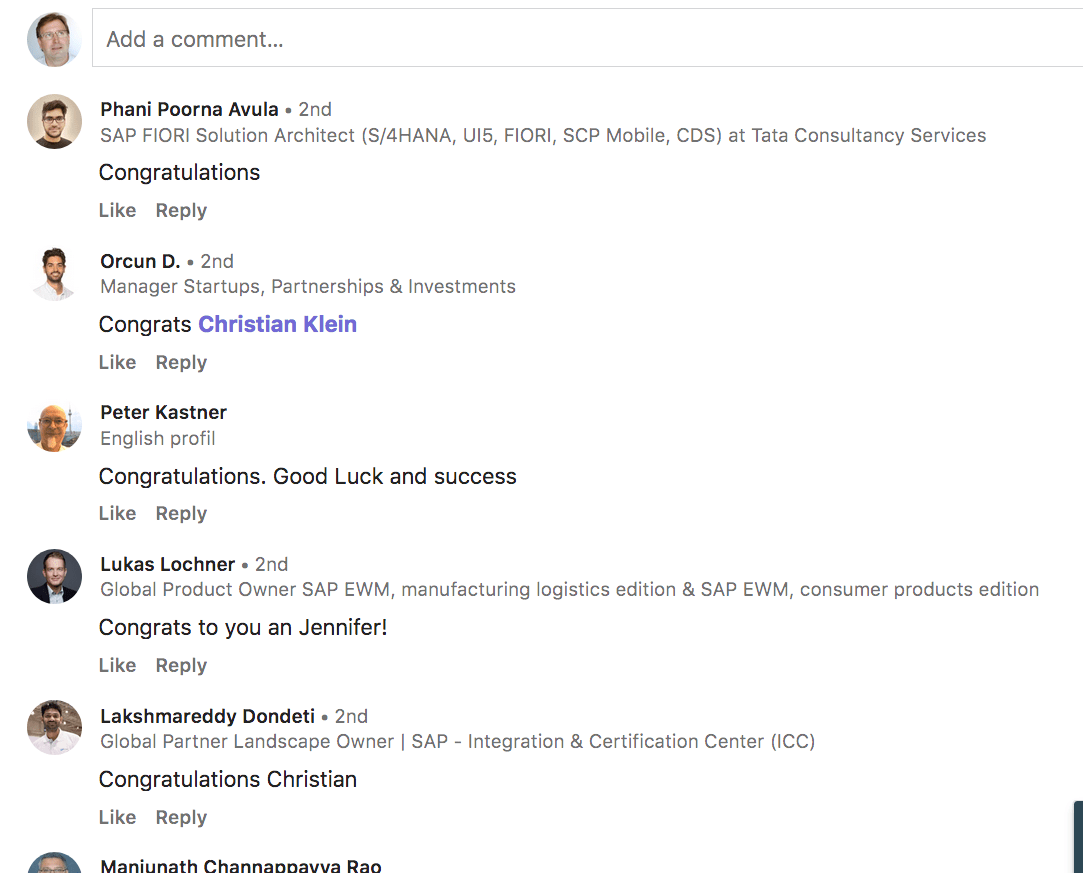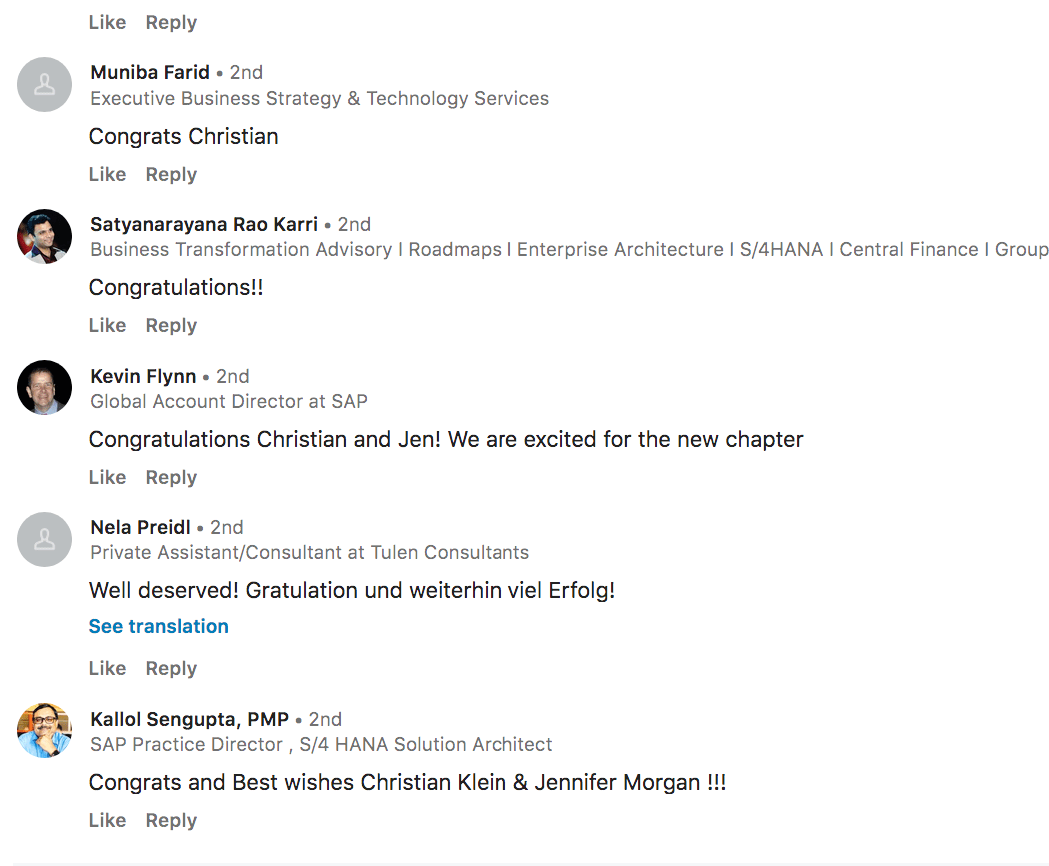 Hmmm..beginning to notice something similar between the various comments?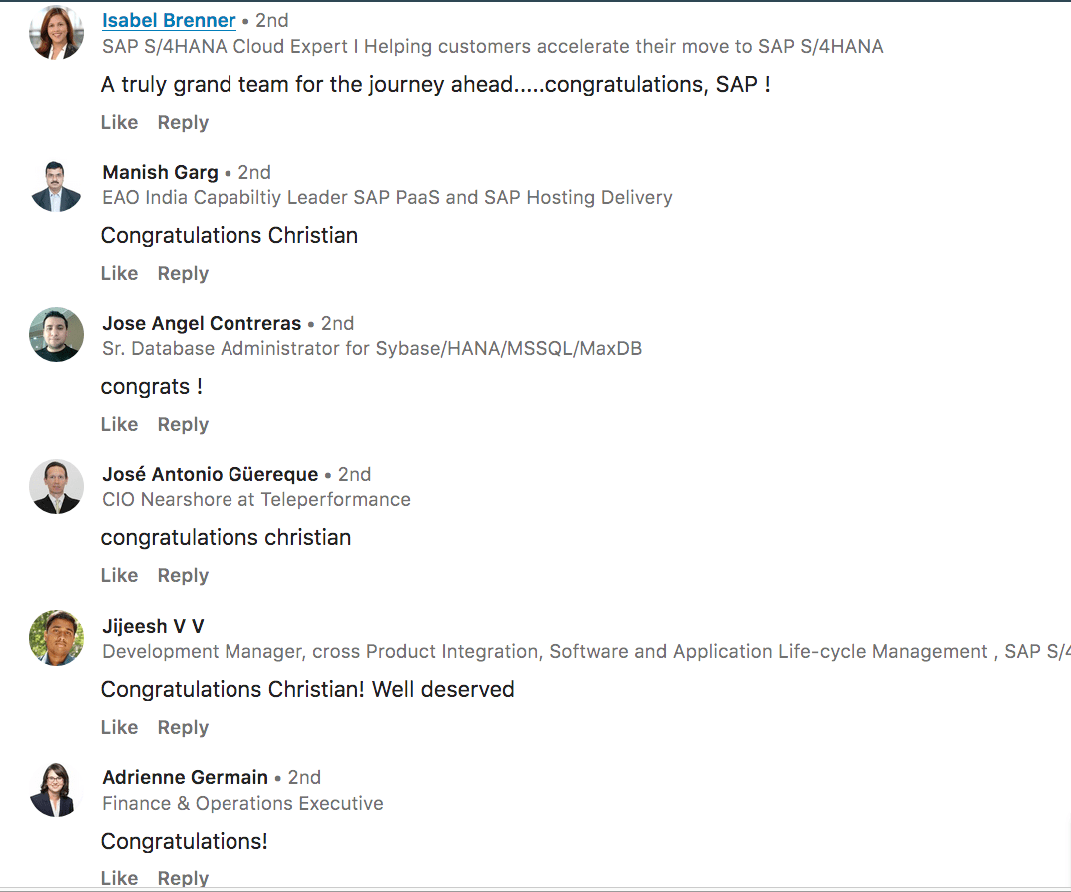 You have to wonder about the comments "well deserved." Are these SAP resources familiar with Christian's work? Are they qualified to analyze Christian's financial statements to know how good these statements are? Christian has been a controller and COO — these resources are familiar enough to know if this was well deserved? Isabel Brenner calls this a "grand team." 
Virtually all of the emails look the same. This demonstrates both the sociopathy that is so alive and well in the SAP community and why my accuracy in predicting SAP (see the list of our predictions versus SAP in the article A Study into SAP's Accuracy) is in part based upon ignoring most SAP resources.
McDermott Leaving an Extension of Firings In March of 2019?
We covered in the article the SAP Layoffs and a Brightwork Warning on HANA (and article which was extremely unpopular with SAP resources and consultants) that the layoffs were in specific areas where we had said for years that SAP was underperforming, including HANA. This article caused several SAP consultants to lose their minds, including Barbel Winkler, who accused Brightwork of distributing fake news. Is Bärbel Winkler Correct the Brightwork SAP Layoff Article Was Fake News?
They were particularly offended that I explained that Hasso Plattner has been passing off an honorary Ph.D. as a real Ph.D.. Does SAP's Hasso Plattner Have a Ph.D.?
Many SAP devotees viewed this as incredibly disrespectful, to point out. Several defended the practice, as I covered in the article It's Official If You Work for SAP Its Ok to Lie About Having a Ph.D. Hasso was unbowed and later referred to 200 peer-reviewed studies to support his contentions, which I then researched and found did not exist How Accurate Was Hasso Plattner About SAP HANA Publications? 
You see, Barbel Winkler and other SAP consultants are pleased to listen to any number of false claims by SAP, but an independent entity calling out SAP on lying is just too much for her. And she provided an aggressive and evidence-free response. So it is official, Hasso can never be contradicted according to SAP resources. Even when he is entirely wrong, he is still right because calling him out on falsehoods can be critiqued as not appropriately respectful. One SAP consultant claimed he was…
"So angry about the personal nature of the article, and I can't focus on contradicting the claim."
I am thinking of coming up with some type of body pillow that SAP consultants and sales reps can hug when their circuits are overloaded. They can then embrace their "binky."
Many executives left SAP at that time, including Rob Enslin, Bernd Leukert, Barry Padgett, Rich Heilman, and Thomas Jung, as pointed out by ZDNet. The response from SAP resources was that we should not write this about inhumane (and potentially a violation of the UN's Declaration on Human Rights?). As we cover in the article Is It Inhumane to Discuss HANA's Lies on Post About Job Losses?
The Problem with the Qualtrics Acquisition
We reviewed the Qualtrics acquisition in the article Does SAP's Acquisition of Qualtrics Make Any Sense? And also, in the article, SAP and Qualtrics CEOs Making Repeatedly False Statements, and our conclusion was, along with many others, was that there is no fit between Qualtrics and SAP. And the acquisition was made worse than the enormously inflated price SAP paid for Qualtrics. Close to a year after this acquisition, and after SAP has relentlessly pushed "X and O Data," Qualtrics looks ready to just recede into the background. And the owners of Qualtics will walk out of SAP with $3 billion in personal wealth.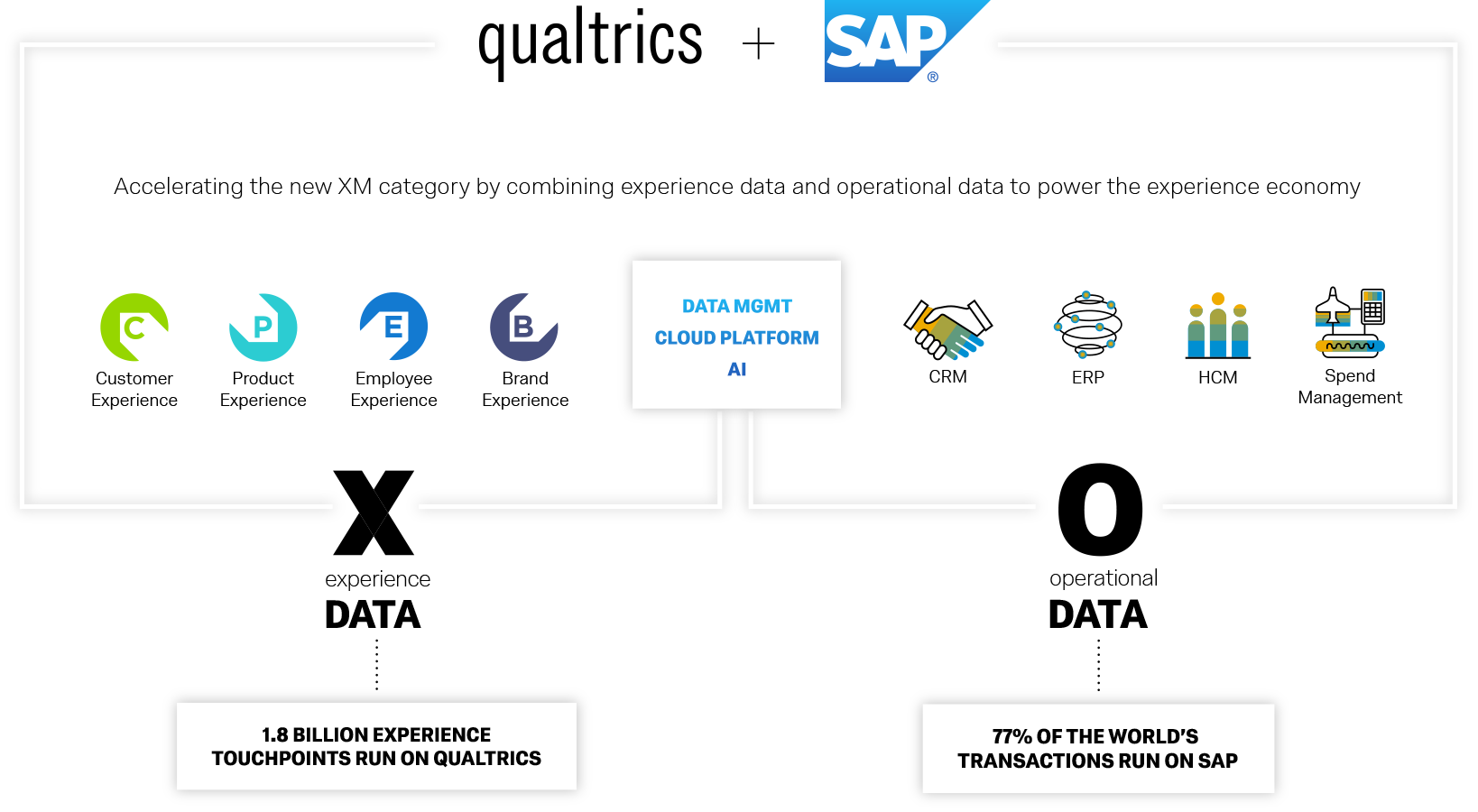 SAP wanted people to think there was something to X and O data. However, there is no insight here. Qualtrics is survey software, and any SAP customer could have used it with or without the acquisition. Secondly, there is no overlap with SAP's core, and Qualtrics sells in a completely different category than SAP. Qualtrics would classify as one of the most wasteful acquisitions SAP has ever made. 
This acquisition falls on McDermott, and it likely caused him to lose credibility with Elliot Management and the board. McDermott has been trying to justify Qualtrics since the acquisition was performed, and he tried again on his departure tour.
"We had unbelievable deals again in Q3 where we actually combined our latest innovations — where we combined Qualtrics with SuccessFactors with S/4 [Hana] to drive unbelievable business value for our customers. – TechCrunch
This was just a sale McDermott is referring to as Qualtrics has no overlap with S/4HANA. And the customer McDermott is referring to will end up being disappointed. I review sales BOMs that make no sense, one example being the stuffed sales BOM covered in the article The Hidden S/4HANA Home24 and KPS Failure.
However, it is not only Qualtrics.
Under McDermott, SAP has acquired several companies like Callidus, Concur, and many others, destined to decline and do not fit with SAP's offering. These acquisitions — meant to signal to Wall Street how much SAP is morphing into a cloud company, are impossible to get any ROI from due to their purchase prices. SuccessFactors, which was McDermott's previous favorite acquisition before Qualtrics, has seen quite limited sales into SAP accounts. The former CEO was essentially run out of SAP for disagreeing with Hasso Plattner.
The Impact of Elliot Management
I have no visibility into the changes Elliott Management asked for.
But they show up, and then all of these changes happen, and they happen rapidly. That is what Elliott Management does. They force out executives, and they target companies whose strategies they disagree with. They press for changes. How they do it with only a 1% stake, I don't know, but they have a history of doing it. The leverage provided by such a stake does not support how they do this, but their history shows they are successful in doing this.
How Will SAP Increase Margins?
One reason for Elliott's targeting of SAP has been that margins are seen as lagging. The article I read compared to SAP's margin to Microsoft's, which was at one point 40%. However, Microsoft had a monopoly on the office suite and OS and had a virtually zero marginal cost over this massive market. If we followed our antitrust laws, it would have been broken up. After losing their case against the DOJ, Microsoft paid no reasonable costs for violating the tying arrangement clause of antitrust law. Still, the lead attorney for the government, David Boise, used that case to springboard himself into private practice. He engaged in a multi-decade career doing all the wrong things and general exorbitantly paid legal thuggery. This is eventually culminating in him defending Elizabeth Holmes and Theranos! His thuggish behavior is chronicled in the book Bad Blood, which covered the Theranos affair. It appears the DOJ/Microsoft trial, which was supposed to be about antitrust, was just a dog and pony show designed to burnish some resumes and get some people some great careers in private practice.
This is why the desire/expectation for Elliott Management to get SAP to get a higher margin is not logical. SAP is already gouging its customers, overcharging them, selling them things they don't need. I will refer back to the Home24 case study for the ridiculous sales BOM sold by both SAP and KPS to Home24. SAP is already charging customers for fictional items through indirect access.  This comparison against Microsoft is where one monopoly is compared against another monopoly for a reasonable margin expectation. In the Private Equity business, companies are targeted to gouge their customers, and these are the companies that Private Equity takes a position in. A firm known for this is Bain Capital. They perform "price optimization," which is a euphemism for price gouging. So if you have a pharmaceutical that has already had all the research conducted and is selling in the market, Bain Capital will target the company and then massively increase the pharmaceutical price. The Private Equity firm does nothing and does not improve the item; they only identify price gouge opportunities. This is filed under "innovation" by the Private Equity firms and is their "value add" to the economy.
However, most of SAP's margins support, as we cover in the article The Giant Margins for SAP and Oracle Support. And the article The Amazing Support Percentage of Revenues for SAP & Oracle. These margins are based upon paying very little to India's resources and dropping the support level to where you barely want to use it. Or as private equity firms call "optimization."
SAP has been promising margins, and it cannot deliver for several years now. McDermott reiterated this falsehood in the following quotation.
"The capital markets have been waiting for the margin expansion story," he said, adding the "inflection now for margin expansion is in full flight." – Bizjournals.com
SAP's margins in the cloud are tied to marking up other service providers' cloud services, which we cover in the article How to Understand SAP's Upcharge as a Service Cloud. SAP has close to no internal cloud service business; it can only improve cloud margins to mark up the cloud services of other providers. This is why SAP is pushing customers away from the public cloud options — even while they tell Wall Street they are doing the opposite.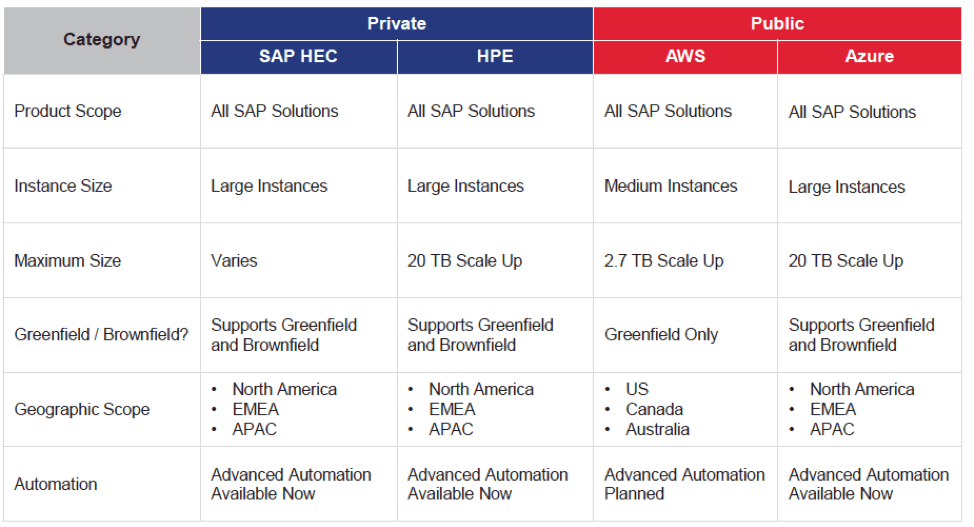 This matrix comparison was provided to a client of mine by a consulting company. Notice it is entirely false. It is rigged to push the buyer away from the public cloud, where prices are published and easily compared. In reality, private cloud providers cannot compete with the public and are far higher priced. 
SAP's Cloud Business
Several financial analysts and media analysts have reached out to me on the SAP cloud topic and seem to be buying the false story SAP is selling. They appear to have difficulty processing the fact that SAP has very little cloud business that it runs on their servers. The only substantial cloud business is from SAP's acquisitions, with Ariba quickly being the largest.
SAP Cloud is more like a showroom and distractions. Something E3Zine has referred to as an SAP strategy as a Potemkin Village. (credit E3Zine for coming up with a great and accurate analogy). E3Zine goes on to state…
His program Embrace lets Bill McDermott companionably hug hyperscalers AWS, Google and Microsoft.(emphasis added) The program is designed to make customers believe that SAP software is cost-efficiently available anywhere they choose. S/4 aims to convince customers they are preparing for a new ERP era. Hana is supposed to be the key to real-time data analysis.

Behind Embrace, S/4 and Hana hide real products, but their façades send the wrong message. SAP's merciless licensing models also apply in the AWS, Google or Microsoft cloud.(emphasis added)

SAP's Potemkin villages are not easy to spot at first glance – making it an imperative that customers take a closer look and do not take everything that Bill McDermott says at face value.
In the movie The Interview, James Franco's character discovers that a well-lit and fully stocked grocery store in North Korea he was shown earlier is just a front or a Potemkin Villiage. This is essentially SAP's cloud story.
SAP pays off nearly all IT media, Gartner, and has compliant SAP consulting firms who function as parrots, so people contact me can't believe that so many of SAP's product stories are fake. The same financial speculative entities that contact me to decry the lack of accurate information in the marketplace are also the first to say that all information providers should sell out to the highest bidder. It is curious. They want accurate information but then promote an economic system where all media sources are "profit maximized."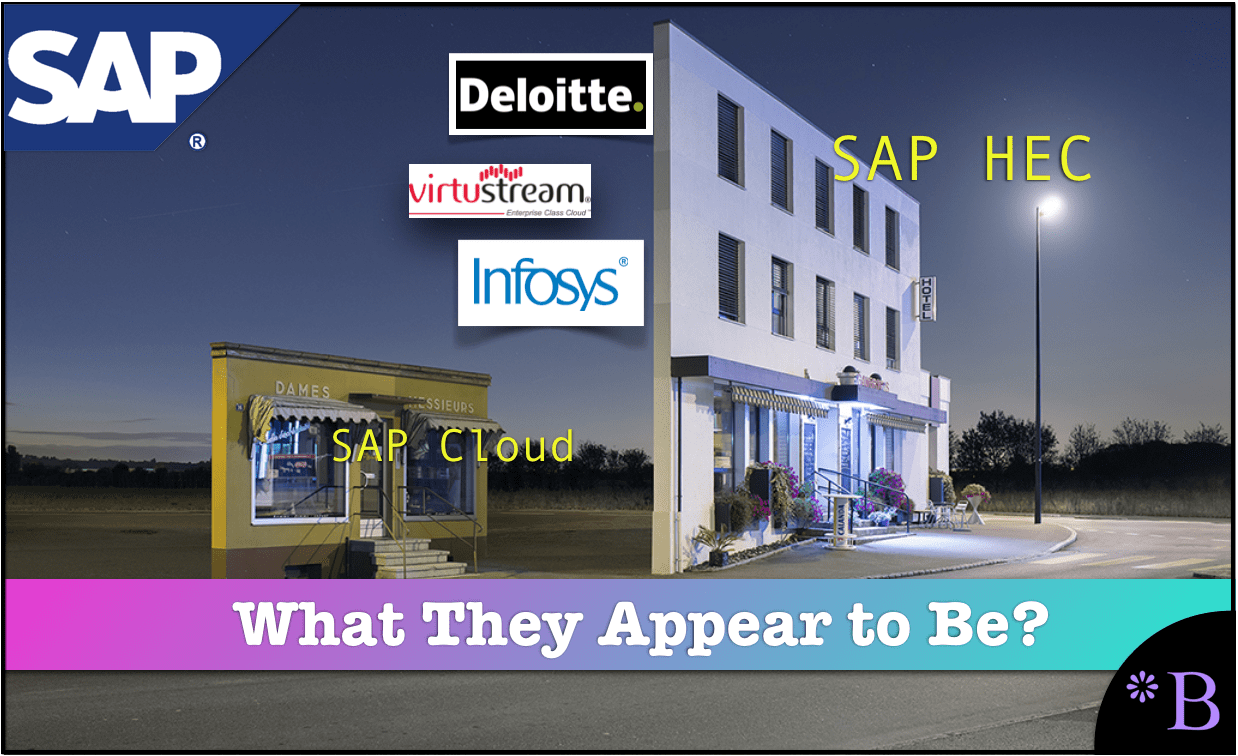 The SAP Cloud is little used, and with the prices that SAP quotes and how poor it is in quality, one would be crazy to use it. 
However, to do this, SAP must direct customers to inefficient private cloud providers that are part of the HEC ecosystem. If SAP leads customers to AWS or GCP, the pricing is public and can be compared.
The short version of the story is that SAP does not have a perfect way of increasing revenues. This means that SAP will have to cut costs to achieve the margins desired by investors. SAP has a massive underperforming set of applications, as we cover in the article How Many Products Does SAP Have?
SAP could save money by cutting out these underperforming applications, but this will mean fierce internal battles. Or they can reduce the costs of their workers. As we cover in the article Age Discrimination As Yet Another Way to Reduce IT Labor Costs, SAP has undertaken efforts to push out more experienced workers.
This follows Oracle's pattern of reducing the cost and quality of workers. It has also led to reports of Oracle's resources being pushed into roles for which they are entirely unqualified.

Conclusion
The evidence indicates that Bill McDermott was pushed out of SAP on short notice. Bill McDermott just recently stated he was…
"just getting started as CEO of SAP,"
Which means he had no plans to leave SAP (in addition to being a strange thing to say for a person who has been in their job for nine years).
Elliott Management appears to be the prime catalyst for McDermott's departure.
Three things point me to this conclusion.
The abruptness of Bill McDermott's departure.
The fact Elliott Management has been "working" on SAP for over a year, and that Elliot Management has a long term history of pushing management out of their jobs for companies in which they take a position.
The fact that so many other SAP executives were pushed out roughly six months ago coincides with months of pressure on the part of Elliott Management.
The standard approach is for the leader of an organization under pressure to sacrifice people lower than them, and then eventually for them to resign or be fired later.
The problem that SAP faces are that they don't have a simple way to increase their margin outside cost reduction. There is a general dissatisfaction on the part of the board with progress on things like HANA and S/4HANA uptake.
The cloud acquisitions that SAP paid so dearly for are all less prominent as each quarter passes. However, there is no simple way out of the issues.
Elliott Management has no other interest in SAP than getting a short term bump from their investment. These firms are happy to push their targets into a death spiral as long as they get their bump. As observed by The Washington Post, Elliott Management may demand a big share buyback, which SAP may do to make Elliott go away. Elliott Management's big idea for EMC was to sell it to Dell, and clearly, Dell has no idea what to do with EMC, but Elliott Management got their bump.
This move signifies that Elliott Management has significant control over the strategy of SAP and that Elliott Management did not see how McDermott fits into those plans. However, Elliott intends to jump up the stock price most likely to get out within the next year — if their previous pattern holds — which means they want a substantial change that will provide that short term bump. But overall, Private Equity/Hedge Funds hold up artists as Elliott Management has. While they can drive stock prices up, their involvement in companies is a longer-term negative for SAP.