Understanding The False Claims Made by H1-B Lobbyists On their Need for PhDs
Executive Summary
H1-B lobbyists habitually exaggerate the skills that are obtained through the H1-B visa program.
The fact is the H1-B program brings in ordinary workers at lower rates rather than highly skilled resources.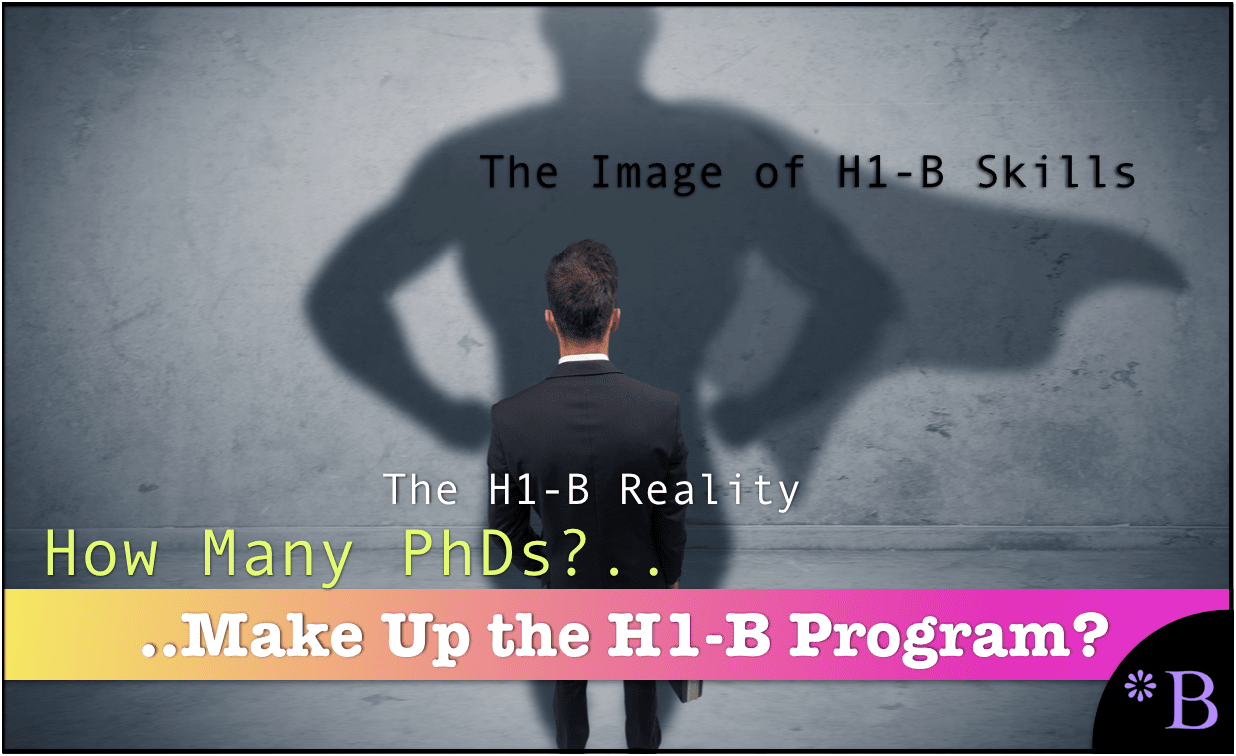 Introduction
H1-B proponents and lobbyists exaggerate the uniqueness of the skills are generally hired through the H1-B program to justify the need for more H1-B visa workers.
The following quotation is evidence of this.
The vast majority covered by that minority of 73 LCAs would have only a Master's degree, not a PhD, according to what I was told by Intel recruiters. On October 13, 1999, a team of Intel engineers recruiting for new graduates visiting my department at UC Davis. I mentioned that I had a couple of PhDs in electrical engineering I could refer to them, one a new graduate and the other a 1992 graduate. One of the recruiters replied,

"No, Intel is not very interested in PhDs."

The other added that a PhD would not have enough to challenge him or her at Intel, except in the rare case of very highly specialized research areas. Even at the firm which first developed the Internet, Bolt Beranek and Newman Inc., only 4 percent of the staff have a PhD.191 In other words, the computer industry's claim that their hiring of H-1Bs is mainly at the PhD level is simply false, and the data do not support such a claim at the Master's level either.

As already noted, only about 1 percent of computer-related H1Bs have a PhD, but some comments on the quality of this small H1B category are of interest. – University of Michigan Journal of Law Reform 
It should be noted that Intel is on the upper end of the employers in terms of the level of knowledge and technical skill required.
In 2015, the top ten applicants for H1-B visas were the following companies.
Tata
Cognizant
Infosys
Wipro
Accenture
Tech Mahindra
IBM
Syntel
Larson & Toubro
HCL
All of the top 10 importers of H1-B labor have requirements significantly below Intel and are far less known for innovation. Firms like Cognizant or Wipro are not even known for being able to develop IP of any kind. They are firms whose business model is based upon offering low-cost outsourcing contracts that specialize in displacing US domestic workers.
Conclusion
It has been the long term strategy of H1-B lobbyists to exaggerate the skills that the H1-B employers hire through the H1-B program. This overstatement, combined with understating the availability of technical education and capability of the domestic US workforce
How Industry Lobbyists Make False Claims Around US Skills to Justify Cheap H1-Bs, is what has allowed them to justify and further enlarge the H1-B program.
References
http://heather.cs.ucdavis.edu/Mich.pdf