How to Understand What is a Transalytical Database
Executive Summary
SAP has made several bizarre comments regarding transalytical databases.
Media entities are being paid by SAP to support SAP's messaging, Forrester being one example.
Convergent IS also provides terrible quality and 100% promotional information on transalytical databases.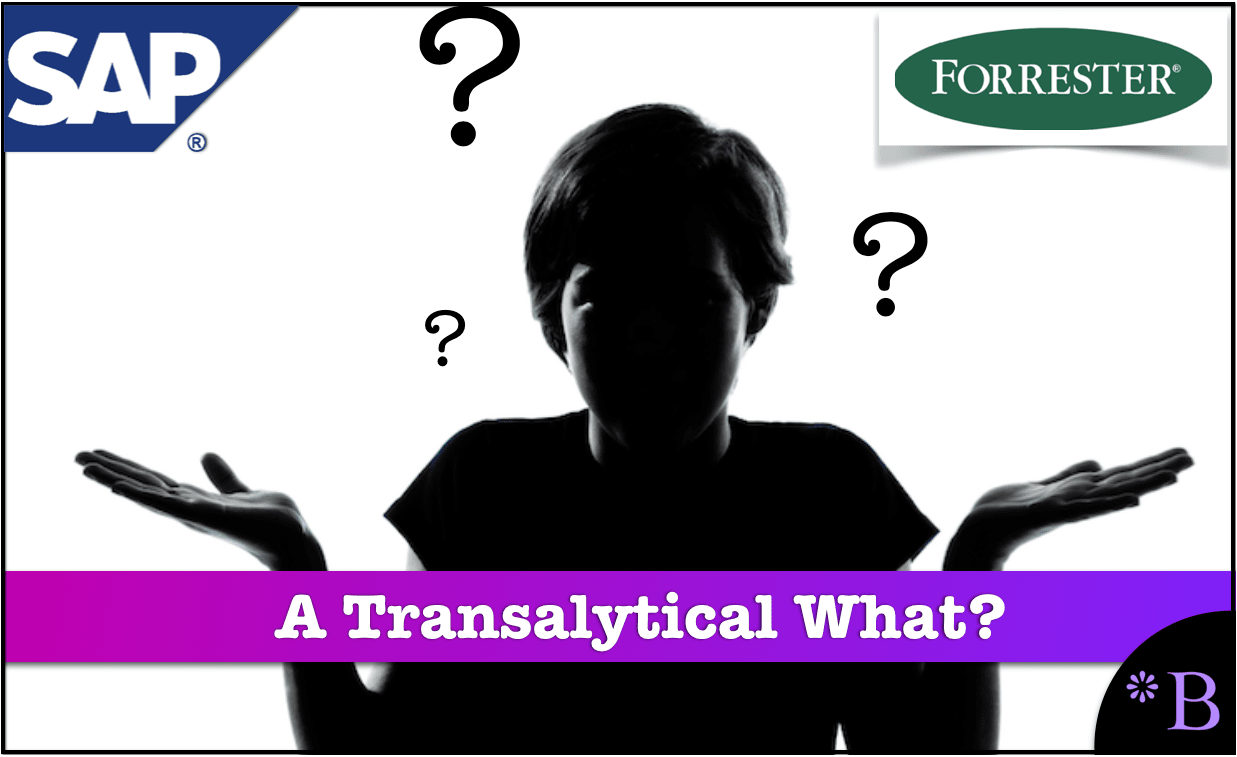 Introduction to the Transalytical Database (???)
SAP has made some amazing claims regarding a "new database category." You will learn how a powerful software vendor can create a "new database category" when they have enough money to give a major brand in the research business.
Our References for This Article
If you want to see our references for this article and other related Brightwork articles, see this link.
Lack of Financial Bias Notice: We have no financial ties to SAP or any other entity mentioned in this article.
This is published by a research entity.
Second, no one paid for this article to be written, and it is not pretending to inform you while being rigged to sell you software or consulting services. Unlike nearly every other article you will find from Google on this topic, it has had no input from any company's marketing or sales department. 
SAP's Transalytical Database Announcement
In the opening comments on the Q4 2017 SAP analyst call, Bill McDermott made the following statement.
"Back in 2010, we set bold ambitions for SAP. We focused on our customers to be a truly global business software market leader. We set out to reinvent the database industry.

Forrester has now defined the new market for translitical data platforms, and of course, they ranked SAP HANA as the clear number one. We led the market with intelligent ERP, built on an in-memory architecture."
This simply means databases that are good for both transaction processing and analytics. However, it should be noted that there is far less of a need for this in the market than SAP states and than SAP predicted when they first came up with HANA in 2011.
Paid to Comply
But of course, TechTarget, like Forrester, another media entity that SAP pays to get the word out, has also written on transalytical databases. TechTarget is not an actual normal media entity. But it controls a series of outlets that have no other function than to capture email addresses to feed a giant marketing automation backend, as we covered in the article How ComputerWeekly is a Front for Marketing Automation.
"Transactional data and analytics can now interact in near-real time, opening up a wealth of new possibilities.

The vehicles for this digital business transformation are called translytical data platforms, according to a recent Forrester report, "The Forrester Wave: Translytical Data Platforms, Q4 2017." The report defines translytical data platforms as emerging technologies that can "deliver faster access to business data to support various workloads and use cases," which can then enable new business initiatives. These initiatives are driven by the availability of real-time data from transactional systems, like ERP, and analytical systems in the same platform."
Forrester is Available for Whatever….
Forrester has a history of writing up research on command when paid the right amount of money. For instance, when SAP wanted an entity to find that HANA, which at the time had no go lives, had a lower TCO than any alternative, as we covered in the article How Accurate was Forrester's Study into HANA's TCO.
"The report assessed 12 vendors — Aerospike, DataStax, GigaSpaces, IBM, MemSQL, Microsoft, NuoDB, Oracle, Redis Labs, SAP, Splice Machine and VoltDB — that currently have translytical data platforms available, with SAP and Oracle identified as tops in the Leaders category. This was based on assessments of the strengths and weaknesses of the vendors' current offerings, their overall strategy and their market presence."
Notice what Forrester says about HANA.
"SAP HANA, which is the core of SAP's translytical platform, according to the report, "crushes translytical workloads" and supports a variety of use cases, including real-time applications, analytics, translytical apps, systems of insight and advanced analytics."
Looking Suspicious
Is that the way a supposed research entity should write about test results — that they "crush" workloads? Also, how would Forrester know this? Forrester does not employ technical resources and would not have any idea either way. Secondly, which workload? Transaction or analytic? It makes a difference, as our research into the area indicates that HANA is very poor at processing transactions and is somewhat weak in long SQL queries, which we cover in the article HANA as a Mismatch S/4HANA and ERP.
At this point in the TechTarget article, they go out to an "independent source," which is Convergent IS, which is an SAP consulting partner. Therefore, nothing that Convergent IS says about SAP can be published without the approval of SAP, as explained in the SAP partnership agreement, as we covered in the article The Control on Display with the SAP Partnership Agreement.
Convergent IS Used to Provide Some Inaccurate and Highly Promotional Quotes
According to Shaun Syvertsen, SAP as a translytical data platform opens up new business possibilities, managing partner at Convergent IS, a firm based in Calgary, Alta., that provides consulting services for SAP systems, including SAP Fiori and S/4HANA. Convergent IS not only provides these SAP-related services but also runs its business on S/4HANA.
"We moved our business onto S/4HANA about two years ago, and what really appealed to me was that you have a database that you could ask a more difficult question to and you get the answer much more quickly," Syvertsen said. "This effectively opens the door to asking questions that you could not previously ask and having access to that information more timely than previously possible."
The question to ask is, why did a small consulting company that had 35 employees at the time of the S/4HANA implementation choose this application? Did Convergent IS need S/4HANA? Of course not. Did they implement S/4HANA to use themselves as a reference account so they could get S/4HANA business?
Now we are getting warmer.
We called out Convergent IS's S/4HANA implementation as a fake case study in the article Convergent IS Case Study, and it was one of many SAP consulting partners who are listed as case studies on SAP's website.
Secondly, Convergent IS is a small consulting company. How complex are the questions that Convergent IS has to ask about its data?
Conclusion
Translytical is a made-up term by Forrester that was most likely prompted by SAP, asking them to start the category. This was facilitated by SAP paying Forrester money to do so. There is still little evidence of the real need for databases that combine transactions and analytics in one database. In fact, one cannot perform equally well in both in a single database due to the inherent trade-offs that come with having to try to design for both. It also means accepting more maintenance overhead. Something that both Forrester and SAP are sure never to bring up.