What Oracle's Cloud Strategy Means for Customers
Executive Summary
Oracle has a strategy for the cloud that will lead to long-term issues for Oracle customers.
We cover the problems and how customers should interpret what Oracle is doing.
Introduction
Listen to Oracle's cloud pitch in the OpenWorld 2018 sessions. The narratives invariably lead to one destination: Database. When Oracle talks about infrastructure technology, they really mean database. That's Oracle's cloud strategy. That's Oracle's compelling reason for the Oracle cloud.
See our references for this article and related articles at this link.
If you want the Oracle database, you must use Oracle cloud. When Oracle uses the term cloud, there are issues with the accuracy of this usage as Oracle's cloud is about lock-in, which is of course not cloud. 
Why Oracle Follows this Strategy
Cloud customers have options. Why Oracle and not AWS, Azure, or GCP?
Oracle needs a compelling reason for customers to choose their cloud. However, the following reasons forced Oracle into a corner:
Oracle's Tiny CAPEX Spend on their Cloud Infrastructure
Building cloud infrastructure is expensive. If Oracle matches the CAPEX spend of AWS, Microsoft, or Google their operating margins and EPS would plummet. Oracle's executive compensation is built around high operating margins NOT growth.
The Inability of Oracle to Compete Monopolistically by Acquiring Competitors
Oracle competitive playbook's simple: acquire competitors you can't beat. Today, Oracle can't acquire any of its cloud competitors. Amazon, Microsoft, and Google are too big for Oracle to swallow. As of January 04, 2019 Oracle's market cap is $193B. Amazon hit the Trillion dollar valuation in September 2018.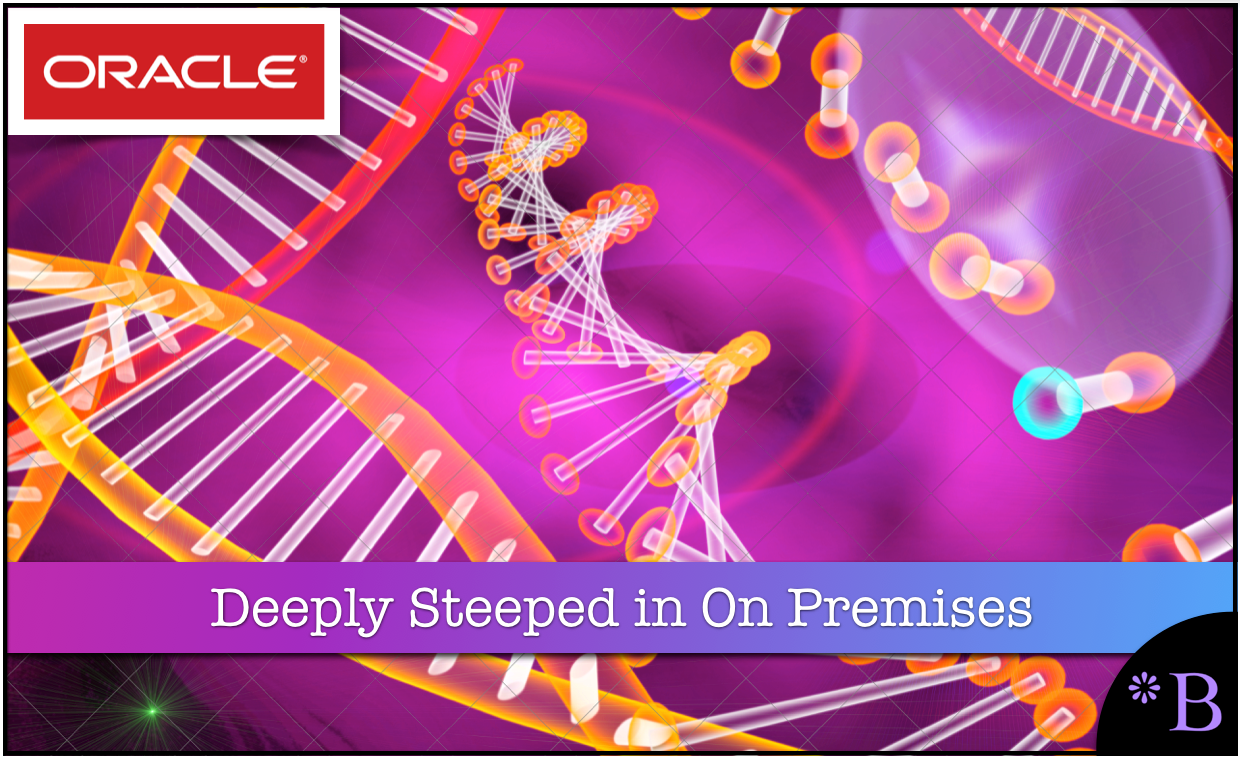 Oracle's Hard Core On-Premises DNA
To be commercially competitive in public cloud, companies need massive scale. Operating at scale means that cloud vendors get massive discounts from hardware manufacturers. At these discount rates, vendors can offer hardware at low price points and still make significant margins.
However, operating at scale requires very advanced operational competencies because vendors must host customer software and data for billions of users worldwide. Moreover, vendors need to develop advanced automation capabilities to manage millions of server farms and globally distributed data centers and ensure high levels of service availability. In other words, the game isn't so much about software features and functions. The bigger challenge is site reliability and operational efficiency.
Oracle's DNA for the past two decades has been to acquire, rebrand, and sell on-premises software. It was always the customer, not Oracle, who had to install, operate, tune, upgrade, and integrate the software. Thomas Kurian realized that Oracle didn't have the DevOps DNA and tried to push using third-party cloud infrastructure to host software. That strategy was shut down by Oracle executives and investors and Thomas left Oracle to lead Google cloud operations.
How Does Oracle Enforce their Strategy?
Licencing
Oracle uses database licensing to drive customers toward Oracle cloud. In January 2017, Oracle removed their core licensing factor (CLF) effectively doubling its DB license cost on AWS, Azure, and GCP.
Certification
Oracle does NOT certify new product releases on competing clouds. Database 18c autonomous is only available on Oracle cloud.
Cloud Only
Oracle does NOT offer new database releases for on-premises deployment. Oracle 18c autonomous database analytics DW and transaction processing are only available as cloud services.

Conclusion
Most of Oracle's cloud strategy is itself a bit misleading, as the Oracle Cloud is not cloud. However, whatever it is called, there are many factors to "it" that are a long-term problem for customers. After years of cloud talk, Oracle still behaves as a dyed in the wool on-premises vendor. Oracle consulting partners will never explain these issues to their clients, as ultimately their control by Oracle through the partnership agreement means that there are few sources that will provide the real story on this topic.