What VMware Has to Say About Virtualizing the Oracle DB
Last Updated on March 27, 2021 by Shaun Snapp
Executive Summary
Oracle sales reps and Oracle consultants will often say that virtualization cannot reduce the licenses paid to Oracle for the Oracle DB.
Let us see what VMware has to say about the topic of load consolidation.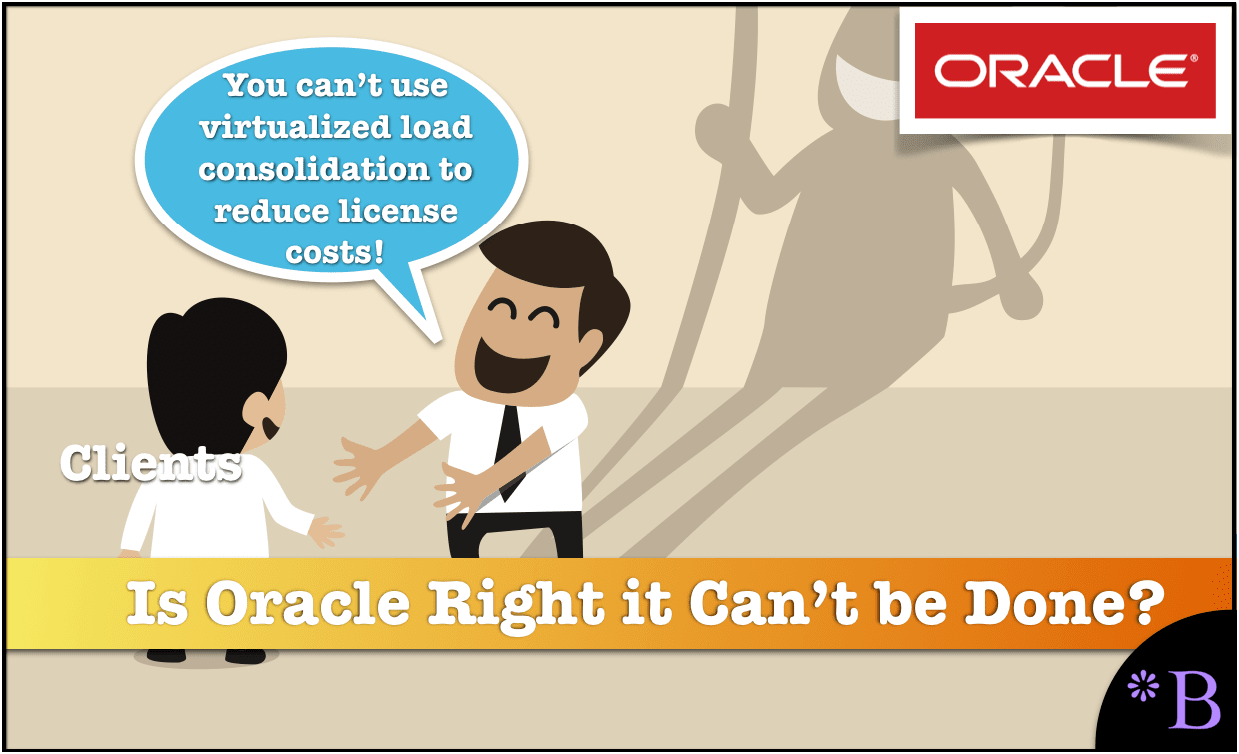 Introduction
This article will take quotes directly from VMware's document titled Virtualizing Oracle Database 10g/11g on VMware Infrastructure.
WMware White Paper Quotations
For enterprise customers evaluating solutions for Oracle database consolidation, the typical recommendation presented by Oracle has been to move many databases into a single, multinode Oracle RAC implementation. This option works and is well-understood—both the benefits of that effort, as well as the real license and implementation costs associated with this means of database consolidation. However, the process required to move to an Oracle RAC implementation can be very time consuming and complicated, especially in environments that contain large numbers of heterogeneous Oracle database servers (operating system, database versions, applications). As an alternative to the solution using Oracle RAC, consider the approach using VMware virtualization. The VMware approach differs from RAC, and is not an apples-to-apples comparison, but can achieve most of the goals of a RAC solution, with substantial cost and time to-deployment benefits that are outlined below.

These solutions enable enterprises to take a number of their departmental databases and consolidate them on to a smaller number of servers, thereby reducing administrative requirements, simplifying end-user access and control, and reducing overall system costs associated with complex Oracle environments.(emphasis added)

Once virtualized, Oracle databases can reap all the benefits of a virtualized platform. These benefits include rapid database server provisioning, simplified high availability and disaster recovery, reduced server hardware requirements and associated costs such as power, cooling, and rack space.
Notice that VMware lists all the costs that decline, except for one…license costs. However, if the load has been consolidated, this means there are more databases per CPU. CPU utilization is normally around 5 to 15% as an average — which, of course, does not account for processing spikes. However, there is plenty of CPU headroom in nearly all Oracle environments that allow for load consolidation.
We think VMware did not bring up the pronounced reduction in Oracle DB licenses because VMware is a partner with Oracle.
VMware covers the well-known topic of underutilized CPUs in the following quotation as a bullet point.
VMware on the Underutilization of Resources
Enterprises today face a number of challenges when it comes to managing Oracle database environments. These include:

Increased end-user demand for on-demand, always-on access to databases and analytics.

Requirements to support a fragmented environment consisting of multiple departmental servers running different versions of Oracle database and operating systems. • Rising administrative costs to support this heterogeneous database environment.

Rising data center costs (power, cooling, floor space, etc.) due to server sprawl.

Under-utilization of server computing resources.(emphasis added)

Lack of sufficient IT resources to deploy, manage, and maintain complex Oracle database environments at the departmental level.

Requirements for a simple and affordable consolidation solution of Oracle database servers.

Customers looking to reduce the cost and complexity of their Oracle database server environment are increasingly looking to server virtualization to address the challenges listed above. Oracle databases are mission-critical for most organizations which makes designing a consolidated solution that reduces costs while increasing overall availability very challenging.
VMware on Consolidation Again
For organizations that need to support different departments, each running different versions of database and application software, virtual machines provide an ideal way to maintain isolation of different configurations by deploying each configuration in its own independent virtual machine. These independent virtual machines can then be consolidated on fewer host servers for cost efficiency,(emphasis added) while maintaining complete isolation from each other.
The Oracle DB is priced per CPU using a translation that allocates a specific CPU to a particular CPU consumption value. It necessarily follows that if there are fewer host servers, there are fewer CPUs that required a license.
The second area of objection by Oracle is that virtualized load consolidation is not allowed by their license. However, there is no contractual support for this position either.
Conclusion
VMware itself has censored VMware's document to keep from angering Oracle. However, VMware allows database load consolidation, which allows for fewer CPUs to be used, which means that the customer would end up with excess licenses, the support for which can be canceled after the migration to the load consolidated servers is complete.
References
https://www.vmware.com/content/dam/digitalmarketing/vmware/en/pdf/whitepaper/partners/oracle/vmw-oracle-virtualizing-oracle-db10g11g-vmware-on-infrastructure-white-paper.pdf