Who Was Right and Who Was Wrong on SAP HANA?
Executive Summary
Most of the sources that covered HANA were wrong. Only a few were right.
In this article, we cover who was right and who was wrong.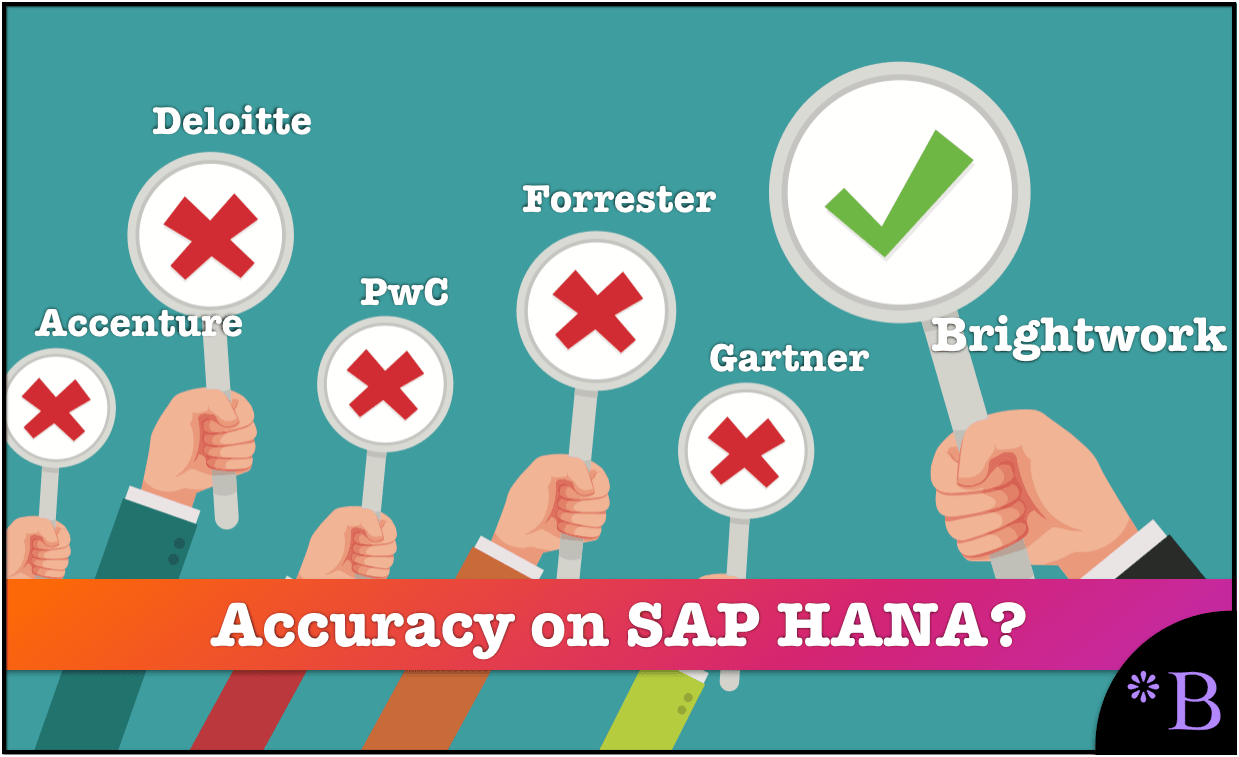 Video Introduction: Who Was Right and Who Was Wrong on SAP HANA?
Text Introduction (Skip if You Watched the Video)
SAP pushed the idea of HANA very aggressively and made enormous claims. And when this happens, many people came out to make comments and forecasts of SAP HANA. Most of these people with the most optimistic claims having a financial bias either working for SAP or somehow having their compensation tied to HANA or to SAP. Many of these claims ended up not being true. When this happens, it is often forgotten who makes accurate statements and inaccurate statements. You will find who was right and who was wrong about SAP HANA.
Our References for This Article
If you want to see our references for this article and other related Brightwork articles, see this link.
Lack of Financial Bias Notice: We have no financial ties to SAP or any other entity mentioned in this article.
This is published by a research entity.
Second, no one paid for this article to be written, and it is not pretending to inform you while being rigged to sell you software or consulting services. Unlike nearly every other article you will find from Google on this topic, it has had no input from any company's marketing or sales department. 
In this article, we rate this accuracy.
Who Got it
Wrong

?
Hasso Plattner:
Wrong
Hasso was the main driving force behind HANA. Hasso is so wealthy and powerful within SAP that no one can "No" to him. However, Hasso greatly overestimated the benefit that something like HANA would bring to SAP. Hasso thought he had found the magic pill for giving SAP a new life. However, he had SAP invest big into databases at the exact time when less expensive databases and open source databases were about to erode the margins and sales of the proprietary database vendors. This is covered in the article How Accurate is Seeking Alpha on the Decline of SQL? SAP invested in the wrong thing by going into the database and then bringing out such a premium-priced product. Hasso was wrong on HANA not only in that the market did not respond as Hasso predicted, but most of what Hasso said about HANA was simply incorrect.
Bill McDermott:
Wrong
Bill McDermott is more PR spokesman for SAP than CEO. When Bill McDermott speaks, I never get the impression he has any idea what he is talking about. Bill is an excellent salesman, but primarily he excels at explaining things in a way that makes it seem as if the objective the listener wants can be achieved very simply. But to do this, he dispenses with any detail that complicates the messaging. For example, Bill stated to a Fortune Magazine interviewer that one could do both transactions and Big Data in a single database. However, connecting HANA to Hadoop is not using one database.
Vishal Sikka:
Wrong
For a time, Vishal Sikka was the "architect of HANA," something which is a bit doubtful given his level in SAP. Vishal Sikka is almost indecipherable when speaking. I analyzed Vishal's statements in great detail about HANA and concluded that he was massively exaggerating HANA's overall reason for and benefit. After reading his comments, I would never listen to Vishal on any topic as long as his name is attached. Interestingly, Vishal left for Infosys in 2014, which may have been unrelated to HANA's progress. However, for someone who is thought of as being so intelligent, HANA makes little sense. But at SAP, at that level, you do what Hasso tells you to do. If HANA was in part his vision, one does not need a Ph.D. in computer science to recognize that you don't put an ERP system on what is nothing more than a gussied up analytics database.
John Appleby/Bluefin Solutions:
Wrong
Bluefin Solutions, more than any other consulting company, went all-in on HANA. They wrote articles lead by John Appleby, clearly copied and pasted from information provided to them by SAP. In one article, John Appleby stated that…
"SAP is finished on Oracle."
This is a curious statement as the evidence he provided related to S/4HANA.
John Appleby should know that SAP is about a lot more than S/4. Therefore even if Oracle were finished on S/4 (which I don't think it is, as covered in the article Why SAP Will Have to Backtrack on S/4HANA), it would not mean that all SAP applications are finished on Oracle. Four and a half years after Appleby made this statement, I wonder if he could guess what most SAP applications use as a database today (hint, it's not HANA). This is why consulting companies that are partners with SAP are unreliable sources of information on SAP. And this is particularly true of public statements released in the media.
After Appleby was promoted at Bluefin Solutions, Steve Chaflen took over the HANA promoter's position from him, Appleby. John Appleby and Bluefin Solutions but all consulting partners of SAP release inaccurate information about SAP as they compete to see who can more intensively shine the shoes of SAP in return for special consideration.
John Appleby's inaccuracy level was so high that we investigated it in the article A Study into John Appleby's HANA Accuracy. We later found that John Appleby was releasing false information HANA to promote his company before its acquisition, as we cover in the article Appleby's False HANA Statements and the Mindtree Acquisition.
Gartner:
Wrong
Gartner receives probably around $100 to $150 million from SAP per year. All of this undisclosed.
The primary analyst assigned to SAP is Donald Fienberg, who is also Gartner's liaison to SAP. This puts Gartner in a bit of a problematic area. There was no line drawn between Donald Fienberg's analyst work and his role as essentially an SAP relationship manager for Gartner.
Donald Fienberg made repeated inaccurate and promotional statements about HANA, such as the following.
"Now SAP can set up a database to do my transactions and analytics with everything virtual. People have wanted to do both in the same database for years, but have not been able to do it because of the discrepancy between the two types of data. These guys (SAP) are first, period. That's a good thing. They have got a two to five-year head start on everybody else.."
Oracle 12c, which has this ability Donald was describing, was released six months after this article was written. IBM DB2 Blu (which offers the same ability) preceded HANA. And Microsoft SQL Server had a column store index in 2012, therefore, before Donald Fienberg made this statement. We cover Gartner's terrible coverage of HANA in the article How Gartner Got HANA So Wrong.
Forrester:
Wrong
Forrester was paid by SAP to write a report that predicted a reduced TCO for HANA, which SAP then took and marketed as proving that HANA "did reduce TCO." This deftly changed a forecast into an actual. Forrester made some inaccurate assumptions in the report, including the use of a runtime license for HANA. This is not a production license, and there was no reason for Forrester to have used this except — to reduce the cost of HANA artificially. This is covered in the article How Accurate was Forrester's TCO Study for SAP HANA?  
ASUG:
Wrong
As usual, ASUG served as the only outlet for SAP marketing, proving that they provide no filter to anything SAP says or does.
Fortune Magazine:
Wrong
Through a series of what appears to have been paid placements, Fortune provided SAP with an outlet for SAP to say anything it wanted in the future. Brightwork will be sharing an analysis of these articles and how wrong they were in the coming months.
IT Leaders Who Purchased HANA:
Wrong
IT leaders that supported moving to HANA were tricked. Even in HANA's "golden case," which is moving BW on HANA, there was never any reason to do this. SAP customers could have stayed with SAP Oracle and received a far better database with better performance than HANA at a lower price. Similarly, this may apply to DB2 and SQL Server, which can also store data in a columnar store. But I have not investigated the technical comparisons as I have with these databases as I have with SAP Oracle, as is covered in the article, Which is Faster HANA or Oracle 12c. However, Bloor Research recently performed a study that, while funded by IBM, I have reviewed and considered it to be entirely accurate. In this study, which I have analyzed in the article " How to Best Understand Bloor's Research on HANA, " I have given it one of the highest accuracy ratings of any publication I have examined. Those IT leaders cost their companies and directed monies towards SAP's vanity project that should have been used elsewhere. And this is no small thing. I have visited companies that needed investment quite badly in neglected areas and instead decided to use that money to invest in HANA. What a monumental waste of resources!
Conclusion on Those that Got HANA Wrong
This is a highly truncated list. Aside from wrong individuals, every single giant SAP consulting company, Accenture, IBM, etc., all of them promoted HANA, and all of them got it wrong. Their support of HANA was so extensive that to analyze all of it would require a book.
This is why I have often said that if I want false information, I can always find it at a big consulting company. Whatever SAP marketing happens to be saying at the time, the major SAP consulting partners all in on the "vision."
Who Got it
Right

?
Larry Ellison:
Right
Larry Ellison criticizes anything reflexively that is not good for Oracle. But you have to hand it to him; he made some very valid criticisms of HANA.
Probably one of his best lines was in 2015 when he said:
"For years SAP offered up lots of benchmarks for its database systems, Ellison said. But when SAP introduced HANA, its in-memory database, the company didn't use any of its existing benchmarks —" and they had a dozen of them," Ellison said. They said they were going to write a brand new benchmark for HANA."Now, call me cynical," he continued, "but I guess this was to make HANA look good. It was a benchmark that allowed HANA to distinguish itself. And we decided to run the same exact benchmark on Oracle. And we ran more than twice as fast as they did."By the way, SAP has not certified our benchmark. We've sent it to them…over and over and over again. And for some reason, they don't want to certify.…The facts are, the entire SAP cloud runs on Oracle, not HANA. SAP Ariba in the cloud runs on Oracle, not HANA. SAP SuccessFactors in the cloud runs on Oracle, not HANA. SAP Concur runs on Oracle, not HANA. I don't know what HANA runs, but it's not [SAP's cloud applications]."
Every one of these statements by Larry turned out to be true. SAP did play around with the benchmarks, in my view, because the HANA benchmarks for anything but read access are poor, as we cover in the article The Hidden Issues with the SD HANA Benchmarks. This is something I have verified even with people inside of SAP. And secondly, the acquired applications are not moving to HANA. Right again, Larry.
Peter Goldmacher:
Right
In the article How Popular is SAP HANA?, I observed that Peter Goldmacher pointed out…
"In a research note, Cowen analyst Peter Goldmacher did a deep dive into SAP's HANA results. SAP has said that HANA's two-year license compound annual growth rate through fiscal 2013 has been about 120 percent. If that growth rate is true, Goldmacher noted that "the other 90% of SAP's license business, apps and business intelligence, is growing at a combined two-year CAGR of roughly 2%, materially below category growth rates."
Peter was right.
As with CRM growth many years before, SAP was shifting revenue to HANA from other sources. This is virtually the same thing that SAP did with CRM beginning 15 years ago. SAP pushed back on Peter, issuing a nonsensical statement about what percentage of HANA's sales were stand-alone deals. Every time HANA was criticized, SAP pushed back in the media through a spokesperson. And, every single time I checked what the SAP spokesman said in defense of HANA, it ended up being inaccurate.
Brightwork Research & Analysis:
Right
We wrote the most comprehensive and detailed critiques of HANA available on the internet. As more information increasingly comes from the field, it turns out that even we missed areas of weakness of HANA. Our research into HANA is verifiable at this searchable archive HANA Search. (this index may have an issue displaying in Chrome if you run into a problem Firefox or other non-Chrome browser)
This is a highly truncated list. Aside from wrong individuals, every single giant SAP consulting company, Accenture, IBM, etc., all of them promoted HANA, and all of them got it wrong. Their support of HANA was so extensive that to analyze all of it would require a book.
This is why I have often said that if I want false information, I can always find it at a big consulting company. Whatever SAP marketing happens to be saying at the time, the major SAP consulting partners all in on the "vision."
Conclusion
The vast majority of information providers on HANA got HANA wrong.