Why Analysts Do Not Ask Challenging Questions on SAP's Quarterly Calls
Last Updated on May 6, 2021 by
Executive Summary
The quarterly analyst calls held by SAP are known to have very easy or compliant questions.
We explain why this is the case.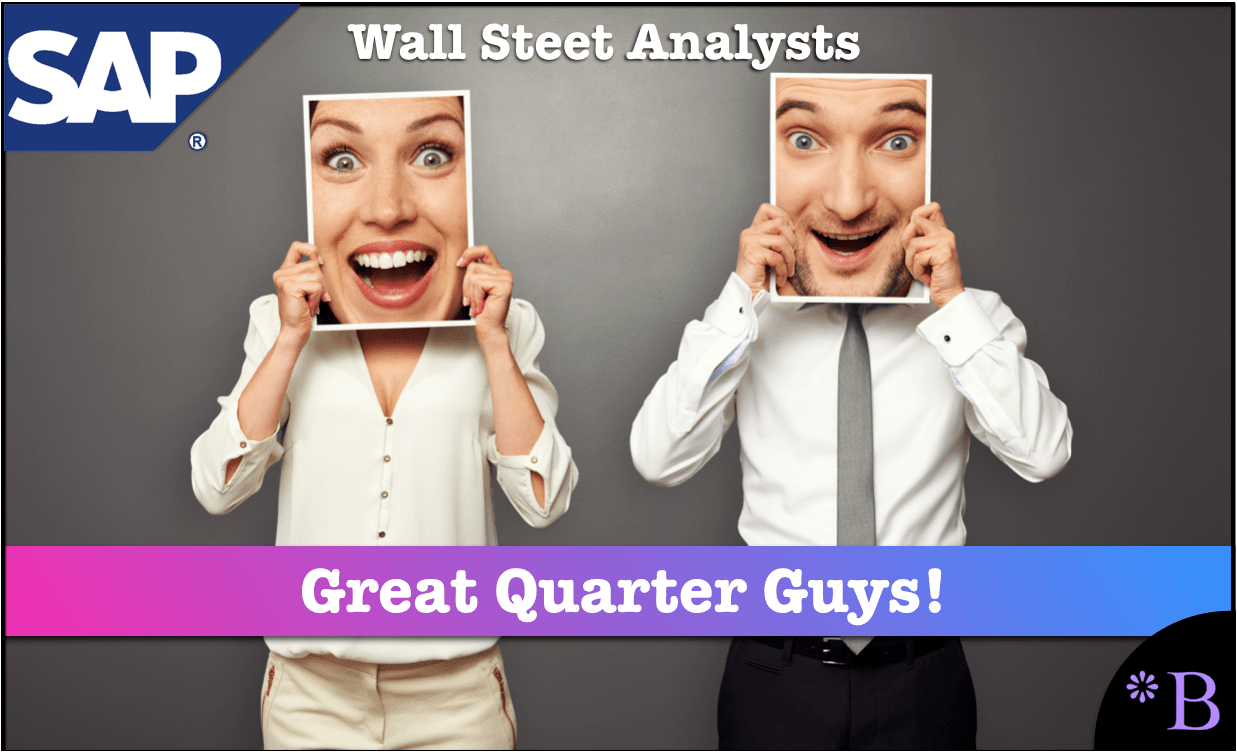 Video Introduction: Why Analysts Do Not Ask Challenging Questions on SAP's Quarterly Calls
Text Introduction (Skip if You Watched the Video)
For years, we have read the quarterly SAP calls with a furrowed brow at the Wall Street analysts' questions. We think we now have a reason for why these questions that analysts ask are so one-sided. And it comes down to which analysts are invited to the analyst calls and the fact that these analysts' investment companies are investors in SAP and seek to push the SAP stock price upward. You will learn how these analyst calls occur with rigged participation and how this is never disclosed to those who listen to the call or read the quarterly call transcript.
Our References for This Article
If you want to see our references for this article and other related Brightwork articles, see this link.
Lack of Financial Bias Notice: We have no financial ties to SAP or any other entity mentioned in this article.
This is published by a research entity.
Second, no one paid for this article to be written, and it is not pretending to inform you while being rigged to sell you software or consulting services. Unlike nearly every other article you will find from Google on this topic, it has had no input from any company's marketing or sales department. 
The Lack of Context Regarding Quarterly Calls
Quarterly call transcripts are published in various media outlets. However, there usually is little to no context surrounding the call. A subsegment of executives from SAP is introduced, and then the analysts are listed. After that point, the call commences. However, the question of why these analysts and these firms are included in the call is not documented or otherwise explained in the call. The distinct impression is that SAP is releasing information and that the analysts are there to question SAP.
The following is a list of all of the analysts on a quarterly call, whether the firm the analyst works for has a position in SAP stock, and how high each of these entities ranks in the list of SAP shareholders.
Financial Analysts Versus SAP Stock Holders
| | Financial Entity | In the Top 120 Institutional Stock Holders | Rank of Institutional Investor |
| --- | --- | --- | --- |
| 1 | Platinum Asset Management | No | |
| 2 | Wells Fargo Securities, LLC | Yes | 12 |
| 3 | Bank of America Merrill Lynch | Yes | 5 |
| 4 | vercore ISI | No | |
| 5 | JP Morgan | No | |
| 6 | Royal Bank of Canada | Yes | 20 |
| 7 | UBS Limited | Yes | 23 |
| 8 | Citi Investment Research | Yes | 14 |
| 9 | Exane BNP Paribhas | No | |
| 10 | Deutsche Bank | Yes | 36 |
| 11 | Goldman Sachs Group Inc | Yes | 8 |
| 12 | JMP Securities | No | |
Who Are Major SAP Shareholders?
We checked the entities against the top 120 institutional shareholders of SAP. And as you can see, most of the entities are major shareholders of SAP stock.
For example, Bank of America holds roughly $350 million of SAP stock. Let us imagine that you owned $350 million in SAP stock and were invited on the quarterly call. How likely would you be to ask challenging questions?
The rest of the entities are probably shareholders, but we did not check that far down.
Conclusion
As shareholders, it is unlikely that the analysts are authorized to ask any controversial questions. The firm already has a large stock position, and they want that stock to go up.
This miscommunicates the intent of the call.
If the analysts that ask questions are part of institutions that already have a large stock position, then the analyst call is rigged. And the nature of the call is miscommunicated to readers. These analysts on the call are not analysts — they are stock promoters.