Why Are 47 Entities Lobbying in Favor of the H.R.1044 IT Immigration Bill?
Last Updated on May 10, 2021 by Shaun Snapp
Executive Summary
There is extremely one-sided lobbying for the H.R.1044 immigration bill by monied interests.
We analyze the entities and the motivations of the lobbying support.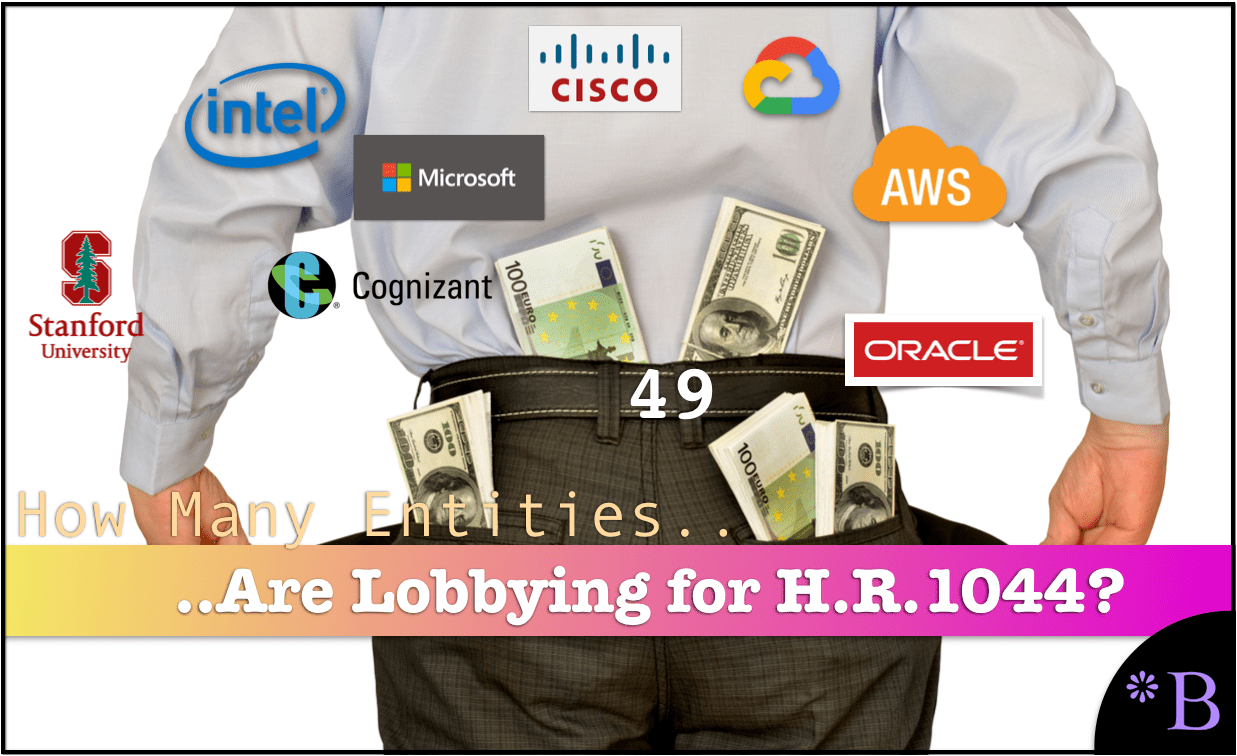 Introduction
There is an immigration bill referred to as H.R.1044. In another article, I will review what 1044 does to loosen the rules around immigration. Notice this excerpt from the bill illustrates that the bill is virtually impossible to understand.
(1) IN GENERAL.—Subject to the succeeding paragraphs of this subsection and notwithstanding title II of the Immigration and Nationality Act (8 U.S.C. 1151 et seq.), the following rules shall apply:

(A) For fiscal year 2020, 15 percent of the immigrant visas made available under each of paragraphs (2), (3), and (5) of section 203(b) of such Act (8 U.S.C. 1153(b)) shall be allotted to immigrants who are natives of a foreign state or dependent area that is not one of the two states with the largest aggregate numbers of natives who are beneficiaries of approved petitions for immigrant status under such paragraphs.

(B) For fiscal year 2021, 10 percent of the immigrant visas made available under each of such paragraphs shall be allotted to immigrants who are natives of a foreign state or dependent area that is not one of the two states with the largest aggregate numbers of natives who are beneficiaries of approved petitions for immigrant status under such paragraphs.

(C) For fiscal year 2022, 10 percent of the immigrant visas made available under each of such paragraphs shall be allotted to immigrants who are natives of a foreign state or dependent area that is not one of the two states with the largest aggregate numbers of natives who are beneficiaries of approved petitions for immigrant status under such paragraphs.
This is intended so that the public cannot know what the bill will do. However, the lobbyist firms most certainly understand what the bill does, and in most cases, it is the lobbyists that write the bills. The lobbyists, which are the shadow government in the US, then explain or misexplain the bill to those that vote on it. Generally, the bill reallocates more of the H1-B visas to IT, immigrant workers.
This is explained in the following quotation.
Everyone knows what our immigration system should look like. It should only be high skilled – real high skilled – based on a merit points system, not just for education, but also for patriotic assimilation. Then, once they are here, they should be free to work anywhere. Instead, we have a system that is mainly unskilled chain migration with the "skilled" portion of it being monopolized by visa pork to specific corporations for workers who aren't even that high skilled, mainly entry-level IT jobs for tech companies. The bill that was rushed through the House and is now being slammed on the floor of the Senate without a hearing simply exacerbates this system.

On July 10, the Democrat-controlled House passed HR 1044, the Orwellian-named "Fairness for High-Skilled Immigrants Act of 2019," which abolished the per-country annual cap on employment-based green cards. Less than one-third of Republicans opposed the legislation. The bill does the opposite of fairness because the existing broken H-1B non-immigrant visa program is monopolized by not very high skilled Indian workers, and those would be the people flooding the green cards for the next 10 years. USCIS estimates that if this bill is enacted, Indian workers will control 90% of all employment-based green cards for the next 10 years.

In other words, the same way our family-based visa system is broken because it allows immigrants to choose who is brought in based on family ties and not Americans choosing the best fit, the employment-based system allows a handful of the most powerful liberal companies to bring in the people they want for their jobs with no regard for the rest of the country.

It's not to say that we don't have more specialized workers from India as well, but the dysfunctional H1-B system has flooded the "high skilled" visas with entry level tech jobs that could be done by Americans. By chewing up all the green cards on those in the H-1B system, it will make it impossible to bring in truly high skilled people.

Talk about foreign influence! This is an India-first bill.

Everyone knows what is going to happen if this bill passes. They will pocket the massive expansion of Indian low-to-mid-level workers and then come back crying about the inevitable problems it creates by boxing out other companies, applicants from other countries, and higher skilled immigrants. The result? Another bill to expand immigration even more by busting the macro cap from the existing record levels without any effort to cut any other part of the dead wood in the immigration system.

Yet, shockingly, Sen. Mike Lee, Utah, asked for unanimous consent to pass this bill (S.386) last week, which he is co-sponsoring with Sen. Kamala Harris, bypassing any committee process.

This bill makes no sense from any philosophical standpoint on immigration other than the fact that it's satisfying the companies with the most political clout, such as Apple, Amazon, Google, and Facebook. Then again, that is how our entire immigration politics has worked in recent years. – Conservative Review
In this article, I want to focus on who is supporting this bill and why.
Don't Discuss the Lobbyists?
Conversations around immigration into IT jobs tend to be kept abstract and built on talking points related to "shared prosperity" and "skills." What is seldom mentioned — not a single person has brought this subject up with me even generally much less is explicitly who is lobbying for more immigration under the skilled candidate program. For some strange reason, this is kept as quiet as possible.
The List from Open Secrets
Imagine my surprise when I checked the website Open Secrets for who is supporting the H.R.1004 bill, called the "Fairness for High-Skilled Immigrants Act of 2019." Notice it is not called the "Fairness for Domestic Skilled Worker Act of 2019," because the concern for domestic workers is never a concern for the entities that we will be discussing. It is now considered mandatory to name any bill something positive, which is a way of hiding what bills do.
We can learn a lot about this bill by observing who is spending lobbying dollars trying to get the bill passed. Let us review the table below where each lobbying entity is named, as well as the number of lobbyists. This is an aggregation of the information provided by Open Secrets. We then describe each lobbying entity.
Entities Lobbying for H.R.1044
Which major entities and corporations are lobbying for H.R.1044 and against the interests of US domestic workers.
| Entity Name | Description | # of Lobbyists |
| --- | --- | --- |
| Chamber Hill Strategies | Larger lobbying entity with a spend of $2.5 M in 2018. Very concentrated in health care lobbying. Their website contains a lot of false or otherwise misleading information about health care. | 3 |
| Hecht, Latham et al | Major lobbying entity with a $24.5 M spend in 2018. Counts Cognizant Technology Solutions as a client. | 3 |
| Greenberg Traurig LLP | Big law and lobbying firm with 2100 attorneys and a $8.1 M spent in 2018 and revenues of $1.5 B. | 4 |
| Google | Giant tech company. For some reason the data on spend only went up to 2014. But in 2014 it spent close to $21 M in lobbying. Most likely it is significantly higher in 2019. | 5 |
| Facebook | Giant tech company with $14.8 M in lobbying spend in 2018, and like Amazon, distributed through many lobbyists. This makes one wonder how any laws will be passed to reign in Facebook with that lobbying spend. | 10 |
| Dentons US | Large lobbying firm with $5.4 M in lobbying spend in 2018. We could find no tech companies on their list of customers. Continued the string of awful websites by lobbying firms. | 2 |
| Deloitte | A giant IT consulting company. For the size of the company, the 2018 spend of $2.4 M was surprising. | 2 |
| Cummins | Cummins spent around $3.5 M in 2018 on lobbying. Cummins is not a tech company, but a manufacturer. Notice that we have other manufacturing entities on this list. | 7 |
| Covington & Burling | A giant lobbying firm with $17 M in spend in 2018. They count Microsoft, SAP, Qualcomm, BAE Systems and Unisys Corp as clients. Amazingly, even such a large lobbying firm is still able to have a terrible website. | 1 |
| Corely Consulting | A lobbying company $700,000 in lobbying spend. Intel is listed as a client. Curiously, we could not find their website. The website corelyconsulting.com is owned by a tech firm in Memphis. | 1 |
| Cognizant Technology Solutions | Giant Indian tech consulting firm with its lobbying spend around $1.85 M in 2018. Also one of the largest importers of Indian labor into the US. They also pull more jobs out of the US with their outsourcing. | 4 |
| Cisco | Giant tech company with around $3.8 M in lobbying spend in 2018. | 1 |
| Hewlett Packard Enterprise | Giant IT consulting firm with a $21.7 M lobbying spend in 2018. | 2 |
| BSA Software Alliance | This is actually primarily Microsoft. But they normally focus on licensing. They average around $2 M in total lobbying spend. | 3 |
| Brown University | Averages around $100,000 per year in total lobbying spend. Brings up the question of why universities want more expansion of the "skilled" worker program. | 1 |
| Bipartisan Policy Center Advocacy Network | A tiny lobbying entity | 1 |
| Association of American Universities | This one was odd -- but it matches the fact there are several universities on this list of lobbying firms. | 1 |
| Applied Materials | Giant tech company. Spent around $1.25 M in 2018 in all lobbying spend. | 1 |
| Americans for Prosperity | A conservative lobbying group that had $265,000 in lobbying spend for 2018. This is one of the few entities where it is no clear if they were pro or con. Its is unlikely they did much lobbying as this is not major issue for them. | 1 |
| American Institute of Aeronautics & Astronautics | A small industry focused lobbying entity with a tiny yearly lobbying income. | 1 |
| American Immigration Lawyers Association | Firm that provides legal services to immigrants. They are a small player averaging $100,000 in spend for 2018/2019. | 1 |
| Amazon | Giant tech company. In 2018 Amazon's lobbying had $16,999,000 in lobbying spend. Seems like someone was trying to stay below $17 M for the year. | 4 |
| AG Kaffes & Associates | Appears to be a one man operation run by Andrew G. Kaffes. Looking at his listing of accomplishments, if there was a bad piece of legislation, he lobbied on its behalf. | 1 |
| Advanced Policy Consulting LLC | A small lobbying company. Their website did not work properly, so we could not find their clients. | 1 |
| Rutgers University | The NJ state university that spent $270,000 on lobbying in 2018. The universities are small players in terms of lobbying. | 2 |
| Williams & Jensen | A major lobbying firm with $16.2 M in spending for 2018. They count Dell among their technology clients. | 3 |
| US Chamber of Commerce | This is an enormous lobbying entity, with $97.7 M spent in 2018 on lobbying. A lot of what the US Chamber of Commerce lobbies for is "legal reform," this is a euphemism for making it more difficult for individuals to sue companies. The number of lobbyists the US CoC has lobbying on behalf of this bill easily outnumbers all other lobbying entities. | 28 |
| University of Texas/Austin | No financial information available. | 2 |
| Texas Instruments | The tech giant spent $2.2 M in lobbying in 2018. | 2 |
| TechNet | This is another of Microsoft's entities, but they spent only $260,000 in total in lobbying in 2018. | 2 |
| Strandlie Advocacy | A tiny lobbying firm which appears to be a one person operation. | 1 |
| Stanford University | Another university on the list -- they spent $470,000 in 2018 on lobbying. | 1 |
| Squire Patton Boggs | Giant law and lobbying firm which spent $24.2 M in 2018. They specialize in lobbying on behalf of cities. | 1 |
| Society for Human Resource Management | This is an interesting entry. It has one of the more obscure names. They are a professional development organization for HR professionals. Many of the bills they have supported actually seem to promote worker interests. This is only the second entry where it is not obvious which direction they lobbied. They spent $2.5 M in 2018 in total lobbying. | 5 |
| Schweitzer Engineering Laboratories | The utiliities management company is a tiny lobbying entity with only $80,000 in total spending in 2018. | 2 |
| Salesforce.Com | The tech giant spent a surprisingly small amount of $2.68 M on lobbying in 2018. | 2 |
| Wipro | The giant Indian technology company, they spend a shockingly small amount on lobbying activities, spending only $110,000. These immigration bills are most likely their primary interest. Wipro, although it operates in the US, is almost entirely Indian. Apparently the logic is that if the discrimination is performed by Indian companies against non-Indians that there should be nothing to complain about. Another argument made for Wipro is that the environment is so naturally hostile to non-Indians that no non-Indian would want to work there. Which is an interesting way around discrimination laws. | 1 |
| Principal Financial Group | The financial services company which spent $2.7 M in lobbying in 2018. | 5 |
| Oracle Corp | Tech giant which spent $10.1 M in 2018. Larry Ellison is personally worth $70 B. However, it is important to Oracle that they keep wages low with more Indian immigration. Interestingly most of Oracle's margin comes from the fact that it outsources support to India and takes a 90%+ margin on the support it offers customers. | 2 |
| National Assn of Manufacturers | This is a large lobby group which represents manufacturing companies and spent $9.8 M in 2018. On their website it states "High skilled immigration boosts US innovation, entrepreneurship and technology change." As is normally the case, there is nothing listed about the impacts on domestic workers. | 7 |
| National Assn of Indep Colleges & Univs | This is the second university lobby group on this list. In total they spent $433,500 in 2018. | 5 |
| Microsoft Corp | Giant tech company which spent $13.9 M in lobbying in 2018. Microsoft also lobbies through several other entities on this list. | 9 |
| Micron Technology | Tech company with a lobbying spend of $2.55 M in 2018. | 2 |
| Mehlman, Castagnetti et al | Major lobbying company with $14.5 M spend in lobbying in 2018. Counts Dell/VMware, DXC Technologies, Hewlett Packard Enterprise, HP, Micron Technologies, Adobe, Cloudflare, SAP, Texas Instruments, Red Hat, Applied Materials, as technology clients. | 14 |
| Intel Corp | Giant tech company which spent $5.99 M in lobbying in 2018. | 3 |
| IBM Corp | Giant tech company which spent $5.36 M in lobbying in 2018. | 3 |
| Hobart Ventures | Is listed as the same company as Hobart Hallaway & Quayle Ventures | 3 |
| Hobart Hallaway & Quayle Ventures | Lobbying firm with $4.8 M spend in 2018. Obviously this firm is not concerned with pushing false information as they count the American Coalition for Clean Coal Electricity. And yet another awful lobbyist website. ex-VP J Danforth Quayle is listed as a "strategic advisor." Pass. | 3 |
What Percentage of Entities Are Clearly Lobbying in Favor of H.R.1044?
This is 47 of 49 entities and 182 separate lobbyists working to enlarge the "skilled" worker immigration bill, a bill that requires a special interpretive robot even to understand. Of the remaining two entities, Society for Human Resource Management and Americans for Prosperity, they may have lobbied against the bill, we can't be sure.
Let us say that both of these entities lobbied against the bill, that would mean that 47/49 = 95% of the entities lobbied in favor of the bill. This is not an issue that elected officials are asked about. This means that this off the table issue has close to zero voter input — and the input is entirely from lobbyists, none of which represent workers and none of which have ever worked in IT. They present none of the downsides of the H1-B program, or of how US IT has been so swiftly converted to a place hostile to domestic workers.
Secondly, where is the general discussion on this bill? Where is the media coverage of the bill?
Notice a company like Cognizant. They are a factory for bringing in Indian workers to the US. And their margins on this labor are enormous.
The Centrality of H1-B to The Overall Strategy of Indian IT Consulting Firms
This is Cognizant requiring skills? That is Cognizant's only motivation? Is it not long term control over workers and higher margins? Also, Cognizant may have a US office, but they are primarily Indian. I thought we were opposed to foreign entities meddling in US politics? Naturally, Cognizant, Wipro, TATA and Infosys would like more Indian workers under the high degree of control that is a consequence of the H1-B program, but this is because these companies are concerned for US competitiveness or because this is how they make huge margins?
What did Cognizant, Wipro, TATA or Infosys have to build up the country in the first place?
Nothing. What is their concern for the long term interests of the US? Let me say zero.
However, they will, in effect "sell" the US to Indians who want to leave India. However, why is the US theirs to sell?
How actively did any of these companies look for US domestic IT workers to fill these roles? 
If we look at the most significant Indian IT companies, their primary strategy is to undercut US-based companies like Deloitte and Accenture. To do this, they need a lower cost base, and this is why they have to have a large number of lower-paid and compliant H1-Bs. This is not a "partial" strategy — these Indian companies are not using the H1-B program anything like it was initially intended. It is merely a strategy that allows them to underbid competitors.
What is the Conventional IT Media's Coverage of This H.R.1044?
Close to nothing.
Each of the major media entities counts many of the company's lobbying on this list as customers.
This is covered in the article Why Media Turns a Blind Eye to Indian IT. Not only do IT media entities provide false information about technology and take paid placements from the IT companies, but it is also the subjects they don't cover. And they don't include any issues that relate to labor. Labor does not exist to these companies because labor does not fund these entities. The IT media entities have teams of people actively calling the big tech companies asking them if they would like to place advertisements or whether they would like to place an article in their publication. Very few publishers, such as The Register, are not in the pocket of the big tech companies.
Who Opposes the Bill?
What is curious is to find who opposes the bill. These entities are listed as opposing the bill.
Albuquerque Center for Peace and Justice
Arab American Institute
Asian Pacific Islander American Public Affairs (APAPA)
Asian Pacific American Labor Alliance, AFL-CIO
Council on American-Islamic Relations
Emgage Action
Federal Asian Pacific American Council (FAPAC)
Italian American Democratic Leadership Council
National Iranian American Council Action
National Korean American Service and Education Consortium (NAKASEC)
OCA – Asian Pacific American Advocates
Pakistani American Political Action Committee (PAKPAC Membership)
Project South
South Asian Americans Leading Together (SAALT)
United Chinese Americans
United Macedonian Diaspora
United We Dream
So basically any group that is not Indian! Notice this is exactly what was predicted in a previous quotation from Conservative Review. After the IT companies gobble up more of the H1-B visas for India, a movement will begin to make the H1-B more "equitable" which will translate into increasing the overall program.
Notice the explanation for the opposition to the bill on the NAIC Action website, which is a lobby group for Iranians.
This legislation, disingenuously named the Fairness for High Skilled Immigrants Act (H.R. 1044 & S. 386), would effectively close the path to green cards for Iranian nationals as well as for virtually every other nationality. It would add years of delay to the green card process for Iranians already subject to single-entry visas and the Muslim Ban. At a time when this administration has demonized immigrants from numerous countries, we believe that none of these ineffective, harmful policies, including H.R. 1044, occur in a vacuum. The best remedy for the green card backlog is to increase the number of green cards available, not pit groups of immigrants against each other, forcing them to fight for the meager amount of green cards currently available. 

Iranian nationals and Iranian Americans are currently being attacked from all sides. Accompanying the U.S. failed maximum pressure in Iran is the maximum restrictions on Iranians and Iranian Americans in the United States–as seen through extreme vetting and the Muslim Ban.
Now Iranians know how US IT workers feel! Their workplaces have been taken over by Indians, and the corporations intend to continue importing Indian labor into the next century.
NAIC's opposition to the bill is that it pushes down immigration from Iran. This is the most aggressive opposition to the bill that we could find. And there is nothing like this written by any group that supports domestic IT workers. Again and again, it is as if domestic IT workers have absolutely no voice in an immigration policy that has dramatically changed the landscape of the work environment in the US.
Other Supporters of Increased H1-B Indian Immigration
This was a listing of the companies lobbying (nearly all) in favor of expanding Indian immigration. However, previous increases to the H1-B have included even more companies including.
American Council of Life Insurers
Entertainment Software Association
Northwestern University
Infosys
TechServe Alliance
Northwestern Mutual
AMD
American Staffing Association
Dropbox
Immigrant Voice
Monster Worldwide
Semiconductor Industry Association
Equifax
Deere & Co
Jackson Healthcare
Health Carousel
Cleveland Clinic
American Medical Staffing Association
That is another 18 entities. 18 + 47 is 65. We are up to 65 entities that are tracked to have lobbied in support of expanding H1-B — and this is not an exhaustive list.
Conclusion
There are so many problems with how these bills are being passed.
Let us review some of them.
The bill itself is designed to be unintelligible. This reduces transparency if only the lobbyists who created the bill know what it does. Some of the statements in the bill are designed to trick the reader. At one point, it states that "for each of fiscal years 2020, 2021, and 2022, not more than 85 percent shall be allotted to immigrants who are natives of any single foreign state." However, India has historically taken around 85% of the H1-B allotment, so why would a cap of 85% be necessary? This appears to be a fake cap.
The lobbying is highly one-sided. This amounts to those entities that want to hire H1-B workers making their case. There is virtually zero worker input as to the number of visas. This means that profit-maximizing companies are managing the overall technology visa program.
The entire process is not entirely secretive, but it is far more secretive than it should be. There is close to no significant IT media coverage of this topic.
All of the arguments are around "competitiveness" and "skills" even though it is known that companies love H1-B because they get to control the employee for up to 10 years or more. They also pay H1-B employees significantly less. Yet, these motivations are entirely undiscussed. If these same companies to pay 30% less to domestic employees and could control them for seven years, these companies would be singing the praises of this program, which could be called "The Domestic Indentured Servitude Program" as well.
As I previously covered in the article Discrimination by Indian Workers Against US Workers, US workers are already facing significant discrimination against them by Indian workers, and this bill is designed to allow companies to bring over more H1-B workers. And these ultra-wealthy companies are pushing for more Indian workers to come in and further promote the balance in IT departments against domestic workers. These tech giants have massively overcompensated leaders.
Jeff Bezos, before his divorce, was worth $130 B. Larry Ellison $70 B. Bill Gates $105 B. What is the argument precisely that these men require more wealth that should be taken from US domestic workers? If we take Larry Ellison, without the margin from the support that is primarily based in India which we covered in the article How do SAP and Oracle's Support Profit Margins Compare to Pablo Escobar?. This means that if those jobs supporting US companies had been given to US workers, Larry Ellison's net worth would be significantly smaller. The evidence is clear that these companies will take any cost savings from bringing in more Indian workers and push it to their executives. I have shown this graph in other articles, but it illustrates clearly that productivity gains are not shared with workers unless the workers organize and make those productivity gains be shared.
This graphic explains how individuals like Larry Ellison or Bill Gates can accumulate the amount of money that they do. 
According to the Economic Policy Institute..
CEO compensation has grown 940% since 1978.

Typical worker compensation has risen only 12% during that time.
Hmmm…one wonders if there might be a relationship. One wonders if CEOs and other executives might be taking almost the entirety of productivity gains and pocketing them while sharing close to zero of these gains with workers.
Let us review how CEOs and other executives have reduced the sharing of the benefits of economic activity with workers. The evidence is undeniable.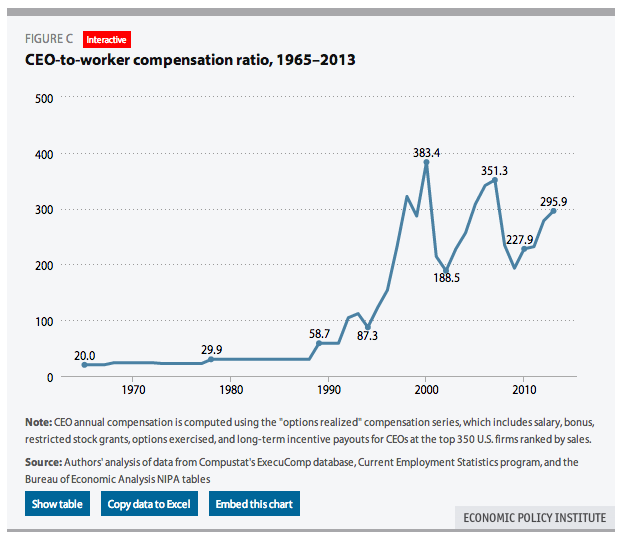 Why are CEOs paid so much more in the US than they were back in the 1960s and 1970s? Also, why are US CEOs and executives paid so much compared to CEOs and executives in other countries?
How were CEOs getting motivated in the 1960s and 1970s when they were only getting 20x the pay of the average worker? This current chart is a bit out of date, and with the current stock bubble, the current ratio is in around 340x. This means that a CEO makes in one day what the average worker takes a year to make. Imagine a person going in for a day of work, and then saying they are done for the year because they made what you made going in for one year of employment.
Source Statistica. 
No country comes close to the pay differential between CEOs and their workers. Why?
Compensation Unrelated to Performance
Interestingly, studies into this CEO pay concludes it has little to do with CEO performance.
This is what we tested in our earlier analysis. We used a wide variety of statistical specifications, which controlled for factors like revenue growth, profit growth, and share price appreciation. In none of them did we find a statistically significant negative coefficient for the variable for CEO pay in the insurance industry in the years after the cap went into effect. In fact, in most of the specifications, this coefficient was positive, indicating that CEO pay actually rose in the insurance industry, in spite of the cap on the tax deduction.

We saw this result as being consistent with a view that pay does not reflect the CEO's value to shareholders. In this alternative view, the explosion of CEO pay over the last four decades is primarily attributable to the corruption of the corporate governance process.

CEO pay is most immediately determined by boards of directors. The directors, who are themselves highly paid for very part-time work, largely owe their jobs to CEOs and other top management. Incumbent directors who are re-nominated by the board almost never get removed by shareholders. – Economic Policy Institute
Rather than being related to the performance of the company, the CEO and other executives work for, the pay can be seen to reflect the natural course of the stock market.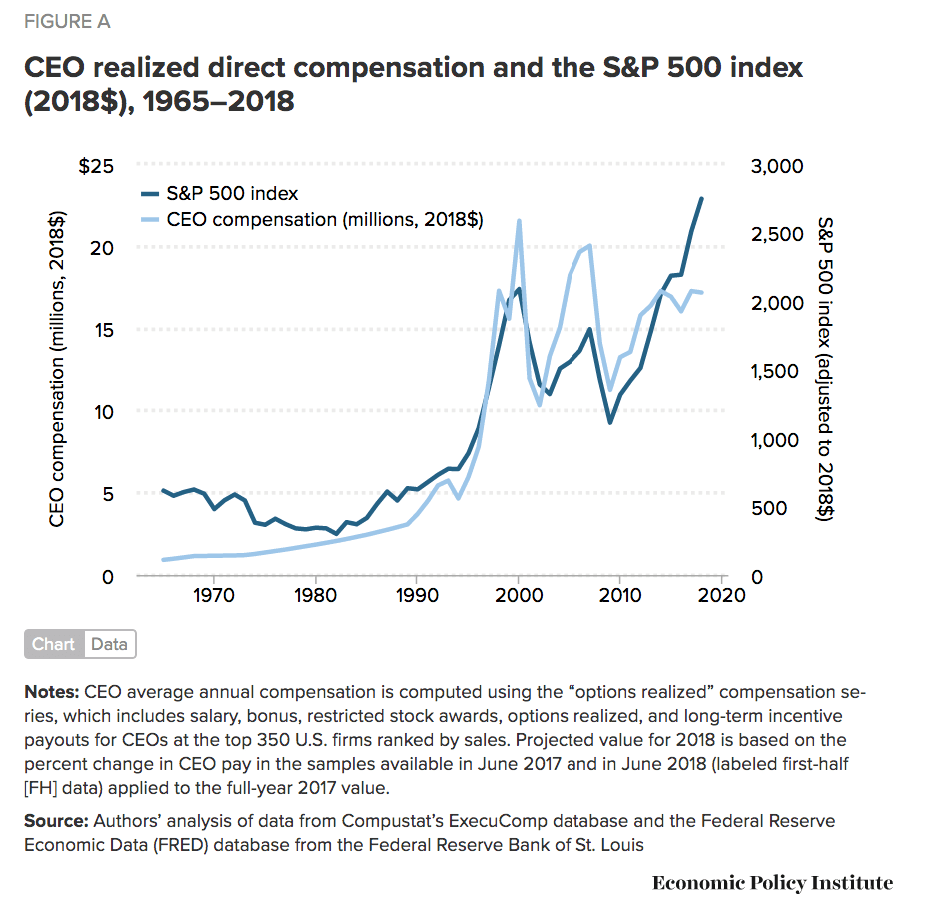 It should also be pointed out that much of this compensation is stock.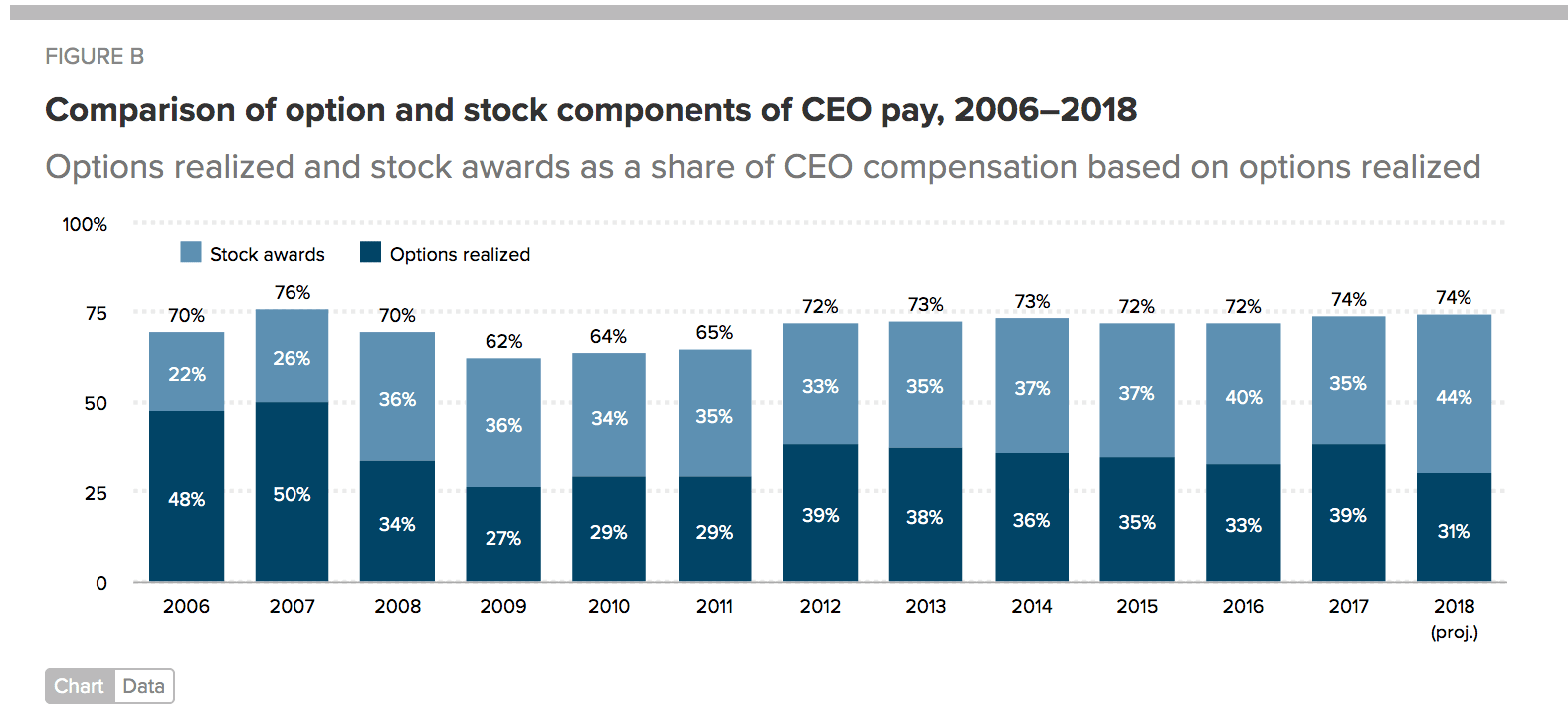 And because of the accounting rules, this compensation is not recognized as a decrement from the balance sheet the way that salaries are. This means that while ordinary workers' compensation directly reduces the balance sheet, much of the CEO and other executives are paid with what amounts to "dark money." The income comes from diluting other shareholders.
This is how Safra Catz will most likely leave Oracle as a billionaire. And of course, Safra Catz would think that not only her billion is entirely justified, but the H1-B program should be doubled or tripled.
For the tech sector, a constant flow of Indian workers being brought into the US, combined with continuous outsourcing of jobs to India is foundational to the profit margins and executive pay at these companies.
This relationship is clearly explained in the following quotation.
Nevertheless, the normally tight relationship between overall stock prices and CEO compensation, as shown in Figure A, casts doubt on the theory that CEOs are enjoying high and rising pay because their individual productivity is increasing (e.g., because they head larger firms, have adopted new technology, or for other reasons). CEO compensation often grows strongly when the overall stock market rises and individual firms' stock values rise along with it. This is a marketwide phenomenon, not one of improved performance of individual firms: Most CEO pay packages allow pay to rise whenever the firm's stock value rises; that is, they permit CEOs to cash out stock options regardless of whether the rise in the firm's stock value was exceptional relative to comparable firms in the same industry. The slight loosening of the relationship between overall stock market growth and CEO compensation growth does not alter this conclusion. – Economic Policy Institute
This means that the entire logic of "paying for performance" where CEOs and other executives would have their compensation tied to their performance is false. The executives at Oracle are a perfect example of how their compensation is unrelated to the performance of the company, and how they have given enormous incentives to misrepresent the company's prospects to investors.
While these companies like to describe their great innovation, what they leave off of the table is that what primes the pump for higher profits is labor exploitation. Jeff Bezos is well known for exploiting his warehouse worker, as well as running AWS as a white-collar sweatshop.
Thank You to OpenSecrets
Special thanks go out to OpenSecrets.org. This is a website that makes this information available that I used as the basis for this analysis. OpenSecrets.org relies on donations, and my feeling is that the US government would prefer if this website did not operate.
They would like to make it, so you have to travel to Washington to look for this information in some basement. The politicians do not want anyone knowing how it is contributing to which candidate and getting which legislation passed. The analysis of who donates to what bill and what candidate is more important than what any politician says. It seems that politicians could be rendered mute, and all voters review the lobbying activities and campaign contributions of big money donors.
References
https://www.congress.gov/bill/116th-congress/house-bill/1044
*https://www.conservativereview.com/news/shockingly-dyslexic-immigration-priorities-political-class-including-republicans-display-week/
*https://www.epi.org/publication/ceo-compensation-2018/
*https://www.statista.com/statistics/424159/pay-gap-between-ceos-and-average-workers-in-world-by-country/
*https://en.wikipedia.org/wiki/Wage_ratio
*https://www.forbes.com/sites/shelliekarabell/2018/02/14/executive-compensation-is-out-of-control-what-now/#27b0df87431f
*https://www.epi.org/multimedia/ceo-pay-is-out-of-control-because-ceos-call-the-shots/
*https://www.niacaction.org/coalition-letter-to-u-s-senate-opposing-green-card-bill-that-exacerbates-the-problem/
*https://www.epi.org/publication/does-tax-deductibility-affect-ceo-pay-the-case-of-the-health-insurance-industry/
https://cis.org/North/US-Workers-Lose-Another-Obscure-Visa-Category-Unveiled
https://www.opensecrets.org/lobby/billlobs.php?id=hr1044-116