How Accurate Was SAP on the Sybase Acquisition?
Last Updated on February 25, 2021 by Shaun Snapp
Executive Summary
SAP acquired Sybase in 2010, and Sybase has become almost invisible ever since.
We review what SAP said and the coverage of the Sybase acquisition by IT analysts.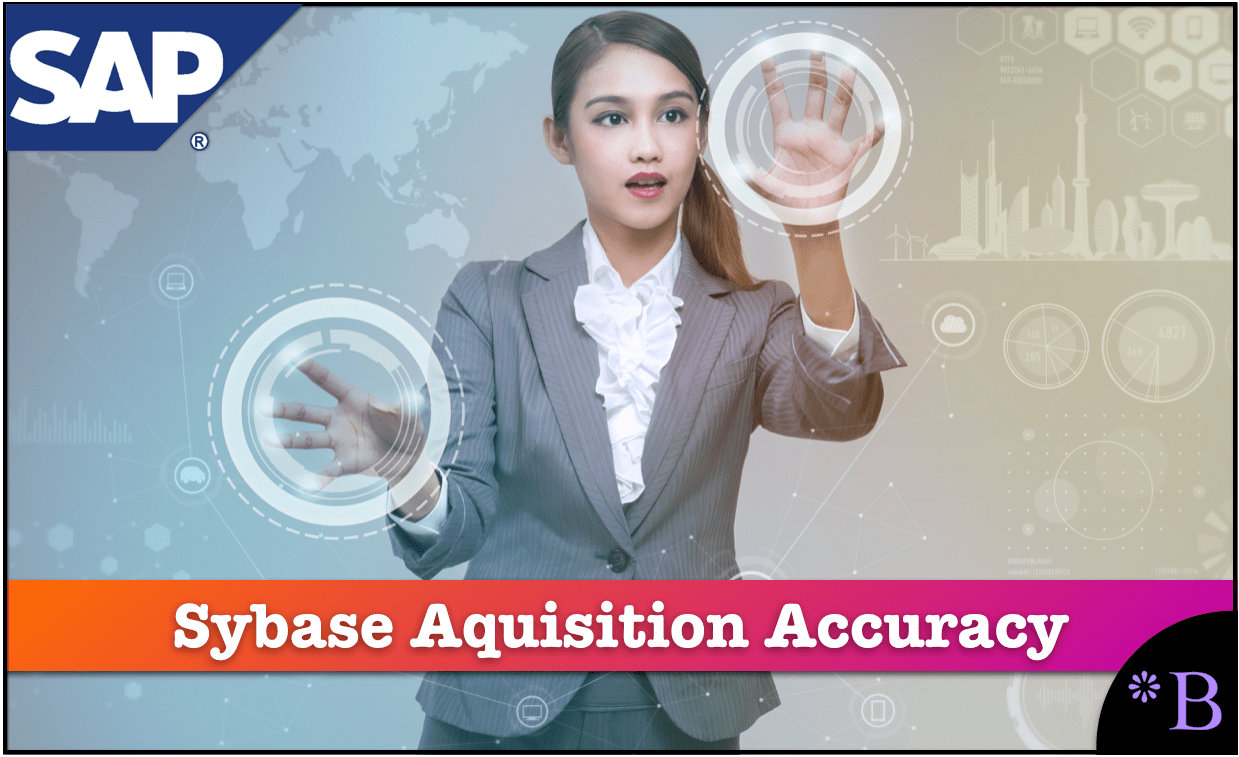 Introduction
In 2010 SAP acquired Sybase. This is before HANA had been introduced. Within a year, SAP's promoted the idea that it had developed a massive innovation in in-memory and columnar database design. Sybase had a pre-existing product called Sybase IQ that was columnar. SAP barely marketed Sybase IQ or referred to it and began deemphasizing the database versus HANA and positioning it as an archival database to HANA. You will learn about our review of the accuracy of the SAP statements about the Sybase acquisition.
Our References for This Article
If you want to see our references for this article and other related Brightwork articles, see this link.
Lack of Financial Bias Notice: We have no financial ties to SAP or any other entity mentioned in this article.
This is published by a research entity.
Second, no one paid for this article to be written, and it is not pretending to inform you while being rigged to sell you software or consulting services. Unlike nearly every other article you will find from Google on this topic, it has had no input from any company's marketing or sales department. 
Quotations from Dennis Howlett's Article in ZDNet
"John Chen, CEO of Sybase said: "We see potential in the combination of the leader in business applications and the leader in mobile…I firmly believe this transaction is about growth. " Vishal Sikka said: "This will dramatically increase our presence in mobile…supporting all platforms, Blackberry…Windows…Google…Apple"
"The last couple of years, SAP has talked implicitly about proliferating SAP via devices so at one level this acquisition fits into a strategy that's been unfolding for a while. However, as Ray Wang notes:

SAP has broken its promise of no more big acquisitions after the BusinessObjects deal.  However, these acquisitions make sense toward the path of next generation applications."
IT Analysts Always Seem to Love Software Acquisitions
It might have, but the acquisition did not work. Is there some reason IT analysts don't ever seem to say that an acquisition is a bad idea? Is this, so they don't lose access to the larger software vendors?
"During the analyst call, much was made of the in-memory database core that SAP has developed and Sybase column stores as an enhanced baseline requirement for analytics in large-scale environments."
That is curious.
Hasso Plattner created a storyline where he and his PhDs invented HANA without much outside of SAP. This is covered in the article Did Hasso Plattner and His Ph.D. Students Invent HANA?
SAP Ended up Degrading Sybase Database Market Share
"One short-term problem will be a perceived confusion over database selection and the future of the relational database in SAP environments."
This turned out to be a problem. SAP was not successful in migrating customers to Sybase databases, and Sybase databases have declined ever since the acquisition.
Howlett Gets it Right on SAP Penetrating Finance Industry.
"Vishal Sikka disputes that, describing the market as both mature but diverse. Sybase has a significant market share in financial services, a market around which SAP sees huge potential despite the recent financial services sector meltdown. But how real is the likelihood of SAP emerging as a key FSI player?"
Vishal Sikka was wrong about this too. SAP never was able to leverage Sybase's market share in financial services.
"Co-incidentally, earlier in the week, I heard a presentation from Deutsche Bank which showed SAP at the core of the bank's applications strategy as part of a complete applications overhaul. SAP is only providing back office and even then a pared back version with emphasis elsewhere. It is others that are providing the applications and services that will make an operational and value led difference. Deutsche Bank is a marquee SAP customer in its own back yard. If this is representative of the extent of SAP's ability to develop profitable relationships in this market then that is anything but a done deal."
Dennis Howlett was prescient with this prediction.
Sybase's Disappearing Mobility
"On the mobile side, questions must be raised about what this means for applications – again in the financial and telco utility space. Most applications in these markets are driven by opportunistic marketing campaigns requiring the development of new offers. That in turn often means custom development. Does SAP think that Sybase and in-memory gives them an entree to this massive market? If so how does it plan to manage all the integrations required? Where is the rapid apps development environment that would make SAP a natural choice? It has no real ownership in these markets such that the new combination makes direct sense."
Here is what we wrote about the Sybase Acquisition back in 2012.
Will Things Change and Improve?
"In a word no.

Although SAP did purchase Sybase, but this does not change SAP's history or its data architecture for the vast majority of its product database. SAP does not integrate their products with those companies that they acquire. Notice the lack of integration with Business Objects. SAP as a development organization is too self-centered to think that other companies have good solutions and they feel they are the best in every domain. This is called the "SAP Bubble," and is very similar to the "Microsoft Bubble." Therefore, most mergers are primarily driven not by development, but by the strategic decision makers in order to co-opt a vendor who is giving them trouble, as was the case with Business Objects. These acquisitions are driven by the desire to capture customers. Over time the main brains in the acquired company leave for other ventures and the captured customers are fed a steady diet of pro SAP marketing. There are questions to whether SAP bought Sybase really for its database or its lucrative customer base in the financial industry. The long and short of this is that SAP does not actually do much to leverage or further develop the technology that it purchases."
SAP's History With Their Data Layer
To understand why it is improbable that very much will change, it is important to understand SAP's history with data and data management in general. Unlike companies such as Teradata or Oracle, SAP has no history of effective data management within any of its applications.
Examples of serious weaknesses in their data management development include the following:
No transactions to easily query the master data of a system (SE16 and SE16N are very limited and too often lead to the brick wall of a Structure, which cannot be queried. While fields can be looked up in the SAP GUI, in many cases, the table that the technical details will show is a structure. This is a virtual table and not a "real table."
Poor data update tools
No ERD diagram or publication of all the SAP tables and how they relate to each other
No ability to use standard SQL tools to manage or interrogate the database. All data tools are custom front-ends and are universally terrible.
Why anyone would think that a company that is done this poorly bad at simple basic data strategies is strange, and why anyone would entrust their reporting solution to them is even stranger. SAP built its empire based upon application logic, not on the user interface or data management. Essentially SAP does not fundamentally "get" data, and they have created the very inefficient data backend of any enterprise application.
Sybase's mobility applications turned out to be a total write-off.
Conclusion
The Sybase acquisition did very little for SAP. Once again, Vishal Sikka continued his losing streak of being wrong in his statements in this article. This article from SAP receives a 1 out of 10 for accuracy.